Written by Laura | 3 July, 2020
Bicycles have long been used for everyday transportation and are a major part of commuting culture today. But before their rise as a means to get around, bicycles played a part during wartime too. We dove into the history of military bikes and how World War II brought their value to light.
Bicycles during wartime
Transportation in battle has a long history, and while horses were long the chosen means to get around, modern wars have proved bicycles to be a valuable asset. The French were the first to official introduce bicycles into service in 1887, however, it was the British who are alleged to have first considered bikes for battle, having enlisted cyclists acts as scouts in field exercises in 1885.
However, it was WWII where bicycles truly proved their worth. World War I's trench warfare essentially made bikes redundant but WWII's more mobile warfare style was an altogether different story. At the start of WWII, the German army used bicycles to invade both Norway and Poland. On the other side of the world, the Japanese army used more bicycles than any other nation; especially in the invasion of Malaysia, where thousands of soldiers cycled into Singapore. This was because of a fuel shortage and bikes were an easier and faster way of transporting militaries to the front lines than other vehicles. For the Japanese army, however, fuel wasn't the only problem. Since rubber was in short supply, they had to learn to ride bikes on the rims when they had flat tires and couldn't repair them.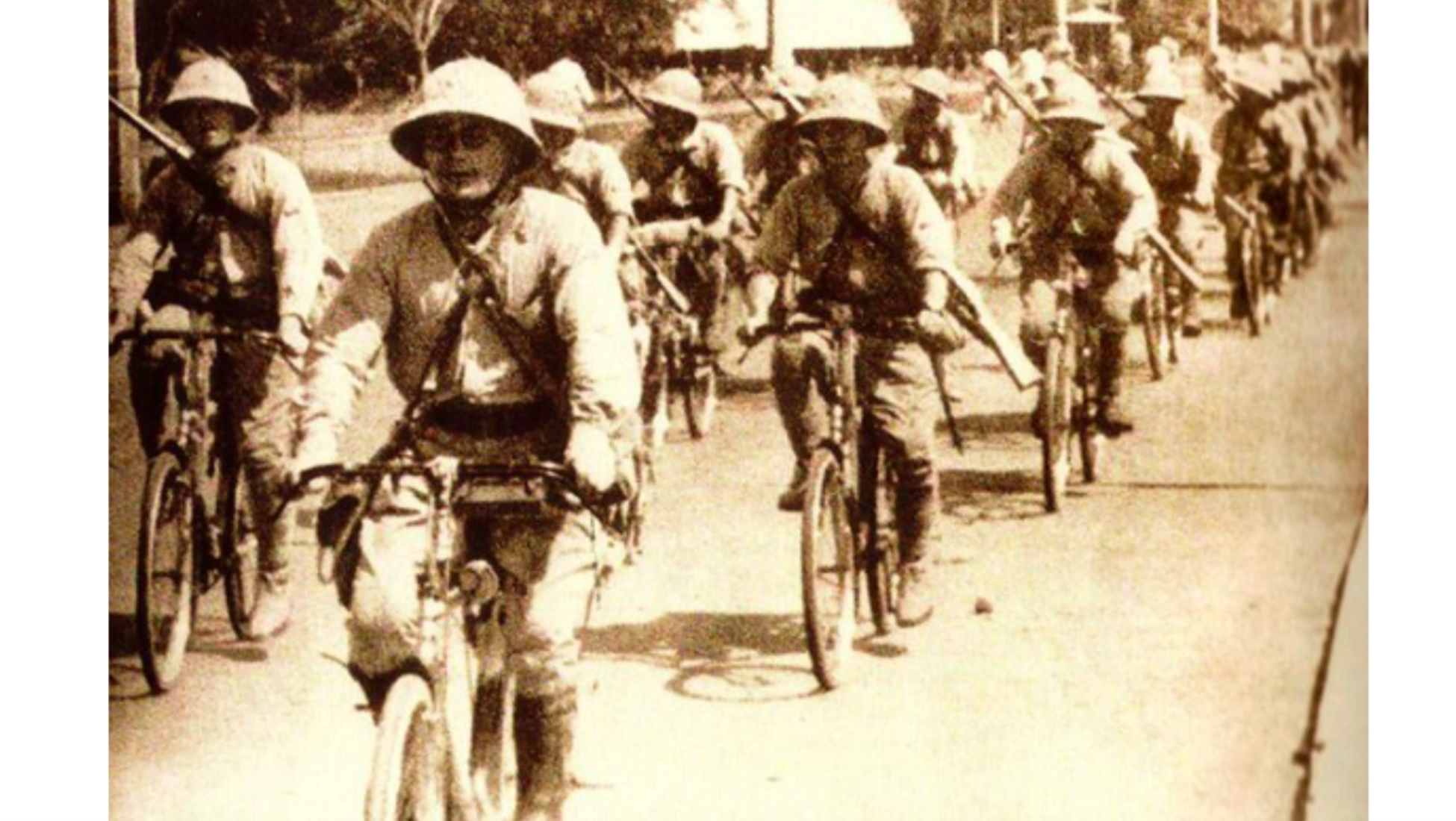 Japanese soldiers riding bicycles during WWII. Image source: runts and co.
BSA Airborne folding bike
One of the more interesting innovations in military bikes was the BSA Airborne bicycle created in 1942. These bikes were specially designed for the UK paratroopers. This bike could be folded up and attached to the front of the paratrooper's suit and were compact enough to be carried while jumping out of an airplane. The wheels were attached to a parachute suspension line, which made it safe to jump out of a plane with the bike. When the paratrooper landed, they could use the quick-release strap at the front to detach the bike. After unfolding the BSA Airborne bicycle, the soldier was ready to go and this special bike was used to move silently to their next destination.
Soldier with Airborne folding bike. Image source: The BSA and Military Bicycle Museum
70,000 Airborne folding bikes were produced by the Birmingham Small Arms Company between 1942-1945. Their greatest use was by the British and Canadian infantry during the invasions on D-day and in Arnhem in the second wave. Exactly how many bicycles were used is unclear; the only remaining evidence is based on photographs. Although these bicycles weren't used nearly as much as the original plan intended, they still provided a better and faster option than walking. In 1944, the introduction of military jeeps meant that these bicycles became less important.
Why are they collectable?

After WWII, there was still a fuel shortage in Europe and civilians used the remaining military bikes for everyday transportation. Today, original WWII bicycles are rarely found. Compared to other military vehicles, bicycles were produced in relatively small numbers. Although it may seem like there are a lot of military bicycles on the market, most of them are not complete or original.
Soldier riding a BSA folding bike during WWII. Image source: The BSA and Military Bicycle Museum.
The original US army bikes are some of the rarest military vehicles, especially those in good condition. The standardized production of US army bikes started in 1942 and their official use was stated as being 'to provide transportation for personnel engaged in dispatch or messenger service'. However, most officials (messengers or not) used bikes to travel between camps as it was cheap, efficient and fast.
The exact number of military bikes still left is unknown and military bicycles are mostly found in museums or private collections. The BSA Airborne folding bikes aren't even the most expensive bikes though their starting price is around € 2000 on average. And many collectors look for valuable Swiss Army bikes and their Swedish counterparts - two nations who created bicycle infantry regiments and consequently invested heavily in military bikes.
Discover more Militaria | Bicycles
You might also like:
The customizable Mini Coopers that everyone wanted
The story of the woman who invented the road trip