Written by Beulah | 5th March 2020
In 1888 Bertha Benz set off on what would become the first-ever road trip. A wildly successful publicity stunt for Karl Benz' struggling company: Bertha's long-distance trip introduced hundreds of people to the thrills of driving. Here is the story of the world's first road trip, and the pioneering woman who made it happen.

The genius of Bertha Benz
Bertha Ringer met Karl Benz at a low point in the manufacturer's life. Benz had made the mistake of joining with August Ritter to launch the Iron Foundry and Mechanical Workshop in Mannheim. Ritter was an unreliable business partner and the factory's first year was a disaster. Bertha, an independently wealthy woman, bailed Benz out. After they got married, Bertha was no longer able to control her own wealth, yet she continued to support her husband's ambitions – both as a business partner and an automobile innovator.
Perhaps Bertha's most significant contribution was to provide the marketing nous that Benz was sadly lacking. While Benz was a brilliant engineer – he invented the first usable automobile: the Benz Patent Motorcar – he was at a loss for how to present his creations to the world. Early attempts to demonstrate the Benz Patent Motorcar stalled (literally and figuratively) and Benz' competitors were catching up. Bertha decided to take matters into her own hands, and on a sunny day in August 1888, she set out to make history by completing the first-ever road trip.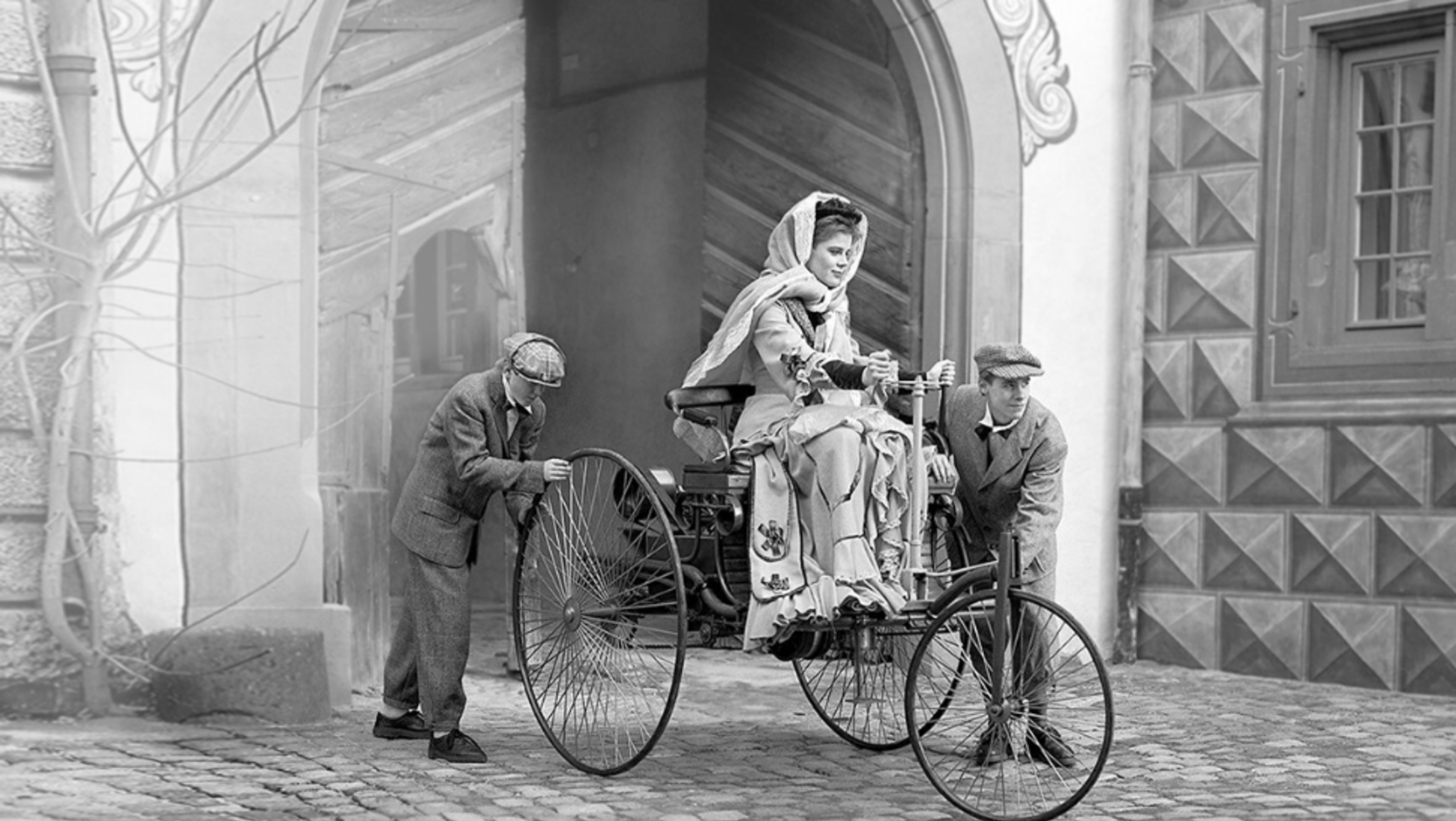 Bertha Benz reenacts the start of her journey

The route of the first road trip
In the current world of long-distance flights and epic cross country trips along Route 66: Bertha's journey from Mannheim to Pforzheim isn't that impressive. In 1888, however, it was groundbreaking. The route was 106 km, a distance never previously covered by an automobile. Such a feat was guaranteed to capture the attention of motor enthusiasts all over the world. Bertha's official reason for travelling the route was to visit her mother, but there can be little doubt that she was deliberately setting out to provide a proper demonstration of her husband's invention.
Bertha was accompanied by her two teenage sons, Richard and Eugene, but didn't tell her husband that she was planning to take his Patent-Motorwagen No. 3 for a spin. This was considered to be quite a daring move as at the time women were expected (and in some cases legally required) to gain consent from their husbands before embarking on long journeys. Instead, Bertha left Benz a note and then hit the road. Of course, this was not a road as we know it today. Travelling along the dusty, unpaved paths that were designed to be used by horses, Bertha had to use every ounce of engineering ingenuity to keep the car going; including the use of a hairpin to clean a blocked fuel line.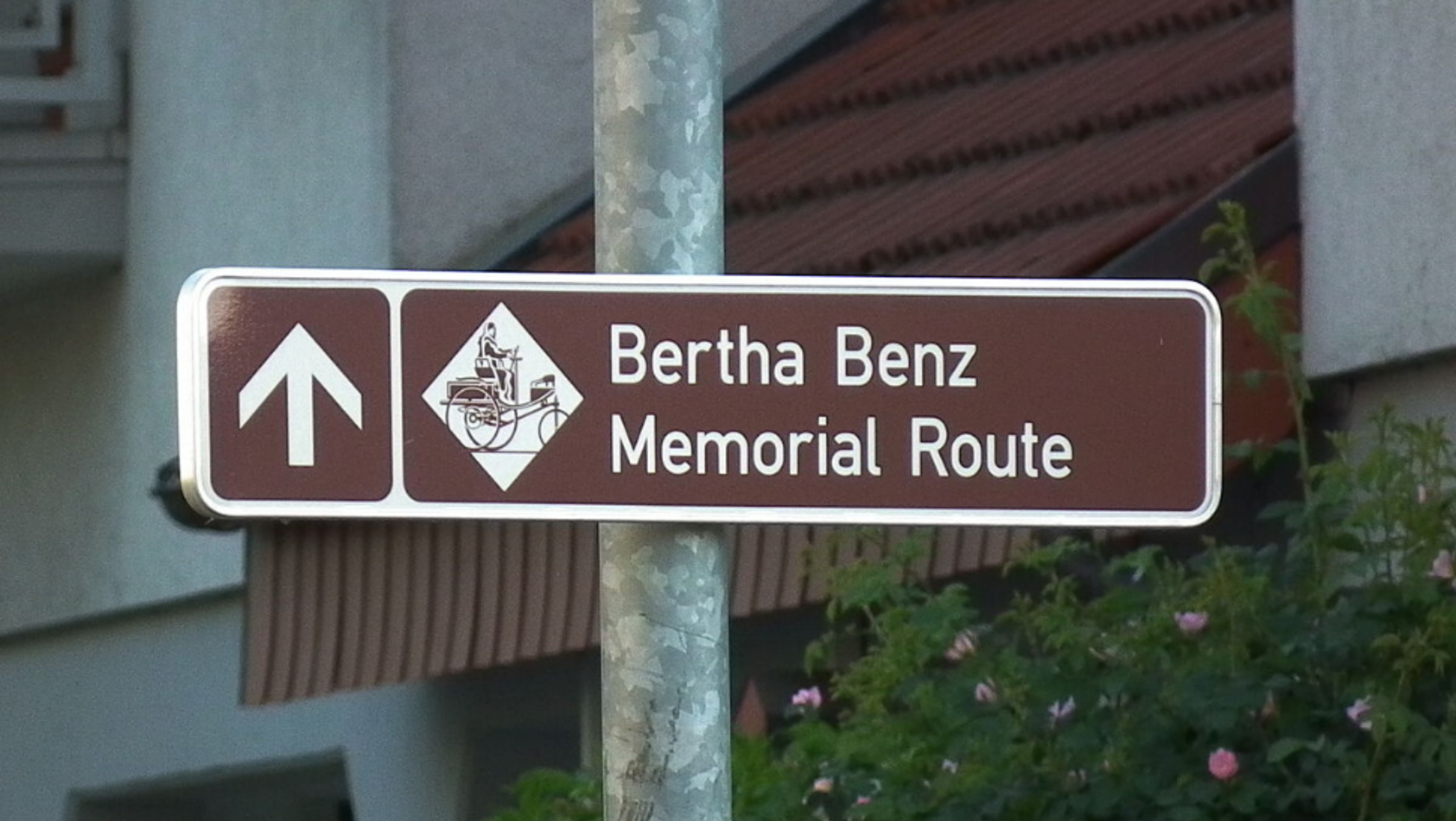 A sign pointing to the Bertha Benz Memorial Route
The legacy of Bertha's road trip
Bertha, Richard and Eugene reached Bertha's mother's house 12 hours after setting off from home. They had travelled 106 km, introduced the Patent-Motorwagen No. 3 to hundreds of potential customers and made motoring history. After hearing that his wife and sons had needed to push the car uphill during some parts of the route, Benz was inspired to create the first automobile gear system. And Bertha was credited with her own invention: brake pads. The car's wooden brakes had worn away so much that Bertha was reported to have asked a local shoemaker to cover the brakes with leather before she attempted the return journey.
____________________
Check out our latest classic car auction or register as a seller with Catawiki.
Discover more Classic Cars | Mercedes-Benz
You might also like:
A history of Mercedes-Benz in three cars
A short history of the first motorcycle ride