23rd August 2018
Matt Lambert is a British artist we've been fans of for a long time. We spoke to him earlier about his work and his previous exhibition, an interview you can read here. Now, he has a new exhibition opening on 25th August and running through 2nd September in Brighton. If you can't make it, you can also see and buy his work in the auction which will take place during the same time as the exhibition. Time to catch up with Matt!
Congratulations with your new exhibition! Could you tell us a bit about your new collection?
"The exhibition is titled VIEW, a usefully vague title that I think encapsulates the themes of the collection: different points of view, the positions we take and come from when we view things / subjects and the view we have of ourselves. Some of the work is an expansion on previous themes, namely my Lucha and Superhero kids series that both explore masks and identity. Some of it is entirely new; my Observations series is all about the way different people view artwork in gallery spaces and the Off curriculum works on cricket bats reflect my changing view on the British Empire over the years."
How has your view of the British Empire changed over the years?
"I learned nothing about the British Empire at school. Empire to me meant the "baddies" in Star Wars. I was fully aware of the positive sides of British history but less cognisant of the darker side of our colonial past. A speech by Shashi Tharoor at the Oxford Union during a debate about the impact of British Imperialism on India really bought this into sharp focus for me.

I don't think I'm alone in my ignorance; in a recent YouGov Survey 59% of Britons view the British Empire as something to be proud of. Indeed our highest honours are the CBE, OBE and MBE (Commander / Officer / Member of the British Empire). I am nowhere near qualified to weigh up the positive and negative aspects of the British Empire, but what is certainly true is that we do not talk openly enough about the latter. It has quaintly been said that "we gave cricket to India" - this is what inspired my use of cricket bats as canvases, depicting British Imperial Officers wearing helmets of other less rosily viewed Empires."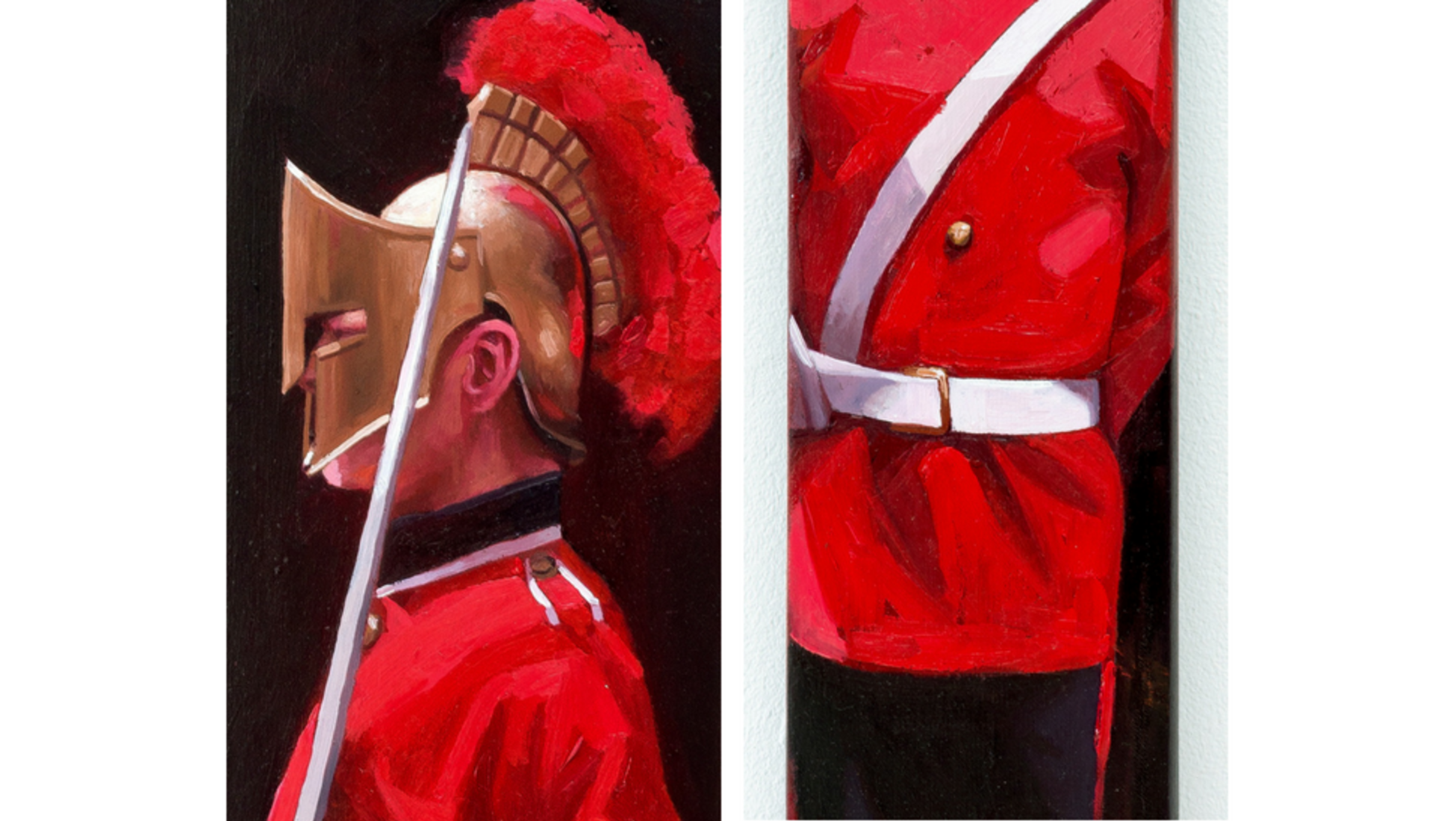 Two paintings by Matt Lambert in the series Off curriculum
How has your work changed since your last solo exhibition in 2017?
"Hopefully its improved! I really wanted to challenge myself technically this year. I am generally attracted to painting with vibrant colours and big contrasts in light and shade but in this work I also wanted to focus on the subtleties of colour and tone but also the nuances of body language and trying to capture thoughts and feelings through it. These were the main drivers behind the Observation series. These paintings are simple, but have been technically very challenging to produce. Galleries use multiple light sources so the way the light hits the viewers means there is very little tonal variation. Subtlety in colour therefore becomes much more important, looking hard for those small variations in the darks and light.
Thematically they are about observing subjectivity: different people's reactions to the same thing. In everyday life we all move too quickly to give much away. Our heads are full of a thousand thoughts and distractions. In galleries or museums by contrast we tend to grant ourselves permission to slow down and so our interest focuses in on a single subject. With more focused attention I think we communicate more through our body language about how we are experiencing the art.
Distractions of course are always just around the corner: our phones, the next piece of art, the person who has just entered the room. Levels of interest vary hugely too, some of us very quickly get bored whilst others are immersed in each piece for minutes at a time. So it is the wonderful variety of reactions I am trying to capture in my subjects, often by only viewing them from behind.
The artworks in the paintings are all blocked out with a single colour because this series is not about the pictures on the walls, it is about the viewers experience of the art and how much they vary."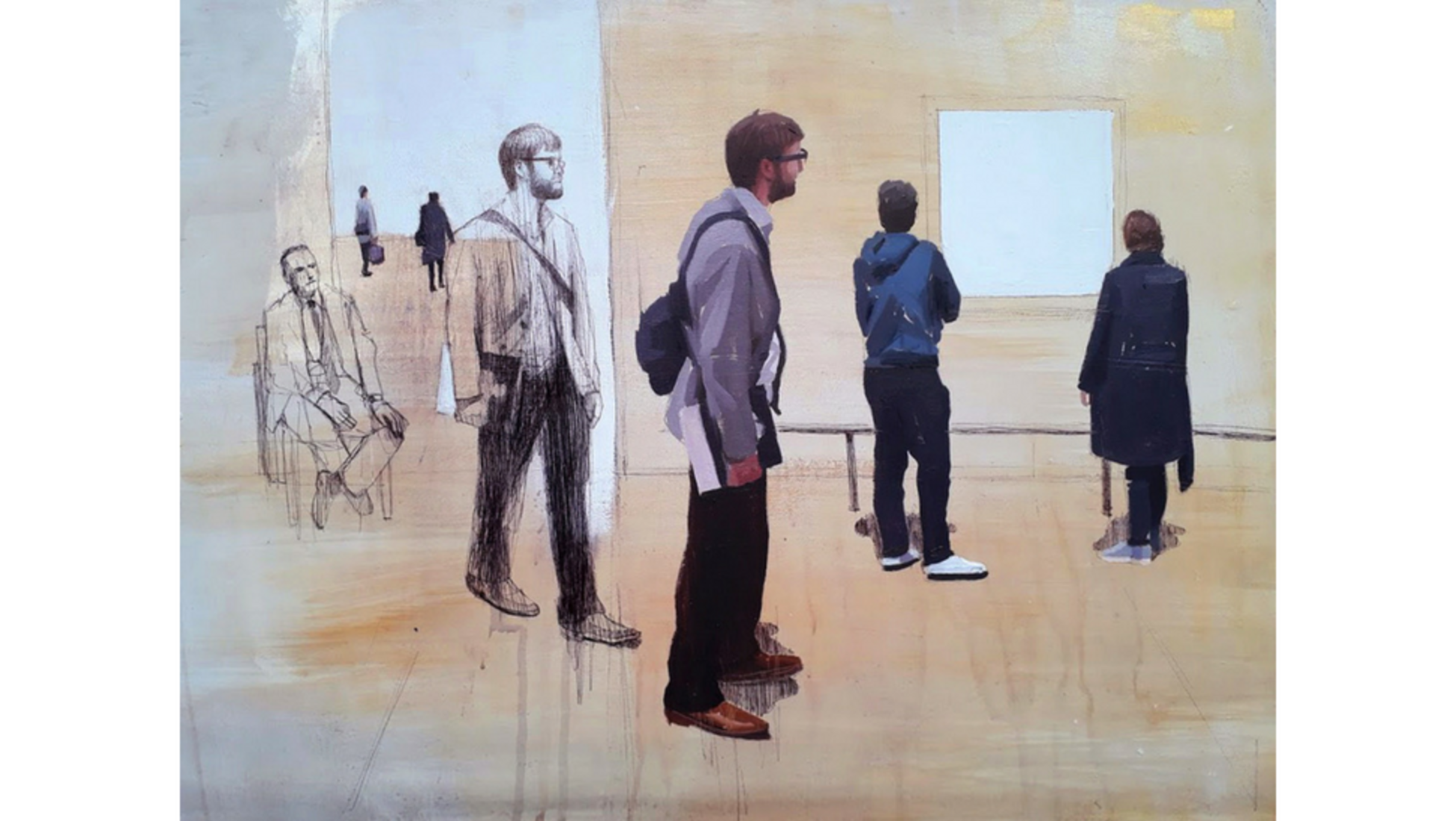 Matt Lambert - 'Observing #6'
So the upcoming auction is supported by an exhibition in Brighton, UK, can you explain a bit more about this twist on a traditional show?
"This proved very successful for me last year. My show, KIND was the most successful one I have had to date. I think this is because of the live aspect of the auction element. Viewers can physically see the work in person and right there and then look at the Catawiki auction online and place a bid. The fact that the works were on auction was a real conversation starter."
You did a TEDx talk in February this year, what was that experience like?
"It was quite a challenge! I was initially approached by the University of East Anglia to do the talk after they had read about my work in the English newspaper The Telegraph. It was a feature on British artists selling their work themselves through Catawiki titled "Five British Artists Worth investing in". The goal of TED is for speakers to communicate a single idea worth spreading. I used this as a starting point to explain the relationship between myself and my struggles with mental health, the charity I set up called Pass It On Africa and my artwork. This proved very cathartic actually. Thinking very hard about your process in order to produce an 18 minute speech that hopefully has something worth hearing in it really makes you nail down on what drives your ideas. I think the new directions in my work are the fruits of this process."
You can watch Matt's TED Talk here.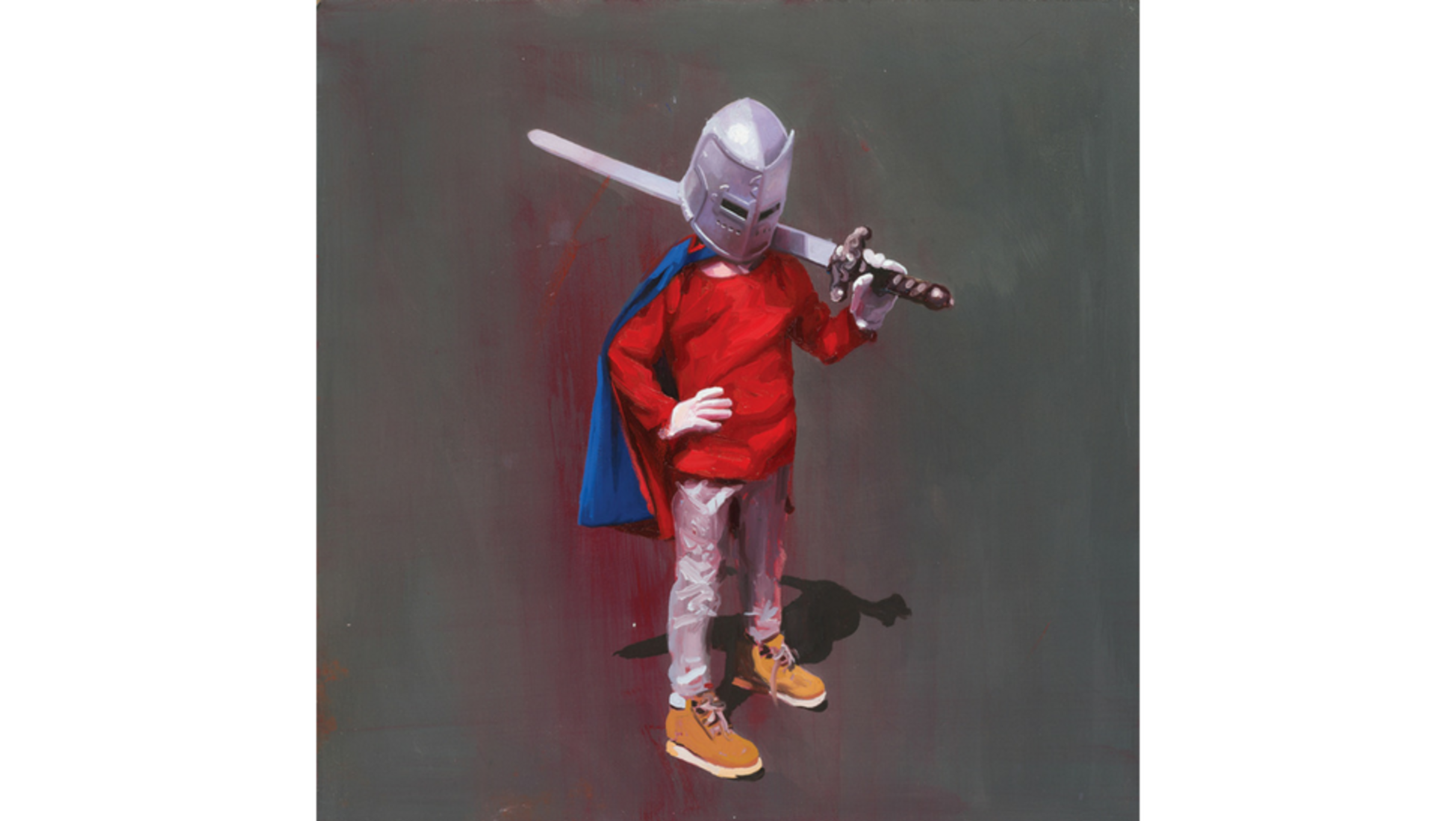 Matt Lambert - 'Don't be so sure that the monster isn't you'
What can we expect to see at the exhibition?
"This is the biggest collection of work I have ever produced. At the time of writing this, a week or so before the exhibition is hung, I am still producing new pieces on a daily basis. In total there will be 26 never before seen originals. I will also have a new book of works entitles Selected works for sale, lots of limited edition prints and small pencil drawings so something for everyone."
Do you have a favourite work that will be in the upcoming auction?
"Observing #7. It is one of those turning point pieces. These are infrequent for most artists, I'd guess at one a year if you are lucky and when they happen you need to be ready to jump on board. Like most of them, it was a struggle and involved a series of mistakes that led to a new aesthetic. I'm really enjoying the integration of birow drawn elements alongside the use of paint and suggesting the space the figures occupy rather than faithfully describing it. I think it marks the future direction that my work will take."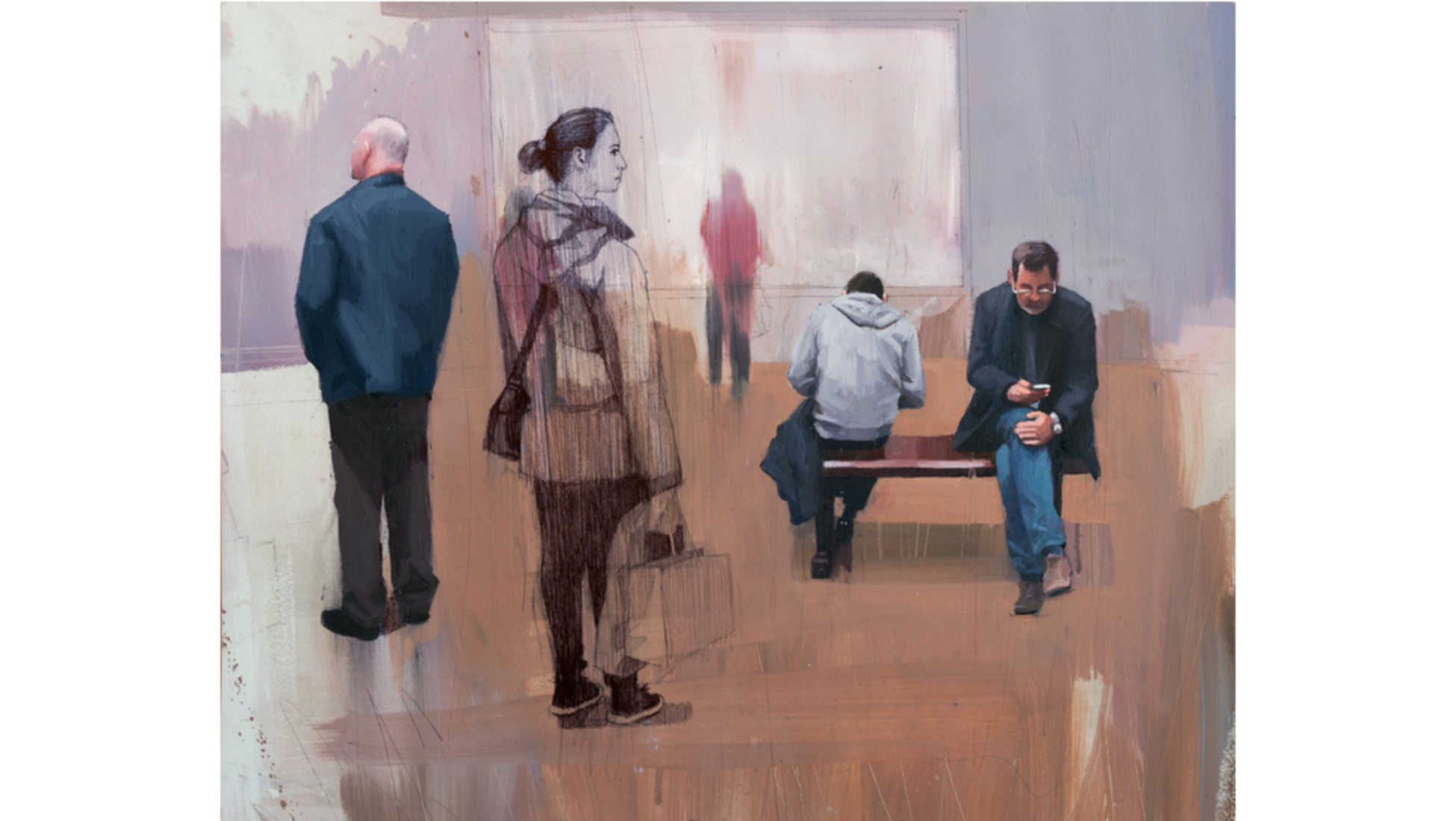 Matt Lambert - 'Observing #7'
Is there anything else you'd like to share with our readers?
The exhibition is open from Saturday 25th August - Sunday 2nd September, 10am - 3pm at the Fishing Quarter Gallery, Brighton seafront. All are welcome to the private view on Saturday 25th at 6pm.
____________________
You can visit the Art of Matt Lambert auction from 24th August - 3rd September.
Discover more paintings | street art | modern art
You might also like these articles: