Written by Beulah | 10th April 2019
The changing design of Italy's banknotes and stamps offers a unique insight into the country's tumultuous early-20th century. From publishers' attempts to align themselves with royalty to the post-WW2 rebirth, we've compiled a guide to the common themes, motifs and even subliminal messages.
Stamps, banknotes, even books; these forms of 'soft propaganda' have always played a significant role in how a country presents itself to the world. Early-20th century Italy is a fascinating example; with the country's soft propaganda reflecting intense political turmoil and search for a national identity. Even the amateurs amongst us can make an accurate guess at when a specific Italian stamp, banknote or textbook was printed; just from the palette and profiles used.
Conservative innovation at the start of the century
Designers of Italy's visual national identity in the early 20th century focused on stamps, banknotes and coins, as the power of well-designed book cover was not yet understood. However the publishing industry's practise of plain, unicolour dust jackets was in itself significant, as publishers chose colours associated with royalty and religion. Stamp and banknote designers had, in comparison, much greater freedom, although they were also subjected to more scrutiny than their literary counterparts.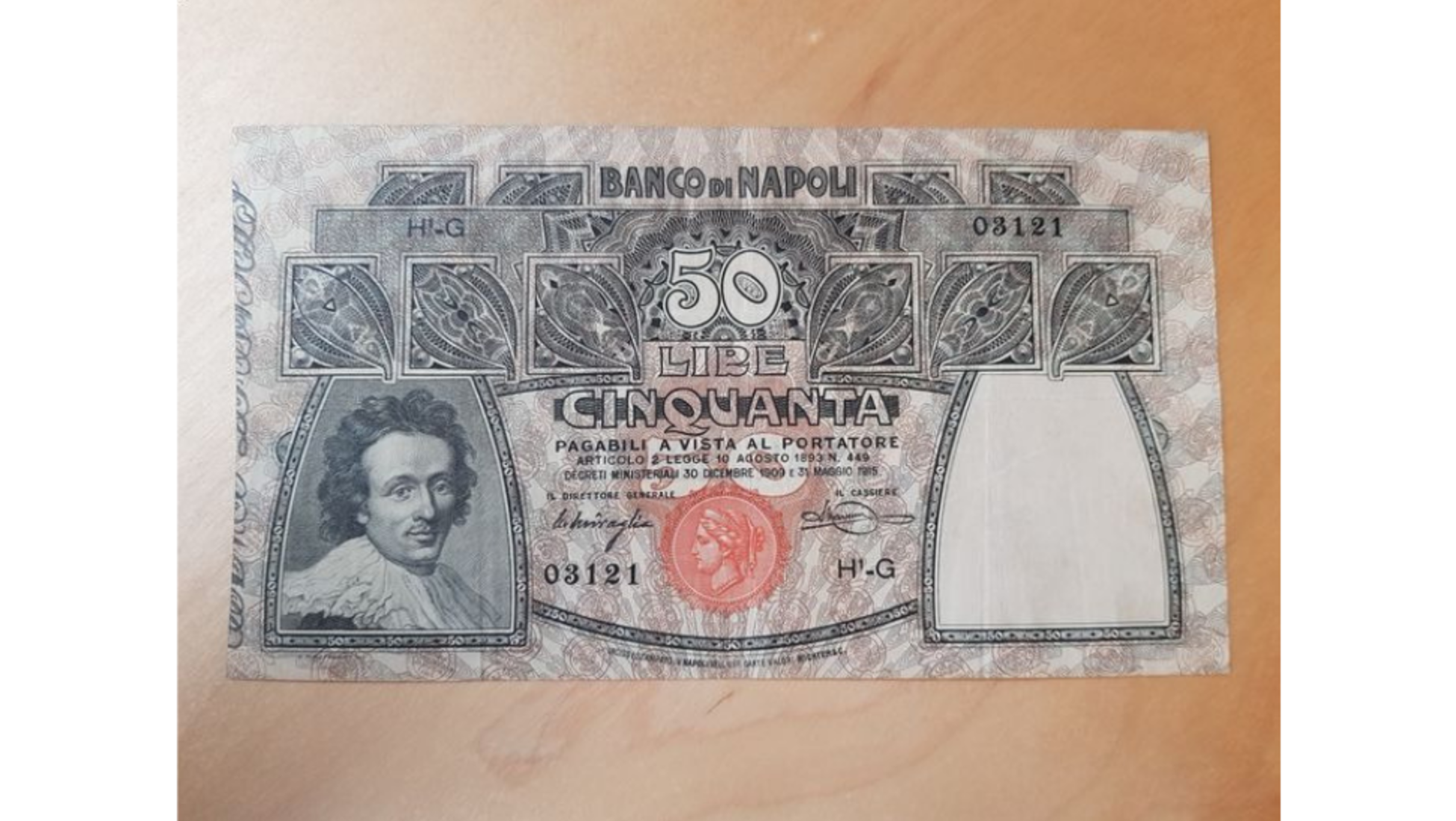 50 Lire 1915 - Banco di Napoli - Gigante BN 6F

In 1910 new Italian banknote sketches were commissioned with a brief that they should represent a typical Italian occupation with simplicity, purity, and balance. A more practical side of the brief specified that the colours of the notes must be unique and contrasting enough to thwart counterfeiters. The result was a set of ornate banknotes in (for the time) a startling array of colours. Balance was created through the use of classical sculpture and imagery, such as the two Nicola Cantalamessa-Papotti sculpture groups that decorated the façade of Palazzo Koch.
Mussolini and the shift from royalty to military
For the first three decades of the 20th century, it was standard practise for all Italian definitive stamps to feature either a portrait of the king or the royal coat of arms. This changed in 1929 when Benito Mussolini's fascist government released the 'Serie Imperiale' ('Imperial Series'). While the series' name gave an obvious nod to the tradition of featuring royalty and continued to feature the king's portrait, these stamps sent a very clear signal about who really reigned supreme in Italy.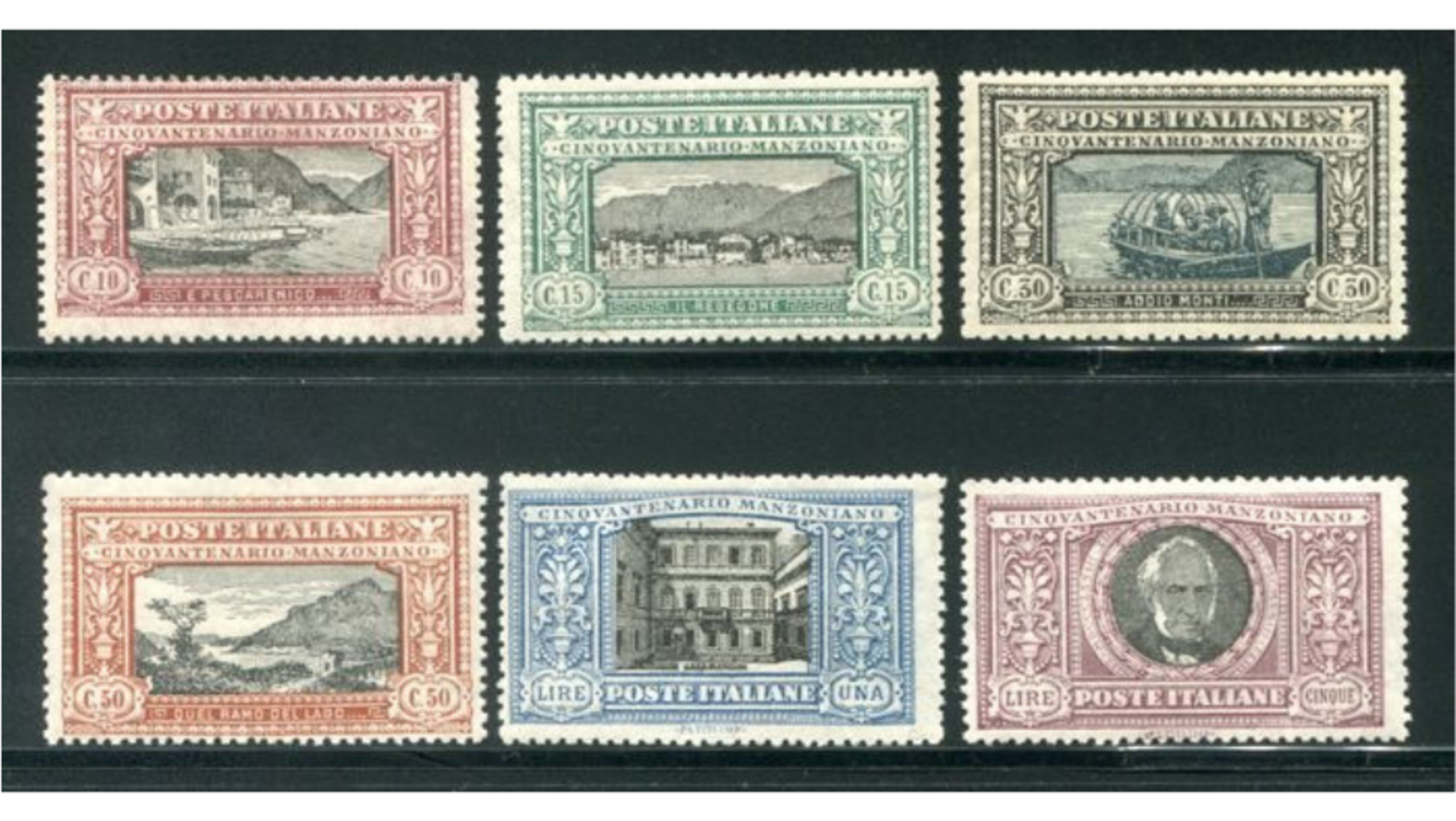 Italy Kingdom 1923 - Manzoni complete set of 6 values - Sassone NN. 151/156

The fasces (a bundle of sticks, often topped with an axe), a widely accepted symbol of the fascist state, was heavily represented. Portraits included great Italian military leaders, such as Julius Caesar, Emperor Augustus, although Mussolini was, surprisingly, absent. He did feature on a set of stamps to commemorate Adolf Hitler's 1941 visit to Rome. Using the same palette as the Serie Imperiale, these special stamps feature the two dictators facing each other surrounded by fascist symbolism.
The cult of Il Duce meant that – at a time when ink, paper and non-essential printing were limited by war – publishers still made it a priority to feature Mussolini's face on book covers. Many book designers continued the pre-war trend of simple, plain book covers; a practise that rendered fiction, non-fiction and textbooks virtually indistinguishable. A significant number of books, however, featured etchings, paintings and even photographs of the dictator.
Post-war standardisation and reinvention
July 1943 saw the first issue of Allied Military Currency (AM lire). These plain banknotes were a marked departure from the traditional lire; ditching the profiles of great Italian men and buildings and instead opting for pastel borders and a simple numeral in the centre. Needless to say, the Allies did not make including Mussolini's face a priority. The fact that the AM lire were near identical to AM in other countries was a clear message to the Italian population that their nation had become one-of-many under Allied control.
The design of Italian stamps was not immediately impacted in the way that banknotes were, possibly because the Allied forces at the time did not realise that the majority of the Italian postal service was still functioning. In retreat, the Nazi's set up the puppet Italian Social Republic in the North of Italy, and almost immediately began issuing their own stamps. These stamps no longer featured Mussolini or other high-ranking Nazi. They did, however, continue to use symbols of the Il Duce regime with stylised images of Ancient Roman and classical Italian architecture.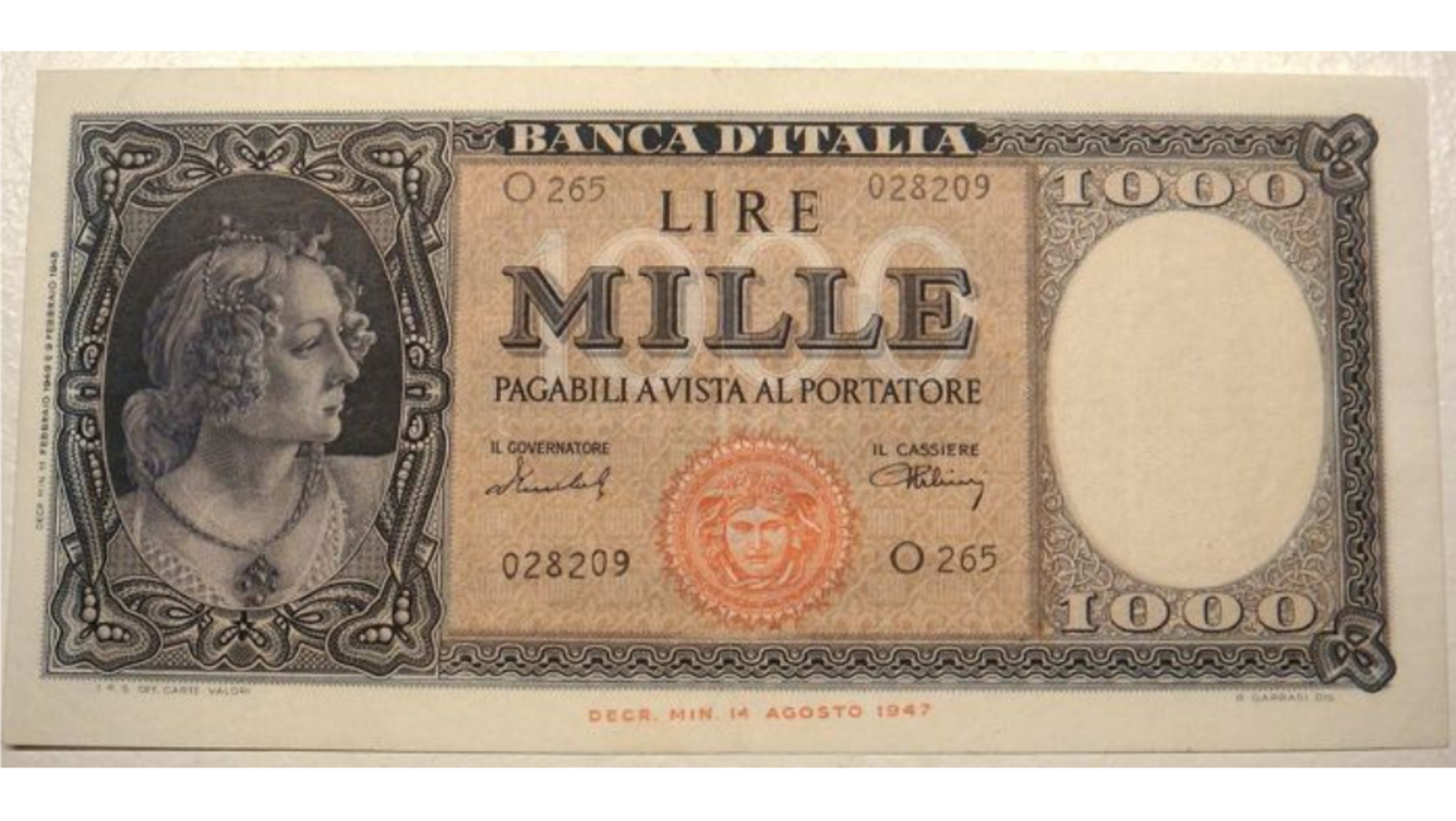 1,000 Lire Medusa 09-02-1948 / 11-02-1949

Italy exited WW2 in poor shape, ravaged by conflict and multiple invasions, and with the relentlessly utilitarian AM lire. The Italian publishing industry had ground to a halt, rendering books from their period especially rare, and the postal service was in a state of disarray, with much confusion over which stamps were still in use. Clearly, Italy needed to rethink and reestablish its national identity.
Switching focus from the Italian empire to Italian innovators, the Bank of Italy commissioned Fiorenzo Masino Bessi to design a new series of banknotes. Bessi's designs included portraits of composer Giuseppe Verdi, artists Raphael and Michelangelo and, of course, Leonardo da Vinci. Many observers took this as a sign that Italy was ready to move into the second half of the 20th-century with a sense of national pride.
____________________

Use the hashtag #20CenturyItaly on Catawiki to find books, stamps and more related to the topics discussed in this article.
____________________

Discover more banknotes | books | stamps
You might also like these articles: