By Beulah | 9th May 2019

Pocket watches are an example of beautiful, intricate craftwork at, quite often, an affordable price. Jochem Borren is here to tell us what he loves about pocket watches, why they are an excellent investment and how they captured his imagination at such a young age.
Welcome Jochem. So tell us; how did you first become interested in collecting pocket watches?
Jochem: My interest in pocket watches arose 12 years ago because of my older brother: a very technical and curious boy who took apart everything that was mechanical to put it back together once he understood how it worked. Observing how my brother repaired the pocket watches encouraged me to buy, sell and collect antique pocket watches.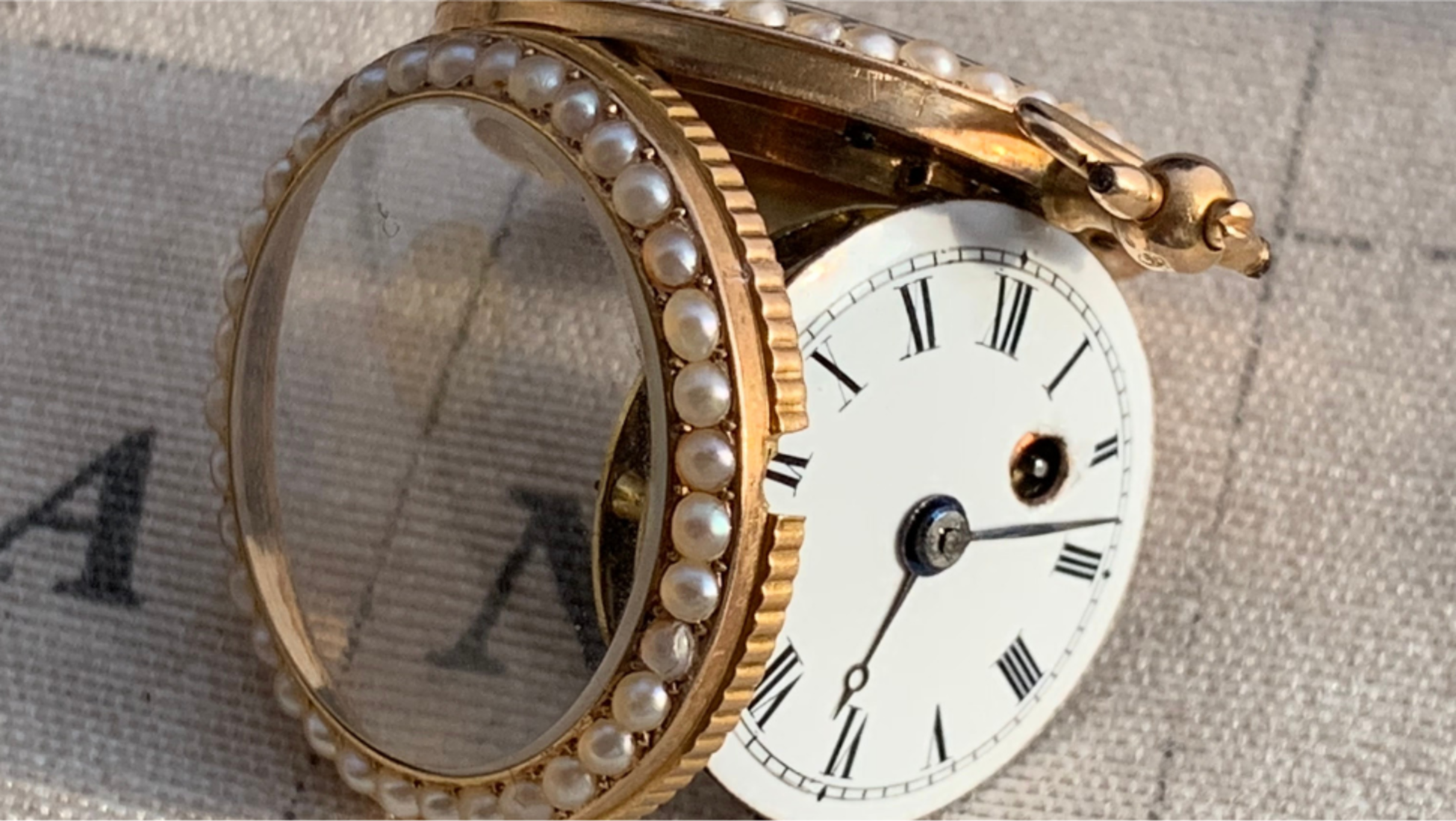 Golden inlaid with pearls French verge fusee pocket watch

Do you have any advice for young and new collectors?
Jochem: I would recommend everyone who has a fascination for craftsmanship and history to collect pocket watches. There is a lot to be found online about the various makers, styles, timepieces and materials that pocket watches have gone through over the past 450 years. Start small and try to learn as much as possible from the pocket watches that you purchase. Do you have faith in your knowledge and are you ready to expand your collection? Look for that one model that you find beautiful, fascinating and special!
What advice do you have for someone who wants to buy a good quality pocket watch?
Jochem: Good quality pocket watches come in all types and sizes. Contrary to what many people think, a pocket watch does not necessarily have to be from a well-known high-end brand such as Vacheron Constantin or Patek Philippe to be of the best quality. Study the timepiece carefully, pay attention to its movement and finishing. Some of my most beautiful and highest quality pocket watches are not signed. The talented watchmaker was not concerned with name recognition, but with the precision and craftsmanship of the watch, which is hard to find in today's production, in my opinion.
In general, lever escapements [the mechanism that connects the escape wheel and the balance wheel] are stronger and run more precisely in comparison to cylinder escapements. Also, military pocket watches underwent rigorous testing, since timekeeping was so important during the war. These pocket watches are very reliable and are often very affordable.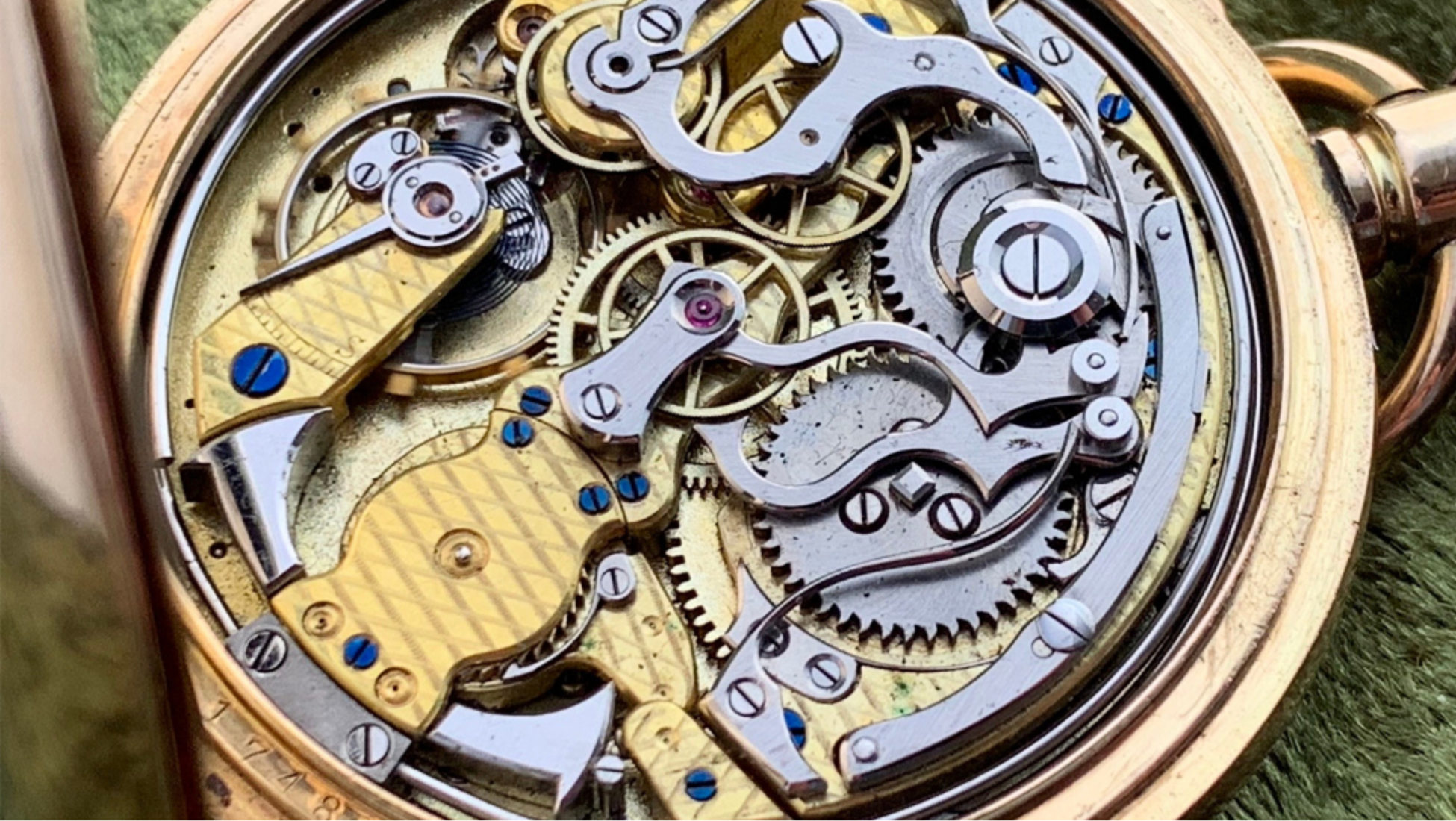 Complicated quarter repeater with chronograph function

Are there any particular models or brands that make a good investment?
Jochem: Just as with other collectibles, the golden rule applies; the rarer the object, the greater the value. I am convinced that complicated pocket watches make a good investment. After collecting a number of pocket watches, a collector continues to look for a model that he does not yet have in his collection. These are often the more complicated models such as chronographs, chronometers, triple-calendars, repeaters and unusual escapements.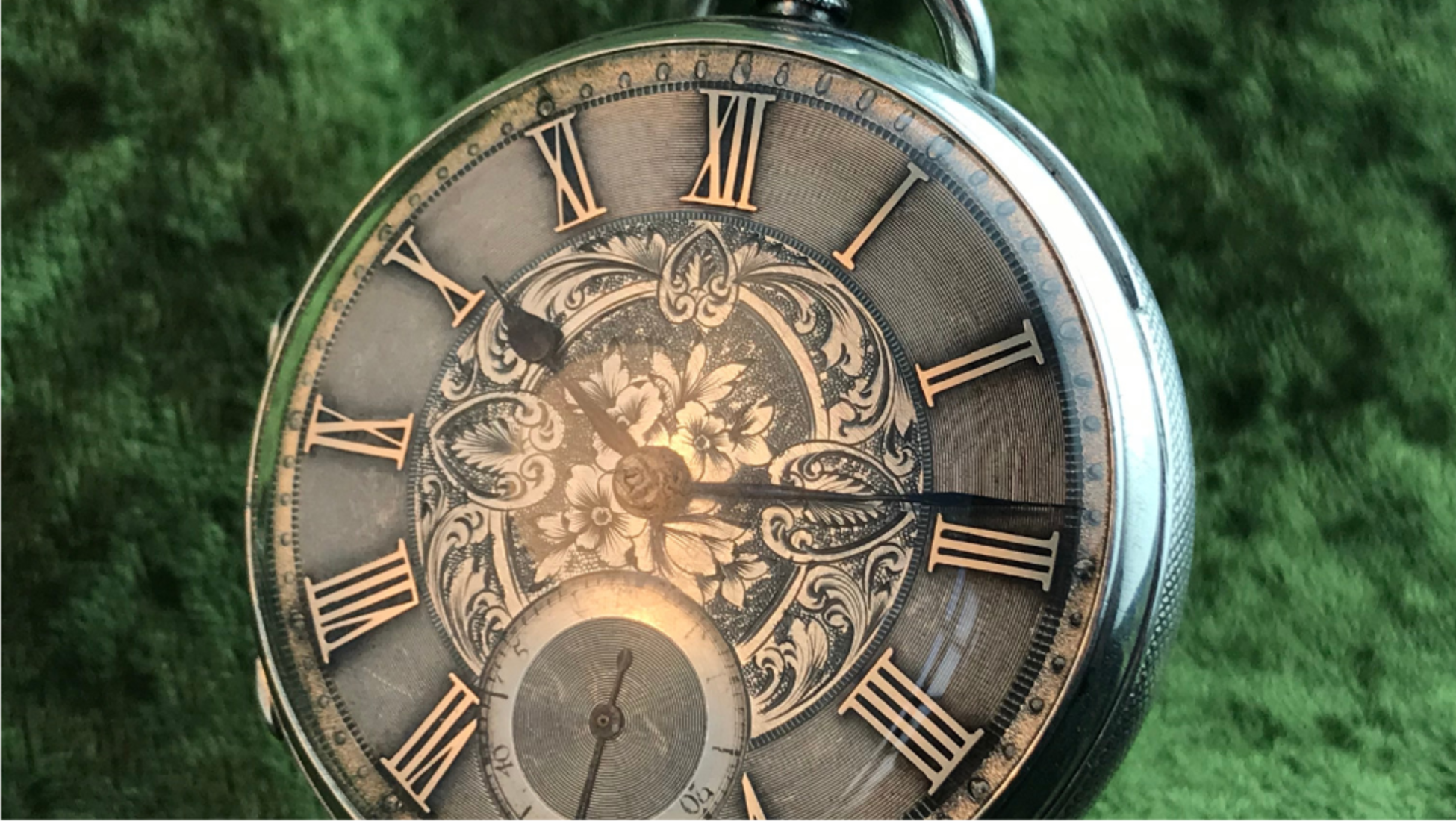 English fusee pocket watch - London, 1876

Any other thoughts you'd like to share with our readers?
Jochem: What I find very special about antique pocket watches is the fact that they are very affordable. It is incredible that a solid silver pocket watch with a really beautiful and, for that time, complicated mechanism of more than a century old is available for a relatively modest investment.
If I could choose between a high-quality vintage pocket or wrist watch with a rich history, or a mass-produced plastic battery watch that was made to last less than four years for the same price, my choice would be easily made. It is a choice in style and knowledge of which I think that a mechanical pocket or wrist watch contributes enormously to the character of its owner.
____________________
Are you interested in starting your own collection? Jochem is auctioning some of his favourite items (check out his Pocket Watch Auction) and you can follow him on Instagram @mokumwatches.
____________________
Discover more pocket watches | watches
You might also like these articles:
How to Determine the Value of a Pocket Watch
How to Invest In Rolex Watches