Written by Beulah | 10th May 2019

In the 1960s a pair of sisters created a new genre of comics: fumetti neri. These 'black comics' were gritty, salacious stories of the criminal underworld that used innovative drawing techniques and became fantastically popular among adult readers. In fact, fumetti neri became so popular that the conservative Italian press launched a campaign, calling for them to be banned.
The birth of fumetti neri
Diabolik was a series of gritty black-and-white comics, created by sisters Angela and Luciana Giussani in 1962. Popular legend has it that Angela Giussani took an informal survey of commuters through Milano Cadorna rail station and came to two realisations: many adults preferred to read mystery novels, and small, easily portable books. Comics publishers in post-war Italy tended to focus on younger readers, leaving a gap in the market.
Inspired by Victorian gothic romance novels, Italian horror films, pulp fiction and iconic Hollywood films like the Maltese Falcon; the Diabolik series presented readers with the archetypal antihero. The eponymously named Diabolik was a master-thief and con artist who, aided by his vampish lover Eva Kant, happily extorted, pillaged and even murdered his way through the fictional town of Clerville.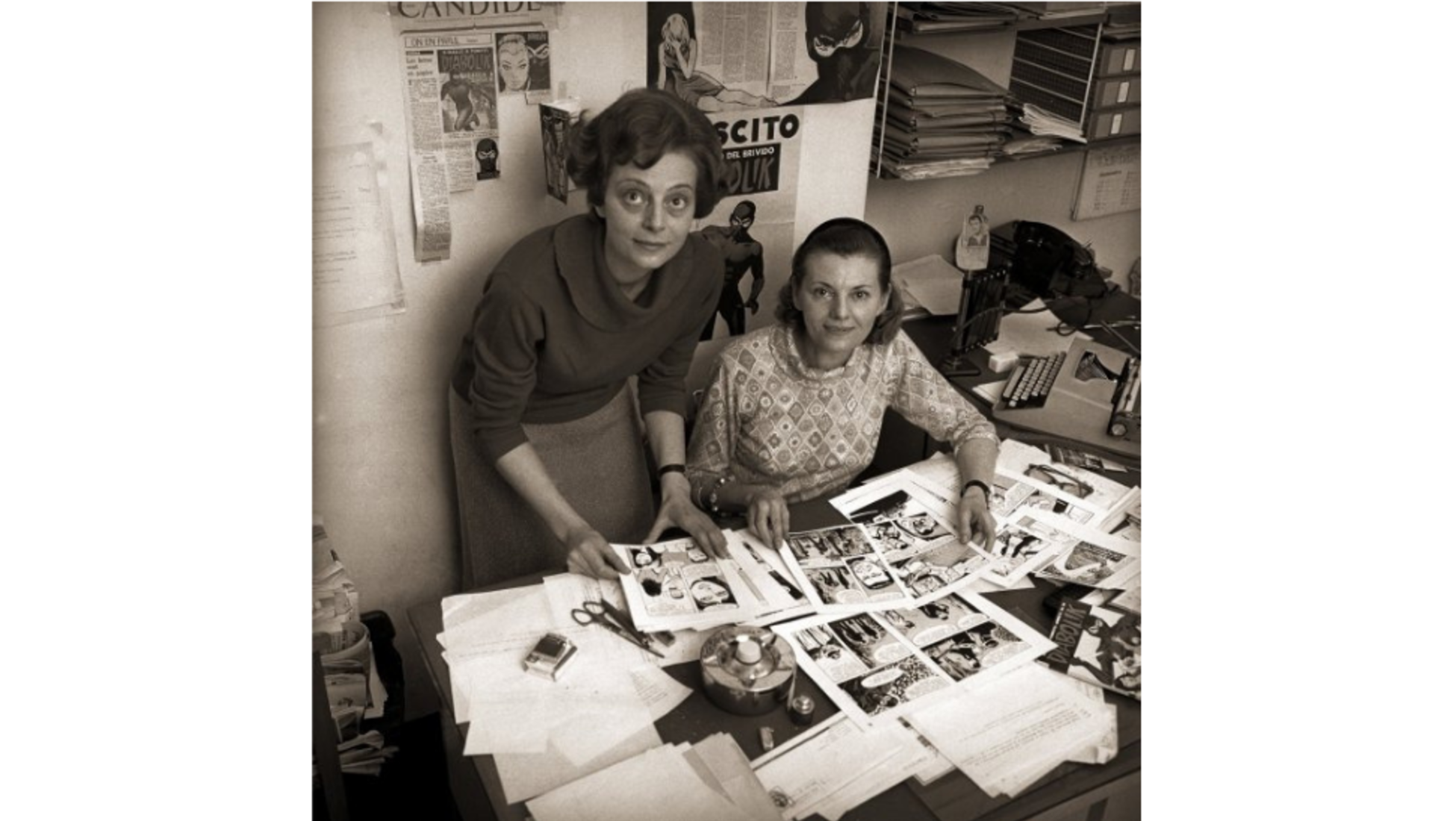 Angela and Luciana Giussani

There is some disagreement around how active the Giussani sisters really were in the conception and distribution of Diabolik. Even though the Giussani sisters founded their own publishing house in order to publish Diabolik and continued to write the comic well into the 1980s, Comics Expert Luca Mencaroni believes that the role of Angela's husband has been overlooked:
"Gino Sansoni [the husband] was a brilliant businessman: at the end of the fifties, he specialized in adult publications… the Giussani sisters created Diabolik, but it is clear that they had no editorial experience, while Sansoni already had a consolidated role at that time. Sure, the Giussani sisters became two good directors, very attentive to the care of the authors who made their comics, but all the initial artists come from the team of Sansoni."
The Diabolik series eventually ran to over 800 volumes, became the all-time bestselling European comic series, sold over 150 million copies and gave birth to the notorious sub-genre: fumetti neri.
The spread of fumetti neri
Fumetti neri or 'black comics' tapped into the Italian public's fascination with crime and the lack of comics aimed at adult readers. The small format and limited palette of the Diabolik series made mass-production an easy, low-cost option. Other publishers and creators were soon inspired to follow the Giussani sister's success and comics with titular characters featuring 'k' in their names began popping up.
The honour list of fumetti neri artists includes Roberto Raviola (aka Magnus), Milo Manara, Vittorio Corte, Eros Cara (aka Kara), Giancarlo Tenenti, Umberto Sammarini, Floriano Bozzi, Romano Mangiarano (aka Felmang) and Camillo Zuffi. Notable covers were drawn by Luigi Corteggi, Emilio Uberti, Franco Picchioni, Carlo Jacono and Alessandro Biffignandi.
"Magnus was the graphic creator of unforgettable characters as Kriminal and Satanik," Luca explains. "And he influenced artists like Giovanni Romanini, Ilario Ranucci, Luigi Corteggi, Roberto Corbella, Paolo Morisi. Other important Studios in Rome worked for those comic books: new artists as Romano Mangiarano, Angelo Todaro, Vittorio Corte, Franco Verola, Sergio Pascolini, Fausto Oneta."
With such a talented group of artists and an audience of adult readers – eager to read the next instalment of Diabolik, Kriminal, Satanik, and Sadik – it's hardly surprising that fumetti neri became so popular. "For the first time, the publications were reserved for an adult audience and not for teenagers. The contents were considered non-traditional but forbidden, and therefore teased readers' desires!"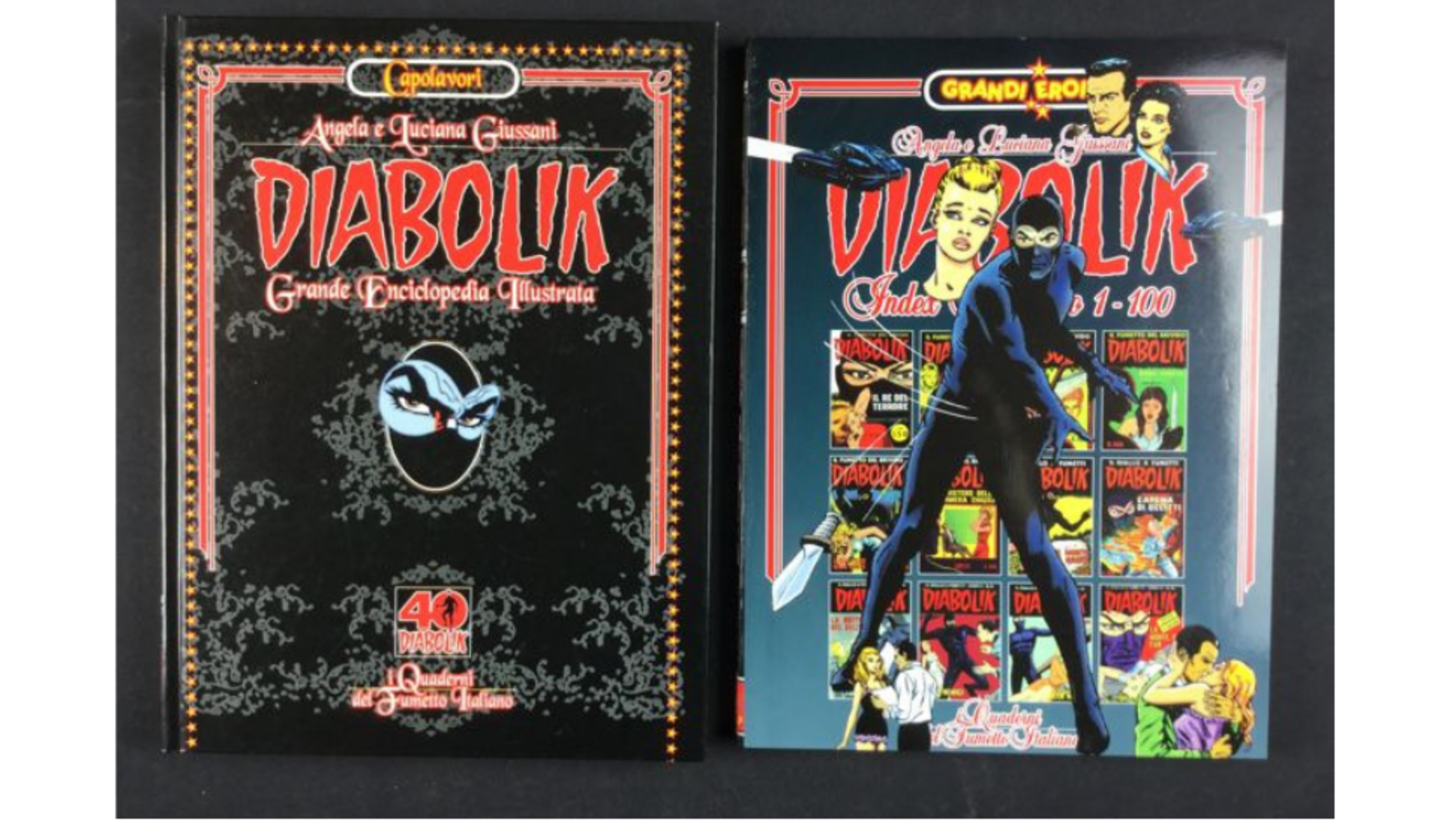 Issues of Diabolik

The campaign to censor fumetti neri
What might be surprising to contemporary readers is that the conservative Italian press soon took umbrage at the salacious topics, and started calling for a boycott. Luca tells us more; "Sex and morals were very different from those of today: black comics were accused of infusing violence, but in reality, they exposed urban events." Of course the calls for censorship backfired and only amped up the public's interest.
"The impact of the complaints [and calls for censorship] was to intrigue and stimulate the readers even more. Unfortunately, some publishers were persecuted and some of them abandoned these kinds of publications." Other publications embraced the notorious reputation of fumetti neri and started to produce 'vietati ai minori' (prohibited to minors). These comics were increasingly sexual. "The black comic strip became the erotic comic in the early 1970s. The natural continuation was to show even more what I was forbidden. And this became an international success."
____________________
Interested in expanding your Italian comics selection? Take a look at our regular Italian comics and original comic art auctions.
____________________
Discover more Italian comics | comics | original comic art
You might also like:
In conversation with an artist: David Bircham and Marvel's Black Panther

5 oldest comic books in the world

In conversation with an artist: Jupai gives coffee superpowers