Written by Jonathan Cox | 28th June 2019
Gone are the days when jewellery for men was associated with the hairy-chested, medallion-wearing disco-goers in white polyester suits from Saturday Night Fever. Jewellery expert Jonathan Cox tells us how the perception of men's jewellery has changed, how it's different to women's jewellery and trends and tips for first-time buyers.
Do you think the attitude towards men wearing jewellery has changed?
Jonathan: Yes. Thanks to celebrities such as David Beckham, who can be seen sporting earrings on a regular basis, more media coverage and changes in the manufacturing of newer material, people don't really raise an eyebrow when men wear jewellery these days. It's actually a big area of growth for us, with both modern, vintage and antique pieces increasing in popularity.
What, exactly, is the difference between men's and women's jewellery?
Jonathan: There are no hard and fast rules about who wears what anymore, but in general the differences between men's and women's jewellery are in the weight and gauge of pieces. There is some overlap between men's and women's jewellery, for example in chains, bracelets and simple rings, like wedding rings. Men wear chains and bracelets which are usually heavier pieces, although the design, such as belcher links, are often the same. Whereas lighter, more complex link designs like barleycorn are often reserved for women.
Men's wedding rings tend to be wider and not generally set with gemstones. When men's jewellery contains gemstones, it's usually in signet rings or cufflinks, which can be set with diamond, ruby, sapphire and a whole range of non-precious stones.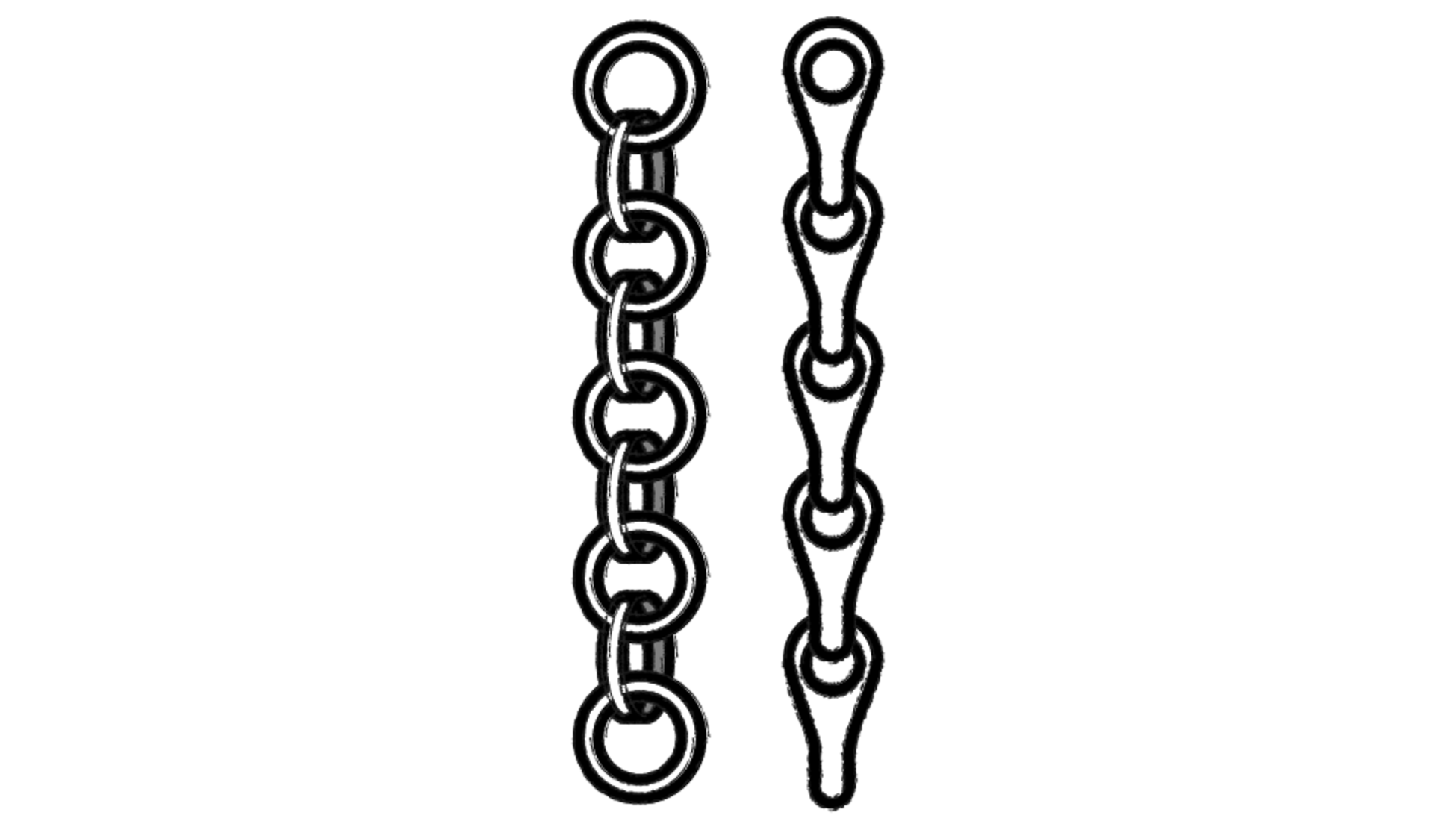 There usually is a difference between men's and women's link designs, left is an example of a 'standard' belcher link design used in both, right is an example of barleycorn link design, often only reserved for women's jewellery.
So how do you determine the value of men's jewellery?
Jonathan: Jewellery valuation can be split in very broad terms into the values of their precious metals and gemstones for non-branded pieces such as chains, bracelets, rings and cufflinks. Pieces by famous brands or vintage and antique pieces are prized for their rarity or design characteristics and prices are very much driven by market demand. Designer pieces attract a premium and expert guidance is always good in cases like this.
What kind of trends do you see on the market for men's jewellery?
Jonathan: Certain styles from the 1970s, including Scandinavian pieces, often only in silver, are increasing in value and are always popular with buyers. Some classics continue to remain popular with men, such as chains and signet rings. Higher carat gold pieces such as 14 and 18ct remain popular, plus they always keep an intrinsic value in line with gold prices.
Items such as unusual signet rings and cufflinks give men the opportunity to make a statement in a subtle yet stylish way. Pendants are having a little bit of a resurgence with the endearing classic male 'dog tag' on a chain still produced by many jewellery houses. Higher-end fashion jewellery such as Cartier and Tiffany now produce a wider range of men's' pieces that are very much in vogue. Other brands like Hermès are also in demand.
Do you have any advice for men looking to buy jewellery for the first time?
Jonathan: Don't rush into buying or be immediately swayed by fashion trends or the media. Find something that suits you and your personal style. Are you a yellow gold person, a white gold person or would you suit something more modern like titanium or a designer piece in leather and metal? Do your research, set yourself a budget and maybe try a few styles before you go hunting for that special item. If you're going down the designer route, then don't rush for something that seems like a bargain and always buy it from somewhere reputable that has been checked for authenticity.
____________________
Discover more men's jewellery | rings | necklaces
You might also like these articles: