Written by Beulah | 23rd August 2019
Whether it's feverish anticipation or simply excitement, there's a whole range of feelings associated with your first car show. To help you prepare, we asked classic car experts Jan-Bart Broertjes and Sander Houdel what they wish they'd known before attending their first car show.
Hello, thanks for chatting to us! What was the first car show you attended as a buyer?
Jan-Bart: The first one was probably a small local show about 30 years ago. I have attended hundreds of car shows but I've never actually bought a car at one. I did (and still do) buy loads of automobilia at shows though, mainly car books.
Sander: I attended my first car show when I was very young, together with my dad, uncle and grandpa. I remember my grandpa bought me a model car, a red Volkswagen beetle (I still have it!), so maybe my love for the Volkswagen Beetle started there.
And your first show as a seller?
Jan-Bart: I've sold automobilia at shows and shown a car occasionally, but less often with the intention of selling. My favourite show for selling is the British Autojumble at Waalwijk in The Netherlands. Last year André Dekker and I shared a stand at the Oldtimerdag Ruinerwold and André sold loads of car books for me.
Sander: I also became a seller at a very young age. When I was 16, I tried to sell a real Volkswagen beetle at a local classic car show in Eelde and the local newspaper even ran a story on it.
What are your top three tips for buyers visiting their first car show?
Jan-Bart: Do not buy the first nice car you see. In fact, do not buy a car at all. Instead, use the show to gather information on what car may be most suitable for you, or—if you know what you want—look at as many cars as you can, talk to owners and car clubs (not dealers) and gather information. If you already know what you want, do your homework before you visit the show; what are the known weak spots of the model? What is the price range?
Sander: Car shows are a good place to find fellow car lovers. You can find a selection of car clubs who can give you tips if you are looking for a specific car. It's also a good place to find companies that can help you with repairing and restoring your (future) classic car.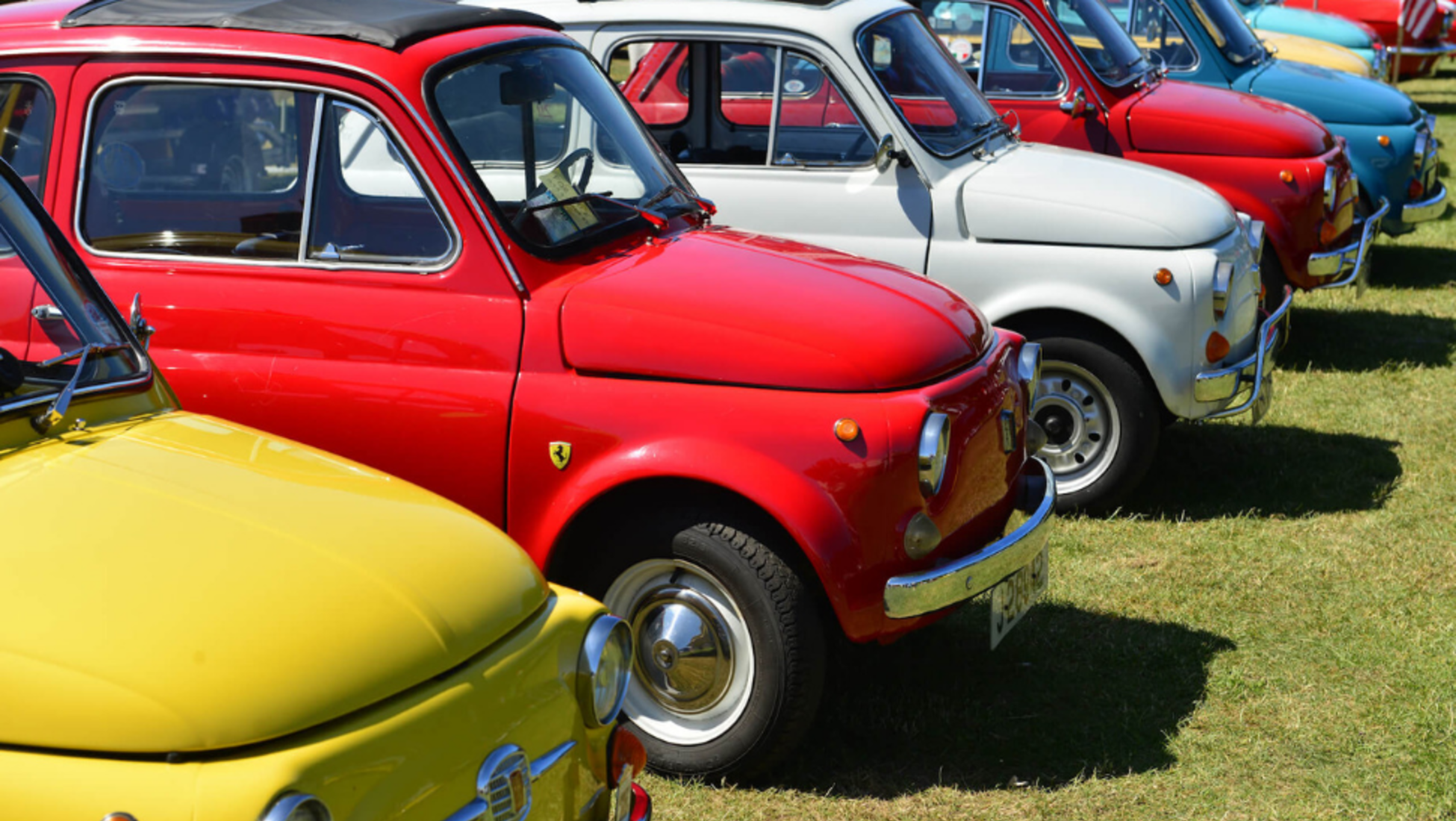 A collection of Fiat 500 Cinquecento at the Jersey International motoring festival

And what about sellers?
Jan-Bart: Tricky one. It takes a lot of time and effort to take a car to a show and stand there for the whole time waiting for someone likely to kick the tires, tell you what's not original, or that their father had one of those. If you still want to sell at a show, make sure it looks nice – clean it, polish it.
Sander: It's hard to sell at a car show because people have more of a choice in the different classics. They also know that prices are always higher at a car show. which in turn makes them somewhat reserved about buying at a show.
Is there any advice you wish you had been given before your first car show?
Jan-Bart: I have often made impulse buys only to find out later that the objects were not as rare as the seller said or were available for cheaper elsewhere.
Sander: If you are a seller, it's good to bring a popular car to the show that attracts a lot of people. Also, don't start with a high price. For buyers, don't buy too quickly. Think about it and go back to the seller after the fair.
What are common mistakes you see new buyers and/or sellers making at their first car show?
Jan-Bart: The main thing that surprises me is how much money people pay for cars at shows. Dealers ask astronomical prices and people pay them without thinking. I suppose they ask for a 10% discount and are very happy when they get that. But they still pay over the top prices. I would say visit a car show to decide what model of car you will go for and then buy it for sensible money on Catawiki!
Sander: They fall in love with a car (usually because it's nicely polished and looks good) and then impulsively buy on the spot. Then after a few weeks, they realise they've paid too much and the car isn't as good as they thought it was.
____________________
Check out our latest classic car auction or register as a seller with Catawiki.
Discover more Classic Cars | Automobilia & Motobilia
You might also like:
How millennials are changing the classic car market
What's next for the classic car market?