Written by Beulah | 11th October 2019

60 years ago, a group of French comics artists launched a magazine that would challenge Belgian publishers' domination of the European comics market. That magazine was called Pilote and in the style of its most famous creation – Asterix the Gaul – it would cut a swathe through invading Belgian imports, eventually reclaiming the French comics market for homegrown talent. Comics experts Louis Gerard and Patrick Vranken tell us more.
The end of U.S. and Belgian domination
The outbreak of WWII in 1939 led to disruption of the supply lines between Europe and the U.S. While this disrupted the broader economy, it also had a significant impact on the comics industry and created an opportunity for a group of enterprising comics authors. Patrick explains: "Before the war, a lot of U.S. comics were being published in European newspapers and specialised children magazines such as the French "Mickey" magazine. This had been the case since the 1920's, until 1940, when a new generation of European artists – mostly Belgian – unexpectedly got the chance to fill the gap."
With Captain America, Wonder Woman and Mickey Mouse languishing on the other side of the Atlantic, a profound change was happening in Belgium. "This [situation] led to an explosion of creativity that would set the bar for European comics for at least three decades," says Patrick. "Magazines like Le Journal de Tintin (under Hergé's supervision) and Le Journal de Spirou would influence comic artists all over Europe."
European comic book readers were delighted by this wave of homegrown talent. Previously U.S. imports were the main comics available and seeing a comic in their own language was a novelty for most European fans. There was no doubt that a significant change was taking place. Then, on the 29th October 1959, a new French magazine appeared that would cement the a new age of European comics and clear away the looming threat of Belgian domination. Its name? Pilote.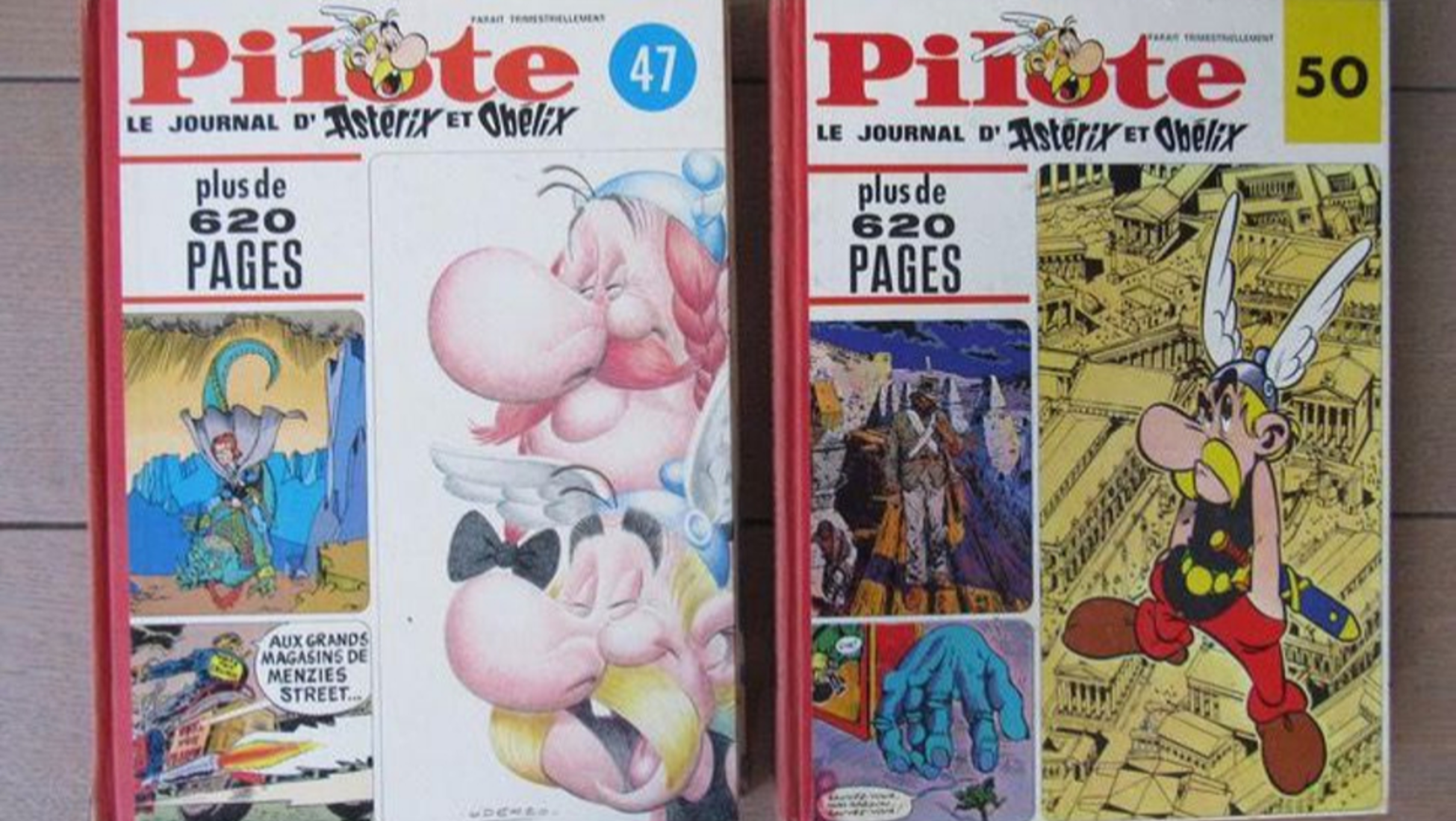 The beginning of Pilote
"Three comics authors were involved in the creation of Pilote," Louis tells us. "Jean-Michel Charlier was a pillar of the Belgian comics community and he was already involved with the Franco-Belgian comics magazine: Journal de Spirou. Then there were Albert Uderzo and René Goscinny, a French duo who had previously collaborated on the Journal de Tintin and their Oumpah-Pah series."
Pilote was originally designed to be a youth-orientated version of Paris Match. Early issues of the magazine included news, games and feature articles. However, the acquisition of Pilote by French publisher Dargaud in 1960 helped propel the magazine into the mainstream. Louis explains that "comics became increasingly essential, and major series such as Tanguy and Laverdure, Achille Talon, Blueberry, Valerian and Asterix were developed."
The last addition to that list would prove to be the best known and perhaps most symbolic Pilote comic. The Adventures of Asterix the Gaul tells the story of a group of magically enhanced, plucky Gauls, living in the year 50 BCE. Our hero Asterix and his best friend Obelix are fuelled by a magical potion, brewed by the village druid Panoramix. This potion gives the Gauls superstrength and allows them to defend their village from the invading Roman Empire.

Clearly the story of a small group of resistance fighters holding their own against an invading army held a lot of appeal for mid-20th century European comics fans. And Asterix continues to entertain readers into the present day. As Louis points out: "This profoundly French series is still the best-selling European comic strip, with nearly 380 million albums since its creation! A true editorial phenomenon, Asterix and Pilote heralded the end of Belgium's temporary sway over the European comics market."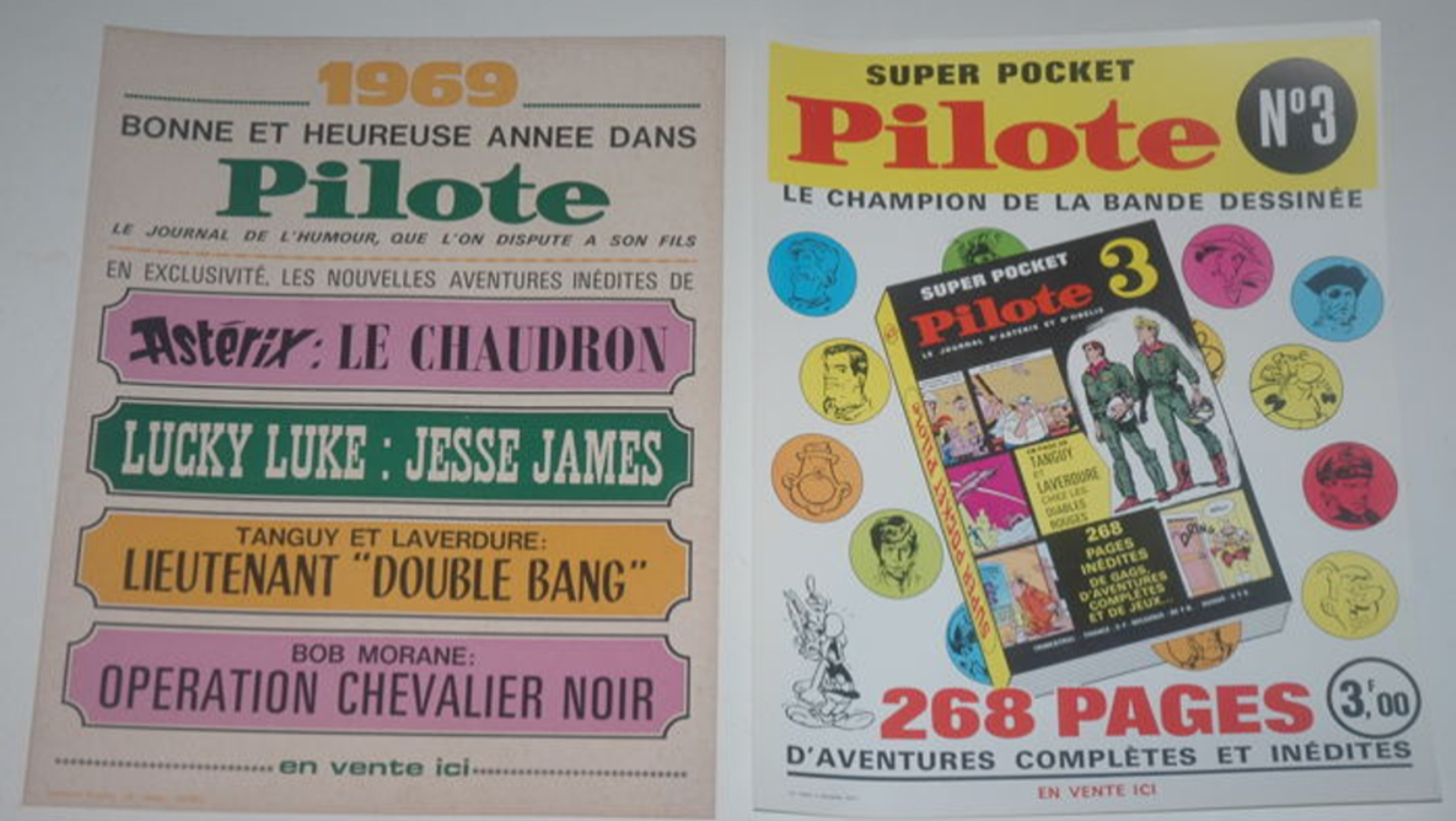 Kiosk posters promoting Pilote in 1969
The legacy of Pilote
The end of the 1960s was a tumultuous time in France. "By the end of the decade, barricades were thrown up in the streets of Paris by young people who were intent on breaking down traditional barriers," says Louis. "Church, government, school, university and parents were no longer recognized as authorities. In France, like in the U.S., this was strongly reflected in comics magazines."
The role Pilote played in the history of European comics is beyond dispute. The magazine established that French artists were able to create innovative, entertaining comics with a broad, international appeal. Louis is quick to point out that Pilote also contributed to the development of adolescent-focused comics:
"Pilote set the tone for this evolution from children's magazine to an adolescent journal," Louis explains. "This in turn led to the birth of adult comics and would launch a whole new creative dynamic that would last throughout the 1980's. Pilote would inspire comics artists to take their art a step further, in publications like Fluide Glacial, Métal Hurlant (Heavy Metal) or l'Echo des Savanes."
Pilote ceased publication in 1989 – another victim of the general publishing crises that hit comics magazines at the end of the 20th century. Yet 60 years after its debut, comics readers are still enjoying the innovations that this near-mythical publication inspired.
____________________
In honour of the 60th anniversary of the founding of Pilote, our experts are hosting a comic auction (Astérix & Journal Pilote - 60 years) on Catawiki.
Discover more Comics | Comics in French
You might also like:
How Spider-Man proved that teenagers can also be superheroes
The marketing genius of Willy Vandersteen
Why Italy's conservative press tried to censor the fumetti neri comics