Written by Beulah | 8th June 2019
In the 1940s an iconic Belgian comic series unseated the established U.S.A. comics publishers. Much of the success of Suske & Wiske can be attributed to the marketing genius of creator Willy Vandersteen; a man who used social media-style marketing tactics, 60 years before Facebook was launched.
The adventures of precocious teenagers Suske and Wiske conquered hearts and reading habits throughout the Benelux. The series originally appeared in the Belgian newspaper De Nieuwe Standaard and at the end of each series, an album was published. To date, an estimated 60 million Suske & Wiske albums have been sold and the series has been translated into 35 languages.
The success of Suske & Wiske could not have been predicted, even a few short years before the first strip was published. Pre-WW2, the comics market in Europe was dominated by U.S.A. publishers, with relatively few home-grown series. However...
"Willy Vandersteen was a marketing genius," explains comics expert Patrick Vranken. "In 1945 [Vandersteen] realised that by first publishing a daily comic strip in the newspaper the public would get to know the characters. Then, as soon as the story was finished, an album would be produced and sold in the stores."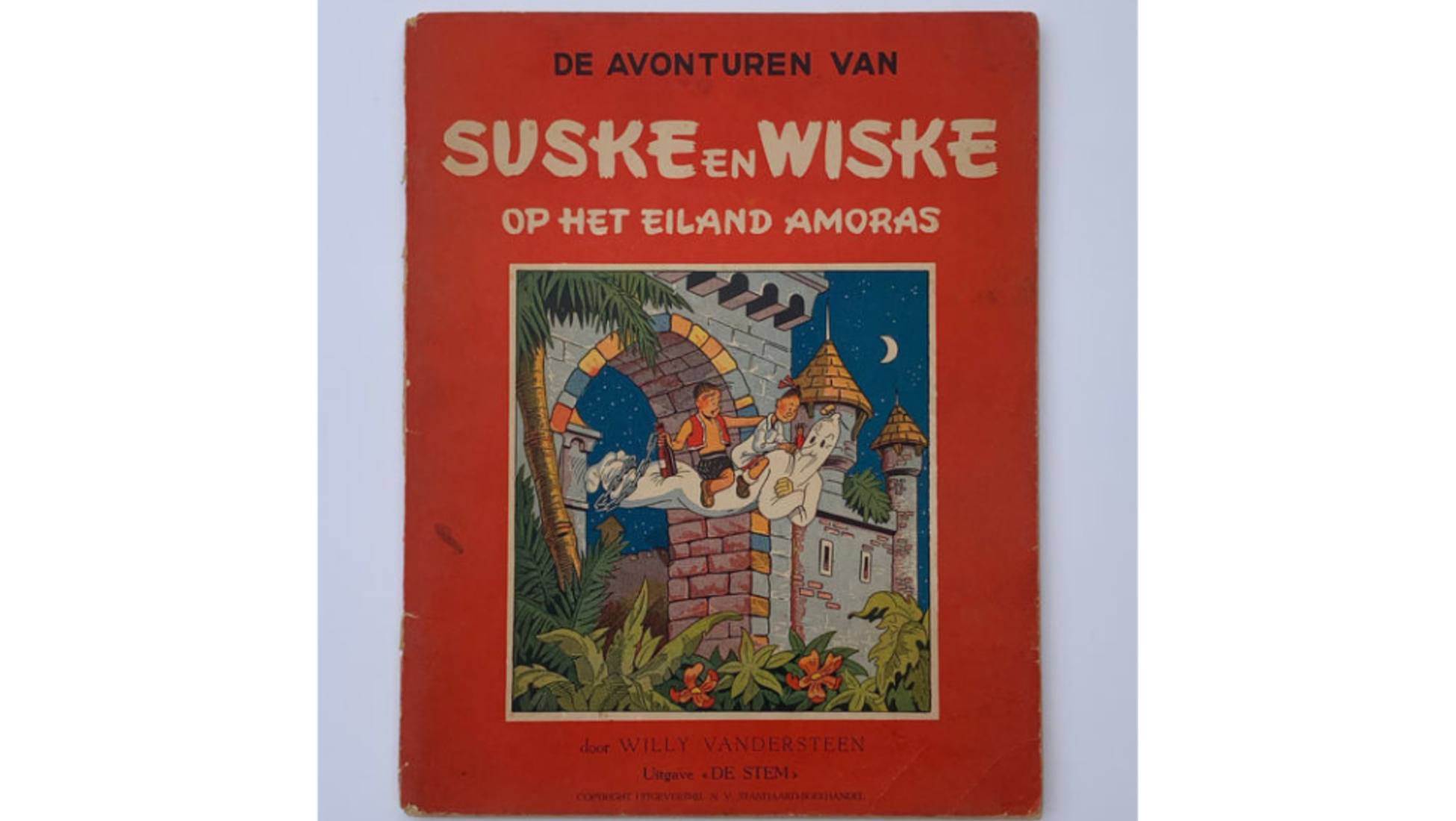 Suske en Wiske op Het eiland Amoras: the first Suske en Wiske album ever published

This tactic wasn't just a good way for Vandersteen to build up audience love for his characters; it also gave publishers a reason to take a chance on a previously unpublished artist. After the war, Europe's entertainment industries were in recovery mode: cinema production was making a halting transition back to commercial film and limited paper stocks curtailed publishing, with most publishers opting for established authors. Vandersteen's methods for building his audience predate the practice of indie comics artists and authors today. And he didn't stop there.
"The album stood out from everything else available on the market, by using a hard red cover presenting a small square image in full colour in the middle and the series name in big white letters on top," says Patrick. "The first editions of these albums always quickly sold out and the print run obviously grew over the years... It became a gigantic success and several stories & albums per year have been produced from 1946 to date."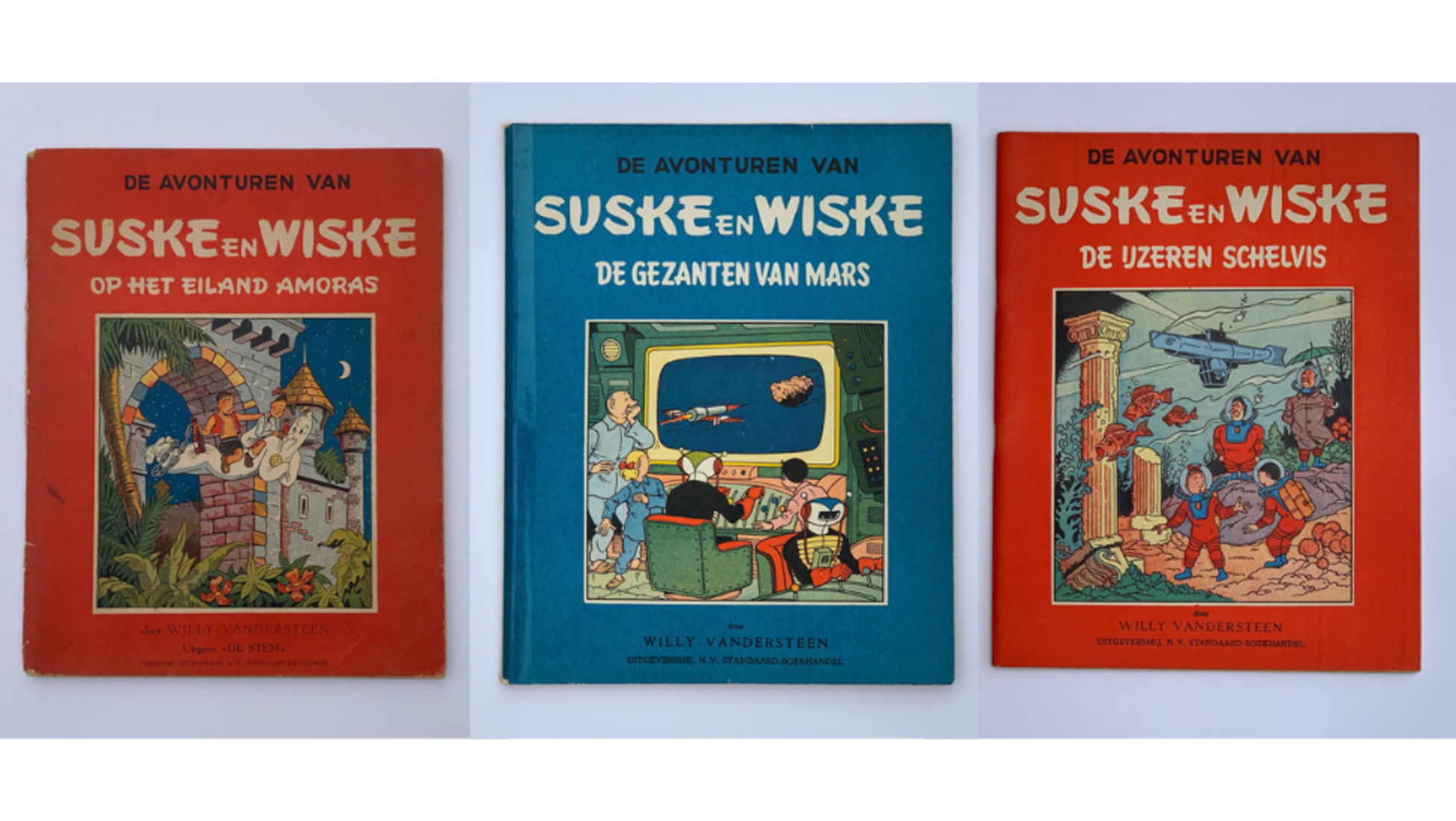 A selection of the Suske en Wiske albums currently up for auction on Catawiki

Vandersteen's position as one of the founding fathers of Belgian comics was further cemented after he struck an agreement with Hergé to deliver a number of stories for the TinTin magazine. Although none of this explains why the auction of a complete Suske & Wiske collection is causing such a stir among our comics experts.
"The first editions of these albums were always quickly sold out," Patrick patiently explains. "From the late 1960s on, the series became collectable and the first series of vintage 35 albums (first editions published since 1946) became known as the "Rode reeks" (red series). First editions in good to excellent condition were (and are) hard to come by: due to their popularity, these albums were read by generations and worn and torn."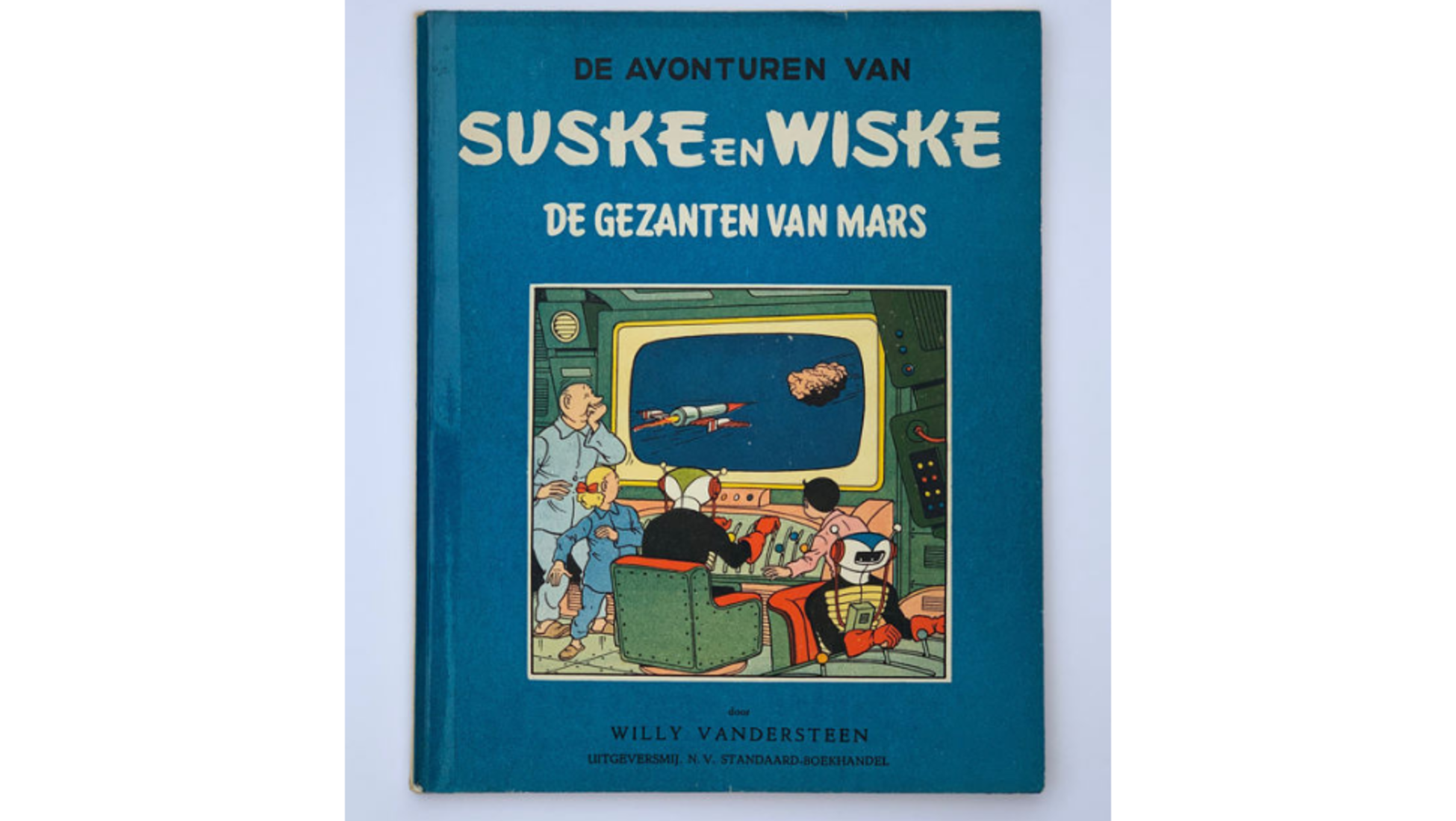 Suske en Wiske - De Gezanten van Mars

"It still is the first collection any Dutch speaking comics collector will start and it has become harder and harder to complete a collection in excellent condition. We also added the "Blauwe reeks" (blue series) to the auction, which was a separate series made for Tintin magazine that made the series popular in the French-speaking community. Although the copies we present in the auction are the original editions in Dutch."
____________________
Our auction of the complete Suske en Wiske collection is still open for bids: Suske en Wiske - De verrukkelijke verzameling.
____________________
Discover more comics | Hergé / Tintin | original comic art
You might also like:
Why Italy's conservative press tried to censor the fumetti neri comics
In conversation with an artist: David Bircham and Marvel's Black Panther
How to keep your comic books in perfect condition