Written by Beulah | 1st November 2019
Breath on it, heat it up, drop it in water, weigh it, x-ray it, try to read a newspaper through it: the techniques to guess if a diamond is real are almost as varied and fascinating as the diamonds themselves. But what about when you're buying a diamond online, without the ability to physically handle the stone? Diamond expert Mark van Keuk scans and assesses hundreds of diamonds every week, and he's here to tell us his tips and tricks for spotting a fake diamond online.
Hi Mark, thanks for chatting to us. First things first: are fake diamonds a real problem?
Mark: Yes and no. There are some synthetic stones that are made to look like diamonds but are easily recognisable, so they can't really be called fake diamonds. For example, Cubic Zirconia is mostly used in trendy silver jewellery and looks like a diamond but is easy to distinguish from the real thing.
There are also more advanced materials that are clearly developed to resemble the characteristics of diamonds, for example Moissanite. You need to have a professionally trained eye to recognise these without equipment, but with a jewellers loupe, the experts will be able to distinguish them. Diamond laboratories and trusted diamond certificates are key in keeping the fakes off the market.
What are the main things you look for when screening a diamond for an auction?
Mark: I have to judge a diamond from a combination of images, the seller's description of the diamond and the obligated diamond certificate. Especially the stone characteristics like the table facet size and girdle thickness on the diamond certificate will be cross-checked with the images to see if they match the diamond mentioned on the certificate. When the diamond is sealed in a plastic blister it makes my job a little easier but still I want to see images from all sides to check that the blister has not been opened.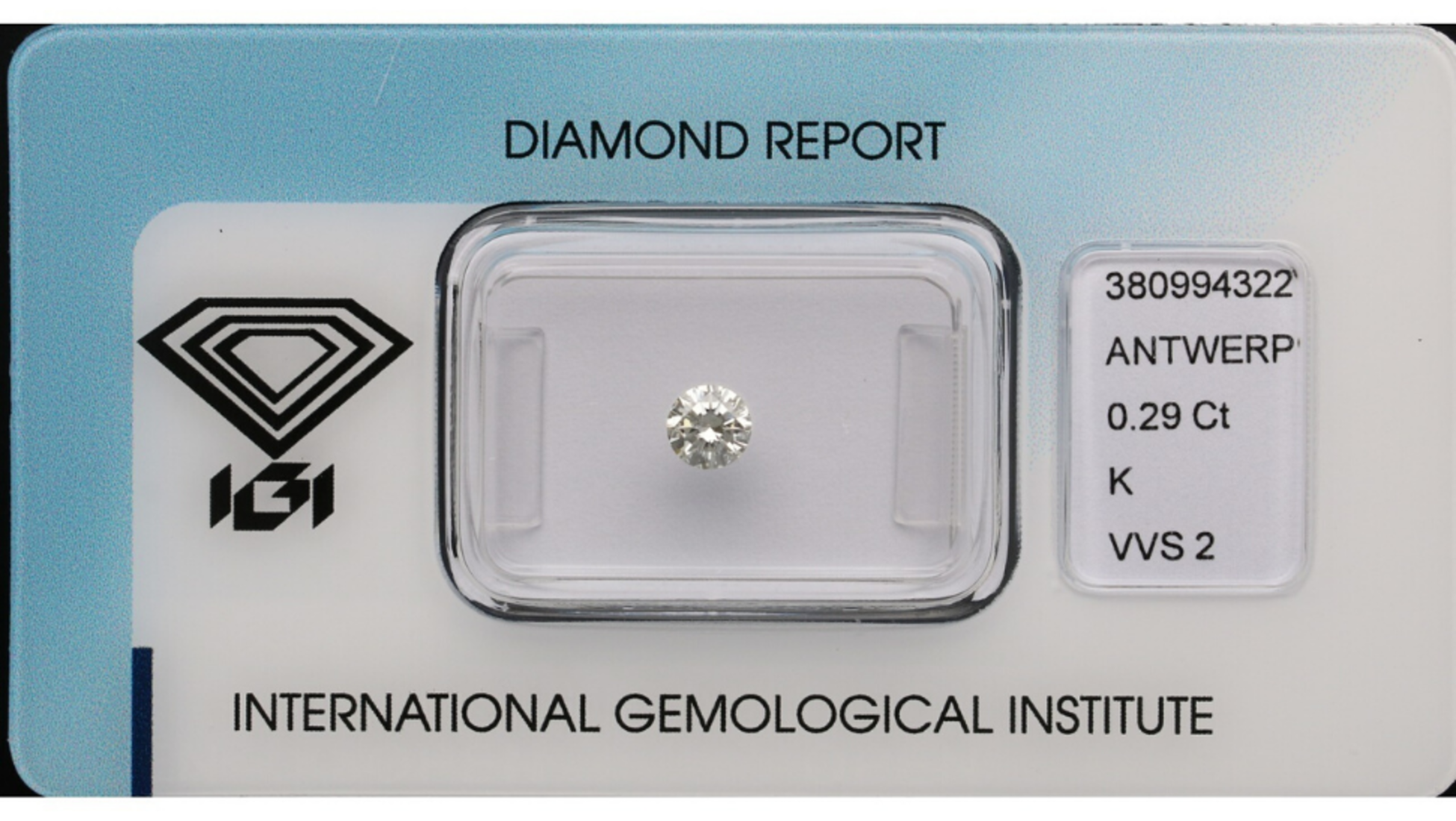 A diamond sealed in a plastic blister and certified by the International Gemological Institute
What are the things a buyer should look out for when buying a diamond online?
Mark: When you want to buy a diamond online the most important factor is trust. Always buy on a trusted platform, with a trustworthy payment system. It's also a good idea to only buy diamonds that come with a diamond certificate and, ideally, from curated auctions where you can be assured that experts have approved the diamond you are buying.
What kind of documentation do you look for when assessing if a diamond is real?
Mark: For all the diamonds we have in our auctions, a diamond certificate is obligatory. We [Catawiki] only work with trusted laboratories who are able to test and grade a diamond on internationally set standards. Some of the authentication certificates I look out for include those from the Gemological Institute of America (GIA) and the International Gemological Institute (IGI).
Do you have any other thoughts or observations you'd like to share with our readers?
Mark: Just this: diamonds are magic! The first time I worked with diamonds was 40 years ago but they keep on fascinating me every day.
____________________
Check out our latest diamond auction or register as a seller with Catawiki.
Discover more Diamonds | Natural Fancy Colour Diamonds
You might also like:
What determines the value of a gemstone?
The top 10 most expensive diamonds in the world