Written by Tom | 14th April 2020
We've covered the importance of good photographs in presenting your objects online, but what about when they eventually arrive in the post? Receiving a beautifully packaged item can help boost customer expectations and set the right tone for those already eager for your product, while a poorly packaged one can have the exact opposite effect. For sellers looking to create a memorable brand and leverage online selling, these are our tips for almost perfect packaging.
Personalise and market
Making your packaging personal is a great way for customers to remember your brand and incentivise them to purchase with you again. Because of the range of objects offered on Catawiki, it's easy to think that buyers are often caught up with the type of object they want rather than the type of seller. Combat that and curry favour with personal touches: include a handwritten thank you note to any customer and include extras like business cards and distinctive labels which gives buyers the tools to reach out to you in the future. You can also include a brief 'About You' note or details about your production process (which is a great way to leverage any eco-friendly credentials you may have). Make sure to include a link to your seller page too, so they can follow you for future purchases.
Including thoughtful touches like handwritten cards and embellishments (flowers, ribbons) is a great way to make yourself memorable
Don't be afraid to make something look a little homemade either – the beauty of Catawiki is that it's a community of passionate people and buyers that love to feel like they're speaking to fellow enthusiasts. Include a note about upcoming events related to the object (maybe it's an art fair or a trade show) or suggest resources and object-related reading materials you enjoy that buyers might too. Encourage buyers to leave you feedback in their review online too.
Consider design
Irrespective of what you order, receiving something in the post that looks nice is important. And the design of a package is a great way to reflect the personality of your object. If you're selling maritime collectables, consider filling a package with a few fake shells. If it's a colourful poster you're shipping off, design packaging with a cut of transparent film in the package, so buyers get a glimpse of it from the outside before they even open it up. The trick is to create a distinctive aesthetic that reflects your object and you.
Be deliberate and consistent with your design and let it play out across your packaging; from the colour palette to the materials you use, which should reflect your brand
Design is a well-trodden trick to create a professional brand too. If you're a business with a logo, you'll be well versed in breaking up your mission and palate across various touchpoints for a cohesive experience. For new sellers who are getting started on Catawiki, your packaging is a great starting point to building your brand. Create a logo, think about the colours, fonts, seals and design of any cards or notes you attach. And do make sure they're consistent.
Choose environmental packaging
We've already touched on how to sell in an eco-friendly way, but there's more to it than just the types of materials you use. Start with packaging that avoids having to use large reams of plastic, tape and styrofoam and opt for recycled materials and recycled paper where possible. Try embellishing small packages with a ribbon of twine for structure and style. Head to children's shops or stationery stores to source the materials, as they often have to throw out a large chunk of packaging material anyway.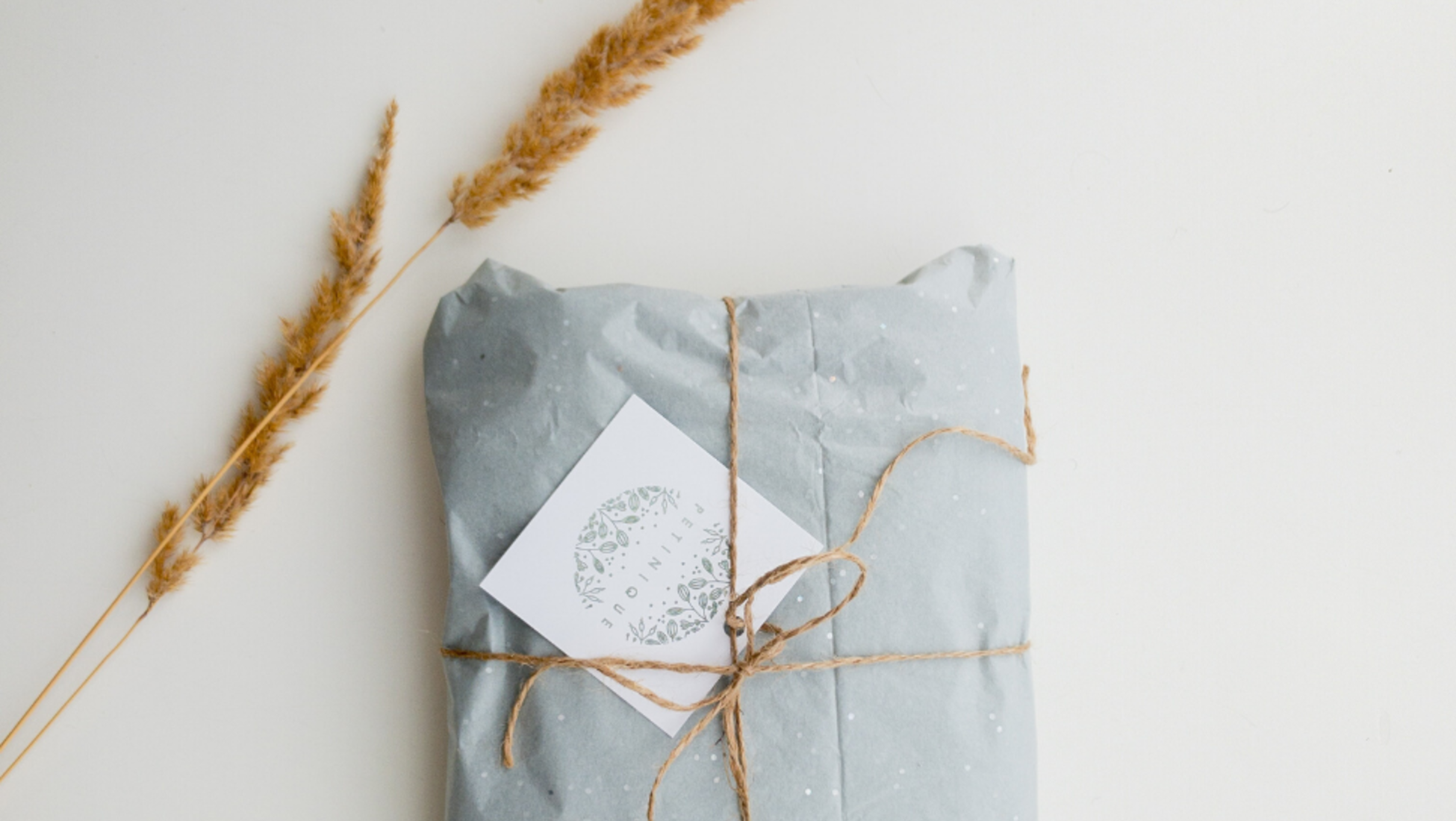 Being eco-friendly needn't mean scrimping on aesthetic – this pale blue paper package wrapped in twine is pretty and eco-conscious
For the most ardent eco-conscious sellers, take it a step further with the option of returning your packaging where possible. Include a return address and incentivise customers to post their packaging back to you; whether that's free postage or offering free shipping next time they buy with you. Not only are you creating packaging that's sustainable, it's packaging that directly encourages and facilitates return buyers. Of course, how possible this is will all depend on the size of your objects, but customers with an eco-mind will be the first to applaud a considerately wrapped item.
Keep it practical
There's no reason you can't meet all the above factors and still keep shipping practical. Most sellers ship vintage items, meaning the potential for damage and breakage is high. Do make sure that your item is safe first. Wrap carefully in biodegradable materials and conduct a shake test– gently shake the package and if nothing moves, you're good to go. Don't simply wrap objects in whatever is bulky you can find like old duvets and rubbish bags as these might leave buyers with a poor impression.
It's easy to fall into the thinking that more is more, and creative packaging needs an endless number of flourishes to be memorable. But that isn't the case. Think about safety, sustainability, a design that reflects you and a personal touch or two. If you can check off these boxes, you're selling and packaging with the best of them.
____________________
Showcase your pre-loved items in their best light with great packaging and lovely photos. The only thing left to do after that is to start uploading lots!

You might also like:

Selling from home: how to sell in an eco-friendly way
The psychology behind selling without a reserve price
Tips to increase performance as a Catawiki seller