Written by Tom | 29th April 2020
In 2020, Jean Paul Gaultier announced he was stepping down from his role as creative director for his eponymous brand to pursue other projects. He spent 50 years on the scene and left a lasting legacy that helped animate discussions around gender conventions for clothing. Irreverent, incendiary and often thought-provoking, Gaultier's approach was always memorable. In honour of this visionary, our fashion expert, Eva de Vries, joined us to discuss how Gaultier reinvented concepts of masculinity, femininity and fashion.
Back in the 1980s, Gaultier sat down with the New York Times to discuss his most recent collection – a tailored selection of men's skirts. ''Wearing a skirt doesn't mean you're not masculine", explained Gaultier. ''Masculinity doesn't come from clothes. It comes from something inside you. Men and women can wear the same clothes and still be men and women". It was a sharp and necessary observation for the time. Men have long worn skirts (kilts in Scotland and chitons in ancient Greece) but in the 20th century, a more delineated approach to fashion (and society) had arisen. There were certain household roles to play and these extended to the clothes you wore. Gaultier, however, paid this no mind.
Fashion's enfant terrible
So where did this disregard for convention stem from? Eva says it was a balance of background and natural precociousness. "Jean Paul Gaultier did not only redefine masculinity – he redefined gender and aestheticism in his work. Because he never had any formal training, he was able to break more easily with the conventional themes in fashion. There were early signals of his potential though; he began working in the business as of his 18th birthday, hired by Pierre Cardin on talent alone".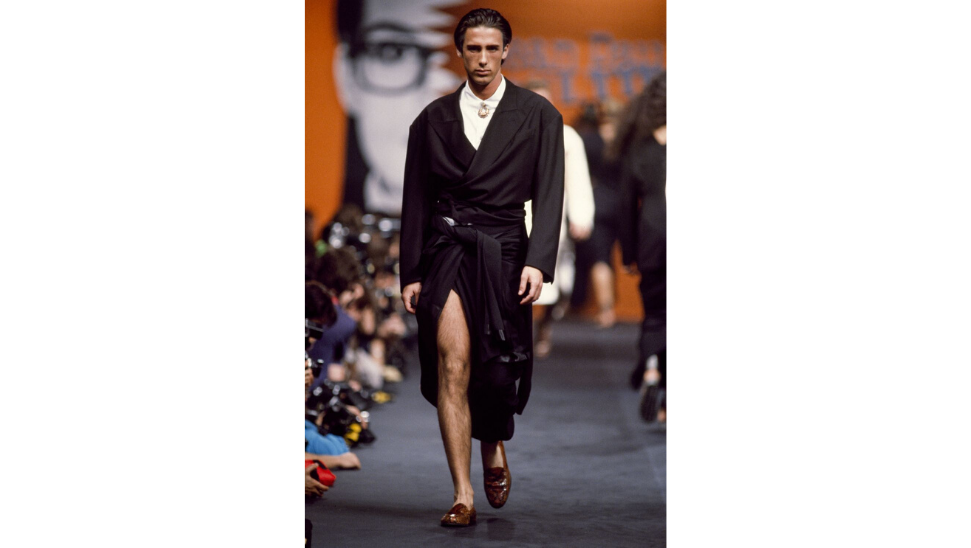 When Gaultier put male models in skirts on the runway, it sent a seismic shock across the industry. Credit Daniel Simon, Getty Images.
Cardin was widely known for his more avant-garde style and often ignored notions of the female form in his womenswear lines, preferring to instead focus on pattern and actual shapes (he was fond of geometric designs). Gaultier undoubtedly siphoned some of this thinking from Cardin. "In fact, Gaultier himself has said that when he designed for Cardin and later Jean Patou, he would just imagine being them and try to design something that they would admire", says Eva.
Gaultier released his first collection in 1976 (where he used inexpensive braided straw in haute couture) and his next in 1981, by which point he'd come to be known as the enfant terrible of French fashion for the way he dared to go where other designers would not.
Sailors, skirts and society
His use of skirts for men and his 'rabbi chic' fall/winter show in 1993 were just some of the concepts that were mind-boggling for their time. The skirts in particular drew praise and controversy for their subversion of male sartorial choices. A showcase saw men sporting crisply cut skirt-suits – the likes of which were unseen in contemporary fashion. His take on Orthodox Jewish culture was yet another example of his limitless reach – clothing considered sacred or almost untouchable became another thing for him to experiment with.
Gaultier succeeded almost effortlessly in pushing at the convention of masculinity. His early collection of Breton-striped wear, the marinière, was inspired by the queer film Querelle – a homoerotic tale that revolved around a Belgian sailor. Gaultier's continued reference to queer culture across his lines was a reminder of his long-held belief that gender comes from something beyond our sartorial choice, though they can help express it.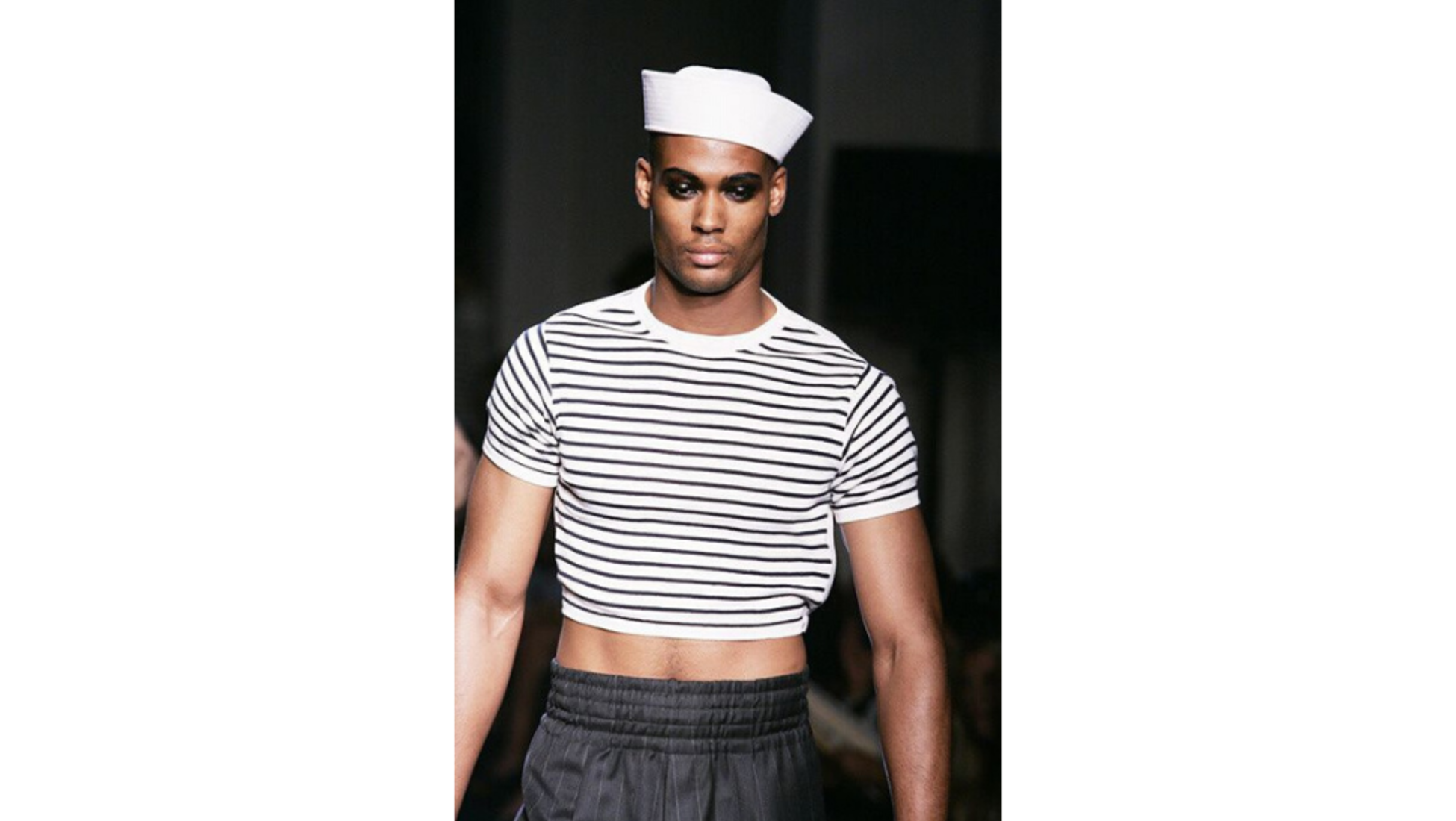 The marinière look was inspired by the queer film Querelle. Credit 2006 - Photo Abaca
This extended to femininity too, says Eva. "Just look at the cone corset, worn by Madonna on her Blond Ambition tour. This was a bold, accentuated take on the more conservative cone bras that were a regular clothing staple in the 40s; a time where women were expected to be more demure and in the background. Back then, a lot of women were running the world because the men were at war, but that says nothing about how women were seen at the time. The Madonna bra helped redefine the original piece and externalise that feeling of power".
What Gaultier achieves in all his looks is a kind of social commentary. And this, Eva says, is what sets him apart. "To take an item like the cone bra, reshape its history into something so performative without losing its context and make a social statement out of it? Yes, that speaks to me of somebody with true creative vision and huge talent".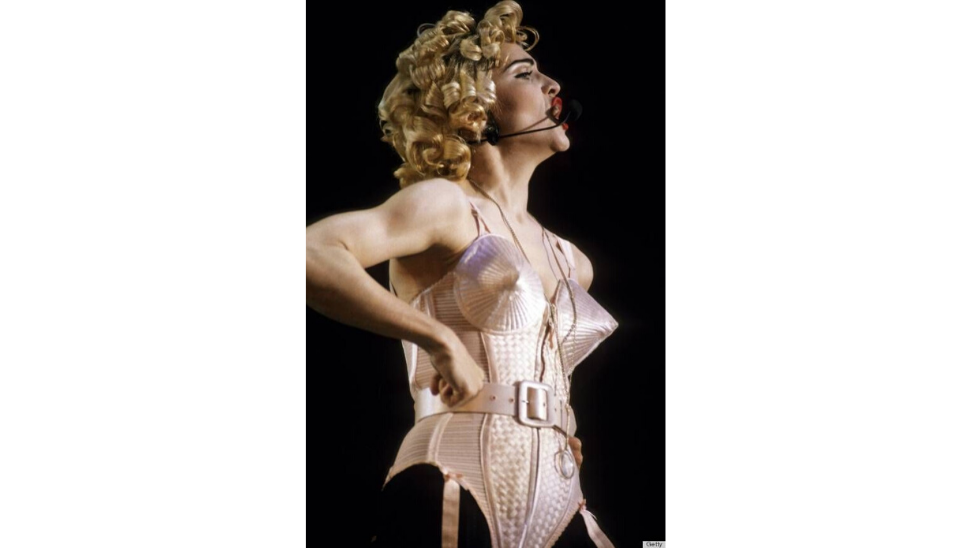 Gaultier's cone bra is one of his and Madonna's most famous looks. Credit Getty Images.
Goodbye Gaultier
Gaultier's acclaim has been generated by the boundary-breaking nature of his collections, but designers, editors and enthusiasts have long courted Gaultier for his tailoring skills too. It's one of many other reasons that he's endured so long in an industry that nowadays churns out designers as much as it does fast fashion.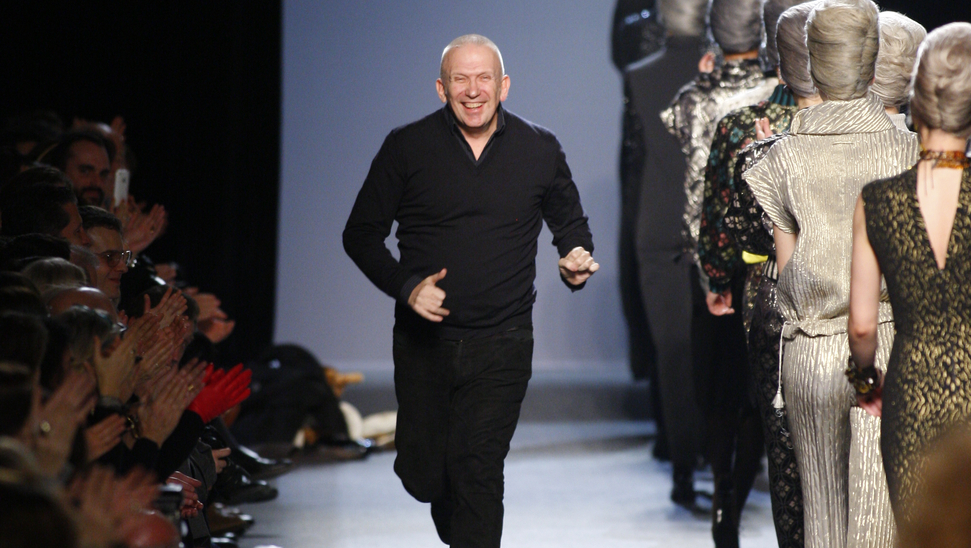 Gaultier's last show, titled 'Goodbye Gaultier', was a bombastic celebration of his genre-breaking career
His goodbye to the industry was marked with a show that celebrated the diversity of his clothes and models, as one of the first designers to profile models of mixed body types. And the difference he pushed for in industry norms is always what he'll be remembered by, says Eva. "I've always been a great fan of designers who take items, or even events from history, and build a contemporary social narrative around them. Life, art and fashion is, after all, about learning to view the world from different perspectives".
____________________
Capture some of Gaultier's irreverent style in our fashion auction or register as a seller.
Discover more Fashion | Clothing | Shoes

You might also like:
How women are changing the gemstones industry
Grace Coddington: the overlooked creative force behind Vogue

Fashion trends to get excited about in 2020