Written by Tom | Updated July 2021
An Italian artist and designer that defies easy definition, Piero Fornasetti carved out his place in Italian culture and the design psyche of its people. And though all of his drawings are distinctively his, none are perhaps as synonymous with Fornasetti as his faces. The clear-eyed, classic beauty of Lina Cavalieri was used by Fornasetti to create a design series that took on endless iterations. Cavalieri's face has been shaped into every imaginable design yet there was a real woman behind the familiar face that watches on in households around the world. We asked design expert, Alexander Fahl, to tell us more about the story and Fornasetti's incomparable style.
Constellations of steampunk-era floating ships. Snapshots of Italian fortress cities. Ecosystems of aquatic life. These are just a few of Fornasetti's surreal designs that helped shape a style that did not belong to a movement. "Fornasetti is a singular personality in the history of art and design," says Alexander. "He started as a painter, but never fit in the predefined paths for artists of his time. Early in his career, he ignored and crossed the common boundaries between art, design and crafts ".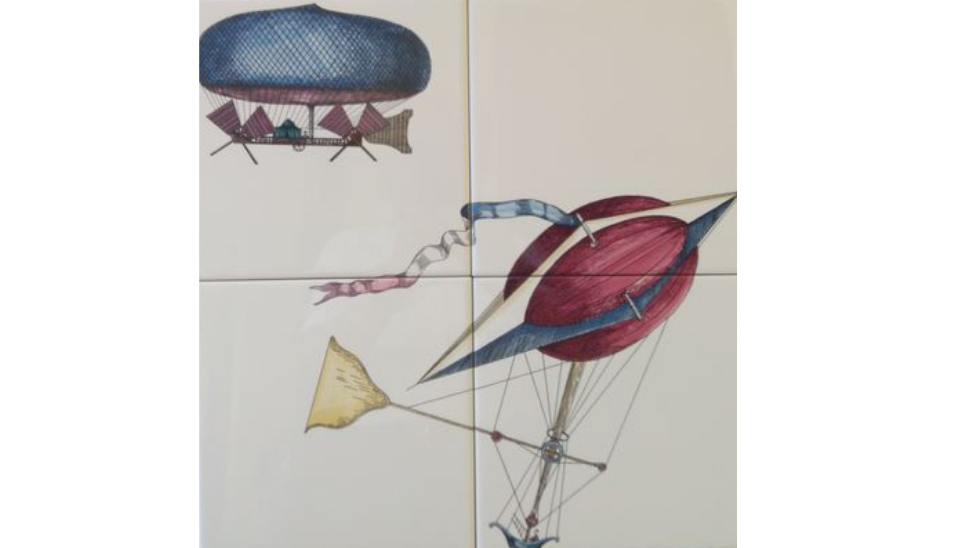 Fornasetti's designs showcased his imaginations including floating, pirate-esque ships
Fornasetti clashed with the institutional rules of art, leaving art school because he couldn't find anyone to teach him nude drawing, something he saw as the foundation of sketching. "The drivers of his art were his overflowing imagination and fantasy nurtured by his widespread interest in many areas from nature and technology to music, sexuality, foreign cultures and typography". But his lack of concern for delineated boundaries in design, and his deductive and humourous approach to design is, in some part, what led him to create some of his most celebrated works: the tema e variazioni (themes and variations) series.
The many faces of Lina Cavalieri
Up until the 1950s, Fornasetti had been experimenting with printworks, ceramics and graphic design, honing his style of humour, whimsy and theatricality. He'd become well-known for his distinctive drawings, working with esteemed industrial designer Gio Ponti on several projects.
But a chance encounter would soon change his career.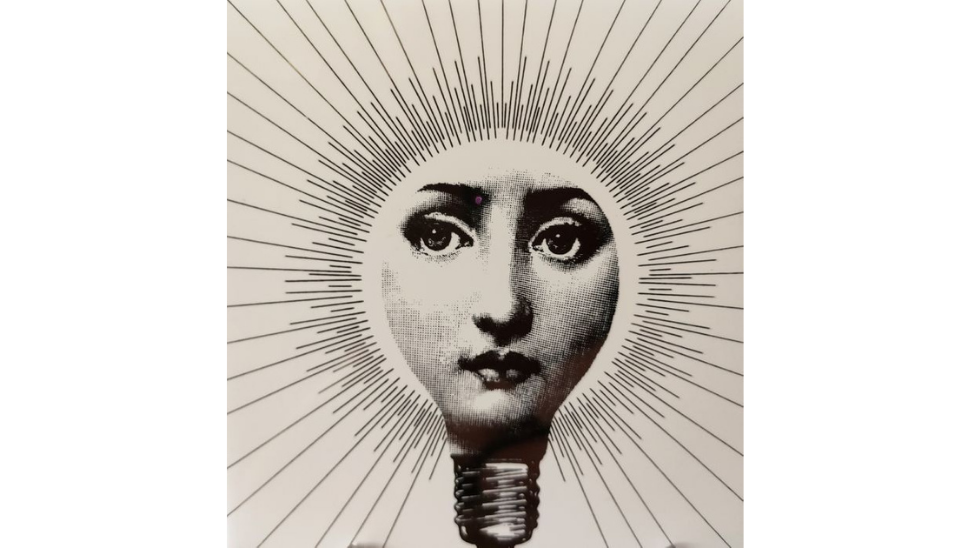 Cavalieri was regarded as one of the most beautiful women in the world and provided Fornasetti with his lightbulb moment
In 1952 while flipping through a magazine, Fornasetti came across the face of Lina Cavalieri, an opera singer regarded as the most beautiful woman in Paris. Enraptured by her beauty, Fornasetti declared he would paint the face of the most beautiful woman in the world - with Cavalieri's face serving as his inspiration.
"The Fornasetti faces series is really based on one face, that of opera singer Lina Cavalieri, who was famous for being considered one of the most beautiful women of her time. She has a classic beauty which serves as a perfect canvas for unlimited variation".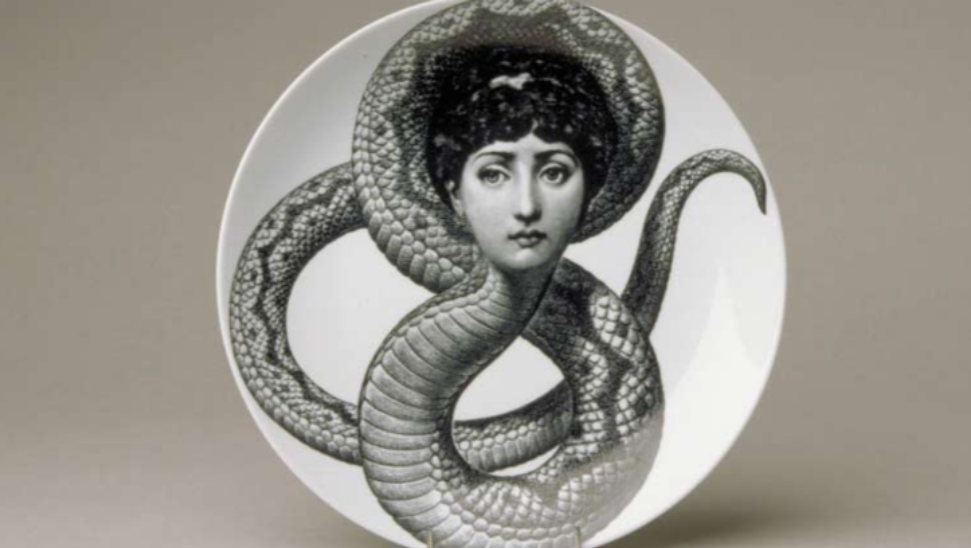 The Fornasetti face took many forms, even that of a snake
Her face became the centrepiece for a plate series of over 500 expressions. She cries in one, winks in the next, and hides behind a coffee cup in another. No context was too surreal for her face, having even donned a moustache in later iterations. It became an obsession of Fornasetti's, one that he claims he can't explain: "I began to make them and I never stopped".
Design, repeat and repeat
Fornasetti was distinctive, not just for his illustrations, but for the way he produced them. Rather than creating new typologies and designs as his contemporaries were doing, Fornasetti chose to iterate on the same objects over and over. "The Fornasetti faces is the clearest example," says Alexander. "All these variations show every whimsical, witty, mystic, symbolistic and creative aspect of Fornasetti's world. It's one of the reasons why these pieces are just a wonderful thing to collect. They never get boring".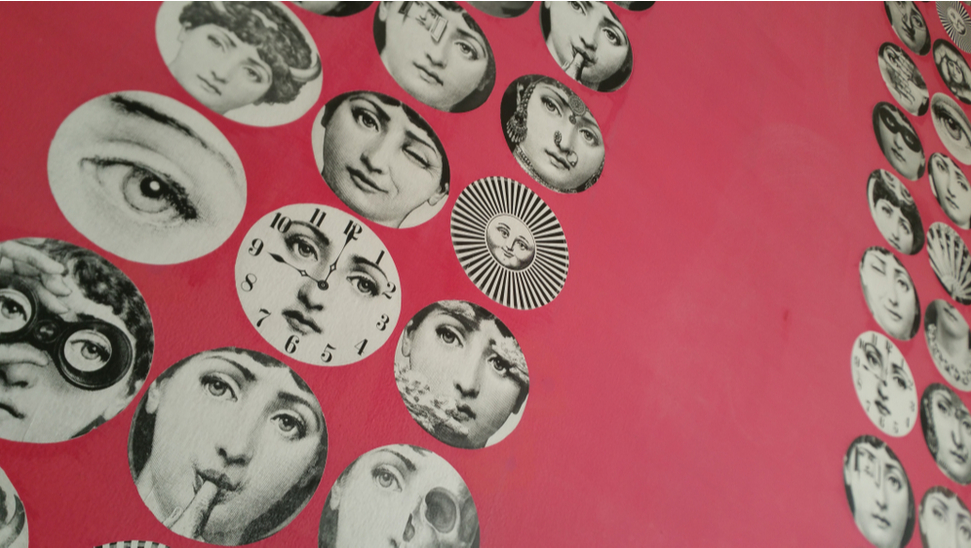 There are hundreds of variations of the faces, each as engaging and melancholic as the last
Fornasetti clashed with the Modernist movement of the time, who rejected his offbeat and frivolous approach. But this is what makes him so popular today, explains Alexander. "The striking feature of his work was his unique use of decoration which he made popular again for a short time after WW2. People wanted to celebrate life after the devastating times of the two world wars. 'Form follows function' and its plain designs needed a little uplift in the form of imaginative decoration with a 'dolce vita' touch to it. Numerous items of daily use, furniture and even cloth were created ".
What Fornasetti achieved was a pure form of self-expression that was otherwise unseen in design during that time. He projects his flair, melancholy and drama onto each piece, regardless of their function, to create a universe entirely of his own making. "His work seems to find its place between design, crafts and art which makes it rather impossible to ascribe to a particular style. Fornasetti cannot be classified. That's what makes him so special".
____________________
Explore our designer auctions or become a seller on Catawiki .

Discover more Design & Vintage | Art
You might also like: