Written by Tom | 19th April 2021
Whether it's Audrey Hepburn or Grace Kelly, Hermès scarves have been an accessory of choice for decades. And for good reason. Exquisitely crafted, multi-functional and endlessly varied—designers can pick from 70,000 designs—it's an accessory for all seasons and occasions. Fashion expert Fleur Feijen explains why even after all these years, it's still the ultimate symbol of style.
The Hermès scarf has become one of the brand's signature pieces – what makes it special?
The Hermès scarf, or the carré (square), is a fashion icon and a timeless classic. It's a symbol of French chic. From Hollywood celebrities to sophisticated women of high society, from grandmothers to mothers and daughters, every generation wears the Hermès scarf.
It's the size (90cm x 90cm), the luxurious silk and the beautiful designs that make it special: a combination of traditional craftsmanship, creativity and high-quality materials. Hermès uses a highly complex screening process to create motifs with multiple coloured layers on the silk carrés. From the design and silk-screening process, to the perfect hand-rolled and stitched hems and edges, it can take up to 18 months to be produced. It's pure luxury.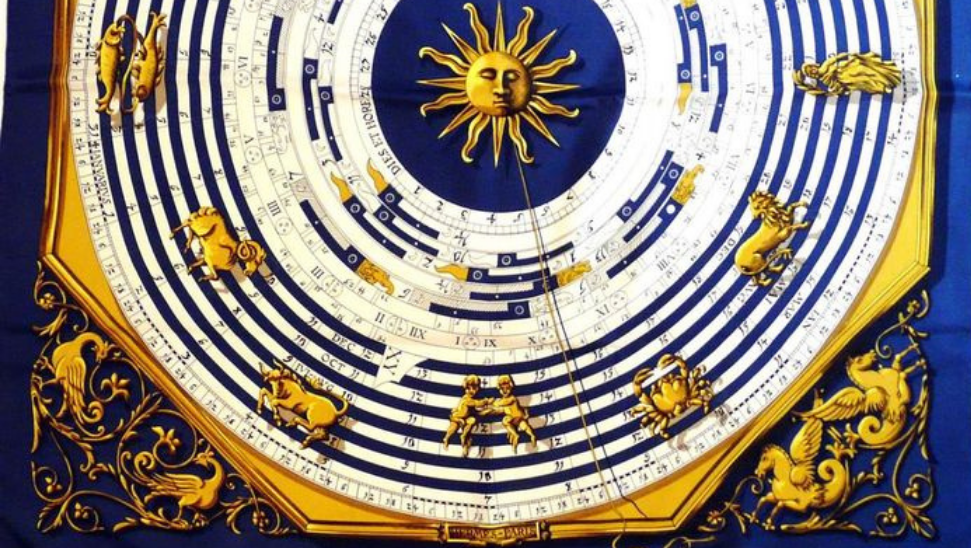 The 'Astrologie' scarf, popularised by Jackie O
The scarf is said to be made of remarkably strong material – could you tell us more about this?
In 1937, the first Hermès carré was introduced. It was made of imported Chinese silk which was already twice as strong as other silk scarves at the time. The material is so strong, Grace Kelly even used it as a sling for her arm back in 1957. Nowadays Hermès possesses its own silkworm plantation in Brazil. The scarves are made of silk of the highest grade quality. 300 Mulberry moth cocoons are needed for the 450,000 meters of silk yarn of which each individual scarf is made.
What are some of Hermès' signature scarf designs?
There are so many scarves and gorgeous designs to choose from which is part of their appeal. Some of the most well-known include the 'Brides de Gala' by Hugo Grykar (famously worn by Sopia Loren) and the 'Napoleon' scarf. The latter's design is particularly impressive; a celebration of France's nationhood and Napoleon's life and achievements, with images of him and his bicorne hat, mounted on a backdrop of golden bees.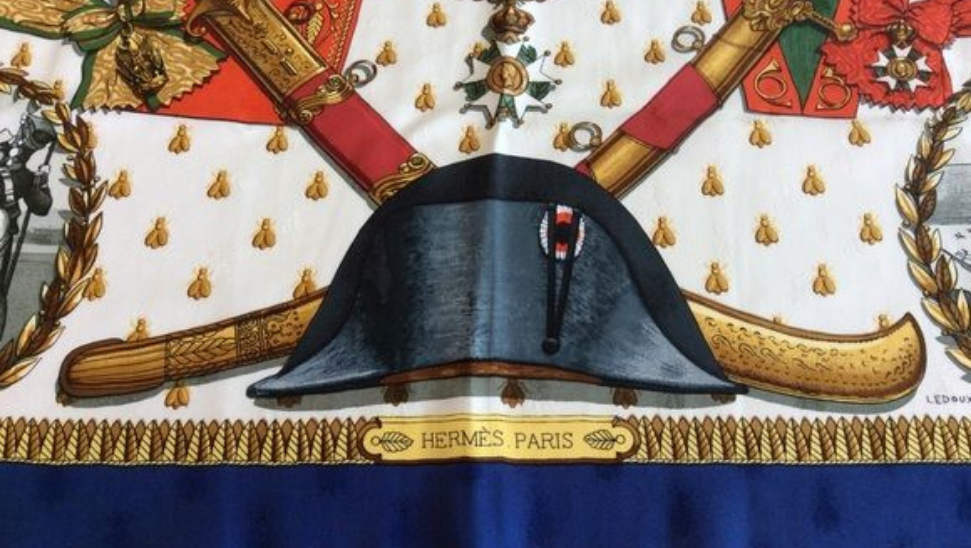 Royals and leading ladies have long worn the scarf – why do you think this is?
Beyond the appeal of their craftspersonship, the scarves are incredibly varied in both design and function, and have the ability to inject even the most monotone outfit with some colour and excitement. As a result, Hermès scarves were quickly adopted by royalties and celebrities in many versatile ways. Grace Kelly, besides using it as a sling, used it as a headscarf to cover her hair.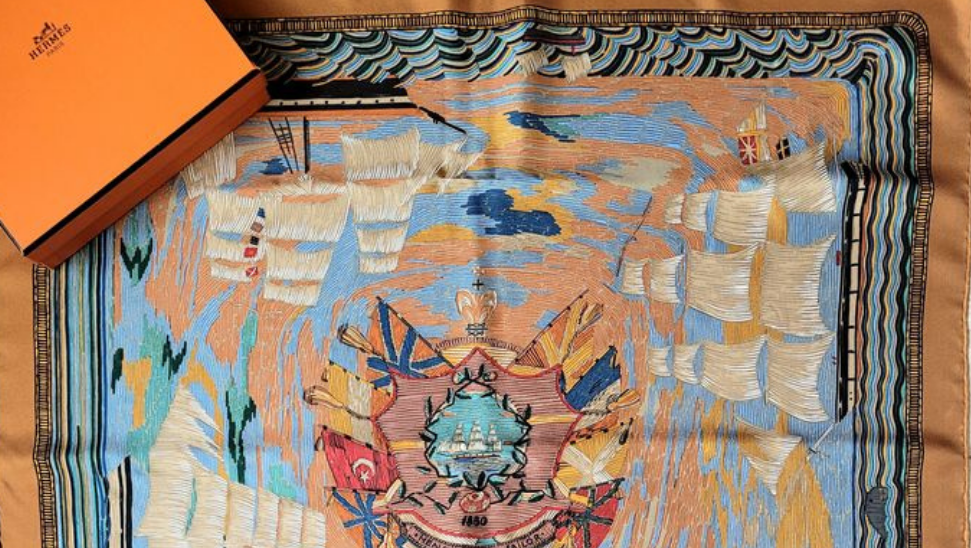 The "Marine Naive"/"Henry Smith Sailor" scarf by Ph.Dumas
Audrey Hepburn, Liz Taylor, Jacky O and Queen Elizabeth II were all often seen wearing one, the latter notably to secure her hair while out with her horses. French actresses Catherine Deneuve and Brigitte Bardot have worn them since the sixties as a bandana or headscarf. And more recently, Madonna used one as a halter top and Rihanna as a bikini top.
How should you wear a Hermès scarf?
There are a variety of ways to wear Hermès scarves which can easily be worn with any style – it just takes a little imagination. You can wear it folded up, rolled up, loose with a triangle to the front or knotted around the neck, head, wrist and waist.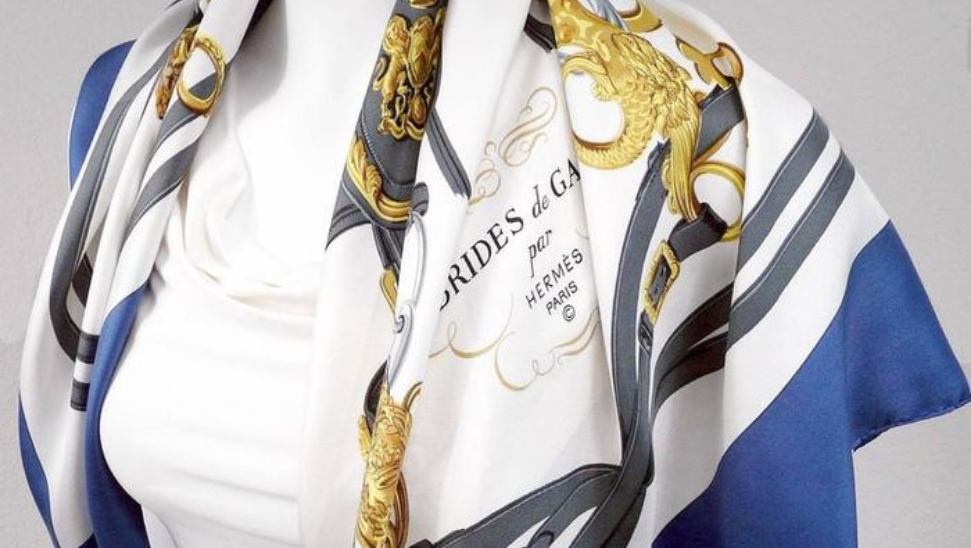 The 'Brides de Gala' scarf by Hugo Grykar
It's also frequently used as a bag decoration; tied onto a Hermès Kelly bag or as a protection for the handles. Wear it with a t-shirt and jeans to give a simple look a lift or wear it as a bracelet with a black dress to make any outfit chic.
How do you keep it in good condition?
The best way to care for your scarf is to bring it to a professional dry cleaner. Otherwise, keep it stored in a dry box and away from the sun.
Finally, what do you love about Hermès scarves?
What I really love is the beauty of the item, the quality of the silk and the colourful illustrations. These incredibly vibrant patterns all tell a little story of their own. It's a classic piece that's as fashionable as ever and there are always new ways to wear it. And it's the kind of special piece that doesn't have to drain your bank account – it's an accessible touch of luxury.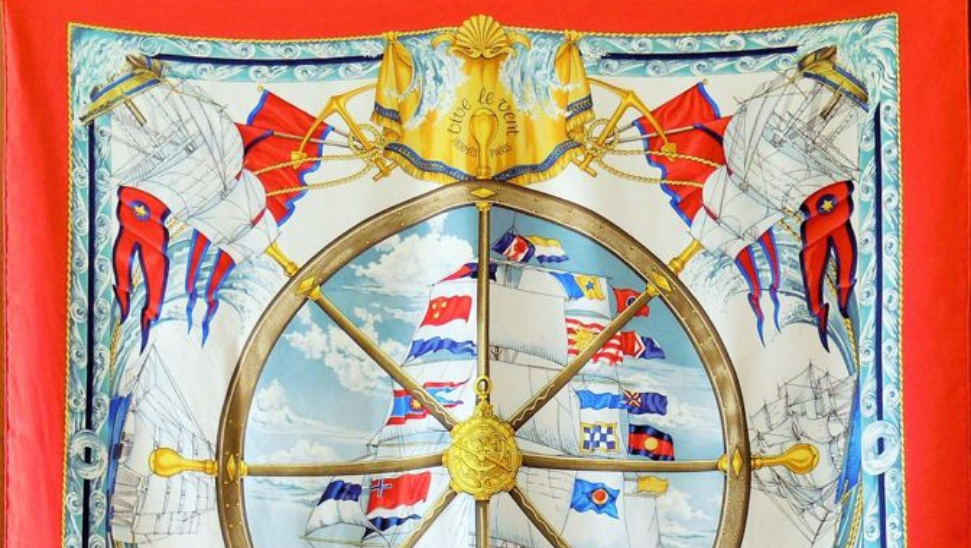 The 'Vive le Vent' scarf by Laurence Thioune
____________________
Find your perfect accessory in our weekly auctions or register as a seller and start selling now.

Discover more Fashion Accessories | Fashion
You might also like:
How much is my vintage clothing and accessories worth?
Fashion's favourite fetish: the evolution of leather
How Jean Paul Gaultier redefined gender