Written by Tom Flanagan | 6th July 2022
Few trains are as well-known as the Orient Express. A snaking train ride that took passengers on a journey across continental Europe from Paris to Istanbul, the Orient Express was a symbol of old-world glamour and escapism; attracting illustrious figures from all corners of the world and inspiring numerous works of literature. Yet its lavish reputation also drew in a wealth of intrigue, scandal, and even criminality in its lifespan. It officially closed in 2009 but has held the attention of locomotive enthusiasts and nostalgia seekers ever since. Expert in Coins Willem Knapen helps us unpack why we still can't let go of the Orient Express.
Back in 1883, Paris' Gare de l'Est was the focal point of the city's attention. Swells of crowds had formed with everyone from journalists to diplomats present; all of whom had come to witness the maiden journey of the Orient Express. A group of approximately 30 travellers were the lucky few to be allowed aboard the Orient Express; a sweeping traverse across Europe, beginning in Paris and ending in Istanbul, at a time where travel was increasingly fashionable.
Europe was undergoing a cultural renaissance—now known as the Belle Époque period— and the Orient Express, created by Belgian rail company Compagnie Internationale des Wagons-Lits, was seen by many as a culmination of the steps Europeans had made in arts and technology; symbolising the continent's outward gaze and yearning for the new, explains Willem.
The Orient Express was only made up of a sleeper carriages, a dining cart and a luggage cart. Wikimedia Commons.
"For Europeans at the time, imagining themselves whisked across the continent fit with the sentiment that anything was possible, explains Expert in Coins Willem Knapen. "It also coincided with Western Europeans' increased fascination with the east, as a place of allure and possibility". This would later be defined by Edward Said as Western Orientalism in his book Orientalism, and goes some way to explain the appeal of Europe's premier transcontinental railroad.
Yet, it was a new frontier of travel and luxury. And unbeknownst to travellers at the time, the beginning of an enduring legacy.
Visions of luxurity
Travelling was a rarity in the late 1800s and to do so meant you'd often have to undertake an arduous and treacherous journey. However, books like Jules Verne's Around the World in 80 Days offered a somewhat expedient and romantic image of the kind of travelling people began to envision and the Orient Express met this moment—its main draw being the prospect of luxury travel.
It was thought up by Belgian entrepreneur Georges Nagelmackers, the founder of rail company Compagnie Internationale des Wagons-Lits. After travelling across the States in a Pullman sleeper train—dubbed as hotels on wheels for its roominess and amenities—Nagelmackers saw a gap in the European market. Initially, Nagelmackers approached George Pullman—the head of the Pullman Company—to collaborate on a European expansion of the Pullman carriages, however, he was turned down. So in 1872, over 10 years prior to the founding of the Orient Express, Nagelmackers set out to launch Europe's premier luxury rail service.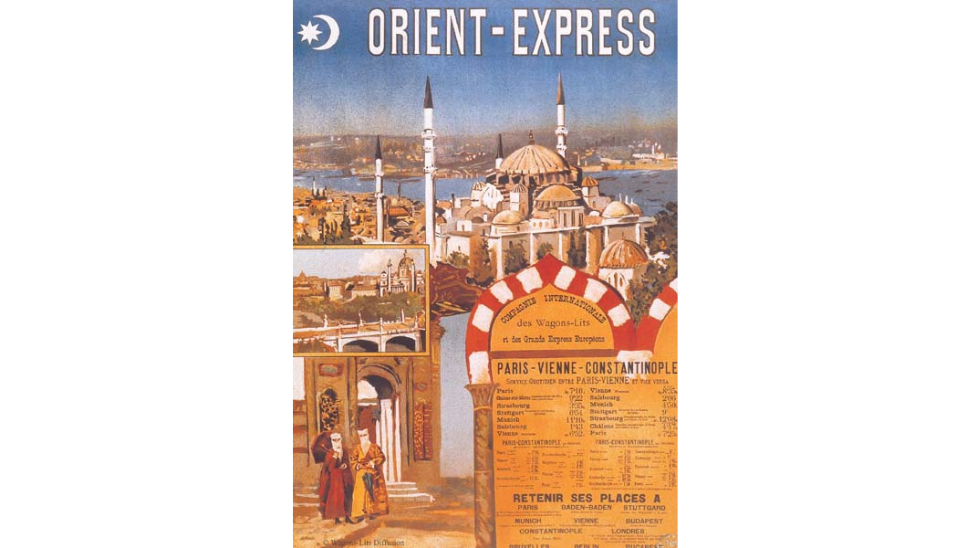 A poster advertising the Orient Express with Istanbul as the main draw. Wikimedia Commons.
Nagelmackers didn't do this alone though. With his sweeping ambition of luxurious rail travel across Europe, money and influence was required; both of which he found in none other than King Leopold II of Belgium. Leopold helped negotiate rail contracts making the route across eight countries possible. Nagelmackers meanwhile, was in charge of the carriages themselves. These were designed with the most luxe furnishings in mind: leather armchairs, wool blankets, silk sheets and teak wood panelling that created the appearance of a private members club, just on wheels.
Before the Orient Express launched in 1893, Nagelmackers organised a test journey aboard the Train Éclair de Luxe, which gave travellers a first taste of what luxury rail travel could look like.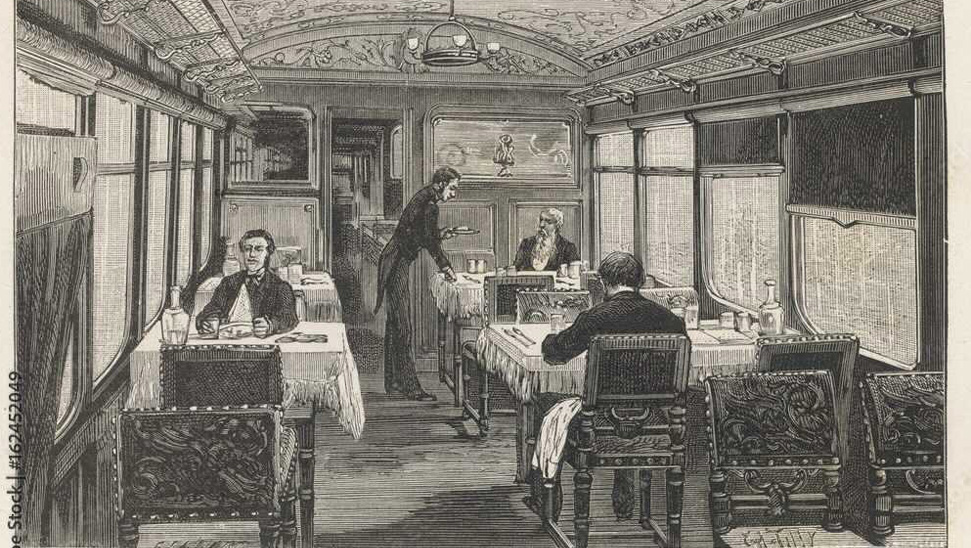 The Orient Express dining car pictured in 1884.
"At the time, travelling was dangerous and most other train services didn't include sleeping coaches, a restaurant coach or an expansive menu", explains Willem. "The Orient Express' menu was inspired by that of the earlier test train, which is said to have included things like oysters, Italian pasta soup, turbot, chicken 'à la chasseur', fillet of beef and a medley of desserts. This was more luxurious than that of most regular restaurants. To add to that, each carriage was kept warm with the assistance of coal stoves making the experience one of comfort".
The trial was a success and by the end of the decade, the train route was expanded to Constantinople—now Istanbul—which became its terminal station. This would be the train's last stop until 1977 and the reason the media quickly clamoured to dub it the Orient Express; a name Nagelmackers embraced too.
Glamour, intrigue and scandal
Its luxurious decor and cost made it immediately appealing to Europe's elite, who helped imbue the Orient Express with added glittering appeal while contributing to its notoriety. Even within the train's relatively small space— which consisted of three carriages that included sleeper cars, luggage cars and a dining car —there was no shortage of intrigue and scandal.
According to Smithsonian Magazine, a range of royals were driven to peculiar behaviours, perhaps due to lengthy, albeit luxurious, confinement. Ferdinand I of Bulgaria chose to travel with the Orient Express and was so petrified of an assassination attempt, he allegedly locked himself in the bathroom for the course of his trip. Later on, spurred on by his amateur engineering roots, also attempted to drive the train through Bulgaria at dangerous speeds. On another occasion, King Leopold II used the train as means to reach Istanbul, as part of a lengthy and convoluted plan to break into a Turkish harem.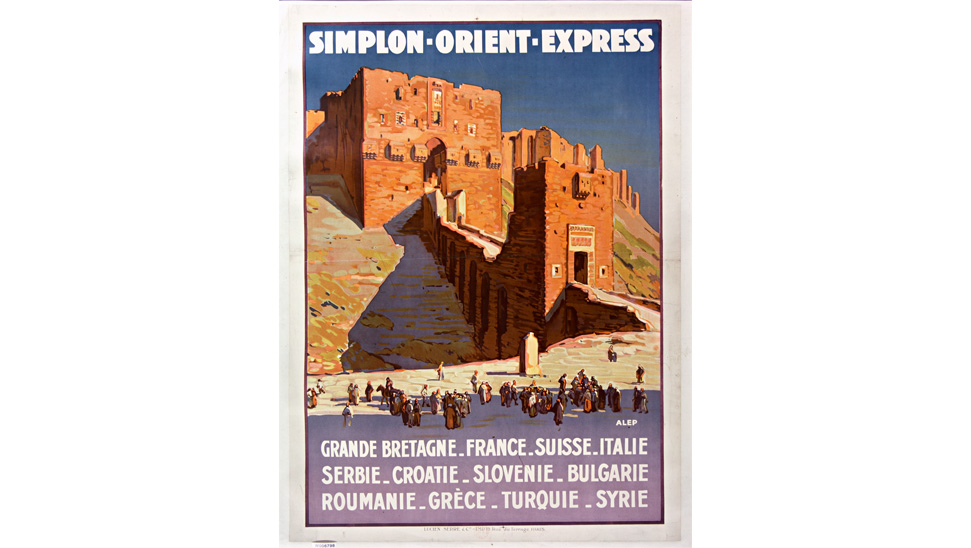 The Simplon-Orient Express was the original inspiration for Agatha Christie's Murder on the Orient Express. Wikimedia Commons.
The train earned itself a reputation for murder too, which only added to the intrigue surrounding the train says Willem. "There are two cases of documented murder on the Orient Express. The first case involves a rich Romanian woman called Maria Farcasanu. She was robbed of numerous possessions, including a notable silver fox fur. In the midst of the robbery, she was pushed through the window and fell to her death. Her murderer was later identified after gifting the fur to a woman in Switzerland. Later in 1950, there was another murder on the train. The body of an American naval attaché, Eugene Simon Karpe, was found in a tunnel along the route while travelling with classified documents surrounding spy networks in Eastern Europe. While it garnered much media attention, his murder remained unsolved, even after a lengthy investigation by American authorities".
Even celebrities had their share of dramatic experiences. "Josephine Baker was also a frequent passenger", says Willem. "On one of her trips a bomb exploded as the train passed the Biatorbágy viaduct in Hungary; many people were injured and some even died, however, Baker survived and is said to have given aid to the wounded".
Beyond actual scandal, the Orient Express' exclusivity meant it became a hub for all kinds of background dealings and espionage. The most famous examples were that of British spy Robert Baden Powell, who drew sketches of battlements along the Dalmatian coast disguised as butterfly wings, as a way of passing on Balkan military information to Italian and British forces. Other than Powell, Dutch dancer—and later convicted spy—Mata Hari was said to have travelled on the Orient Express while visiting some of Europe's most premier hotels. It was stories like these that inspired Ian Fleming to work the Orient Express into his Bond book From Russia With Love.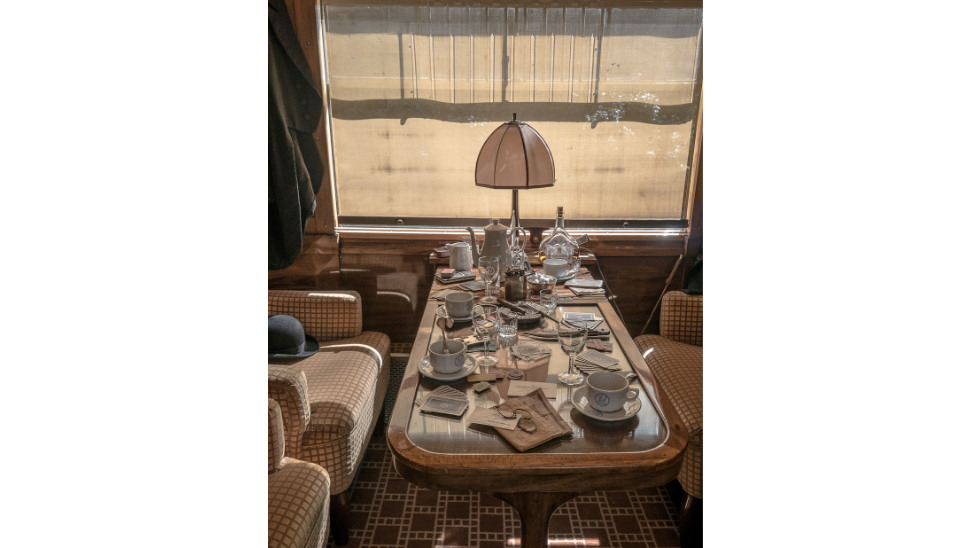 A typical seat on the Express showcasing the old-world decor passengers could expect. Wikimedia Commons.
Glamour, evidently, was never far away either. The train's starry passenger lists—from European royals to names like D.H. Lawrence, Leo Tolstoy, Leon Trotsky, Marlene Dietrich, Ian Fleming and of course famed author Agatha Christie—made fashion and formal dining an essential part of the experience. In terms of what to wear on the Orient Express, passengers were expected to adhere to a relatively strict dress code at all times. After all, what exudes opulence more than savvy sartorial choices? In the daytime, passengers were advised to don smart-casual attire and come the evening, men upgraded to dinner jackets and black-tie formal, while women slipped into lavish dresses and gowns.
Routes and recollections of the Orient Express
For a train that ran for over a century, it's one that has undergone a number of iterations, name changes and inspired stories. It ran successfully for decades from 1890 up until the First World War, when war disrupted railway routes and redrew the map of Europe. The opening of the Simplon Tunnel in Switzerland, however, meant that come the end of the war, the Orient Express had a new route that avoided Germany entirely. The route crossed the Swiss Alps and headed through Italy, then Yugoslavia, Bulgaria, Greece and eventually Turkey. This train became known as the Simplon-Orient Express.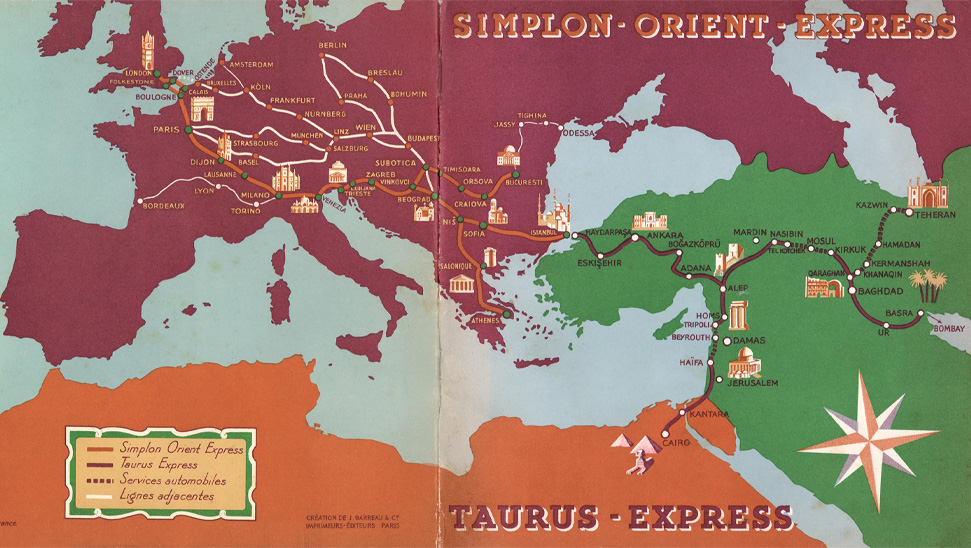 The Taurus Express was an affiliated railroad that was advertised as spanning three continents - Europe, Asia and Africa. Wikimedia Commons.
And it was an incident involving the Simplon-Orient Express and not the Orient Express, that inspired the most famous depiction of the train: Murder on the Orient Express. Christie herself has said that the setting of her lauded thriller was inspired by the time the Simplon train was snowed in; leading crew members desperately clawing out a tunnel in the snow near Constantinople to free themselves and passengers after being trapped there for days.
Come 1930, the Orient Express had inspired sister routes and spin-offs as its popularity boomed. Namely the Arlberg-Orient Express which ran from London-Calais to Bucharest and Athens, and the Taurus Express: an extension to the Simplon-Orient route, which ran from Turkey through Syria, Palestine and Egypt. The Orient Express itself never ran past Istanbul, its original route leaving from Paris, heading via Strasbourg Munich, Vienna, Budapest, Bucharest and finallyIstanbul.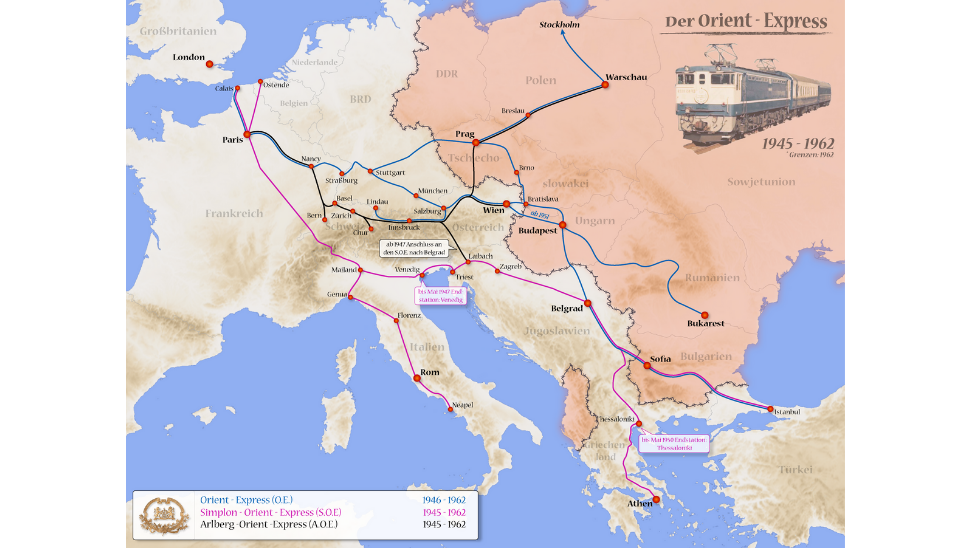 A map showcasing the various routes of the Orient Express post WWII. Wikimedia Commons.
Yet the Second World War and Cold War that followed pushed the Orient Express and its expansive network to the point of decline. Travelling in eastern Europe became increasingly difficult due to rail access and visas, while many of the Wagon-Lits carriages had been damaged during the war. In 1977, the Orient Express took its last journey from Paris to Istanbul. However, one unintended consequence of this was that it inspired a new route—the Venice-Simplon Orient Express—which ran from London, Paris and Venice, using original Wagon-Lits carriages.
Today, there is no train dubbed the Orient Express. The Venice-Simplon Orient Express continues to preserve some of the magic of the original and even revisits the Paris to Istanbul route yearly, at a price. Still, the draw for many remains great.
Agatha Christie once famously wrote in Murder on the Orient Express: "The impossible cannot have happened, therefore the impossible must be possible in spite of appearances". While she wasn't talking about the train itself, her words could be applied to it. The Orient Express has changed over the years and it's possible it may never return as it once was. But that its allure will ever fade and be forgotten? Impossible.
____________________
Dive into our weekly auctions and explore objects inspired by Orient Express. Or register as a seller.
Discover more Books | Coins | Posters
You might also like:
How Agatha Christie developed a penchant for poison
Remembering the lost art of circus posters
The story of Carrozzeria Castagna