Speed, glamour and danger make up the 20th century sport of motor-paced racing. Cyclists closely follow their teammate (the pacer) who rides a motorcycle and sets the pace at speeds of up to 100 km/h; crashes and tyre bursts were frequent and races were exciting. Up for auction this week we have an authentic pacer motorcycle which belonged to Noppie Koch, motor-paced racing world champion in 1966 and 1967. Our in-house motorcycle expert, John Searle, who is an avid collector and racer himself, shares a bit about Noppie, the sport, and the pacer motorcycle below. Read on to discover what has our expert so fired up this week.
Who is Noppie Koch?
Noppie ('Nop') Koch (1932 - 2010) was a successful, professional bicycle racer in the 1950s. Born in Utrecht, the Netherlands, on 22nd March, 1932, he is still very famous in his hometown. So much so that a statue was erected in his honour beside Stadion Galgenwaard, the football stadium in Utrecht (The Netherlands).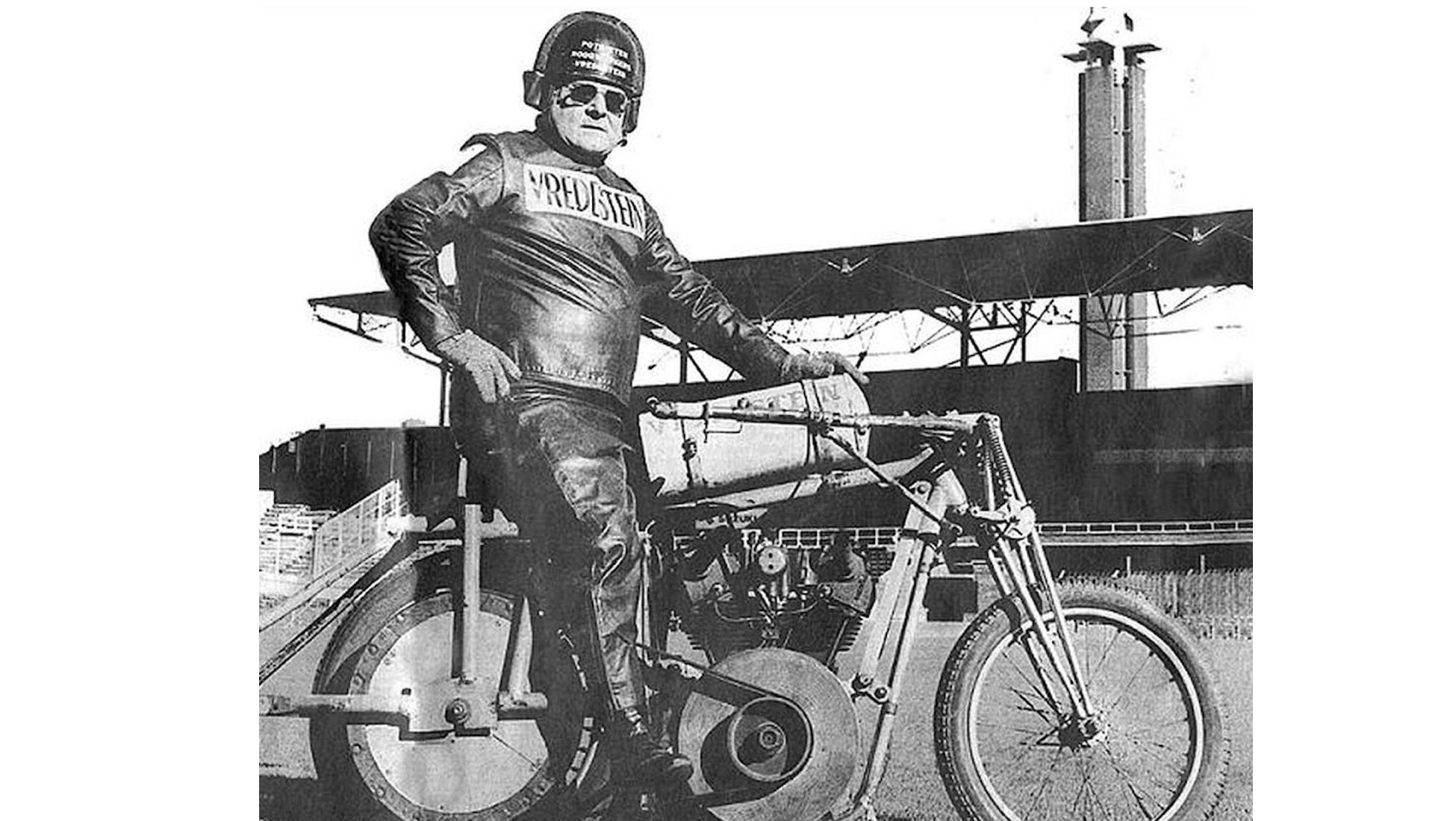 Nop focused mainly on motor-paced racing from 1955 and became the Dutch champion in this category in 1959, 1962 and 1963. After his active career as a professional cyclist, Koch paced many cyclists to world titles. But what does that mean?
What is Motor-Paced Racing?
Motor-paced racing, or stayer racing, is a motorsport where a cyclist rides behind a pacer, often a motorcycle, and benefits from the slipstream created. Cyclists link up with their pacer and ride as closely behind the pacer motorcycle as possible. A roller attached to the back of the pacer motorcycle allows cyclists to maintain a consistent and close, yet safe distance, as the roll bar will simply spin if the cyclist's tyre collides with it during the race. The pacer wears full leather and stands while driving to create a slipstream. And they also wear ear protection which is open to the back, allowing them to hear the calls of the cyclist.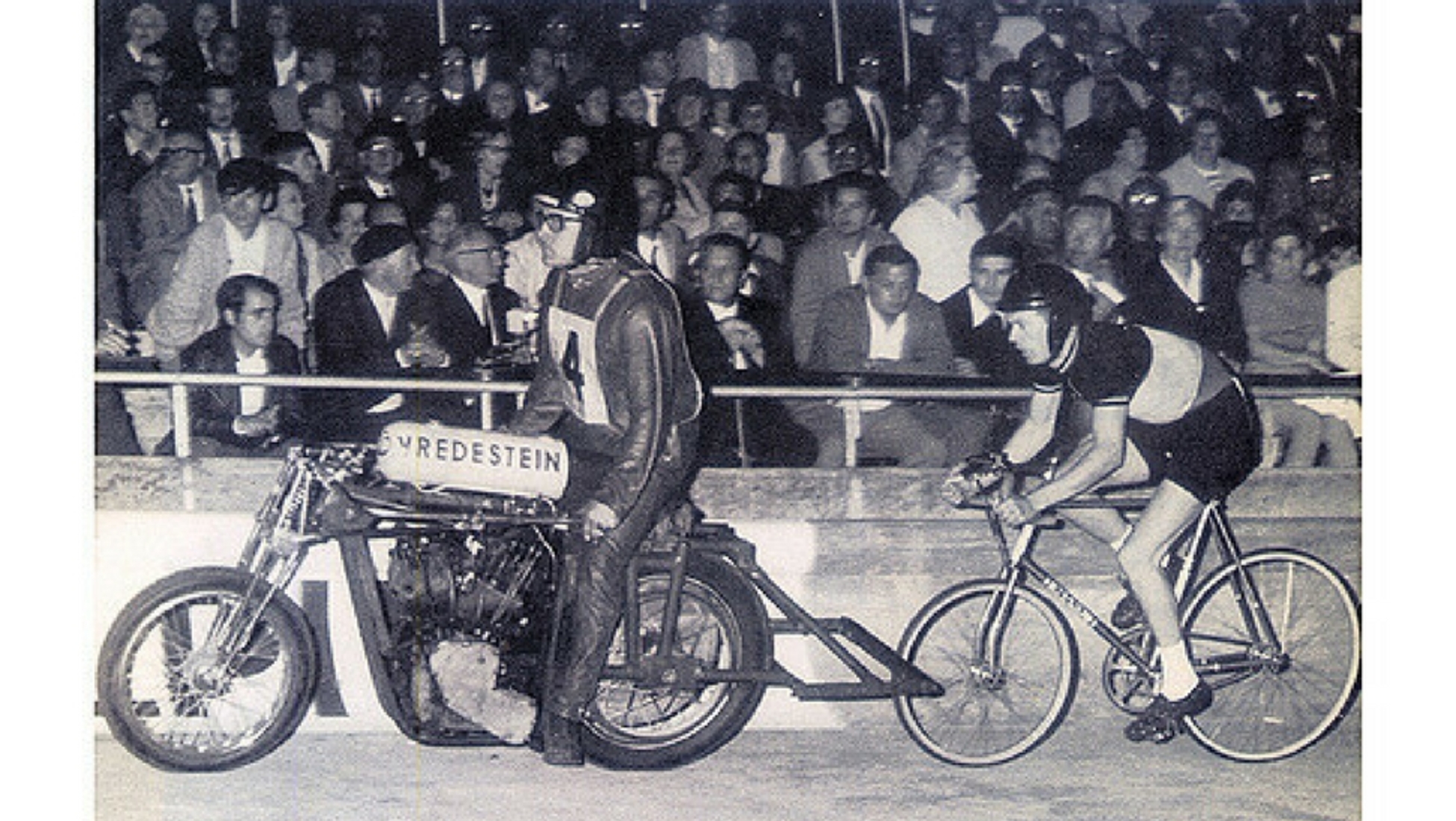 Noppie Koch driving his pacer motorcycle during a race
This sport takes incredible teamwork in order to keep the pacer and the cyclist close together. These races are held at incredible speeds up to over 100 km/h. The pacer needs to be aware of the speed of the cyclist and when they sense that they can attack, the pacer will pull them into the attack. Passing is only allowed on the right, giving the defending the advantage of the so-called 'clean air', while the attacking pair must fight against the turbulence being generated by the pair in front. World championships were held annually, except during the wars, for 100 years, both for amateurs and professionals.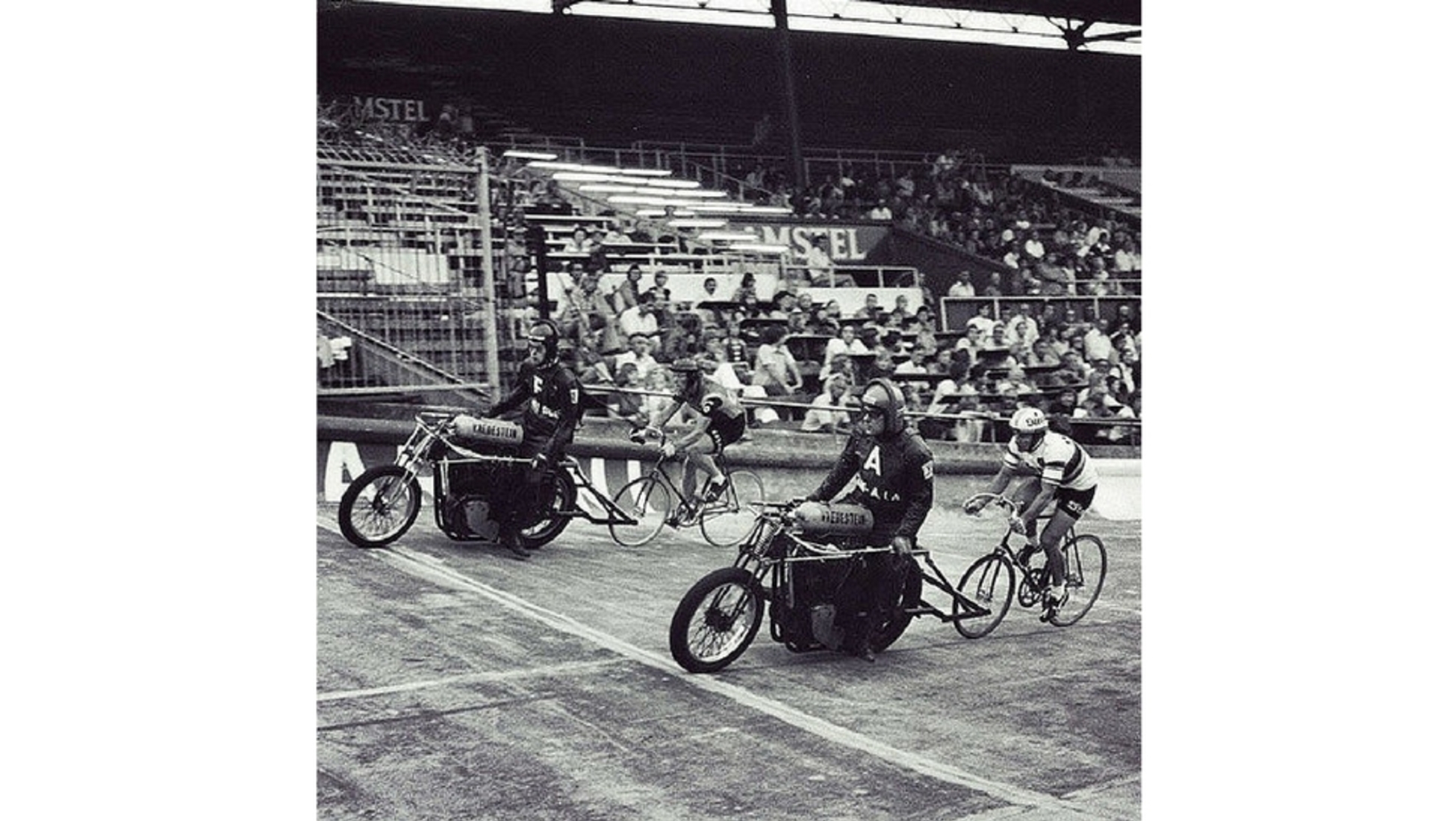 Motor-paced racing takes incredible teamwork in order to keep the pacer and the cyclist close together
Specs and Details of the Motorcycle

The largest machines were all purpose-built with engines as big as 2,400 cc/150 cu.inch. The whole pacer frame was especially designed to create ​a large slipstream for a racing bike and its rider. The pacer now up for auction has a powerful "BAC-Meyer" V twin cylinder OHV engine. Designed by the French Peugeot aircraft manufacturer Louis BAC, it has a 2.4 litre (150 cubic inch) OHV engine with open exhaust that produces about 40 HP at 1,500 rpm. Its magneto is well-hidden behind the lower carters; the oil tank has a "drip feed" of oil directly into the carters. This BAC Pacing-monster is preserved in beautiful, original condition. The engine runs well and makes great noise.
Get Fired Up
When talking about how unique this lot is, our in-house motorcycle expert, John Searle, explains: "The motorcycle together with the suit and helmet come from a collection in Holland where they have been undisturbed for many years. After the find the motorcycle has been serviced and fired up which was a great event."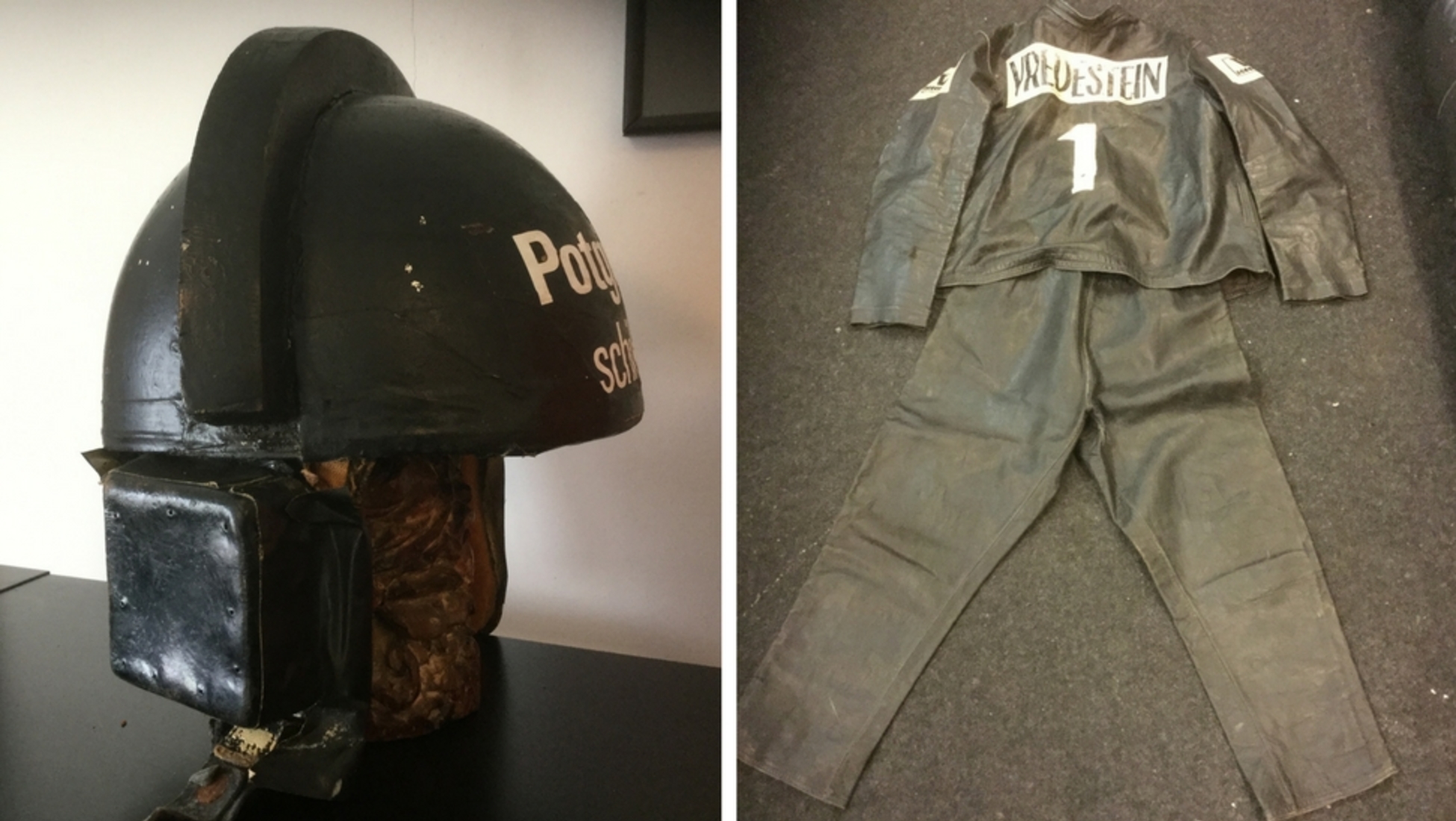 Noppie Koch's helmet and leather suit
This is a pacing engine with an idiotically large engine block: 2.4 liters. I've seen it running and shooting flames!
"The bigger the better," says John of the engine. But the engine is only part of the attraction of this lot. The historical significance of this particular motorcycle can't be repeated. And because it is includes Noppie Koch's helmet and suit this is a very complete and appealing lot for motorsport fans. It is very rare to be able to bid on an authentic pacer motorcycle. This one is in running condition, the history is exciting, and with the leathers and helmet you can feel like a world champion as well! Check out this unique motorcycle in our Motorcycles auction and see for yourself just why it has John so fired up.
You might also like these articles: