By Surya Rutten and Sarah Le Helley | 6th June 2018

Both antique and more recent Buddhist statues can be valuable collector's items, since most people buy them for their beauty. In this article, our experts Surya Rutten and Sarah Le Helley, will summarise what to look for and what is important when buying a Buddhist statue. But there is a difference between what makes an antique valuable and what makes a more recent statue valuable, which is why we've split up this article in two parts. Wondering which factors determine the value of your Buddhist statue? Keep reading.
Antique statues

Factor 1: Type of Statue
Buddhism includes a wide array of divine beings: for example Tara, Mahakala, Yaksha, Devas and Bodhisattva. These deities are a shape of Buddha or represent Asian spirits and local gods which have become part of the Buddhist realm and exist next to Buddha. The type of statue, style, pose and iconography can contribute to its value. You can tell the meaning of a Buddha statue by looking at his posture (asana) and the way he holds his hands (mudra). Each traditional pose refers to an important event in the life or past lives of the Historical Buddha; there are over 100 poses illustrating these moments.
Factor 2: Period and Country
Early gilt bronze statues from China and Tibet are currently sought after, which makes Buddhist statues from these countries more valuable. This gilded figure from the 17th century (Tibet) for example sold for € 2,200 on a Catawiki auction in 2018. A bronze figure of the infant Buddha from 17th century China sold for even more: €3,472.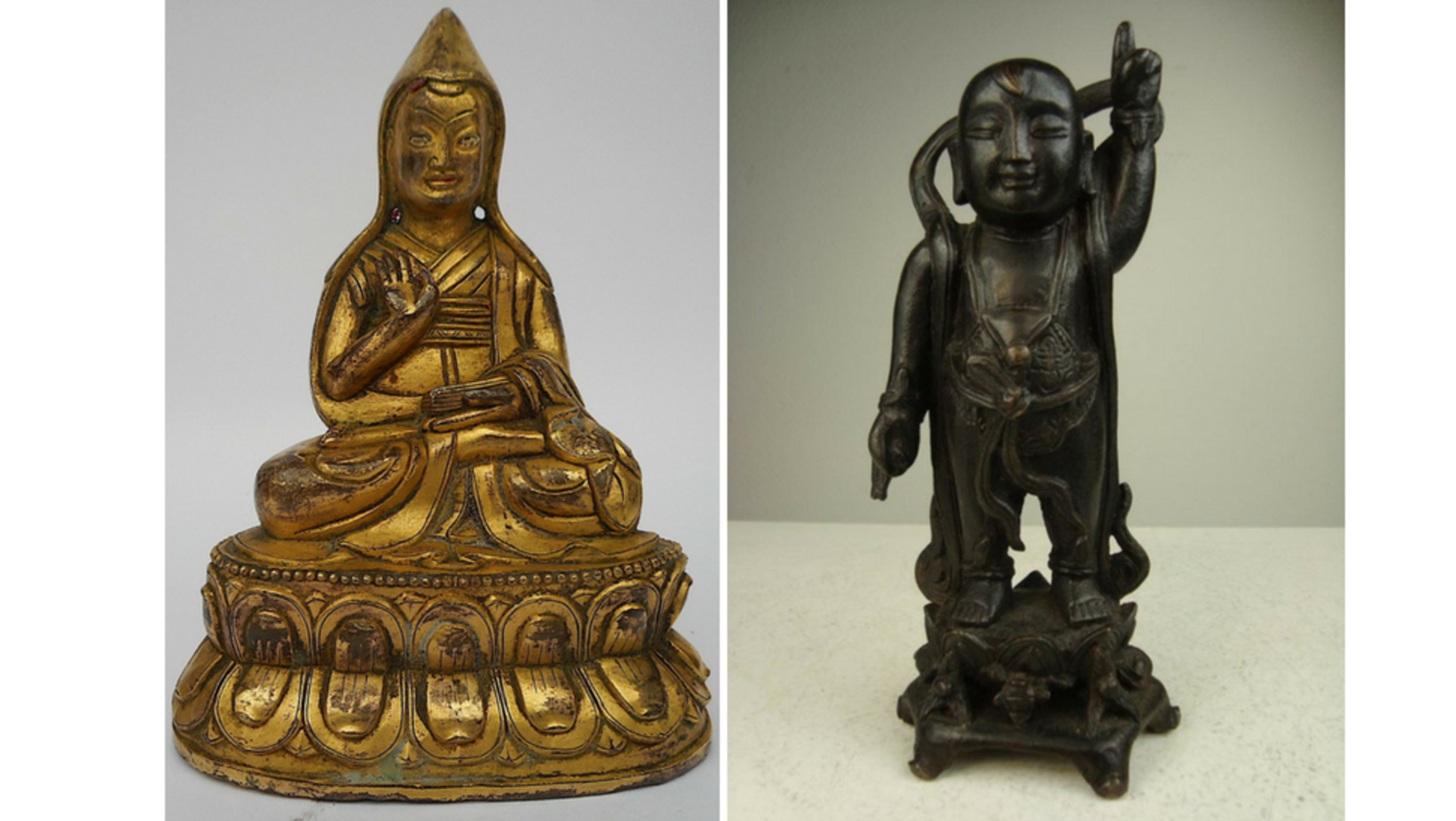 Left: gilded figure from the 17th century Tibet. Right: bronze figure of the infant Buddha from 17th century China
Factor 3: Condition
Always buy good-quality Buddhist statues; the better the condition, the more likely it will keep its value. And remember, restorations do not always decrease the value. Contact our experts to find out which is the case with your Buddhist statue.
Other features
There are several other features that contribute to the value of your Buddhist statue. In some cases a statue has a period mark, a date or a name of the commissioner. This can make your statue more interesting and more valuable because it adds to the story of your statue. Take this Qianlong Amitayus statue for example that earned €10,000 on our auction - more than double our expert's estimate! The hallmark from the period on the statue contributed to the high sale price.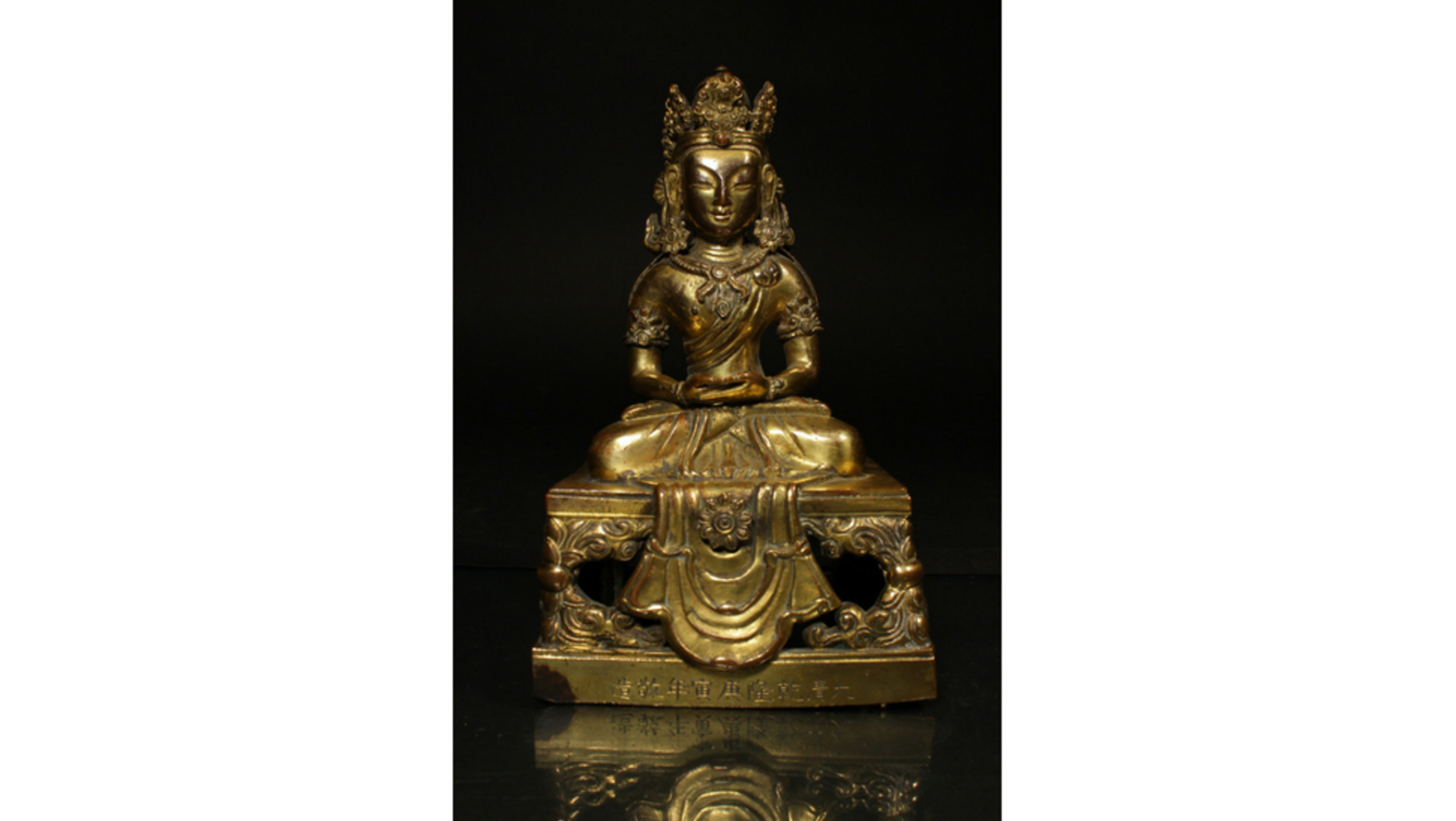 Gold-plated bronze Qianlong Amitayus statue
Make sure your statue is authentic, well-made and of artistic value. Of course the size and material can sometimes have an influence on the value but more importantly: is the statue appealing? Does it have that 'je ne sais quoi' that makes it stand out? A fragment of a Buddha statue with a very nice facial expression can actually be more valuable than an intact, very early bronze statue from the 17th century that does not have a nice expression. After all, most people buy Buddhist statues for their beauty.
Post-1950 statues
Factor 1: Condition & Size
At auction Buddhas in good condition and of monumental sizes attract the highest bids. These usually have peaceful expressions, mimicking Buddha's traditional attributes such as his serene compassion for humanity. Such highly-prized examples are carefully gilt and can be inlaid with turquoise or glass paste beads. Many of our buyers at Catawiki seek high-quality, decorative statues that are substantial in size. Statues over 50 cm in height are greatly appreciated, such as this representation of Buddha (62cm), sold for €620.
Factor 2: Quality of workmanship
Look for good-quality cast statues, by paying particular attention to the facial features and the underside of the statue. Delicate and symmetrical characteristics will be more appealing to bidders.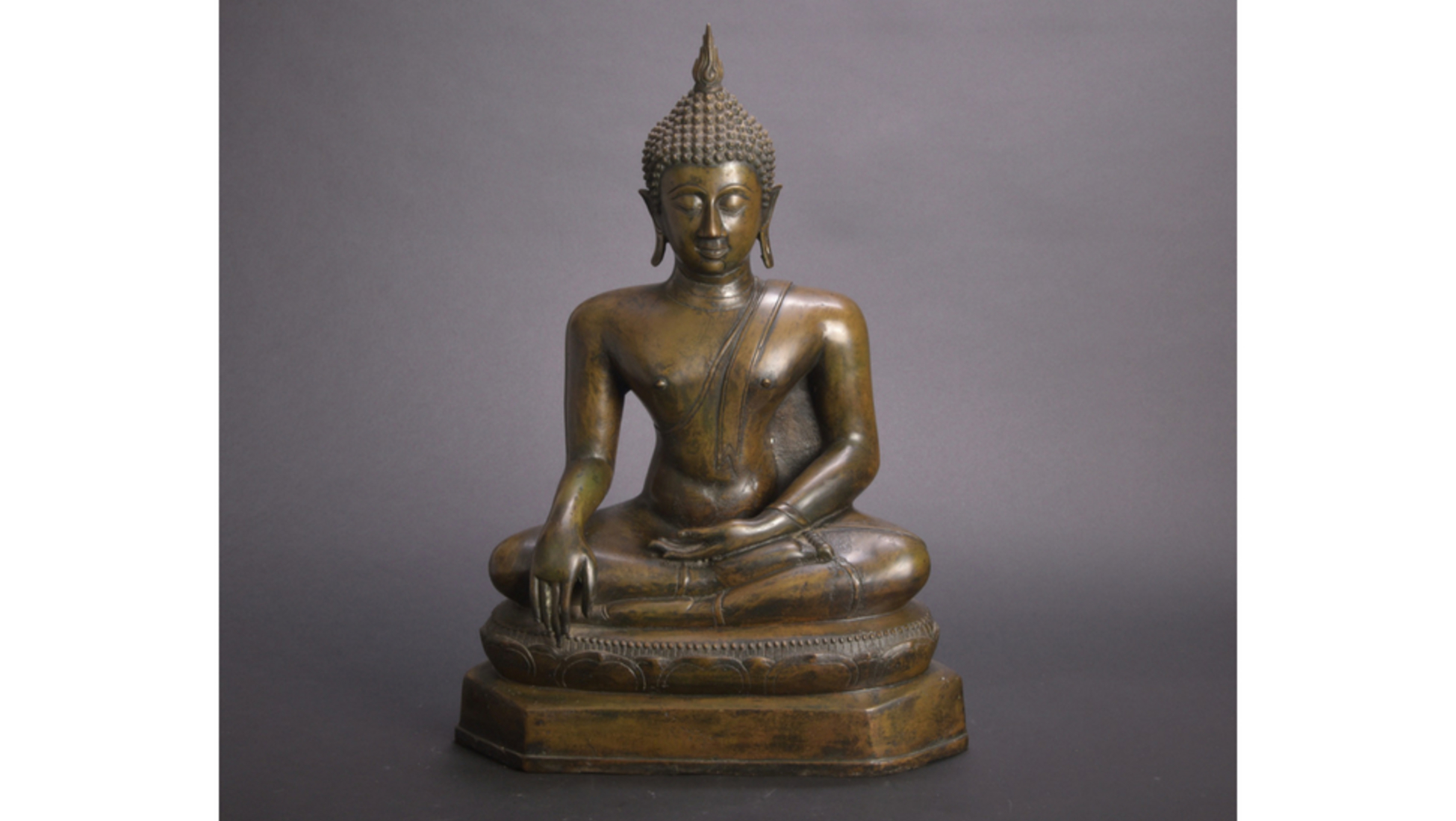 Large bronze Buddha statue from late 20th century Thailand, 62 cm high

Factor 3: Materials & other features
Other important factors to consider are the materials included on your statue. Carefully-made icons in bronze or brass, with coral or turquoise - even imitation glass paste stones - are highly sought-after. These features, combined with a delicately manufactured perspective, will help you predict the value of your Buddhist statue.

____________________
Fallen in love with these statues? Keep an eye on our Buddhism auction for a new selection every week. Register here if you want to sell the Buddhist statue you brought home from China or Tibet.
Discover more Buddha | Bodhisattva | buddhism
You might also like these articles: