Written by Thomas | 27th February 2019
In our Expert's Choice feature, one of our experts shares their favourite items currently in auction. This week our Stamp expert, Nicolas Pereira, selects several exceptional items from our stamp and postcard auctions for you to enjoy.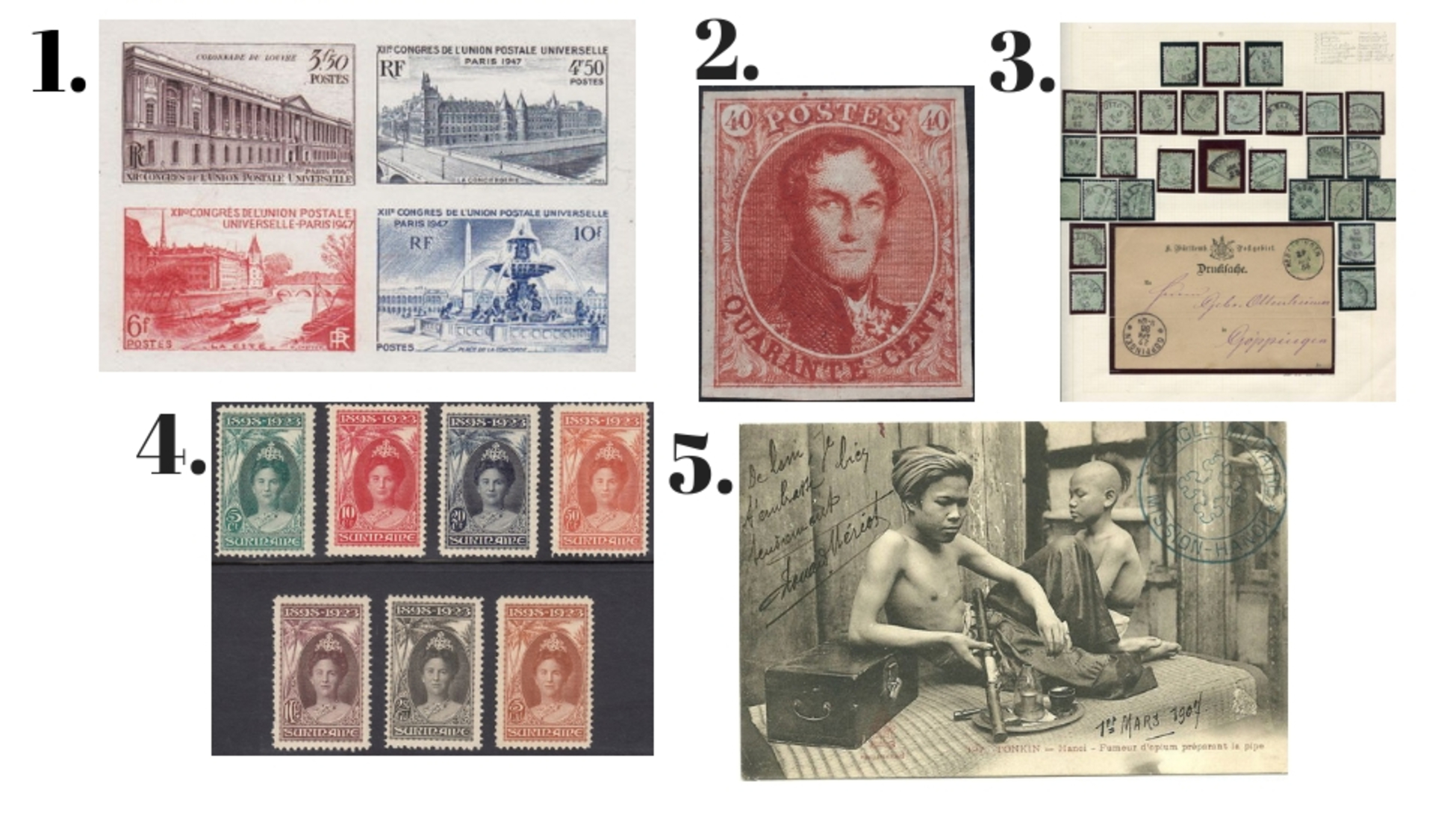 1. France 1947 - Epreuve Luxe - Yvert 780/783
The Universal Postal Union is the world's top ruling association concerning postal affairs and has organized many international congresses all over the world. It has been common practice to issue stamp-sets and blocks to commemorate these congresses. An example of these kinds of stamps can be found in this week's French Stamp Auction. This complete set of luxury test stamps were issued by the French Postal Services in 1947, which was the year when this congress took place in Paris.
2. Belgium 1849 - Plate proof 40 c in adopted colour - printed on thin azure paper
Creating a stamp takes some time, especially with the limited technology they had in the late 19th century. Before a stamp was ready for its final printing, different colour proofs, paper tests, and other choices were studied and tested. This rare Belgian 1849 Medallion plate test stamp, that you can find in this week's Belgian Stamp Auction, has the final adopted colour and was printed on thin azure paper.
3. Württemberg 1875/1925 - Old and very extensive collection – pfennigs
Baden-Württemberg was one of Germany's ten states before the country's unification in 1871. The stamps from these old German states are very popular among German collectors nowadays! In this week's Ancient & Classic German Stamp Auction is an extensive collection of Württemberg state stamps that deserves an important place within any old German state collection.
4. Suriname 1923 - Queen Wilhelmina Government Jubilee - NVPH 104/110

Suriname has been, apart from two British occupations, a Dutch colony for almost two centuries. In 1975, the country became independent. It's to no surprise that many Dutch stamp collectors value the importance of the stamps coming from Suriname. In this week's Dutch Stamp Auction you can find many interesting colonial stamps. Among them is this exceptional set of Queen Wilhelmina stamps from 1923, in mint never hinged condition. The stamps are fault free and still have their original gum, as stated in its certificate.
5. Laos, South Korea, Vietnam - Ethnology (Ethnic / Ethnographic Postcards) - Postcards (set of 63) - 1904
At the beginning of the 20th century, most news and other information that European inhabitants received about faraway countries were through newspapers. But postcards also played a great role in getting an insight into remote regions at that time. A great example are these 20th-century postcards from Laos, Vietnam, and South Korea, that you can find in this week's International Postcard Auction.
__________________
Discover more stamps
You might also like these articles: