Written by Tom | April 10th 2020
The art world's revolutionary nonagenarian, Yayoi Kusama has never been more relevant than she is right now. A Japanese artist famed for her swirling stratospheres of polka-dots, Kusama's interactive boundary-defying exhibitions have become global phenomena in the past few years. But who is the red-haired woman mapping out these fantastical universes and why is now her time?
Enigma
Kusama's backstory is, perhaps expectedly, unusual. Raised in the mountain ciy of Matsumoto, she was drawn to painting even at a young age, much to the chagrin of her mother. Kusama recalls that her mother even went so far as to confiscate all of her ink and canvasses, encouraging her daughter to instead focus on marriage. Meanwhile, Kusama's mother tasked her with spying on her father and his multiple lovers – a strategy that would have lifelong implications for Kusama.
Kusama's work lives in a hazy, hallucinatory world of colour and shapes, much of which she says stems from the escapist visions she had as a child. She characterises these visions as being like flashes of light, often crowded fields of dots (a trademark motif of hers). Kusama describes on one notable occasion finding herself in an endless field of talking flowers whose heads were dots and feeling like she was disappearing. She would later label this process as 'self-obliteration' – the act of disappearing into a space that would become a hallmark of her work.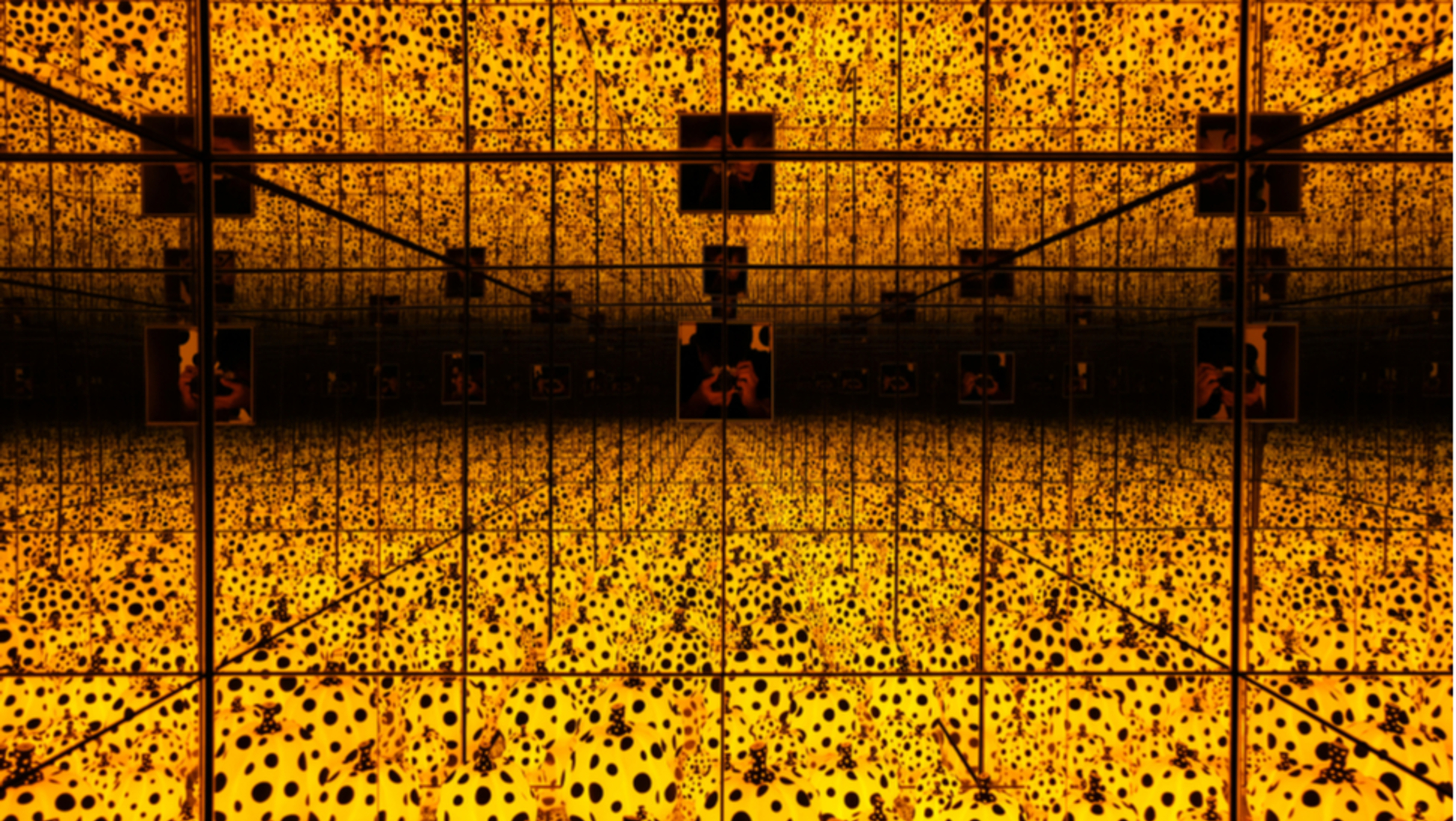 The process of self-obliteration is a familiar one in Kusama's 'Infinity Mirror Rooms'
Kusama herself has faded in and out of public life through the decades. Since 1977, Kusama has voluntarily lived in a psychiatric hospital, the Seiwa Hospital for the Mentally Ill. It's a decision that adds another layer to her work – charging it with a sensitivity to the power of the mind – and her world.
Endless polka dots
Kusama is a contemporary artist but her work defies easy definition. This can be seen in the presence of her childhood sketches of nature, which have lingered with Kusama into adulthood. The first pumpkin she saw with her grandfather has evolved into fleets of her now iconic human-sized pumpkin sculptures, all in a range of bright colours marked with black dots. These dots mean to serve as a reminder that we're all "one of the dots among the millions of dots in the universe".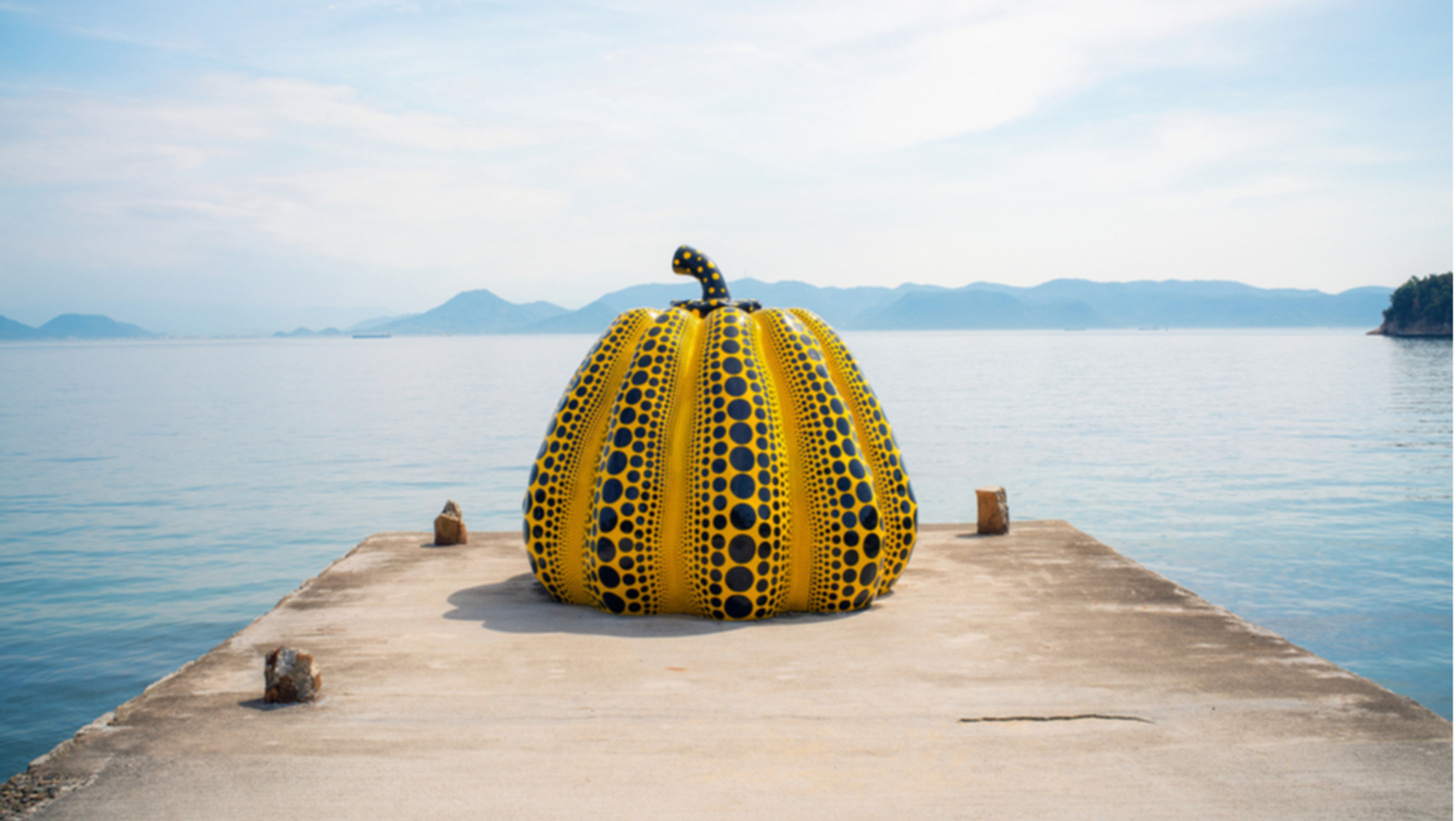 One of Kusama's pumpkins as seen on the Japanese island of Naoshima
The concept of infinity (and self-obliteration) play a central role in Kusama's work too. While infinity and spatial illusions aren't necessarily concepts she introduced to art, we're used to seeing these works confined within a frame. Kusama challenged this, first with her own 'Infinity Net' paintings—where repeated arcs of paint gradually combine into larger patterns across a room—and then with her walk-in spaces. The 'Infinity Mirror Rooms' are the most well-known and celebrated examples of Kusama's interactive installations; mirrored rooms that create the illusion of multiple more rooms, all filled with recurring patterns and imagery.
'Phalli's Field' is one of the first mirror rooms Kusama created. Polka-dotted stuffed phalluses crowd the small space while the mirrors summon an endless horizon of them wherever you look. It's unusual and one of the more avant-garde examples. Other rooms replicate the night sky and distant galaxies, like Kusama's 'Aftermath of Obliteration of Eternity', which conjures a dizzying universe of what a world with only floating lanterns might look like. These works, Kusama says, are there for us to question our own place in the universe – are we, as the many dots, alone in the world or together?
Age of aesthetics
Kusama's impact upon today's art world is far-reaching and her take on the individual and aesthetics has been a big part of her surging popularity. With the dawn of Instagram and the burgeoning trend of documenting the 'aesthetic', Kusama has found a wellspring of eager fans in digital natives. Interestingly, the very act of taking photos of yourself among Kusama's work (a quick search on Instagram will present you numerous examples of this) seems to dredge up the central question of her art: how alone are we in the world if we can take a photo—while supposedly contemplating our place in it and our isolation—and share it with thousands of other people in a moment?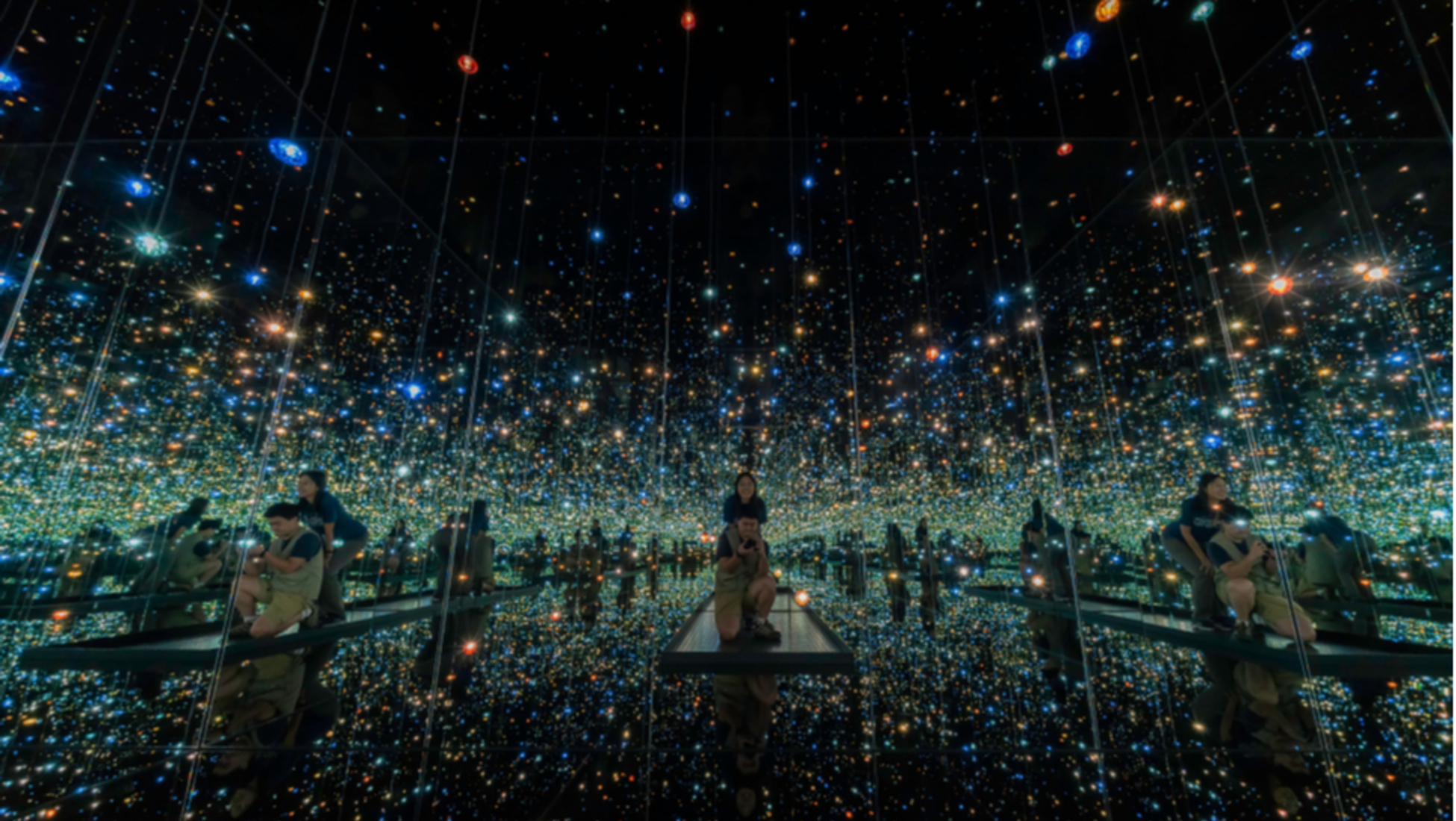 Kusama's rooms are there for us to ponder our isolation – but the rise of social media introduced a paradox to her work
Kusama's art adapts beautifully to online spaces. It's colourful, fantastical and instantly shareable. And as Kusama once imagined herself among endless flowers and fields, we're drawn to how gratifying it is to see ourselves moulded into her aesthetically pleasing world. Knowing her backstory, Kusama's interactive works are in many ways a discourse on the places we go to create and find beauty. But for us, they may serve more as a lesson in narcissism and ego – a telltale sign of the times.
____________________
Keep an eye on upcoming Yayoi Kusama pieces in our weekly art auctions, or register as a seller to sell your own artwork.

Discover more Modern & Contemporary Art | Street Art
You might also like:
The emotive digital sculptures of Andrea Giorgi
The politicised escapism of Jad El Khoury
How the S.M.S. portfolios made art more accessible