Written by Tom | 3rd September 2020
Alfa Romeo's success has always been on the race tracks. As one of Italy's pioneering car manufacturers, they've platformed some of the most celebrated cars and names in the motoring world, not least racing legend Enzo Ferrari. But the car manufacturer has a more experimental side – one that gave birth to the coveted Disco Volante car – which placed it at the centre of innovation and intrigue.
The late 1940s and entire 1950s saw the term 'flying saucer' coined after one now-infamous sighting that helped trigger a worldwide fascination with unidentified flying objects (UFOs). Intrigue permeated all parts of society, including the car industry. Inspired by the alleged aesthetic of UFOs, car brand Alfa Romeo designed the Disco Volante – a zeitgeisty and much-celebrated car that still draws classic car enthusiasts into its orbit.
The era of UFOs
The context of the time is an important element in the car's DNA. On June 24th, 1947, Kenneth Arnold, a pilot from Idaho was on his way to Yakima, Washington, when he made a brief detour having heard about $5,000 reward to find plane wreckage in the area. His eyes, however, never made it earthbound. Arnold recounts that he saw a flash of light in the sky, one with a blueish tinge. He assumed it was from another plane but all he could see was a DC-4 flying in the distance that wasn't flashing. And then there was another flash – this time, nine times over. He described seeing a series of unidentified, disc-like objects flying in an echelon formation, weaving in and out of one another.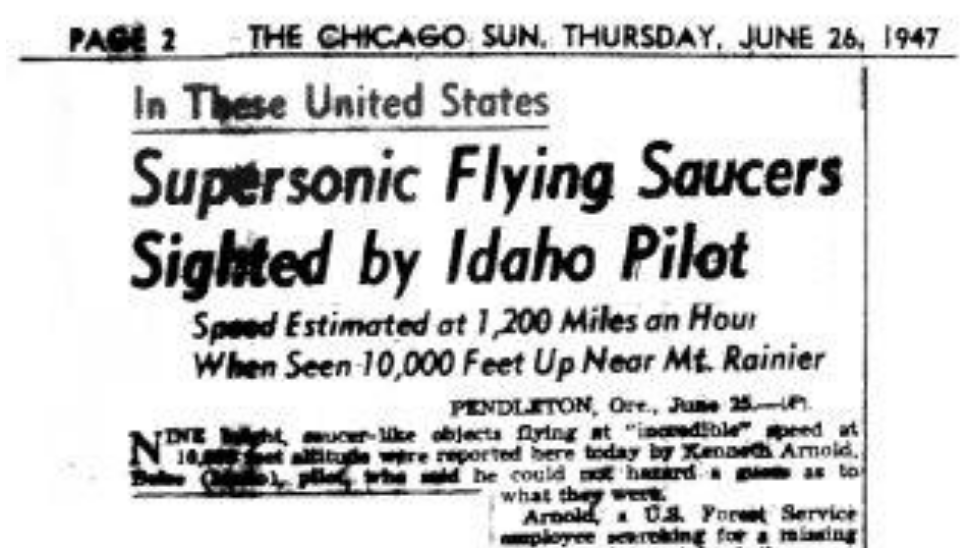 The headline in the Chicago Sun was one of many that jumped into the alleged UFO sightings
While his story has never been proved or disproved, it left him and the public with a sense of eerieness. Arnold's alleged sighting is considered to be the formative example of UFO sightings and it gave the media a fringe narrative to cling onto. Newspapers across North America and the globe were the main proponents of the 'flying saucers', that from 1947, seemed to besiege the eyes of citizens. There was a surge in sightings and the term flying saucer became a mainstay in everyday vernacular.
The Disco Volante descends
Not missing a beat or a sighting, Alfa Romeo capitalised on the public's fascination with UFOs, engineering their very own 'flying saucer' and something yet to be seen on the road. In 1952, in collaboration with Milanese coachbuilder Carrozzeria Touring, Alfa's developmental manager Orazio Satta Puliga and designer Carlo Chiti were commissioned to create a prototype of a new kind of racing car. Using the Alfa Romeo 1900 as the foundation, this car was meant to be a lesson in using experimental chassis and engines.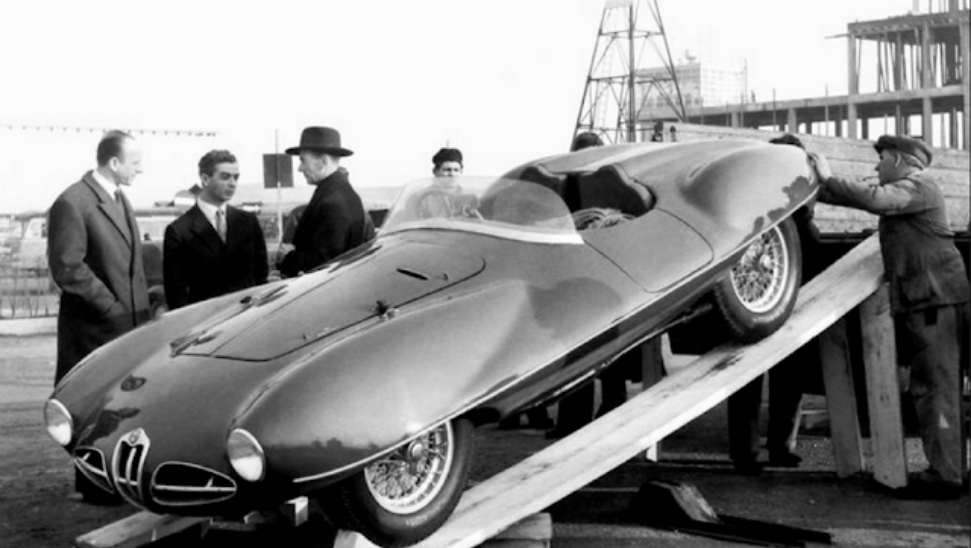 The Disco Volante, inspired by flying saucers, was built in a smooth, curvy form
Shaped into an almost oval, drop form, the car fit the smooth, rounded aesthetic flying saucers were associated with. Unlike its extraterrestrial counterpart, however, the C52 Disco Volante (Italian for 'flying saucer') was hard to miss. Crafted with a bright metal body, the headlights and rear lights were accentuated by mounds in the metal, for an almost insect-like look. While the concave doors, if unwieldy, made the car appear (like UFOs) to have no way in.
Five prototypes were made in total, each with a slightly different take. Three of the cars had a 2-litre, four-cylinder engine, while the two cars built later on were fitted with a six-cylinder 3.5-litre engine. One of the three original cars was even converted into a coupe, complete with a curved roof and compact doors, while another was slimmed down on its sides, dubbed the Alfa Romeo C52 fianchi stretti (Italian for "narrow hips").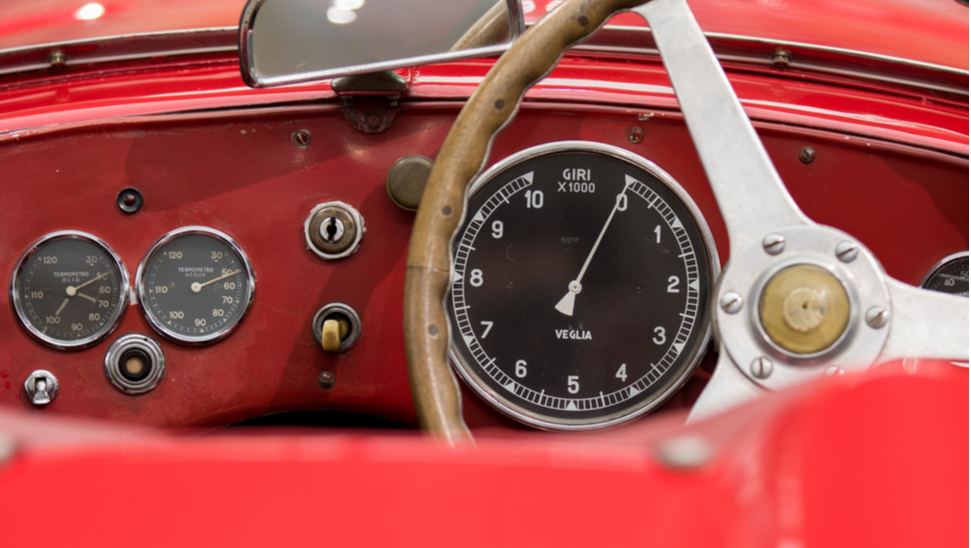 The five prototypes all had slight variances, but their bright colour remained the same
Each of these cars was remarkable for its design, though they weren't to be overlooked on the race track either. Their streamlined design meant they were lightweight, courtesy of the 'space frame' (a type of architectural method that interlocks to support a structure without using much interior support) of the model. The 3.5-litre prototype could reach speeds of up to 240 km/h, with the smaller engines reaching speeds of 220 km/h.
21st-century rebirth
Today, these prototypes live on in the Alfa Romeo museum, though they're known to make an appearance in the classic car races. But their design inspired a generation of cars. The Alfa Romeo 6C 3000 CM paid tribute to the Disco Volante in design, while iconic car design firm Pinin Farina, used the Volante as the inspiration for its Superflow series. And a 21st-century replica of the Disco Volante was created in 2013: the Alfa Romeo Disco Volante by Touring, a homage to the space-age classic, complete with a speed upgrade that meant its top speed was now 291 km/h.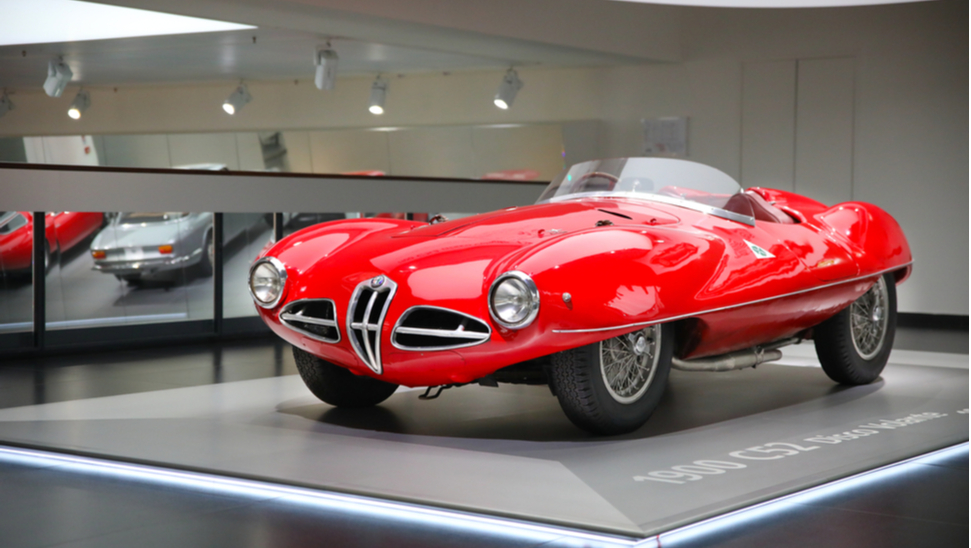 You can view the Disco Volante at the Alfa Romeo Museum, just outside of Milan, Italy
The Disco Volante stands as a hallmark of innovative classic car design and a favourite among enthusiasts. And like its namesake, it remains ever so slightly out of reach, an otherworldly car specimen we'll only ever catch a glimpse of.
____________________
Take a look out our latest classic car auctions or register as a seller with Catawiki.
Discover more Classic Cars | Modern Classic Cars
You might also like:
Why the electric classic car is dividing car enthusiasts
A history of Pininfarina in three cars
How Ferrari and its prancing horse raced to world domination