Written by Tom | 29th October 2020
Death and food have a long history together and in some cultures, this relationship takes on a material form. Funeral cookbooks have been a way to preserve memories and celebrate the favourite foods of the deceased. But what sounds like a macabre offering is in fact, as books expert Kurt Salchli explains, a surprisingly comforting read.

At birthdays and weddings, no guest is a stranger to the little thoughtful touches provided to celebrate the occasion. Ornate invitations, gift baskets handpicked by the person or couple being celebrated, and programmes detailing the order of events are frequent occurrences. In Thailand, you can expect all of this. At a funeral.
In Thailand, the 'cremation volume' or funeral book has become a tradition at funerals. Family members hand out commemorative books that include brief biographies of the deceased, providing readers with a snapshot of their lives and their main interests. These funeral books tidily assemble a variety of tidbits about the deceased's life, but one near certainty is the inclusion of their favourite recipes.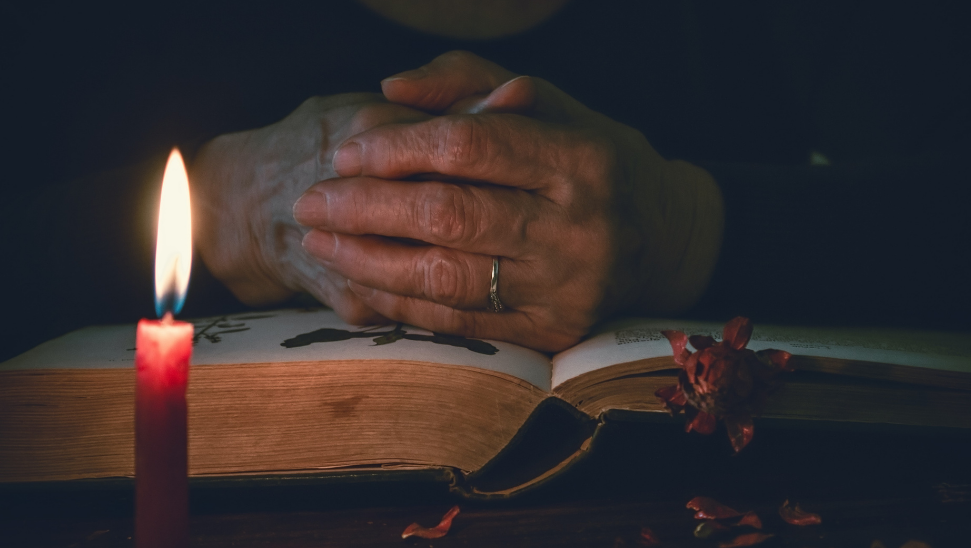 Thailand's cremation volumes, or funeral books, eventually evolved into the funeral cookbooks of today
'In many cultures it's important to be together after the funeral', explains Kurt. 'Food has the capacity to do this, to bring people together so they can eat and drink to honour the deceased person. And what better way to do this than with a book including this person's favourite foods? It sounds morbid but these books are actually both sentimental and humorous reads, filled with anecdotes, obituaries and memories of the times these recipes were savoured'.
The funeral book turned cookbook
The funeral cookbook in Thailand evolved from the funeral book and while the exact origins aren't clear, scholars believe the latter was born out of tragedy.
Back in 1880, the queen consort Sunanda Kumariratana and her daughter were sailing to Bang Pa-In Royal Palace when their boat collided with a steam boat, drowning both of them. One of the laws surrounding the monarchy at the time banned common folk from touching royals and urban myth long suggested that many on the boat restrained themselves from saving the queen to avoid touching her. Historical records have surfaced, suggesting that boatmen did dive in and pull mother and child from the water, only for it to be too late.
King Chulalongkorn (Rama V), stricken by grief from the loss of his wife and daughter, called for a lavish funeral like no other. 10,000 copies of a book commemorating the queen and princess were printed for their cremation, yet no recipes were included. Regardless, the nangsu anuson ngansop (funeral memory book) was born.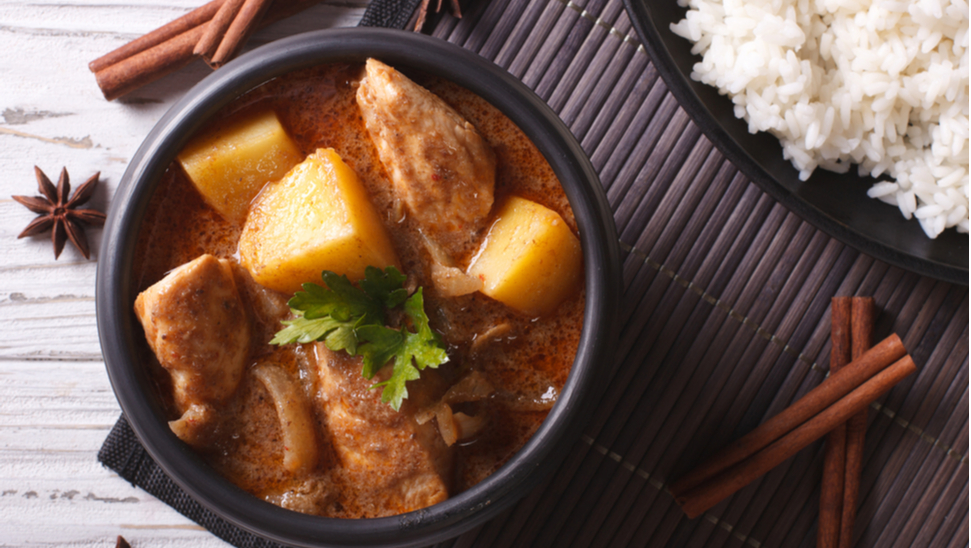 Massaman curry is one of the many well-known recipes that have come from the funeral cookbooks
So when did food start making an appearance? Not until the 20th century. Many of Thailand's aristocracy saw King Rama V's move as an inspired one and the trend for funeral books set in. Much of it was a show for the elite to flaunt their rank and accolades, something they did self-indulgently. Yet in 1904, King Rama V described the funeral books being produced as a little bit dull and encouraged his subjects to include more interesting and engaging material. For a country like Thailand, food became the natural choice, as much for its universal appeal as its clout in society.
'Funeral books had a wide subject matter that befitted the life of the deceased', says Kurt. 'But the topic of food became a particular sticking point because it was something that was accessible to all individuals. This was especially true for women who were limited to the household. Recipes became a source of pride, cultural clout and rivalry from family to family. And often the only time these were revealed was in funeral books'.
Recipes of the dead
Both death and food have a longstanding association beyond these cookbooks that has existed since the time of the ancients. Take examples of Egyptian hieroglyphics, that tell of burial feasts honouring the dead. As Sarah Chavez, of Nourishing Death describes:
Food, as it relates to death, has primarily been used in three different ways – consumed by the mourners to benefit either themselves or the deceased, to feed the dead, or in some instances the dying and finally, to nourish a natural element, e.g. earth or animals.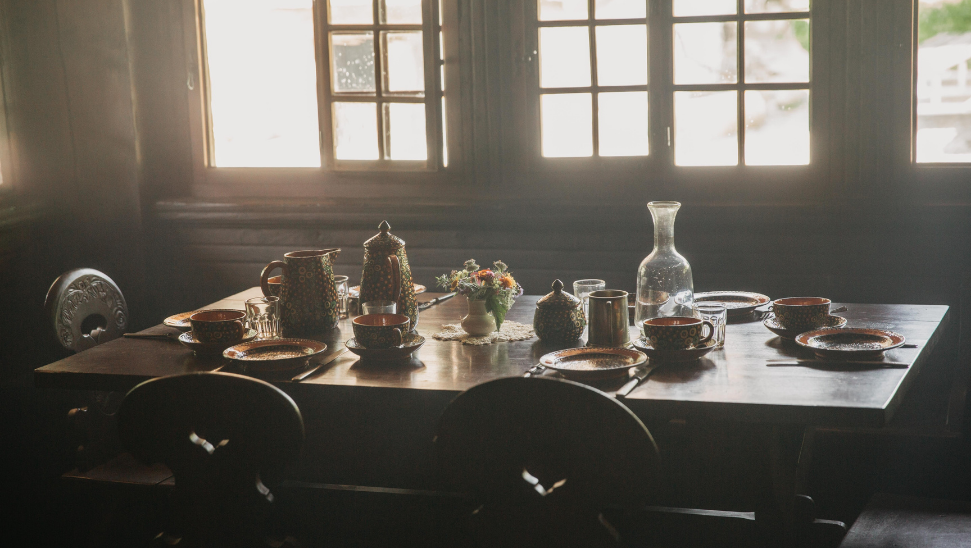 Food at funerals goes beyond comforting the living – it's about honouring the dead too
But what kind of food can you expect from a funeral cookbook? In Thailand, one funeral cookbook gave rise to one of its most popular exports – massaman curry – helping steer and shape what we know as Thai cuisine. Passed down by the Bunnag family via their funeral cookbooks, the recipe comes from a Persian merchant known as Sheikh Ahmad, who brought over spices that have made their way into dishes like massaman and the biryani-eseque khao buree.
Thailand is by no means the only country or culture to work with funeral cookbooks. In the United States' deep south, death and literature have always been close companions courtesy of its prominent Gothic fiction scene. Food and family are both integral parts of southern culture, so cooking for funerals is a part of life. A premise that inspired Perre Coleman Magness' book The Southern Sympathy Cookbook. While her recipes differ vastly from their Thai counterparts, they're bound by the same love for life and desire for comfort. Cheesy funeral potatoes and fried chicken are staples of southern funerals because they transcend all aspects of society – liked by all and capable of comforting everyone.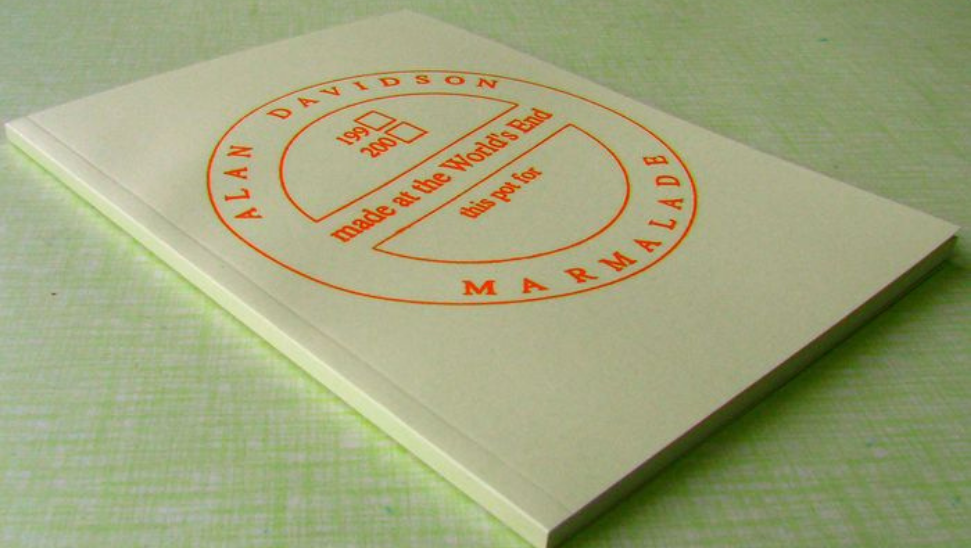 Alan Davidson's 'Funeral Cookbook'
cover depicts the design of the label for the marmalade Alan made every year from his family's recipe
"Some of my favourite contemporary funeral cookbooks are Death Warmed Over by Lisa Rogak and Funeral Food by Sandra Trujillo. Though they're examining cooking for funerals through a cultural lens, they show just how impactful the intimacy of food can be on our lives', says Kurt. "We've had a funeral cookbook up for auction recently; Alan Davidson's book containing his favourite recipes that he prepared as a memento to be handed out at his memorial service. The cover he chose depicts the design of the label of the marmalade he made every year from his family's recipe, up until his death".
Funeral cookbooks are unique in that they bring the notion of life and death together in an active way. Food and eating has always belonged firmly to the realm of the living, but these books help surface the idea that food could be more transcendent than that. We eat to live and we live to eat. And when we die, the recipes we loved, we hope, will be savoured forever.
____________________
Food on the brain? Dive into our cookbooks auction or register as a seller with Catawiki.
Discover more Books | Old & Rare Books | Cooking & Dining

You might also like:

The devil you know: exploring literature's fascination with Satan
How French cookbooks changed the way we eat