Angelina Jolie has quite the resume. Among being an Academy Award-winning and Golden Globe-winning actress, she is a producer, director and screenwriter. Off the big screen, she is a Special Envoy for the United Nations, High Commissioner for Refugees and an outspoken humanitarian. She is already known for her collection of children, six in total (three from adoptions), and it's safe to say Jolie has collected fame, fortune, and family over the years, but there's another area in which she's sharpening her collecting skills: knife collecting.
Struck by Beauty
Jolie got her first big break in a low-budget film in 1993, and just six years later earned an Academy Award for supporting actress in 'Girl, Interrupted' as a mental health patient alongside Winona Rider. When she personified video game heroine Lara Croft in 'Lara Croft: Tomb Raider' in 2001, she solidified her place as a leading Hollywood lady. Jolie has had to deal with all sorts of weapons on set for roles, but her fascination with knives began in her childhood. At a young age, she would attend Renaissance fairs with her mother, and was struck by beauty of all the different blades.
"I've collected weapons since I was a little girl"
She got her first daggers at 11 or 12, and experimented with blades further into her teens. Her fame made collecting specialty blades easier, and now she has quite the impressive collection. "It reminds you of history, and there's just something beautiful about them and traditional. Each country has different knives and weapons, and that's why I started collecting them. I've done this since I was a little girl," says Jolie of her collection. The actress was the subject of controversy in 2008 when she bought knives for her son Maddox at a young age, but stressed they were with a blunt blade so he couldn't hurt himself. She said "we talk about samurais and about the idea of defending someone as good. We talk about everything."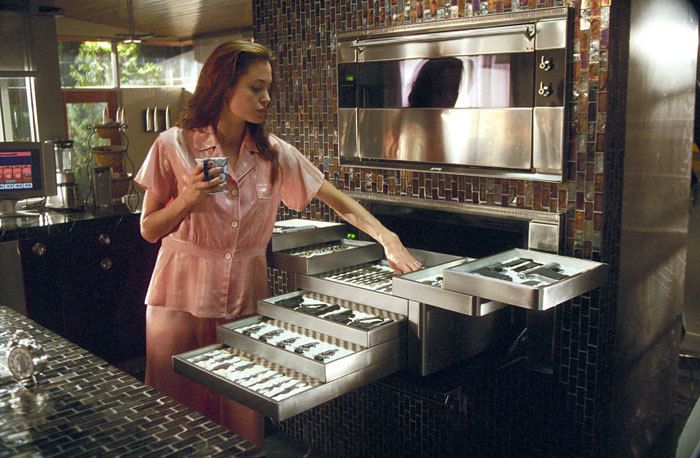 Sharp Skills
The size and exact content of her knife collection is unknown, although she is very open about other aspects of her personal life. Shame. But, she has shown off her skills with a butterfly knife on Conan O'Brien's nightly talk show. The host conveniently had a Filipino butterfly knife on hand and asked Jolie to 'show her chops', so to speak. Without any hesitation, Jolie began whirling and rotating the knife a few times in her hand as the host and audience silently watched. When everyone saw that her fingers were still attached, it was determined Jolie had a very unique talent.

Collection Contents
She possesses many Darrel Ralph-balisongs, handmade butterfly knives. There's so much demand for these kinds of blades that orders can take months to process. Jolie also has some William Henry folding knives with a personalised touch. The best knives are certainly not cheap; some models are worth well over €20,000. The actress also has her love of knives as body art, with what look like blades tattooed on her back.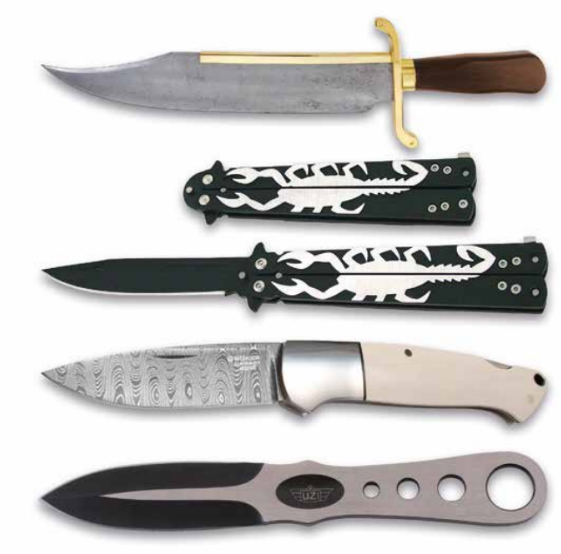 Angie's collection certainly has a sharp edge. To get your own valuable weapons, visit our Militaria & Antique Weaponry auctions or register here to sell a piece from your own collection at our weekly online auctions.