Written by Laura | 14 July 2023


Chess has paved its way throughout the course of centuries as one of the most popular strategy board games in the world. The origins of this game may be hard to pinpoint, but its history can be traced back to 1,500 years ago. With its easy-to-follow rules, chess has universal appeal. All you need in order to enjoy this game is a chess board. However, as most of the items that exist nowadays, the quality and price of some chess sets has also been taken to an extreme, turning a simple board game into a work of art worth a lot more than you might expect. These boards are some of the most expensive out there.
10. Medieval Venice Chess Set - €28,744
This extraordinary chess set by Pianki carries the spirit of the medieval times. Each of the pieces from the set are almost 18 cm tall, three dimensional and extremely detailed. Each one is made of solid bronze, and plated with 24 karat gold and silver. The board itself is made of onyx embedded with gold and silver as well.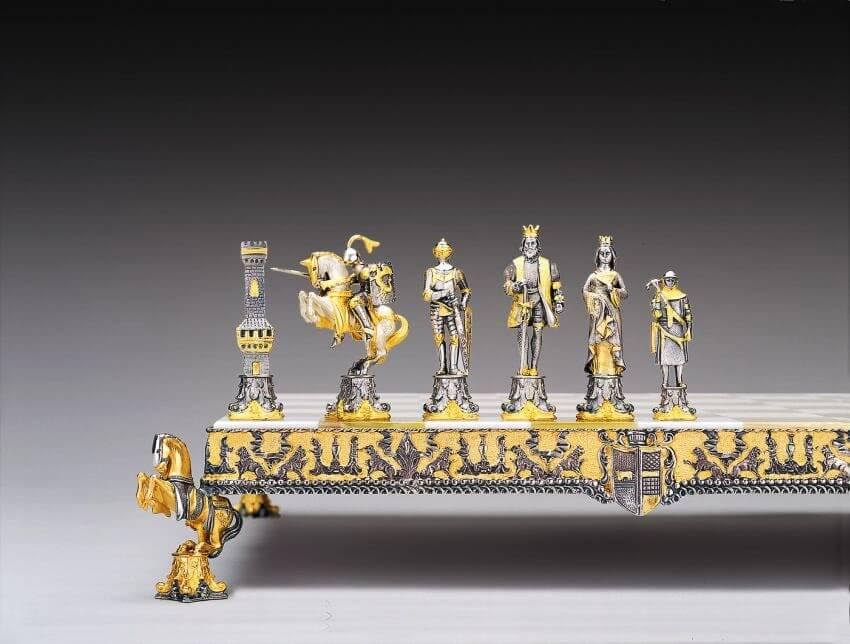 (photo credits: moneyinc.com)

9. Renault F1 Team Collection Chess Set - €39,523
This chess set was crafted with stainless steel, aluminium and titanium, the same materials that are also used in the making of a Formula 1 Renault vehicle. The pieces are made in the shapes of cockpit sittings and hubs. As for the board - it is made of carbon fibre and designed with traction. This chess set is most definitely one for fast and aggressive players who accept any challenge as the ultimate race.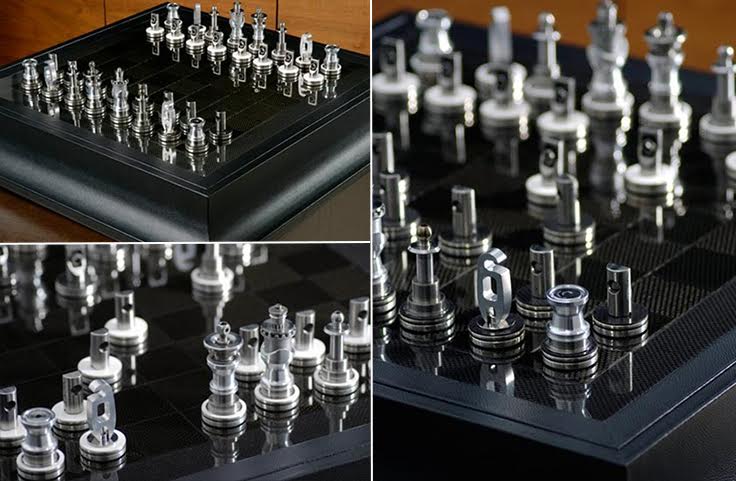 (photo credits: renaultf1teamcollection.com)

8. Silver Jubilee Chess Set - €73,401
The original handcrafted set was made in 1977 for the Queen's Jubilee by Geoffrey Parker. This magnificent set was endorsed by the United Stated Chess Federation and has won the Design Council Award in London. The core of the pieces is made of pure sterling silver and plated in 3 micron 18 karat gold on top. What makes this set even more special is the Silver Jubilee Hallmark that each piece carries.
Chess players that have an knack for luxurious sets can choose to have their set made with a sterling silver, sterling silver-glut or solid gold coating, for an additional price, of course.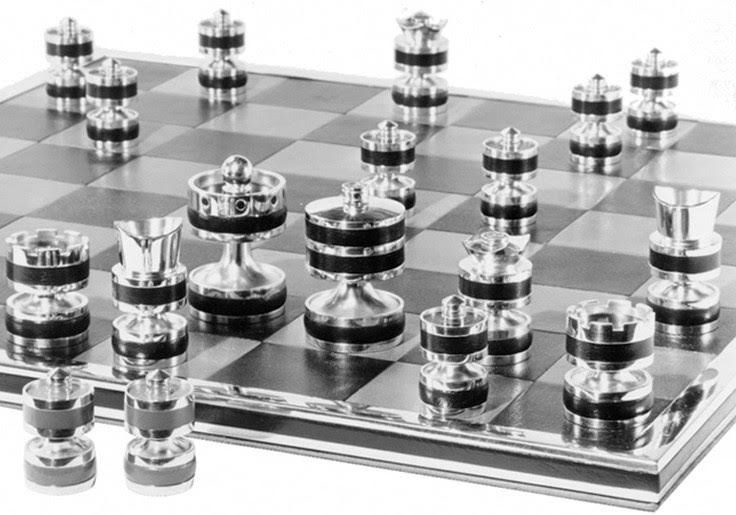 (photo credits: richestlifestyle.com)

7. Carolingians and Moors Chess Set - €90,434
This extraordinary chess set is offered by Pianki and designed by Piero Benzoni. The figures in this set are highly detailed and include knights, griffons and royals. Each piece is handcrafted and around 30 cm tall, made of solid bronze and plated with 24 karat gold and silver. The board is made of onyx with bronze and marble embeddings.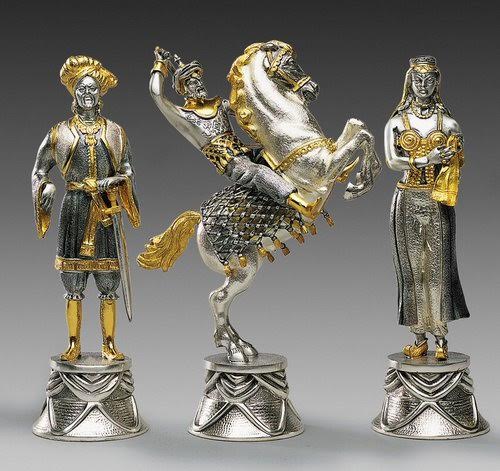 (photo credits: richestlifestyle.com)

6. Carolingi XIV Chess Set - €106,879
Like the previous chess set, this one also features Carolingian military figures. And much like the aforementioned set, the pieces of the Carolingi XIV chess set were also made by Piero Benzoni and have a solid bronze core plated in both 24 karat gold and sterling silver. The board's surface is made of polished marble and is beautifully lined with silver and gold. It said that this chess set is an interpretation of the Carolingian-Ottoman Turks war and the figures featured in it are somewhat historically accurate.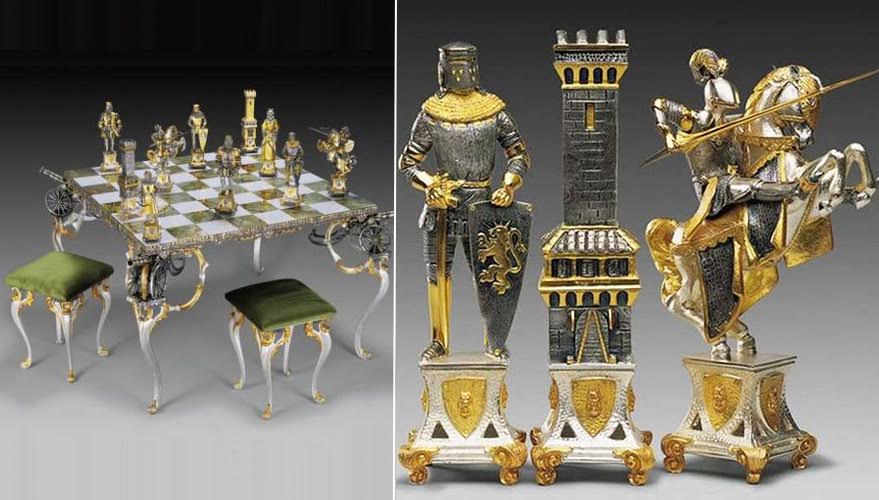 (photo credits: pianki.com)

5. Baccarat Crystal Chess Set - €270,723
In 2014, in celebration of the 250th anniversary of the French luxury glassware company Baccarat, this chess set was designed and created. The set's incredibly ornate design is based on some of the company's most significant glass designs. The pieces are made of hand-cut clear and midnight blue crystals.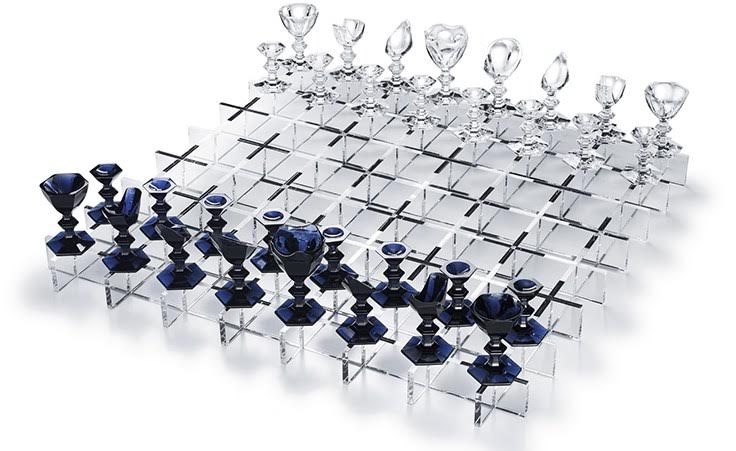 (photo credits: richestlifestyle.com)

4. Royal Diamond Chess Set - €470,521
Perhaps every person with an eye for luxurious items is familiar with the name Charles Hollander. Charles Hollander is a company well known for their unique luxury goods and the Royal Diamond chess set is nothing but unique and luxurious. The designer of this set is the French jeweller and artist Bernard Maquin, who spend over 4,500 hours to design and handcraft this entire piece of art chess set. The pieces themselves are made of 14 carat white gold and encrusted with 9,900 black and white diamonds with a total weight of 186,09 carats.
The amount of time, precious stones and metal that this set required are a sufficient justifications of its hefty price.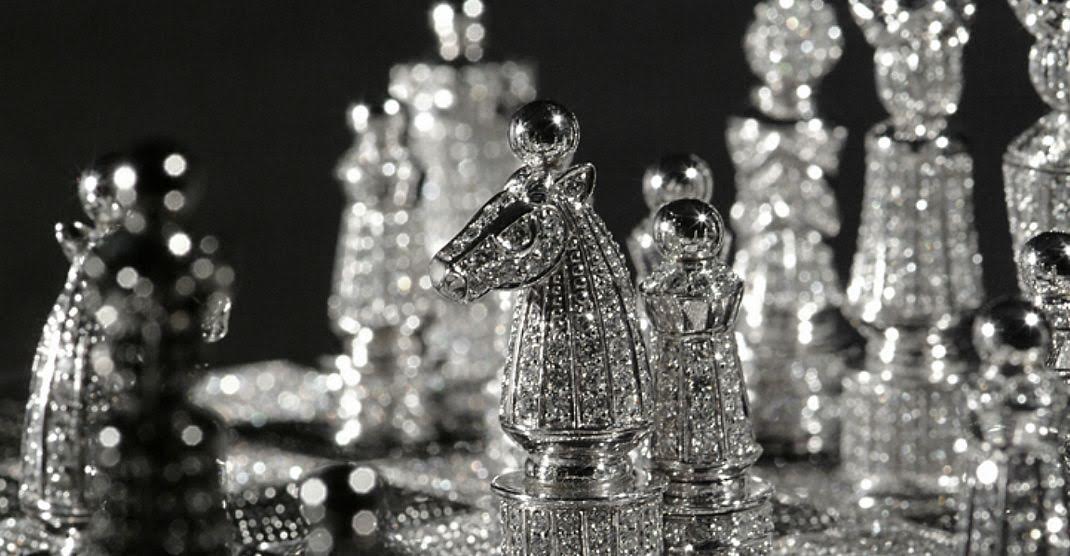 (photo credits: moneyinc.com)

3. J. Grahl Chess Set - €658,730
This chess set is definitely something else. It was designed in 1972 by Jim Grahl for the Cole family and is one of the heaviest chess sets in the world. The figures for the set are made from solid 14 carat gold and silver, and their total weight is nearly 450 grams. The pieces were also designed to represent the aesthetics of 14th century medieval Europe. Grahl used a technique called the 'lost wax' method to make the figures, which allowed him to design each piece separately with great attention to the smallest detail. The board of the game is handmade from cherry and ebony wood, and embedded with sterling silver. The finishing feature of this magical set is a handmade glass and cherry wood cover. This chess set combines various luxurious materials and is perhaps the dream of many chess players and collectors. Reportedly, a replica of the original Jim Grahl chess set can be yours for around €420,000, so start saving up!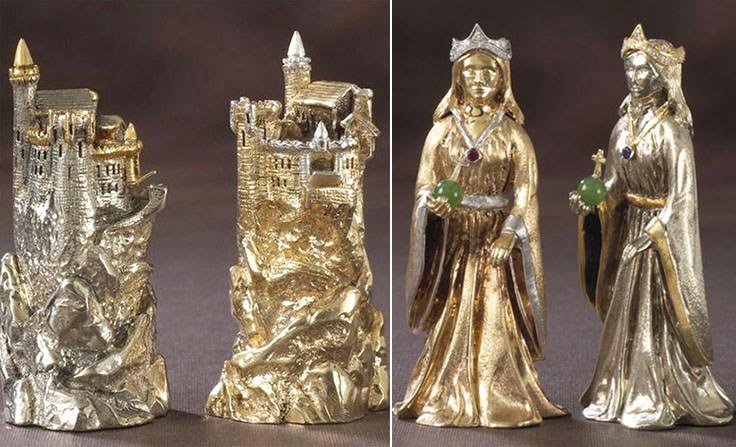 (photo credits: richestlifestyle.com)

2. Art of War Chess Set - €705,782
Any dedicated chess player already has a copy of Sun Tzu's Art of War, if not - they should get one immediately. This chess set, designed by Victor F. Scharstein, has a prevailing asian theme, especially the design of the chess figures. Each piece is handmade of solid gold and decorated with rubies, sapphires, emeralds and diamonds. The board itself is made of solid gold and ebony wood and encrusted with even more precious stones. Reportedly when this masterpiece was put up for auction, the maker declined the highest bid of €705,782, so the actual price of this set is still a mystery.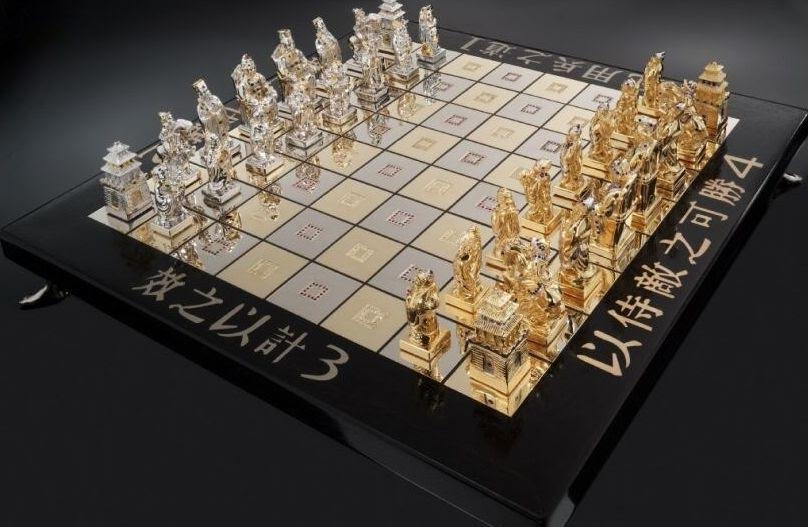 (photo credits: moneyinc.com)

1. Jewel Royale Chess Set - €1,2 Million
The Jewel Royale chess set is a masterpiece with a cherry on top, or at least it will be. This set is a mutual project between jewellery design company Boodles and Jewel Royale. The announcement of this project resulted in misconceptions about it roaming the internet. As a proof of its existence a figure of the set was created - the king. The king figure alone was made of 18 karat gold decorated with rubies and its price rounds up to €55,768. One of the rumours about the king's price was that it was €123,946, which would mean that the price of all piece would be somewhere around €9,1 million. Eventually Boodles stepped in and clarified that this luxurious set is available for orders on commission for the price of €1,249,249. The time for the completion and shipment of the order will be four months, so stack up your bank account and patience if you want to be the owner of a Jewel Royale Chess Set.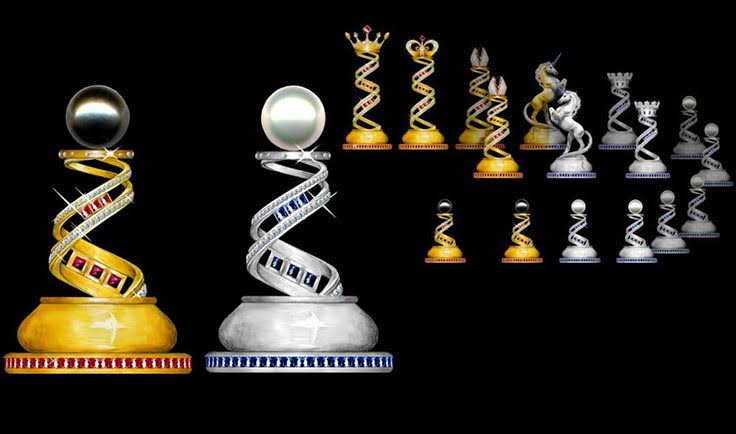 (photo credits: moneyinc.com)

____________________
Check out our latest auctions or register as a seller with Catawiki.
Discover more Decorative Objects
You might also like:
A history of Star Wars in three toys
Why you should start investing in vintage toys
5 vintage 80s toys which are increasing in value