By Laura | 21st September 2020
Guitars are more than just an instrument. They've been a part of music for around 3,000 years and with an average of 2.5 million sold each year in the US alone, guitars are one of the most popular instruments in the world. With so many different designs and styles, there's no one most celebrated guitar, but popular musicians have managed to raise the profile of their guitar of choice. We looked into some of the world's most well-known guitars and the rock deities that brought them to life.
Jimmy Page's Gibson Les Paul Standard

Jimmy Page, founder of Led Zeppelin, owned over 1500 guitars throughout his career. He is predominantly associated with a late 50s Gibson Les Paul Standard that he calls his 'Number One' and a slightly newer model that he calls his 'Number Two'. '59 Les Pauls are famous for their design and craftsmanship, not to mention their rarity. It is estimated that there were only 1500 made and less than 1000 left in the world today. These guitars will be forever remembered for their iconic shape and incredible music, performed by Jimmy Page, but also other famous icons such as Slash.
Angus Young's Jaydee SG

The AC / DC guitarist owned many Gibson SG guitars over the years, which boosted their popularity significantly. Nowadays, he plays a mix of vintage SGs and his own signature models manufactured by Gibson, but it was his unique version that really put this guitar on the map. Specifically, the iconic custom lightning bolt inlay on the neck. It's almost impossible to picture Angus Young without that guitar and the lightning bolts will remain a trend for guitar owners to pay tribute to for many years to come. Despite the notoriety of this guitar, Young's favourite Gibson was, in fact, the very first guitar he bought, which he claims he still plays today.
Jimi Hendrix's Monterey Fender Stratocaster

Hendrix's famously colourful Stratocaster that he played at the Monterey Pop Festival made history not for how well he played it or for its design, but rather for its short lifespan. The Jimi Hendrix Experience was closing their set with an extended version of Wild Thing when Hendrix suddenly knelt down with his Fender Stratocaster and set it on fire; a scene that is arguably one of the most memorable moments in recorded rock history. It's rumored that Hendrix's plan was to simply smash the guitar, but after Pete Townshend had done this earlier on in the night, Hendrix decided to outdo him by setting his alight. Despite the now burnt appearance, the Strat remains as popular as ever, with replicas of the flower-power design still being created today.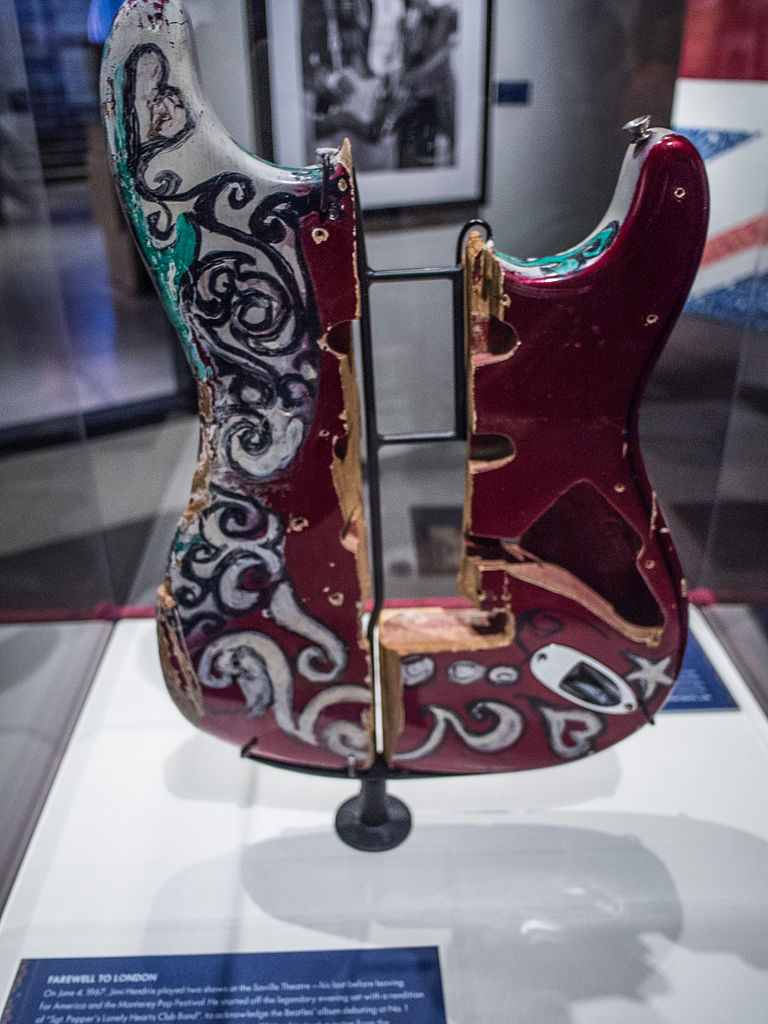 Keith Richards' "Micawber" Fender Telecaster

Keith Richards 'Micawber Fender Telecaster is strongly associated with the Rolling Stones' image, however, this butterscotch-yellow guitar hit the headlines when Richards famously removed the sixth string from the guitar and left it in an open G tuning. This meant that the two chords would play against each other making a huge sound, which is most notably recognized in the song Brown Sugar. And the guitar is named after Mr Micawber, a character in Dickens' David Copperfield.
Eric Clapton's "Blackie" Guitar


In 1970, Clapton purchased six 50s Fender Stratocasters, three of which he gave away as gifts and three which he had dismantled and reassembled to create "Blackie". The nickname derived from the one he gave to his first guitar, "Brownie", which took its own name from its brown sunburst finish. He played this guitar for 15 year until he was forced to retire it due to neck problems. "Blackie" was auctioned off for charity in 2004 and the proceeds were given to a drug and alcohol addiction rehabilitation centre founded by Clapton, bringing in nearly $ 1 million for the cause.

Guitars will continue to be produced en mass as the years go on. However, it is impossible to forget the world's most legendary rockers and their iconic guitars. The music created with them combined with their appearance and the stories each one tells is why these guitars will be recognized and talked about by rock fans for many years to come.
____________________
Find your next guitar in our weekly guitar auctions . Or if you have one to sell, register as a seller on Catawiki
Discover more guitars | musical instruments
You might also like:
A history of hard rock in three celebrity guitars
How to choose your first guitar
The evolution of guitar destruction