Written by Beulah | 3rd October 2019
Relentless rhythms, skull-rattling power chords and mind-melting guitar solos established hard rock as a musical genre to be reckoned with. And the guitars are just as well-known and worshipped as the rock gods who wielded them. Truly inspired, we've gone on tour through the history of hard rock, via three celebrity guitars.
The origins and Eric Clapton's Fender Stratocaster "Blackie"
Hard rock offered an antidote to the easy listening and soft rock that dominated the music charts in the early 1960s. Guitar-heavy U.K. bands like The Beatles, The Who and Cream brought a heavier sound to mainstream ears; complemented by U.S. psychedelic and blues-influenced acts like The Jimi Hendrix Experience. Cream guitarist Eric Clapton's riffs soundtracked the early years of hard rock, and if any guitar truly represents the Frankenstein's Monster nature of the genre, it's Blackie.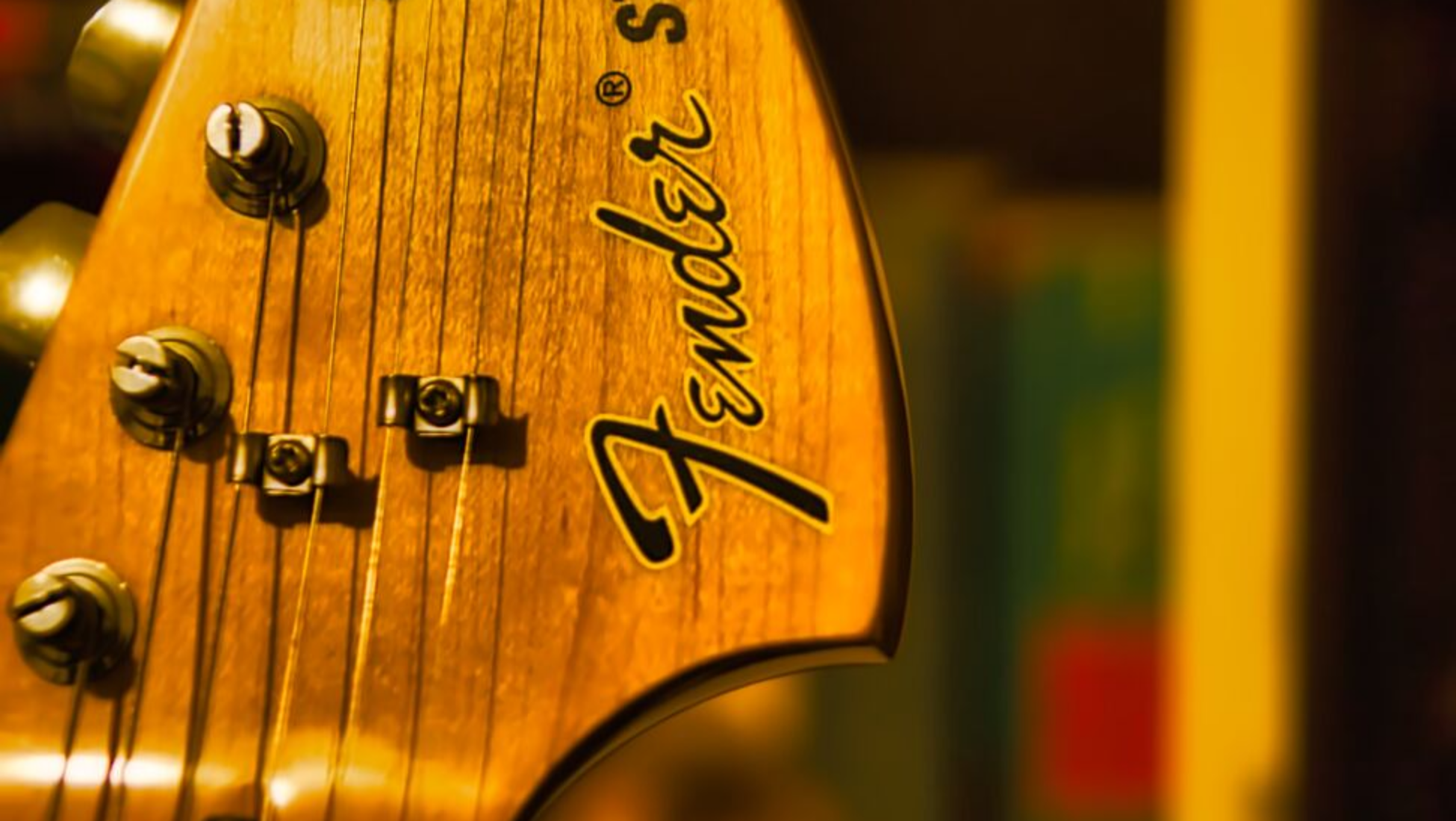 A 1970s Fender Stratocaster

Just as hard rock drew on a complex history of rock-n-roll, electric blues, psychedelia, folk and even gospel, Blackie was a custom-built combination of three 1950s Fender Stratocasters. The story goes that Clapton originally brought six Stratocasters from Sho-Bud guitar shop in Nashville Tennessee. He gave one to George Harrison, one to Pete Townsend (who went on to organise the Rainbow Concert, where Blackie made its debut) and one to Steve Winwood.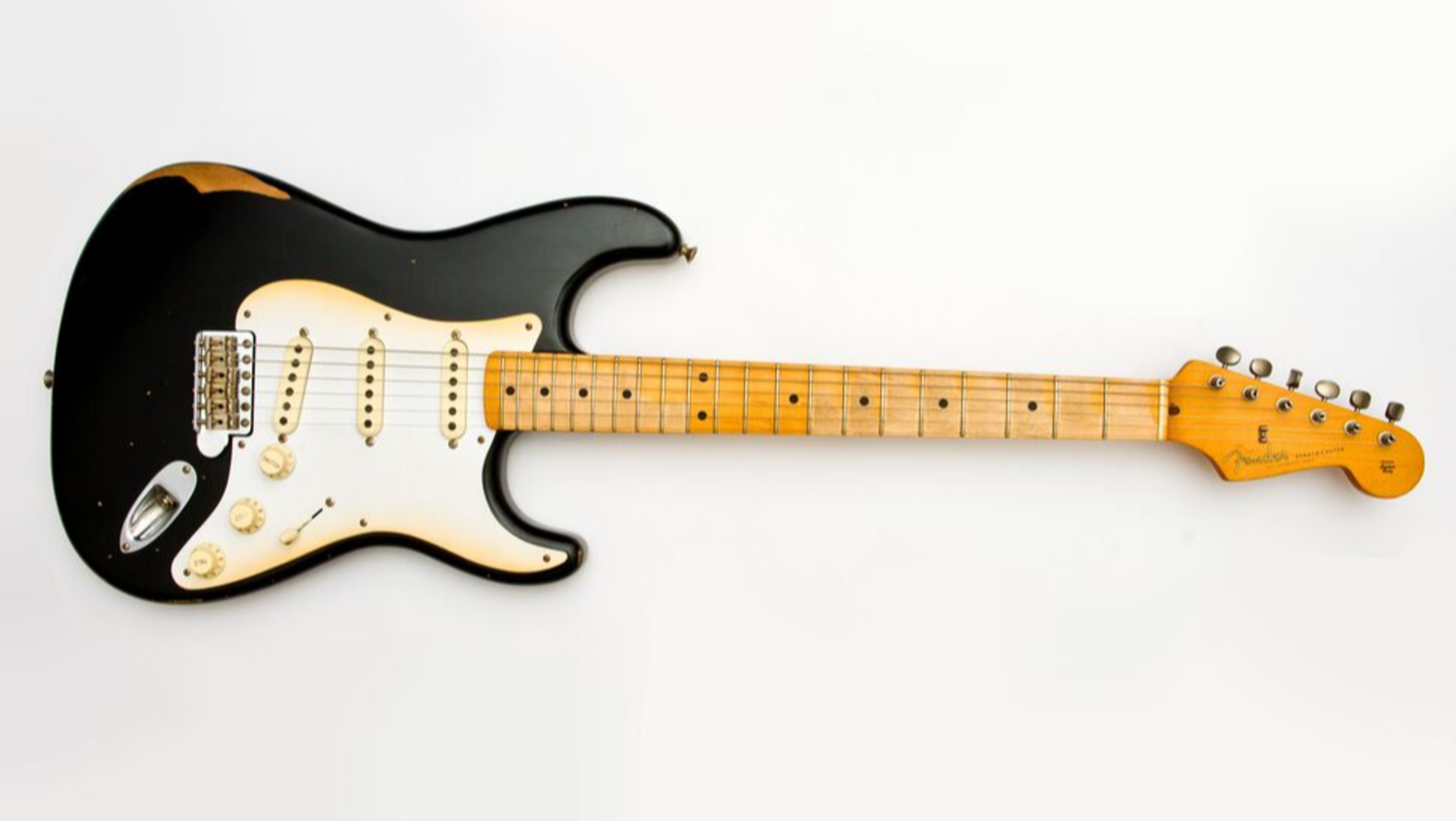 A descendent of Blackie

Clapton then engaged local luthier (a maker of stringed instruments) Ted Newman Jones to combine the remaining three guitars into the ultimate strat. A black finish gave the guitar it's name and Clapton used Blackie from 1973 until his 1985 Behind the Sun tour, although he continued to use it for recording until 1987. Blackie went on to break world records at auction, and when Fender released a limited edition line of replicas, they sold out within hours.
World domination and Slash's 1959 Gibson Les Paul replica by Kris Derrig
By the mid-1980s, hard rock had moved from an underground dive bar phenomenon to a sound that was selling out stadiums. An artist that captured the spirit of this shift was Slash; the Guns N' Roses guitarist who swaggered onto the world stage in 1985. He was part of the first wave of mainstream hard rock musicians, and while Slash's credentials are titanium, his collection of guitars is a thing of beauty.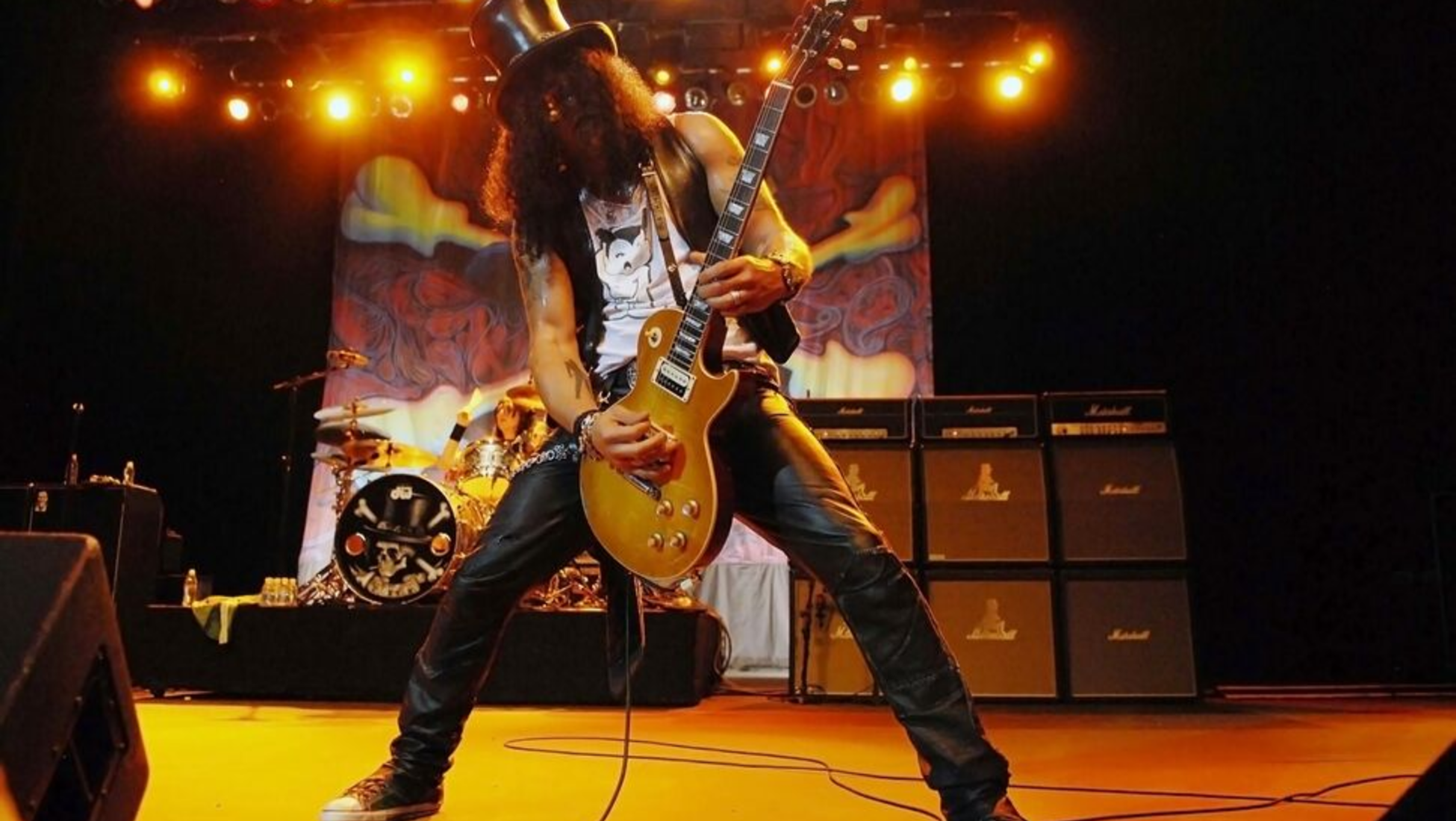 Slash performing at Fundição Progresso in the city of Rio de Janeiro

Despite starting out his musical career as a bass player, Slash switched to guitar after hearing a cover of Brown Sugar by the Rolling Stones. The guitar most often associated with Slash is actually a replica of a Les Paul, built by Kris Derrig. The 1959 replica was the studio guitar Slash used on Guns N' Roses' debut album, Appetite for Destruction, back when he couldn't afford his own Les Paul. Slash was unhappy with the sound his studio guitar was producing, and in a genre-defining moment, Guns N' Roses manager Alan Niven introduced him to Derrig's replica.

Slash went on to use the 1959 for every studio album he recorded with Guns N' Roses and Velvet Revolver (legendary rock supergroup formed in the mid-2000s), cementing its role as a piece of hard rock history. And in a neat closing of the loop: in later years Gibson would produce their own replica of Derrig's replica; marketing it as the Gibson Slash AFD. Today, Slash owns more than 200 guitars and his collection is estimated to be worth over $2 million.
Contemporary hard rock and Nita Strauss Ibanez JIVA10
Hard rock continues to survive and thrive in the 21st century and Nita Strauss is as close as you can get to contemporary hard rock royalty. She's played with The Iron Maidens, as the guitarist for the Los Angeles Kiss (the football team owned by Gene Simmons and Paul Stanley of KISS fame) and as Alice Cooper's guitarist since 2014.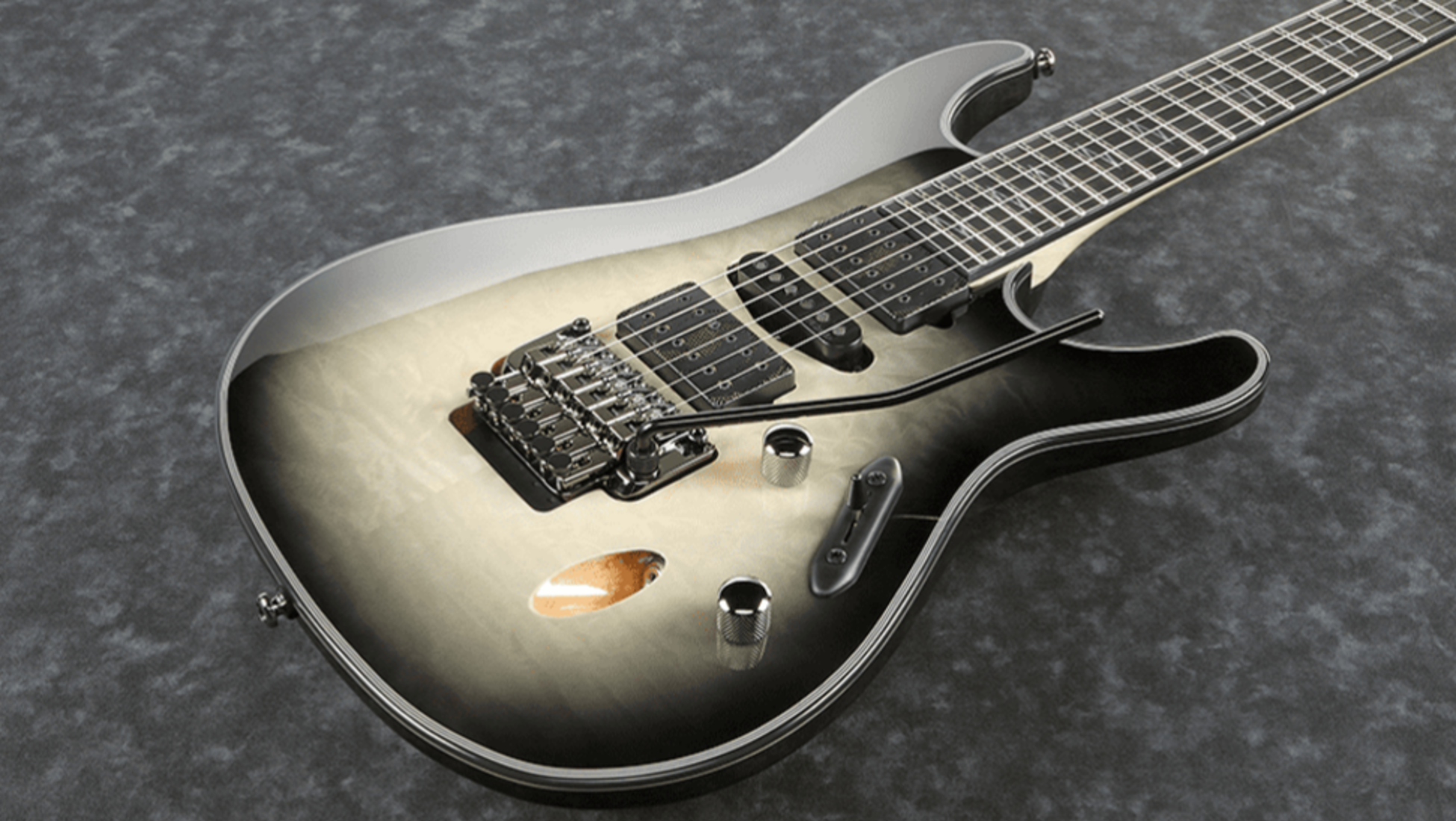 The Nita Strauss Ibanez JIVA10

Strauss' talent was recognised in 2018, when she became the first woman to ever have an Ibanez guitar created for her. The Ibanez JIVA10 is a bold and brilliant combination of a purpleheart neck, sleek ebony fingerboard and a tonewood recipe axe. Our guitar expert Alex Becker recently caught up with Nita in Leipzig and asked her what it meant to be the first female guitarist honoured by Ibanez:
"I try to stay away from the whole gender thing," Nina told Alexander. "Male, female, girl versus, what's the difference, I don't care about stuff like that. I just personally try to be the best and greatest guitar player I can be. But being the first female Ibanez signature artist side by side with my heroes Steve Vai, Joe Satriani and Paul Gilbert, that's what I have dreamed about since the early beginnings. I hope I will be the first female of many more to come, but yes, I am glad I was first."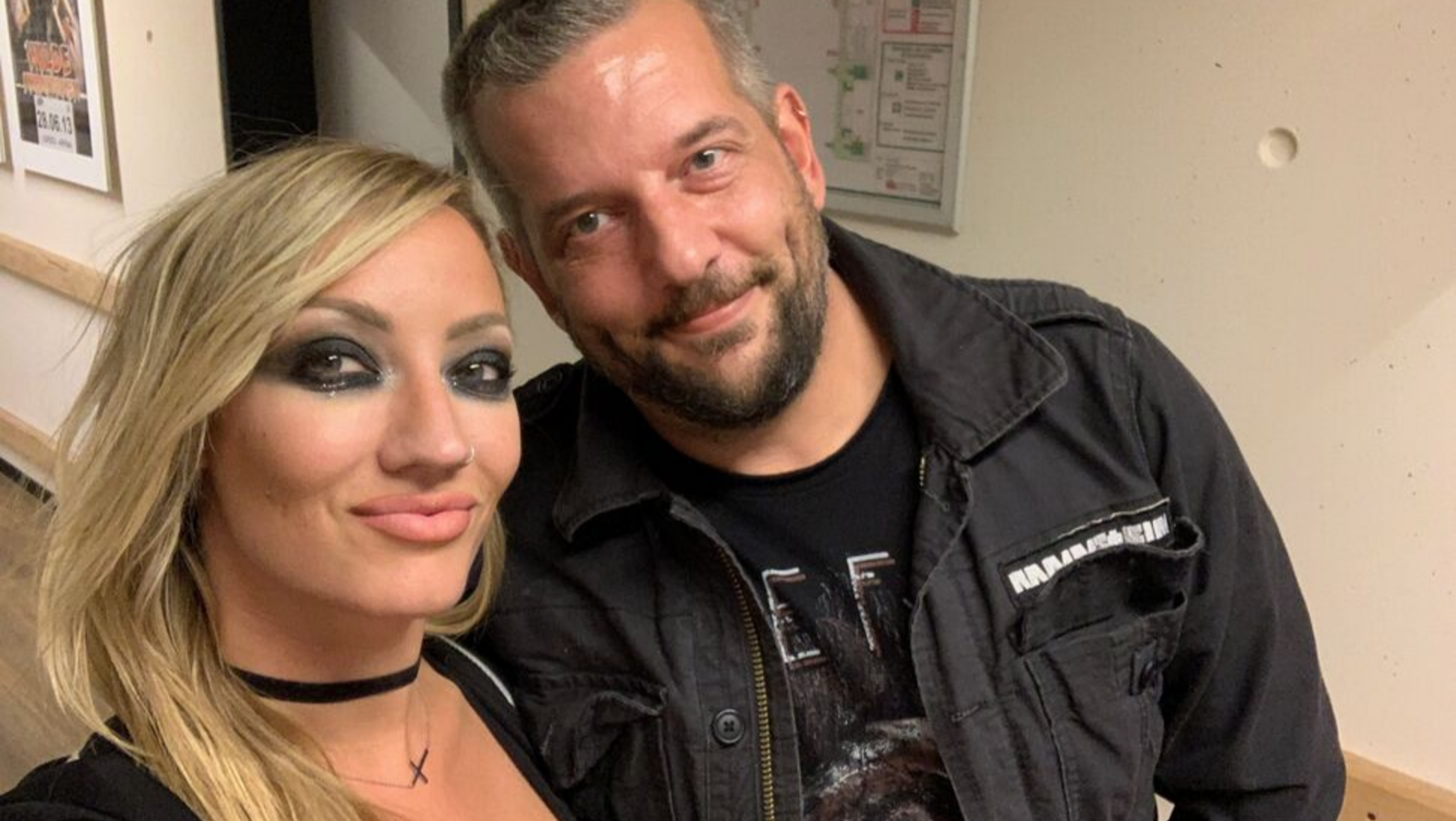 Nita Strauss and Catawiki guitar expert Alexander Becker in Leipzig
____________________
Check out our latest guitar auction or register as a seller with Catawiki.
Discover more Musical Instruments | Guitars
You might also like:
Who were the women at Woodstock?
The evolution of guitar destruction