Written by Jeroen Hamelink | 3rd July 2018
David Bowie is seen as one of the most influential rock musicians since the sixties. Songs like 'Heroes', 'Let's Dance', 'Space Oddity' and his duet with Queen, 'Under Pressure', became international hits and created Bowie's distinct sound which is so recognisable. But Bowie is also famous for his chameleon capacities: through his 50-year-long-career he embodied several extraordinary characters. Keep reading to learn the story behind some of David Bowie's most famous personas.
Ziggy Stardust
A bisexual demigod in red boots: a character that gave Bowie the breakthrough he needed, big time. But there is much more to this persona than just a way to stand out. It was the perfect formula for fame: a great songwriter with an iconic look and a theatrical performance. The album The Rise and Fall of Ziggy Stardust and the Spiders from Mars (1972) is now considered one of the greatest albums of all time and his songs provide a critical note on matters like politics, drugs and sexual orientation.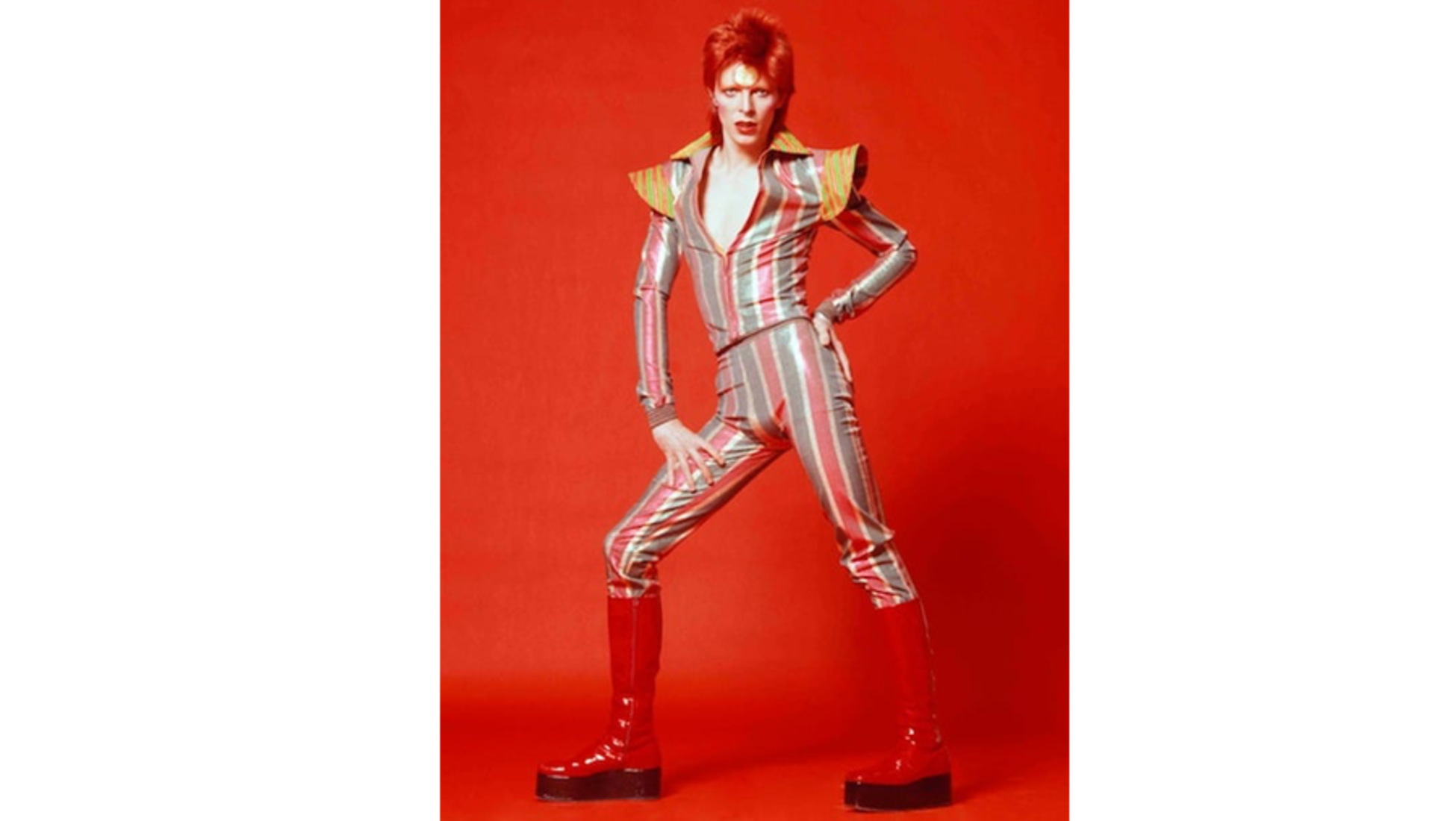 The creation of the character Ziggy Stardust was the result of several events and issues in Bowie's life. From the lyrics on his album, we can tell Bowie tried to cope with the threats of time and ageing, which relates to Ziggy Stardust's story claiming there are only five years to go before the end of the earth. Bowie's decision to make Ziggy bisexual displayed an acceptance of all kinds of sexual orientations which was incredibly controversial in those days. But why did he make Ziggy an alien? Bowie had always been interested in science fiction and space travel, as displayed in earlier songs like "Space Oddity". But it is assumed Bowie had another source of inspiration: pioneer of rock Vince Taylor, who had a mental breakdown after doing too many drugs and subsequently believed to be an alien god.
Aladdin Sane
After making the world fall in love with Ziggy Stardust, Bowie killed him off onstage in London and later introduced a new persona. Aladdin Sane is generally assumed to be inspired by Bowie's half-brother, Terry, who was diagnosed with schizophrenia, thus the word play in the character's name - 'A lad insane'. The numbers in the title of the song 'Aladdin Sane (1913-1938-197?)' are meant to suggest a third world war was on the rise.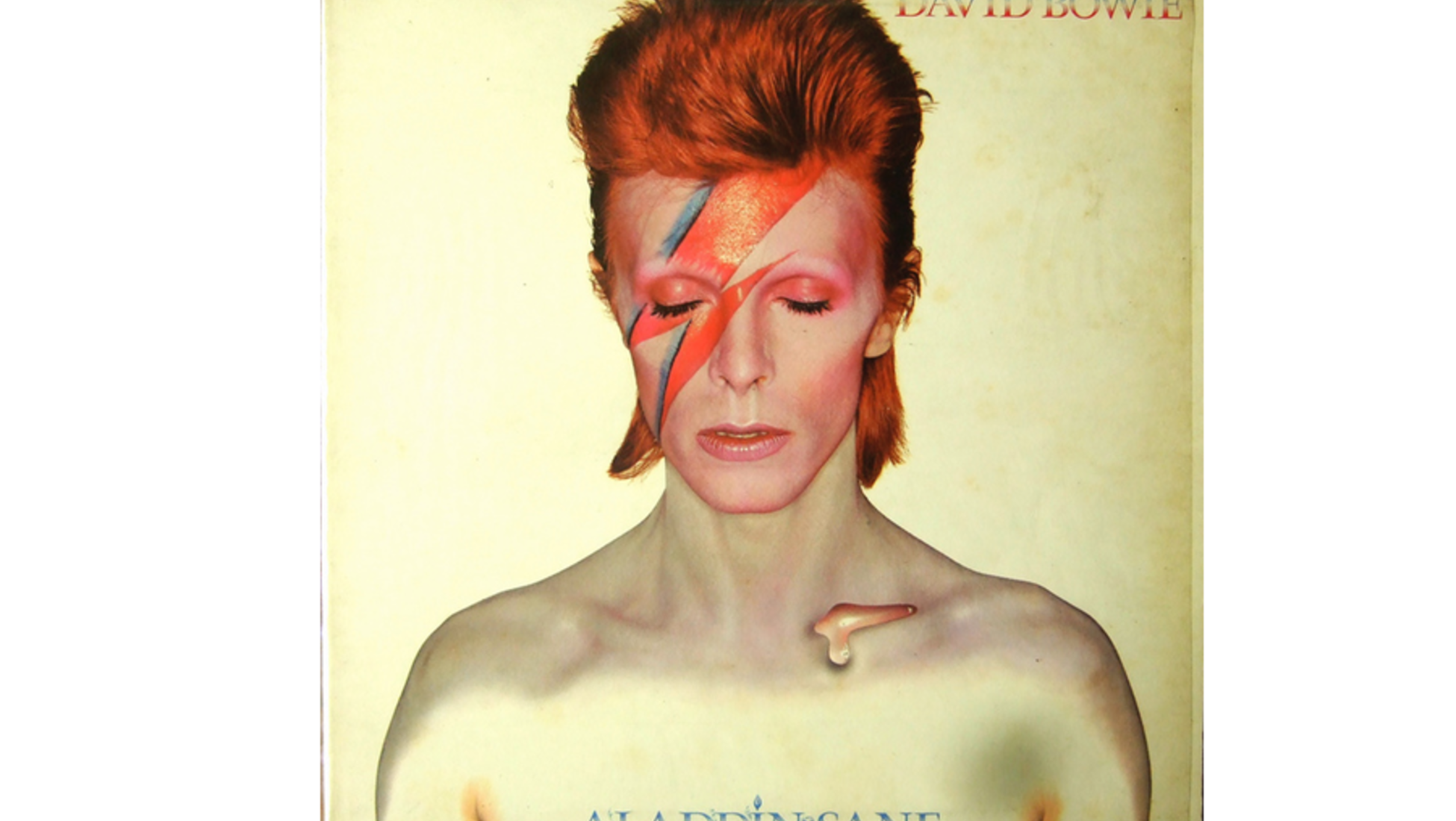 David Bowie as 'Aladdin Sane'
Bowie was inspired to write his sixth studio album with the same name as his new character after his 1972 tour in the US, which is also why he explains this character as "Ziggy goes to America". It is much more sinister than the Ziggy album. It was based on the dark side of American culture as songs like 'Cracked Actor' and 'Panic in Detroit' implicate. Bowie was finally in the American spotlight but learned the hard way that it was not as great as it seemed.
The Thin White Duke
The incarnation of this alter ego happened during David Bowie's dark years, when he was struggling with drug addiction and stress, and is connected to the Station to Station album. This alter ego portrays a troubled man, who sings of romance but is completely numb to feelings. The Duke had platinum blond hair and was usually dressed in a white shirt, black trousers and a waistcoat. It is his most controversial persona and the Thin White Duke has been called a psychopathic aristocrat and an immortal zombie. At first, Bowie claimed his fascist, almost Nazi-like statements were merely part of his character. Later he blamed the hard drugs he used during this period. When talking about his albums during that time, Bowie says that they feel like "a piece of work by an entirely different person".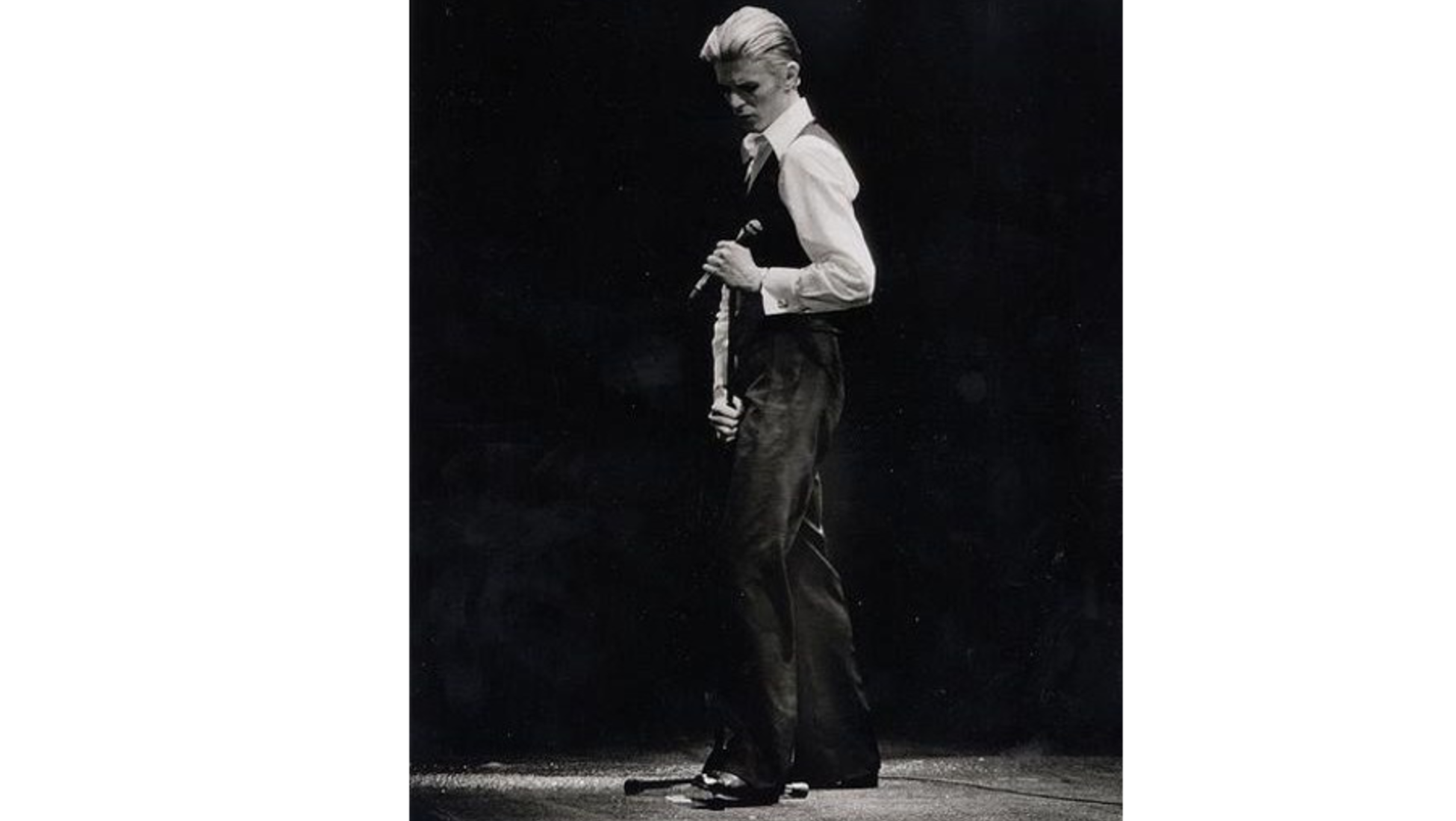 David Bowie as 'The Tin White Duke'
The Goblin King
Alongside his music career, David Bowie took on a few acting roles throughout the years. His most memorable one was Jareth, the Goblin King in the 1986 fantasy epic "Labyrinth". It is indeed hard to forget the extremely 80s look of this child-snatcher.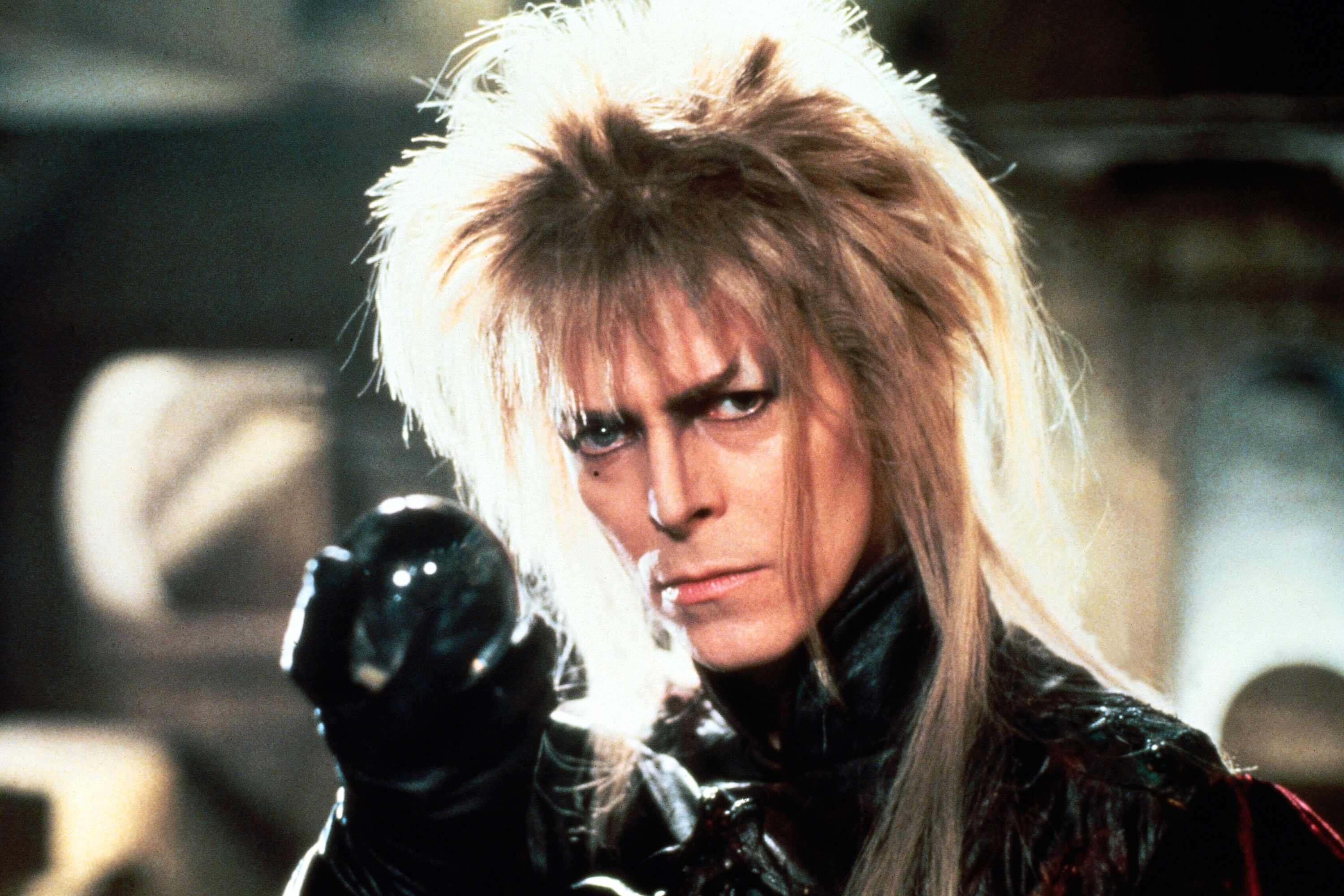 The Blind Prophet
After playing many different characters, on his last album, Blackstar (2016), Bowie shows the real him: David Robert Jones. In the videos, his eyes were covered with bandages as his character was a blind prophet foretelling his own demise. The black star on the vinyl cover contains a hidden message, transforming into a galaxy of stars when light shines on the cover. A beautiful goodbye message to his fans, since David Bowie passed away just days after the album's release.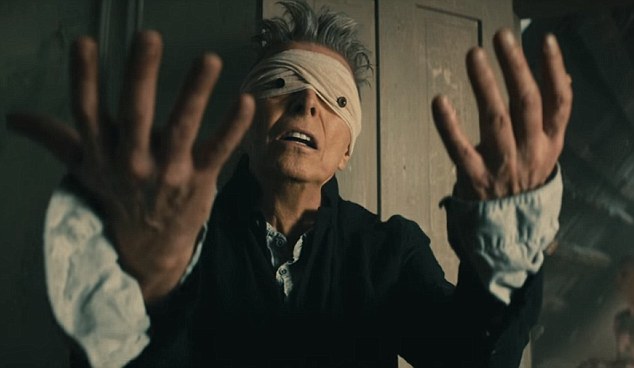 David Bowie as the blind prophet
It is believed by some that the title 'Blackstar' refers to his cancer, which he kept secret, as it is a term that describes certain cancer lesions. Lyrics like "look up here, I'm in heaven" and the video for the song 'Lazarus' showing Bowie in a hospital bed now seem to have a deeper meaning. Even when showing the real David, it comes with a theatrical touch clothed in many layers.

Fifty years of music and personas means that David Bowie left us with a great legacy. Take a look at our Records / Vinyl auction for some of Bowie's finest music along with albums from other greats.
Discover more David Bowie | Ziggy Stardust | vinyl records
You might also like these articles: