Written by Beulah | 11th April 2019
The new Game of Thrones series will be accompanied by the release of eight Westeros-themed whiskies. We can't get enough of the beautiful packaging and clever connections between the houses and distilleries. But we've also gone a step further and asked our in-house whisky experts whether they think these whiskies are worth investing in.
Diageo selected eight Scottish distilleries to produce a whisky for each of the Houses of Westeros, and then an extra one for the Night's Watch. They worked in collaboration with HBO, and the beautiful packaging and clever connections between the houses and distilleries make it clear that this was a labour of love.
Which is all well and good, but what about the investment opportunities? Should buyers rush to buy up the Game of Thrones-themed whiskies? We asked the Catawiki whisky experts; Mark Dermul and Enrico Gaddoni.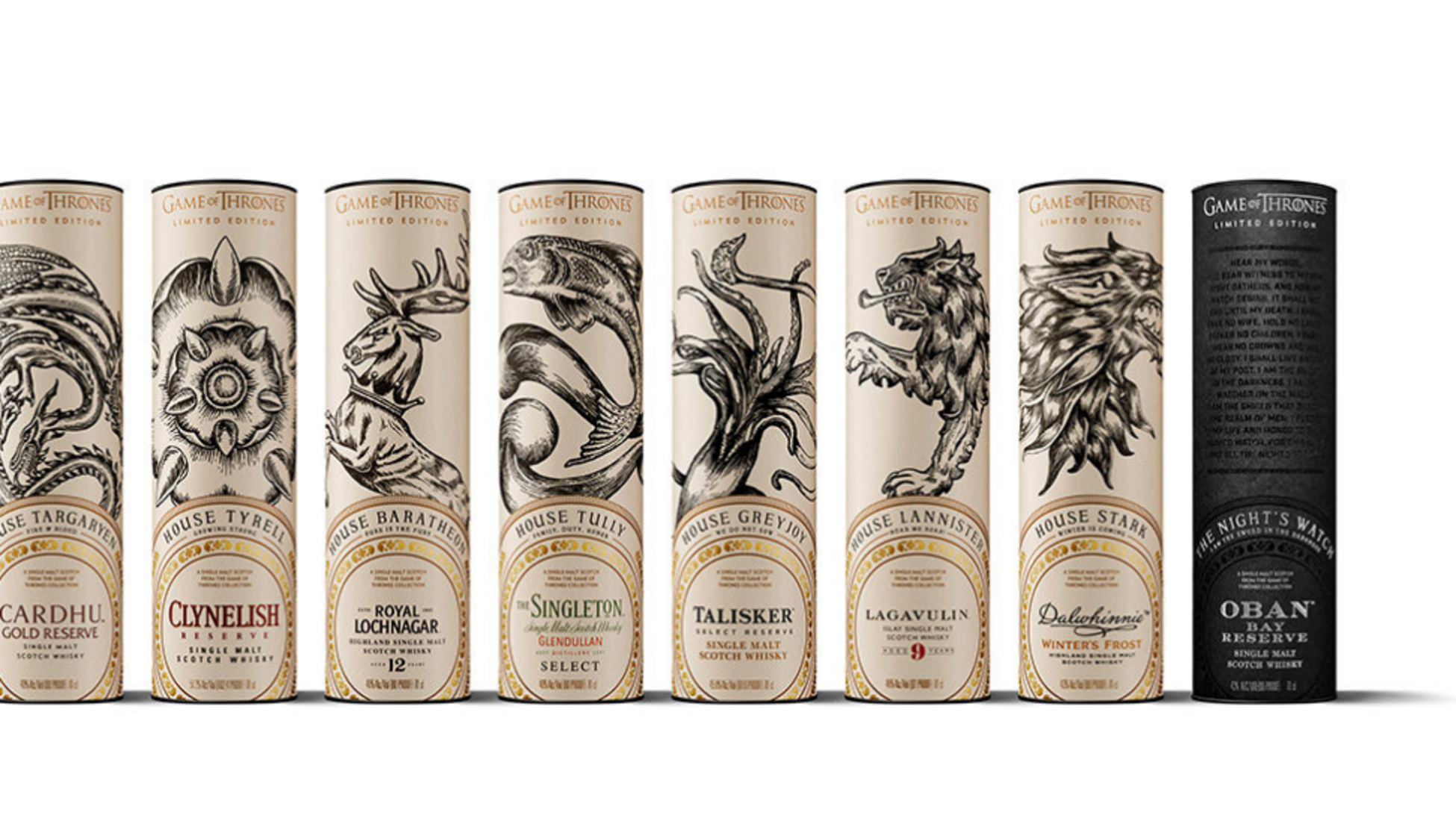 Game of Thrones-themed single malt whisky range from Diageo

What do you think of the collection?
Mark: "For whisky lovers this is an exciting collection, primarily because some of the bottles (not all!) contain a completely new variation of their beloved Scotch, such as Lagavulin, Talisker or Clynelish. The Glendullan was originally only available in the United States, but now comes to Europe as well.
"On the other hand, it is also a means that Diageo can reach the majority of Game of Thrones viewers who are not yet into whisky. This crossover will introduce many new consumers to the delights of whisky and maybe move them away from vodka or other 'lighter' drinks."
Is this a one-off, or can you see pop culture-themed whisky becoming a trend?
Mark: "Maybe it already is a trend? There was the Johnnie Walker Blade Runner Edition a few years back, which was very popular. And judging by the success of Game of Thrones, it would make business sense to look for other possible combinations of whisky and pop culture."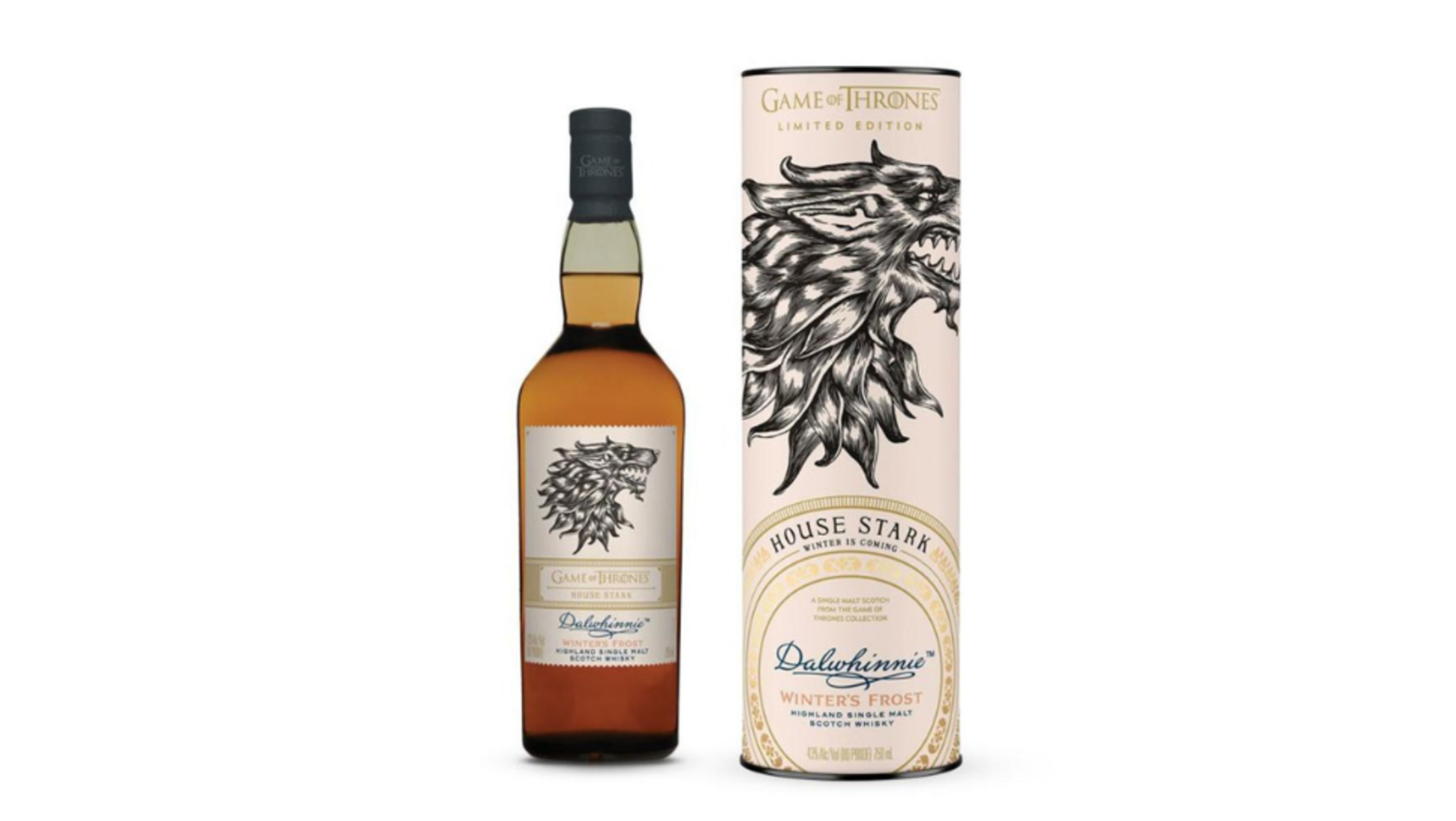 House of Stark - Dalwhinnie Winter's Frost

Do you think this is a cohesive collection?
Mark: "It only takes a little bit of imagination to link the whisky to the House it represents. For example: linking Talisker to the House Greyjoy makes sense. Talisker is a coastal distillery on the Isle of Skye, while the House Greyjoy are a sea-faring people that worship the Drowned God and live on the coast of the Iron Islands. The collection makes sense from this point of view.
What about the investment opportunities?
Mark: "The Game of Thrones set is immensely popular, but it was also made in great numbers. Nevertheless, I do believe it will become an iconic set. There is no mention of a 'batch number', however it is very well possible a similar series (same distilleries, same ages) will be released at some point in the future baring 'batch no. 2' labels. batch no. 3 etc. Consecutive batches will most probably have a positive effect (for the investor that is, obviously a negative effect for the drinker) on the value of earlier batches."
And finally, the most important question; will the Catawiki Experts be adding the Game of Thrones whiskies to their own collections?
Mark: "Yes, I have indeed bought two sets: one to try and one to set aside in the collection."
Enrico: "Collecting the GOT whisky is definitely fun, all the different label, edition, names - they all appeal in different ways. But I think that it's smart to buy what tastes good, or what we believe is likely to be good whisky to drink."
____________________
Discover more whisky | game of thrones | film scripts
You might also like these articles: