Written by Beulah | Updated July 2021


Women's football panini stickers were seen as a novelty item when they were introduced for the 2011 FIFA Women's World Cup. Nearly ten years later and – thanks to a relatively low print run – these stickers are dramatically rising in value and they've become a very good investment opportunity. After the latest Women's World Cup and some of the 2011 stickers previously up for auction, we've spoken to Panini expert Wouter Waaijers to find out more.
The Panini Group had already been publishing football stickers for 50 years when they finally got around to publishing a set of stickers for the 2011 Women's World Cup. The stickers were given a limited release under the assumption that there would be less interest in women's football and were only published in Germany.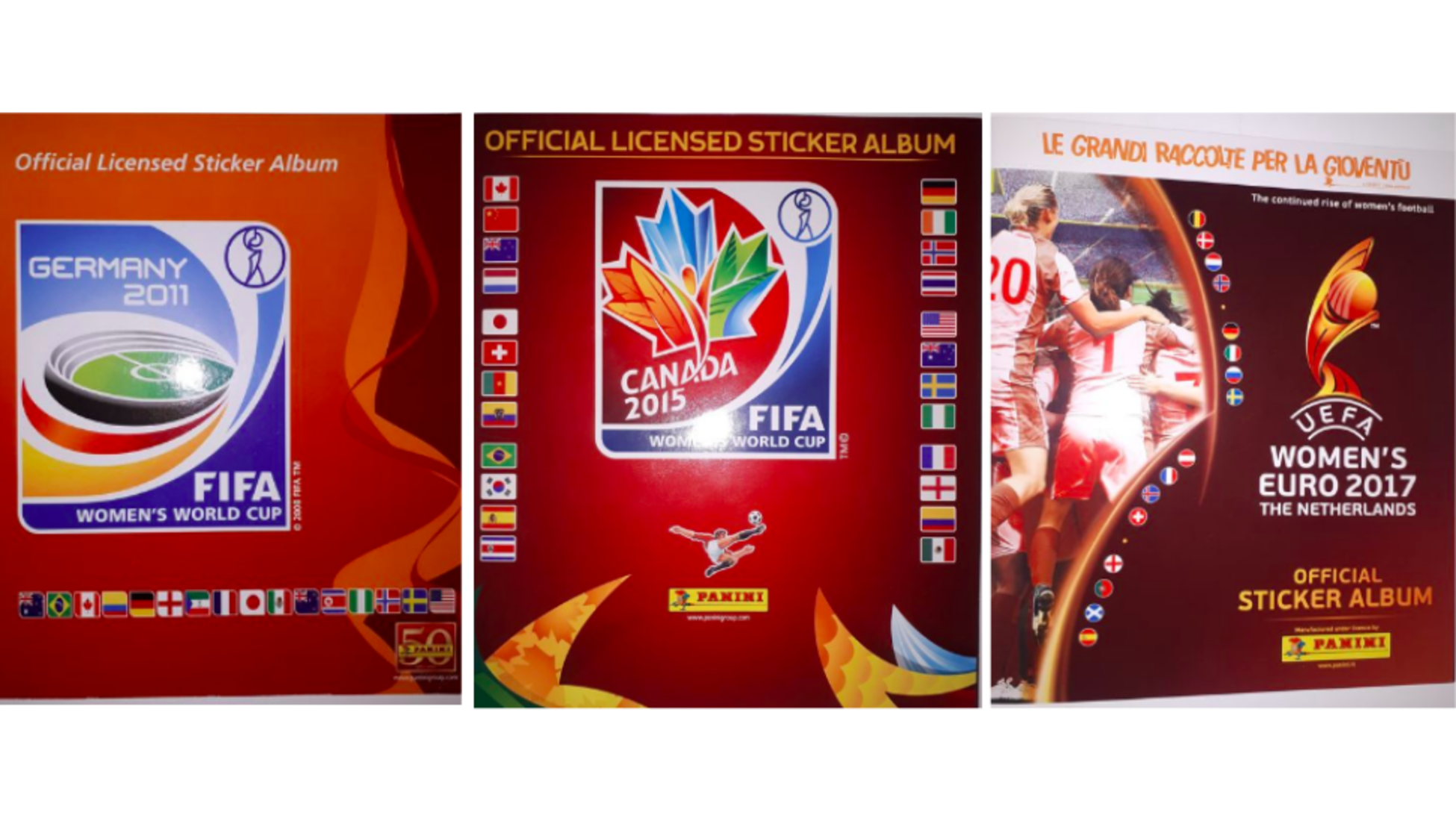 The FIFA Women's World Cup Panini albums for 2011, 2015 and 2017

"Although collecting sports-related stickers in general is more something for boys and men, it's really nice to see Panini decided to also publish football-related women editions," says Wouter Waaijers, our Panini expert. He goes on to explain that: "In the past, there were also Panini stickers of female athletes, for example in the Olympic Games albums, but in 2011 Panini published the very first World Cup football album and this year the fourth women's football album appeared."
Since 2011 the value of that first women's stickers album has increased at a fantastic rate. "The 2011 FIFA Women's World Cup is already a real collector's item," says Wouter. "It's amazing how fast the value increased in only 8 years. We already auctioned one for €340, although that was a complete album in top condition. A sealed box with 50 packs in it already has a value around €300 and a single empty album increased 2000% in value from €1 to €20+."
The FIFA Women's World Cup France 2019 is the latest women's Panini album – the others were for Canada in 2015 and the UEFA Women's Euro 2017 in The Netherlands – and it's expected to be even more popular than previous years. "The popularity of women's football is growing each year and the print runs of new women's editions from Panini are growing as well," says Wouter. "For example, the 2019 album is published in the European countries and also for Brazil, Chile and Thailand."
Stickers of the German team from the 2019 FIFA Women's World Cup
Wouter believes that part of the appeal of the women's albums is that "You need only four albums to complete the entire Panini women's football collection." The knock-on effect will be that "by collecting the 2019 edition, there will be more collectors for the previous three editions. The WC2015 and EC2017 are still quite easy to find, but the Germany 2011 one will become more difficult each year." And the value of the 2011 album will only continue to grow; "Every new World Cup and Euro Cup there will be a renewed interest in Panini, which will have a positive influence for the value of the 2011 edition."
____________________
Already own a Panini Sticker album you would like to try and sell? Register here to put it up for auction.
____________________
Discover more Panini | Sports & Events
You might also like:
What happened to the digital Panini albums?