Written by Jan-Bart Broertjes | 27th June 2019
Fiat is about to celebrate 120 years of innovative car design and we are taking a journey back in time, to explore one of the company's more unusual designs. Most of us may know Fiat as the creator of compact, almost 'cute' cars, but in 1910 Fiat unleashed the Beast of Turin. Interested to know more? We'll hand over to our classic car expert: Jan-Bart Broertjes.
Building the Little Mouse
In 1936, Fiat introduced its first small car. Designed by Dante Giacosa it was a truly modern vehicle for its day and became a great success. The public loved the car so much they soon nicknamed it Topolino (Mickey Mouse).
After the war production continued, factories were built in many countries and these small Fiats played an important role in the motorization of the masses. However, the Topolino was now getting old, so Giacosa came up with a brilliant new design, compact and economical, the rear-engined 600, followed two years later in 1957 by the even more compact Nuova 500.
This new 500 was produced in many guises into the Seventies, total production was a whopping 3.8 million! These little Fiats look incredibly cute and are great fun to drive. That's why they have never lost their popularity, they are actually the most sold collector's car on Catawiki! No wonder Fiat re-introduced the 500 name in 2007.
Unleashing the Beast
In the beginning of the 20th century, Fiat was a fast growing industrial conglomerate making not just cars but also trucks, ships, aircraft and trains. In those days, racing was considered not just a good marketing instrument, it was also an important way to test and prove new developments. Fiat therefore went racing and quickly became successful.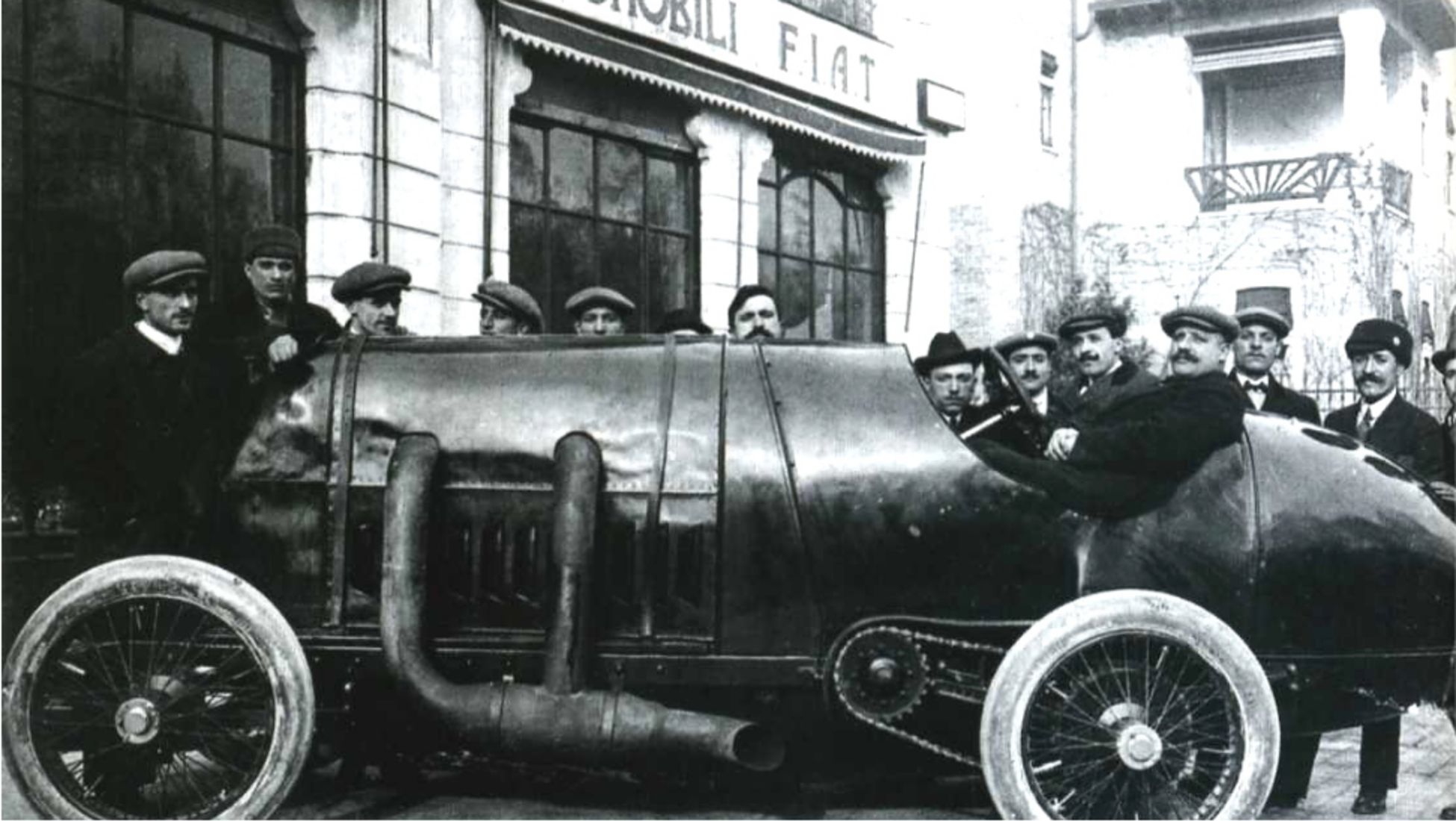 The Beast of Turin in all its glory...

In 1907 works driver Felice Nazzarro won the Kaiserpreis, the Targa Florio and the French Grand Prix. His winning car at the time was already fitted with quite a large engine of 16.3 litres. That may sound huge for a car, but for an aircraft engine it was quite a normal size. Fiat thought they could do better with even more power and for 1911 they came up with the S76, which these days is known as "The Beast of Turin".
Its 28.3 litre engine was so powerful that the car was quite impossible to drive and thus it met with little success. The car was dismantled after World War I but has been rediscovered in 2003 and has been restored, running again for the first time in 2015. After WWI race car engines became much smaller and Fiat built Grand Prix cars with engines of just 2 litres.
Motorising the World
In those days all cars were hand built and the racing cars would have been designed and built by the same engineers who were making the road cars. After WWI Fiat were one of the first companies to switch to mass production with their 501 model. Fiat has played an instrumental role in motorizing the world, exporting not just cars but also factories and knowledge all over the world. Many car brands and factories started by building Fiat cars under license.
Many Fiats models, not least the Topolino, were used in competition. They were made sportier and faster, or their parts were used to make special sports and racing cars. Hundreds of drivers, some of them to become very famous, started their motor sport career in a small Fiat. The sporting successes started in famous Italian road races like Mille Miglia and Targa Florio and soon spread to racetracks and rallies all over the world.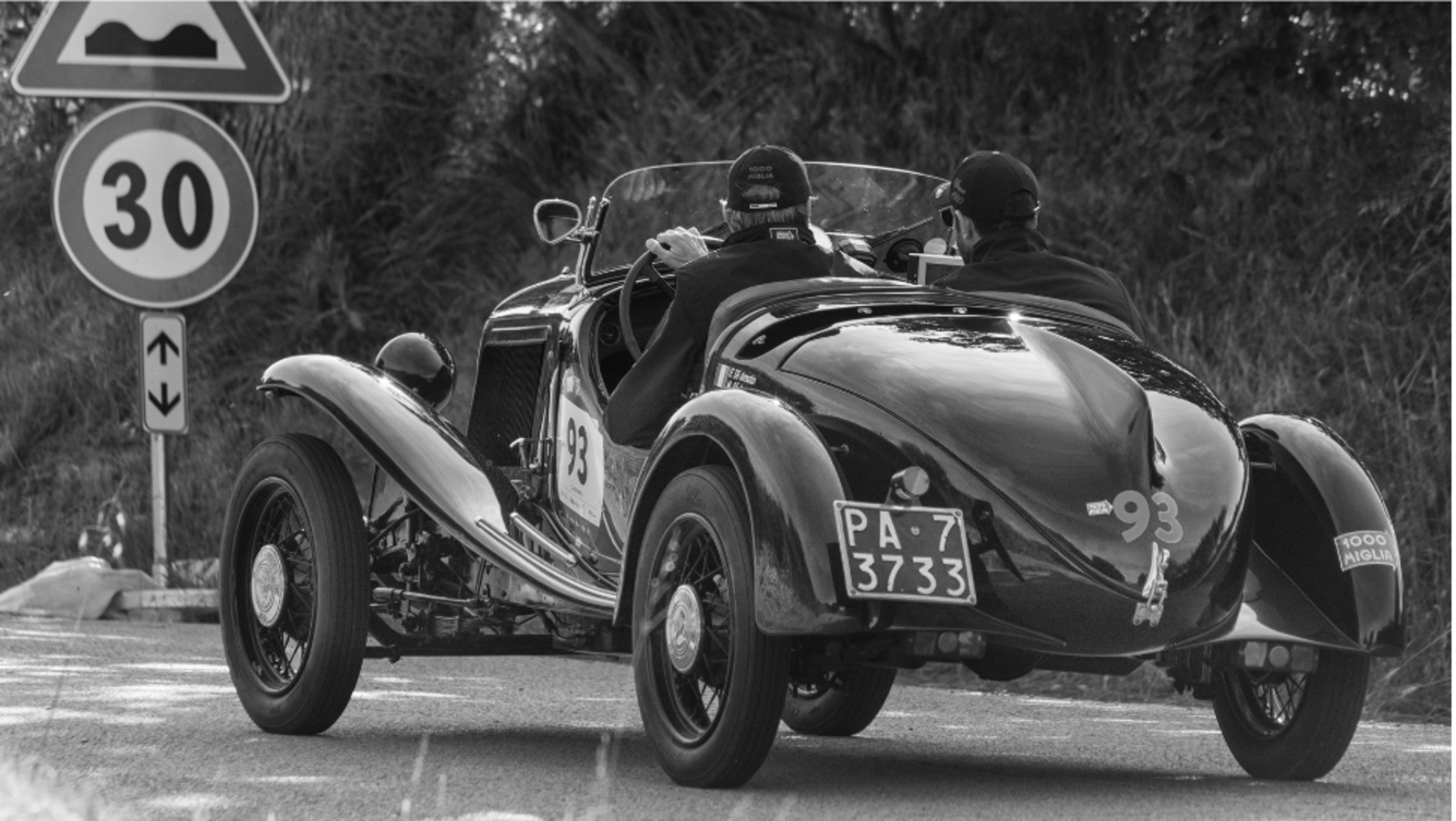 Fiat 508 S Balilla Sport Coppa ORO 1934 old racing car in the 2018 rally Mille Miglia
Fiat (these days they are Fiat Chrysler Automobiles) is still a huge automotive conglomerate. You may not see a Fiat competing in Grand Prix races these days, but that is because Ferrari and Alfa Romeo are both part of FCA and represent them in the highest echelons of motor racing. Fiat themselves still have a sporting presence through their Abarth subsidiary. Abarth became legendary by making very fast race cars out of the small Fiat 500 and 600 in the 1960s.
Fiat has built so many great cars and formed the basis of so many more (all of the famous Itailian coachbuilders have started with a Fiat) that owning a classic Fiat is truly owning a piece of automotive history. Some classic Fiats are priceless, such as the Otto Vu, but most – like the 500 – are very affordable. Whether you are looking for a classic sports car, saloon, city car, estate car, GT or something very individual with a special body, there is a Fiat for you. And they all offer that great Italian "Dolce Vita" driving experience!
____________________
Are you interested in owning your own Fiat? Or maybe you have one to sell? Check out our weekly Classic Cars auctions or register as a seller with Catawiki here.
____________________
Discover more classic cars | Italian classic cars | Fiat
You might also like:
What's next for the classic car market?
A complete history of Moto Guzzi
Iconic Italian motor brands and the heroes who helped build them