Written by Beulah | 1st August 2019
Spider-Man's first appearance in Amazing Fantasy #15 cost the reader just 12 cents. In the present day, that same edition is ranked as one of the most sought-after comics in the world, and in 2011 it went for $1.1 million at auction. In an attempt to understand and contextualise the meteoric rise of your friendly neighbourhood Spider-Man; we've spoken to comics experts Tim Plumbe and Patrick Vranken.
Spider-Man's real origin story
The Amazing Fantasy series was a comics anthology written by Stan Lee, with art from Steve Ditko, Jack Kirby, Don Heck and Paul Reinman. Such an impressive roster of names was already enough to secure Amazing Fantasy's legacy as a piece of comics history, but it was the last issue that guaranteed immortality. On 10th August 1962 Amazing Fantasy #15 introduced readers to a new kind of superhero. Peter Parker: a teenage boy bitten by a radioactive spider and left trying to juggle hormones, high school, and newly developed Spidey senses.
"Spider-Man as a hero was unique," explains Tim Plumbe. "Young kids and teenagers had often been portrayed as the weaker sidekick to the main hero. Never before had we seen a hero who was a regular kid doing regular kid things with everyday hang-ups, so the reading public was able to relate on so many levels. I think this appeal stays with him to this day for many fans. You can literally look at dozens of social aspects teenagers face (bullying, fitting in, love, money, bereavement) and Spider-Man covered them all."
The introduction of Spider-Man would not be enough to save Amazing Fantasy and⁠—despite an editorial note promising that Spider-Man "will appear every month in Amazing"⁠—the series was cancelled. Of course, Spidey is never down for long, and he was back with The Amazing Spider-Man just seven months later. There was clearly an appetite for stories about teenage superheroes, but in order to understand why Spider-Man went from being the last gasp of a cancelled series to a multi-million blockbuster of comics publishing, we need to go back in time.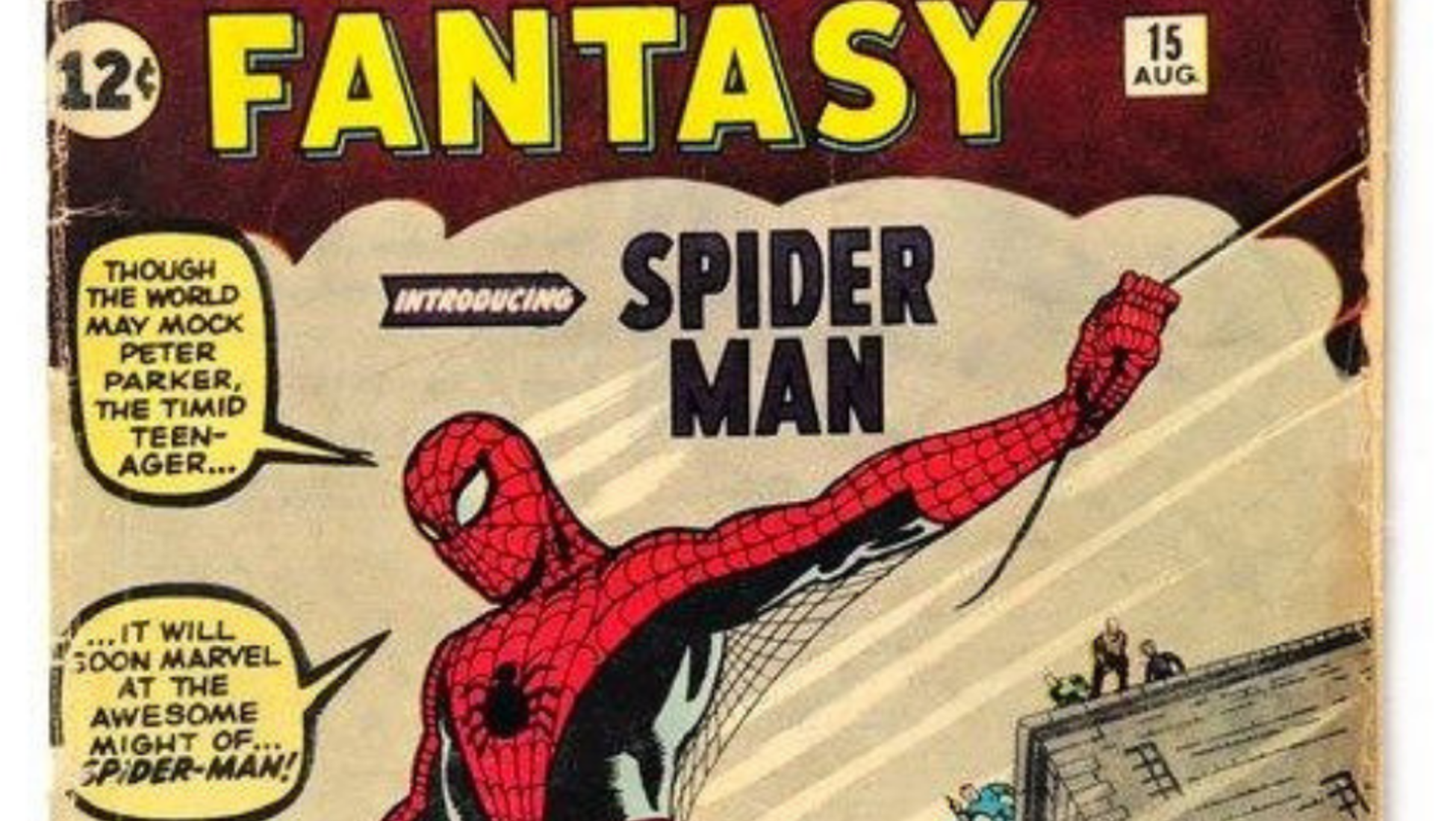 Artwork from Amazing Fantasy #15, currently up for auction on Catawiki
Rise of the teenager
The contemporary definition of "teenagers" was adopted when post-war adolescents in the U.S.A. and U.K. began to be seen as a separate, rebellious species. Films like Blackboard Jungle and Rebel Without A Cause depicted teens as wild, often-dangerous individuals. Rather like the accusations that would be thrown at Spiderman ten years later. It wasn't until the late 1950s and 60s that being a teenager was accepted as just a stage of life, rather than a social ill. This change in attitude understandably coincided with the rise of the teenage superhero.
Comics expert Patrick Vranken; "Under the guidance of writer-editor Stan Lee and artists (or co-plotters) such as Jack Kirby and Steve Ditko, Marvel began its own rise to prominence by the end of the 1950s." The Fantastic Four were the first "naturalistic" superheroes. They bickered with each other, worried about paying the bills, they were sometimes insecure, and at the same time, they changed the comics industry, forever.
Patrick: "The Fantastic Four debuted in November 1961 and they were just human, although they had a great scientist and a test pilot in their midst. They gained superpowers by accident and this did not make their life easier. In fact, it made it more complicated. There was one teenager in the team: Johnny Storm. In the Fantastic Four series, his struggle to control his temper and his superpowers was one of the major storylines."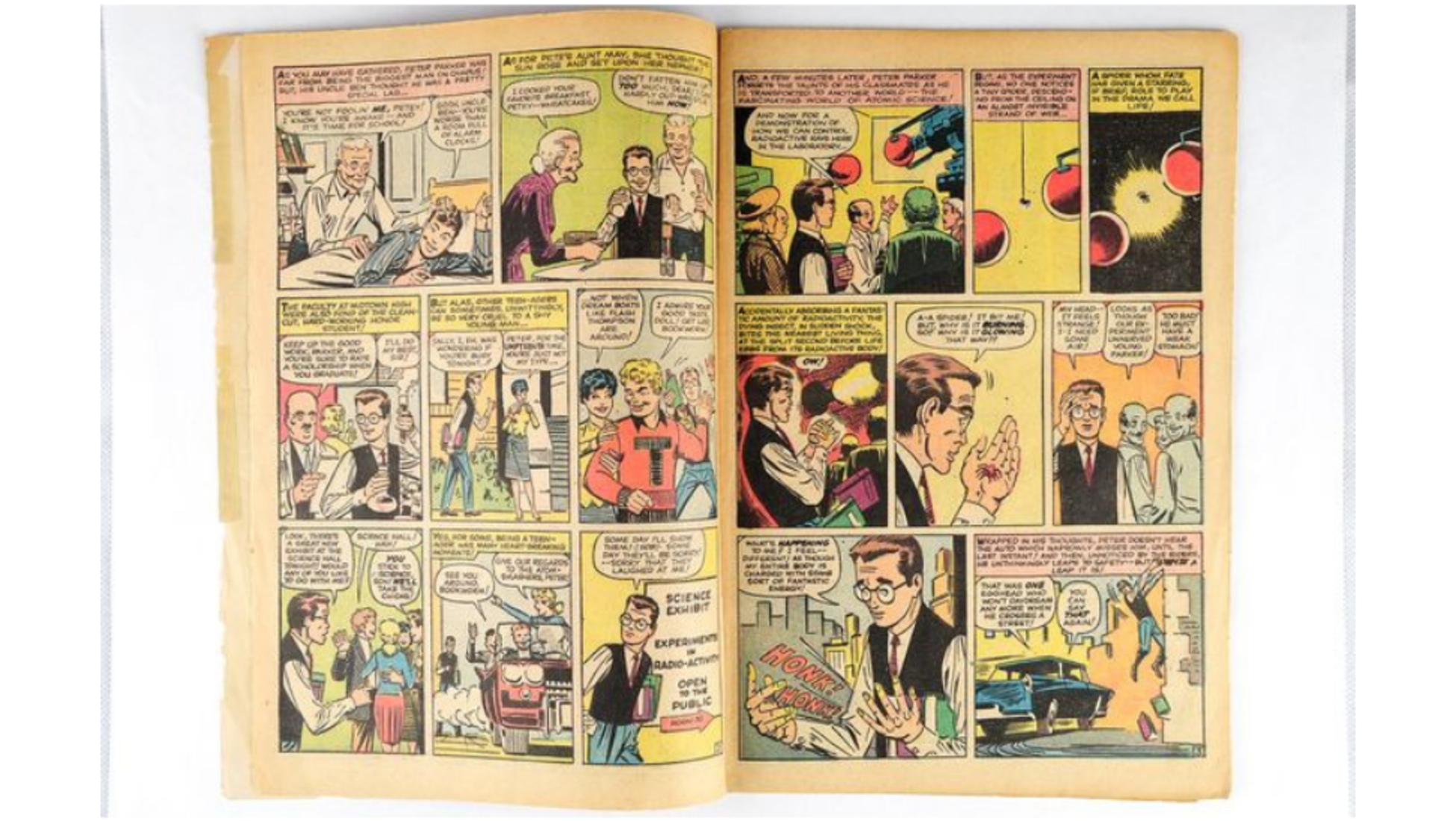 Peter Parker is bitten by a radioactive spider
Into the present day
Spider-Man gained popularity at a time when teenagers were slowly being recognised as a social and economic force. But what happened next? If Johnny Storm made the case for teens as part of an ensemble cast and Spider-Man showed that they can be the protagonists; the next logical step was to create an entire gang of teen superheroes. "In 1963 the X-Men entered the scene: a group of teenage mutants," Patrick tells us. "Teenagers with the X-Gene had all kinds of superpowers⁠—from telekinesis to weather manipulation⁠—and went to Professor Xavier's School for Gifted Youngsters."
The series went on to become one of Marvel's biggest hits, and a distinctive style bound all these teenage superheroes together. Patrick: "The artwork was dynamic (Steve Ditko, Don Heck and Jack Kirby all worked on the series) and Lee's clever, catchy writing style proved a hit with young adult readers. And, just like their readers, most of the new superheroes had issues with authority."
In the present day, the X-Men and Spider-Man series are Hollywood blockbusters. Multiple spin-offs and alternative Spider-verses fill the shelves of busy comics bookshops. Catawiki hosts 15 comics auctions per week and the original comic art is leaping and bounding in value. Spider-Man showed the world that teenage superheroes can be just as engaging and commercially viable as their adult counterparts.
____________________
A rare, first edition of Amazing Fantasy #15 is currently up for auction on Catawiki! Interested in expanding your collection? Take a look at our regular US Comics & Original Comic Art auctions.
____________________
Discover more Comics | Spider-Man | US Comics & Original Comic Art
You might also like:
Why Italy's conservative press tried to censor the fumetti neri comics
The marketing genius of Willy Vandersteen
In conversation with an artist: David Bircham and Marvel's Black Panther