Written by Tom | 24th September 2019
Fashion's flirtation with the unusual is a story for the ages. It's given us chokers, codpieces and corsets, taking the drab and the unconventional and assimilated it into the social conscience. These days, as modern fashion labels look to diversify their offerings while staying true to their mission, some of them have turned to the 'ordinary' to do so – to varying degrees of success. In celebration of the Gucci typewriter that's recently landed in one of our auctions, we looked into a few other collaborations where high fashion meets highly unexpected objects.

Gucci's typewriter
Gucci has long kept creativity and innovation at the heart of its brand. And while its double G logo-emblazoned accessories have been the most visible and popular of its collections, Gucci has never just rested on the success of these.
Back in the 1960s, Gucci teamed up with typewriter manufacturer Olivetti to release a limited edition of the latter's popular Lettera 32 typewriter. Though students and writers were the primary users of the typewriter, this limited edition helped carve out a slightly more premium image for Olivetti and bring these often clunky machines into the realm of luxury. The major difference with this edition was the inclusion of a Gucci case. In a time where portability for typewriters was lacking, this case helped reflect Gucci's mission for innovation, while staying true to their aesthetic.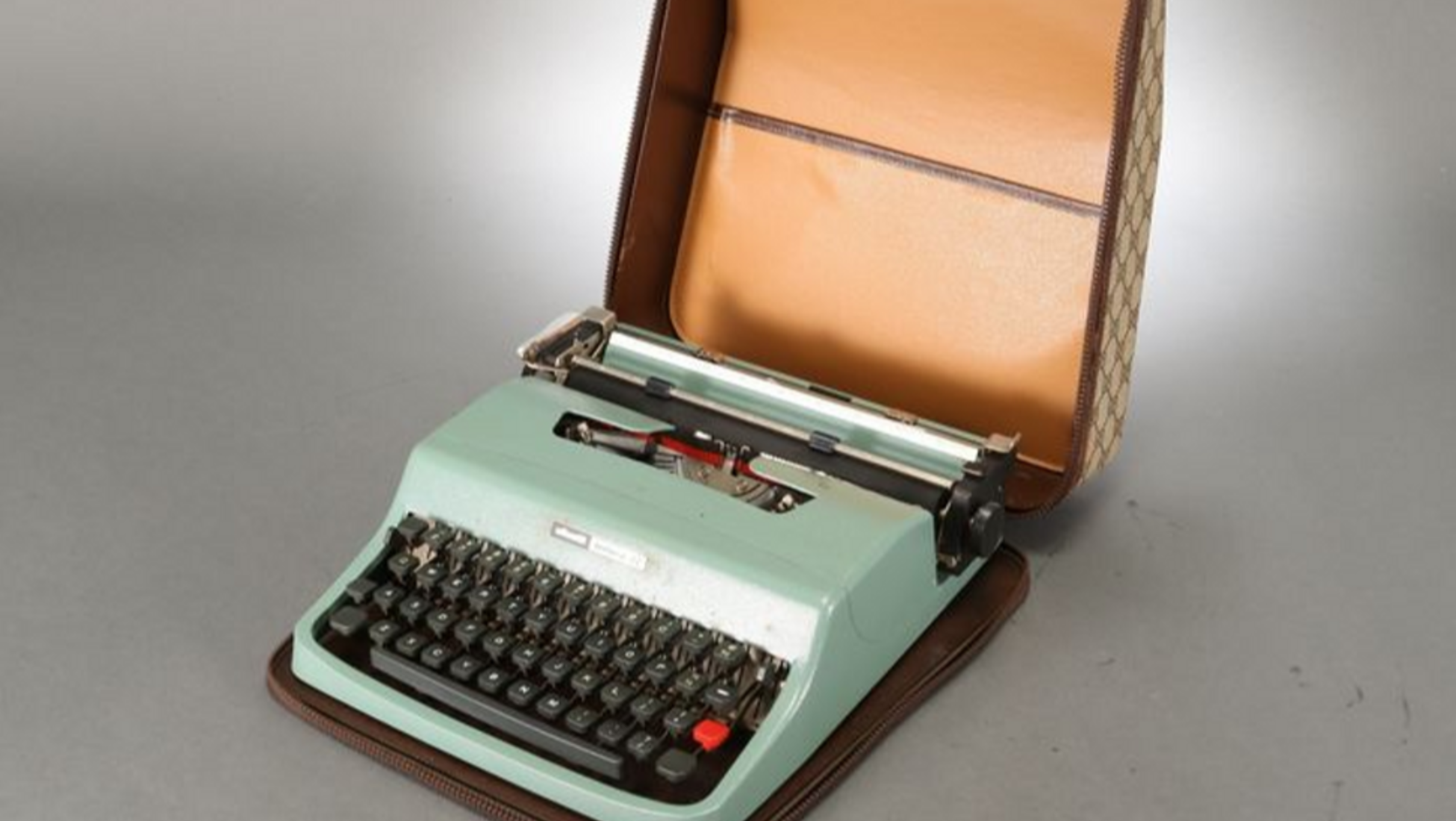 The Gucci case is what makes this typewriter particularly special


Tiffany & Co.'s 'Everyday Objects'
No analysis of fashion's dabbling with the ordinary would be complete without mention of Tiffany & Co.'s controversial but aptly titled 'Everyday Objects' collection. Billed as a series that used artisan techniques to transform standard home and garden accessories into witty works of art, it prompted both reactions of bemusement and intrigue.
The collection – which included anything from sterling silver paperweights and tape measures to walnut and silver chopsticks and ice cream scoops – left no stone unturned in its approach to the 'everyday'. The prices, however, were a little less ordinary: a sterling and vermeil tin can (intended as storage for your stationery) was priced at $1,000, while you could pick up a Tiffany & Co.-embossed set of table tennis rackets for $700. Diamonds in the rough indeed.
Chanel's shopping basket
Chanel's late head of design Karl Lagerfeld was notorious for his outlandish and sometimes outrageous concepts, such as the Eiffel Tower replica, housed in the Grand Palais. But perhaps no example is better than that of the Chanel Supermarket created for the label's 2014 autumn/winter collection.
Housed in the Grand Palais as well, this life-sized supermarket was stocked with around 500 types of Chanel-branded goods (think Camembert branded as "Cambonay" cheese, a sly reference to Rue Cambon where Coco Chanel once worked). But most eye-catching was the Chanel-branded shopping basket. Available in mini and normal sizes and priced between €4,000-7,000 respectively, this silver chain-linked basket complete with leather trim was quite a departure from the brand's signature bag but arguably the perfect piece to stock full of 'lait de Coco'.
Prada's money clip
Prada has never hidden its interest in the unusual and odd. In fact, Miuccia Prada (Prada's head designer) has in the past described the label as producing "uniforms for the slightly disenfranchised". Though most of Prada's clothes collections spearhead this mission, the release of the Prada money clip is arguably another case of the brand's fascination with subverting expectations, even if it divides its audience.
Designed in the shape of a paperclip but intended to hold your money, it's made from sterling silver and embossed with the Prada logo. Though much fanfare was made of its near 200 dollar price tag, the money clip did stay true to one of Prada's key mottos: "always create something new".
____________________

For fashionistas with a taste for the unusual, don't miss the Gucci typewriter auction or head to our fashion section for a few chic choices.
Discover more Fashion | Fashion Accessories
You might also like:

The unusual and experimental history of Gucci handbags
How Vionnet revolutionised the fashion industry
A history of Giorgio Armani in three suits