Written by Beulah | 7th November 2019

You may not believe it, but the first motorcycle was invented by accident and it didn't look much like the vehicles we see on the road today. Mainly because it had four wheels and a tendency to burst into flames. Here to tell us a bit more about the first motorcycle and its historic maiden voyage is motorcycle expert Manuel Garriga.
What was the first motorcycle?
The Daimler Reitwagen was built in 1885 and it looked absolutely nothing like modern motorcycles. The creators – Gottlieb Daimler and Wilhelm Maybach – were actually trying to create a throttle engine that was small enough to be used for individual transportation, but powerful enough to compete with other steam-powered vehicles. In other words, they wanted to build a car. What they ended up with was a motorcycle with four wheels and a wooden frame that journalist Melissa Holbrook Pierson once famously described as looking "like an instrument of torture."
How was the first motorcycle developed?
The Reitwagen was understandably considered to be a bit of an oddity, as Manuel explains: "With the Reitwagen, Daimler developed a 4-stroke air-cooled single-cylinder engine displacing 246 cc that featured a smart and innovative arrangement: it had an automatic (also called atmospheric) inlet valve and a mechanically operated side exhaust valve. It was capable of turning at an unprecedented 750 to 800 rpm and produced roughly half horsepower. It may sound weird today, but at that time this engine was considered the lightest and most efficient ever created."
A traditional motor car carriage was too big for the small, yet mighty Reitwagen engine. Daimler first tried installing the engine on a boat and in a small carriage, before opting to build his own carriage from scratch. "Daimler had the idea of building a wooden frame reinforced with steel and the engine placed vertically between two iron-clad cart wheels," says Manuel. "To keep the vehicle upright, he fitted two small wheels on each side. Daimler christened it 'Reitwagen mit Petroleum Motor', which stands for "Riding car with Petroleum Motor"."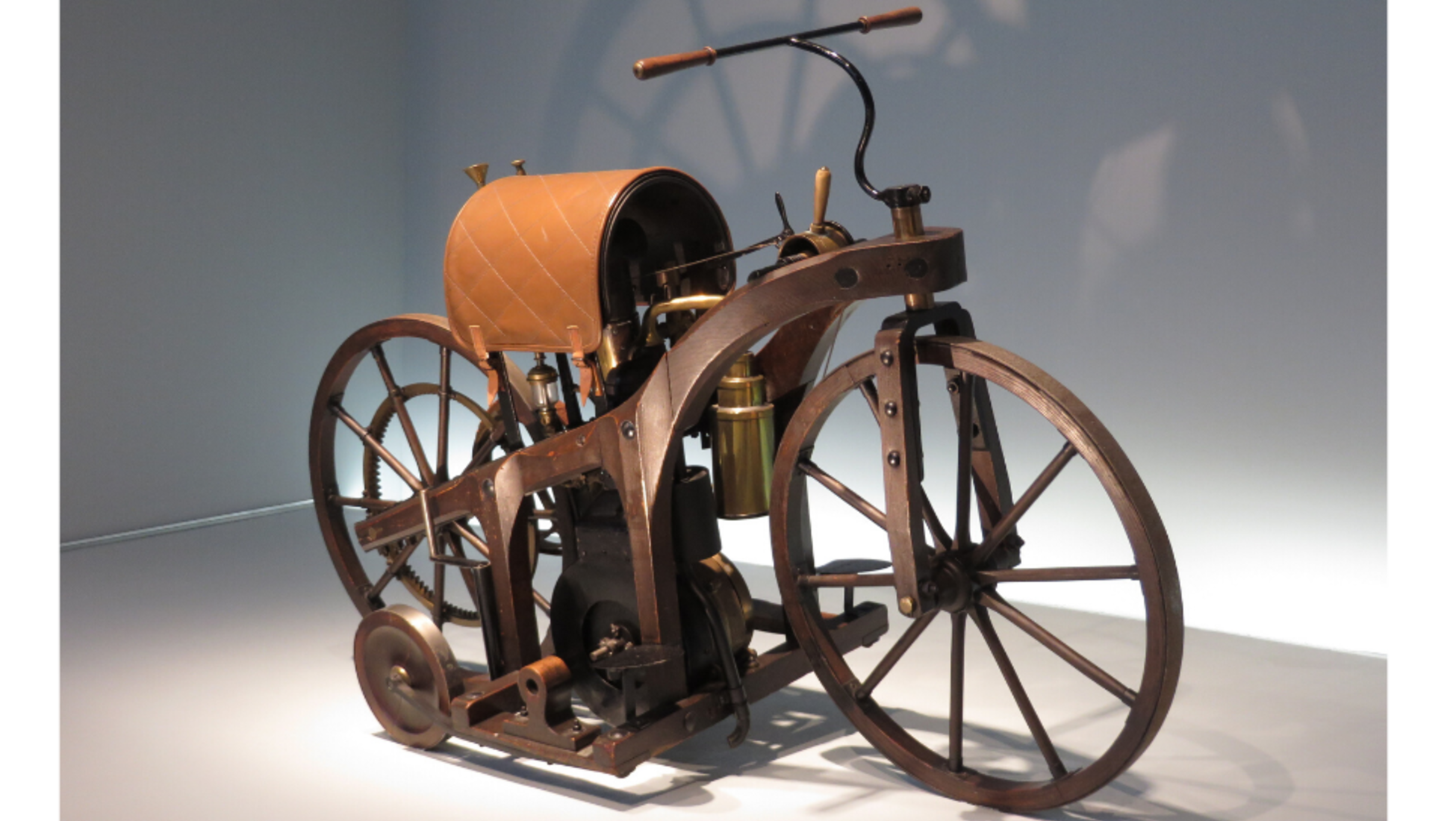 A replica of the Daimler Reitwagen, on display at the Mercedes-Benz museum in Stuttgart

What was the route of the first motorcycle ride?
Daimler and Maybach continued to develop and refine the Reitwagen and a year after this initial success, they were ready to take to the road. "The updated vehicle had a different transmission system, consisting in a pinion shaft acting on the rear wheel via internal gearing," explains Manuel."Daimler's seventeen-year-old son, Paul, completed a 3km run from Cannstatt to Untertürkheim, reaching a speed of 12km/h The initial ride was a success, but Daimler and Mayback quickly proved why contemporary motorcycles aren't built out of wood and leather.
"Paul had completed the trip and was on his way back from Untertürkheim when he started feeling a bit hot under the collar," Manuel tells us. "The Reitwagen's ignition system was called a 'hot tube' system and it was located beneath the driver's leather seat. Of course with all that activity it quickly warmed up and eventually the very spot Paul was sitting on caught fire."
What happened next?
"Daimler was always more focused on cars than motorcycles," says Manuel. "He saw the Reitwagen as a sort of 'test mule' for him to understand the possibilities of his engine. Once these had been exhausted, Daimler and Maybach soon moved on to four-wheeled vehicles." Daimler and Maybach continued to be a winning team and they went on to found the Daimler Motoren Gesellschaft (DMG, also known as the Daimler Motors Corporation).
But what happened to the original Reitwagen? Unfortunately Paul Daimler's hot seat wasn't the last time the world's first motorcycle got into hot water. In 1903, the DMG Seelberg-Cannstatt plant was razed by the infamous Cannstatt Fire. The warehouse holding the Reitwagen caught fire and the world's first motorcycle was completely destroyed.

____________________
Check out our latest motorcycle auction or register as a seller with Catawiki.
You might also like:
A history of Volkswagen in three cars
How Ferrari and its prancing horse raced to world domination