Written by Beulah | 11th December 2019
Star Wars is one of the most heavily merchandised franchises of all time and – over 40 years since the premiere – Star Wars toys have become an integral part of the world's favourite Space opera. In honour of the release of Star Wars: The Rise of Skywalker, we're taking a look at how Star Wars toys have developed alongside, and occasionally even outperformed, the Star Wars movies.
George Lucas wasn't even halfway through filming the first Star Wars film before he made what was then a dramatic and seemingly risky decision; accepting a salary cut in order to retain full merchandising rights. This gamble paid off and by 2012, the Star Wars franchise had made more than $20 billion in merchandising revenue. These are the most recently available figures as while Disney may have (finally) given us a diverse cast and Baby Yoda, the company hasn't been especially forthcoming about merchandising revenue.
Kenner Boba Fett action figure
Even without a crystal ball showing him a future of Swarovski crystal-studded Stormtroopers by 1979, Lucas must have been feeling fairly good about retaining those merchandising rights. Star Wars' first licensed toys were the Kenner Star Wars action figures which sold over 300 million units between 1979 and 1985. These small, plastic figures were eagerly pounced on by Star Wars fans and toy collectors. Ironically, Lucas' reluctance to share his character designs with Kenner led to an early scarcity, which raised the hype and cost of the Star Wars action figures before they'd even reached the shelves.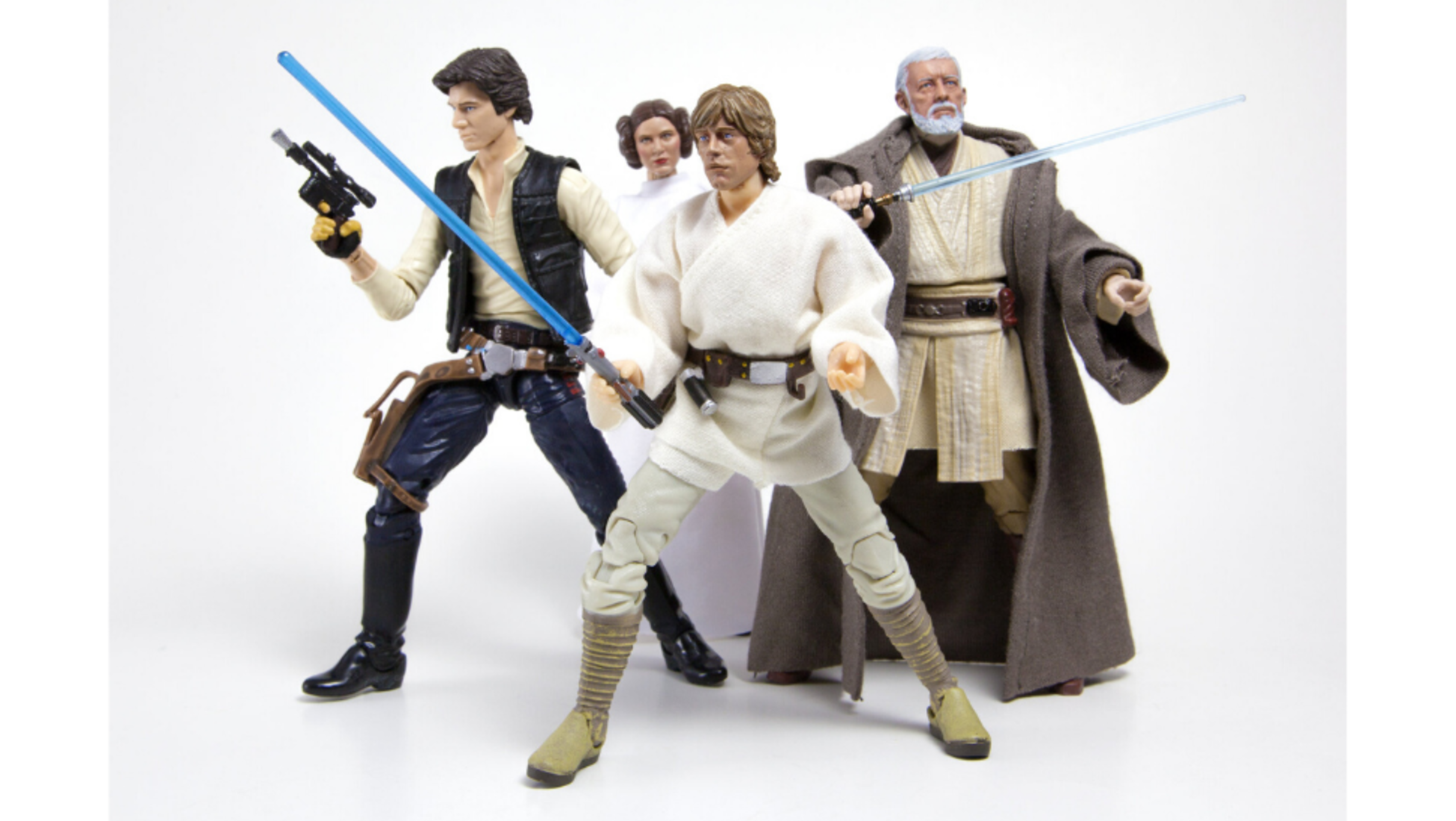 A collection of the classic Kenner Star Wars action figures

As a result of the figures diminutive size and Kenner's commitment to detail, their detachable clothing and accessories were often lost or damaged. However, this fuelled a secondary collectors market where a double-scoping lightsabre might sell for up to quadruple the entire figure's purchase price. Today, these reproductions are genuinely frowned upon and, in the case of the J-slot rocket-firing Boba Fett, a genuinely intact Kenner action figure can have an estimated $500,000 value at auction – though some fans refuse to part with their treasures, regardless of the financial incentive.
Lego Star Wars Millennium Falcon
If the Kenner action figures captured fans hearts and minds, the Star Wars Lego line demonstrates how the franchise attained longevity. As the first intellectual property to be licensed by Lego, this was significant for two reasons; it represented a cross-industry collaboration between two giants of the entertainment world, and it confirmed Star Wars position in the popular zeitgeist as one of the first fantasy series with potential for truly interactive world-building.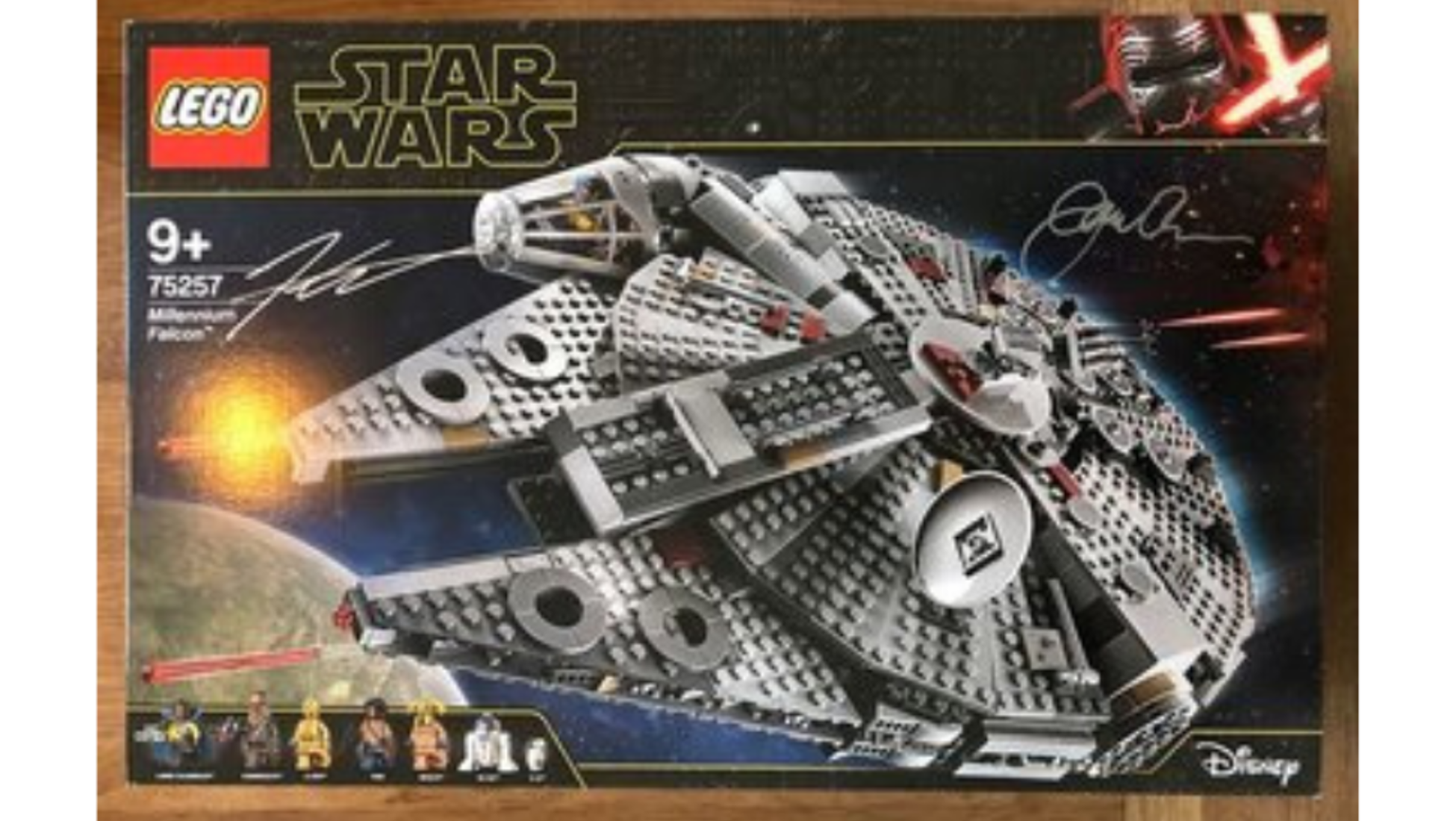 Millennium Falcon Lego set, signed by LEGO Star Wars designers up for auction on Catawiki

Six years after Lego brought Star Wars into its own world in 1999, Star Wars returned the favour and opened up a few doors for Lego with the short film Lego Star Wars: Revenge of the Brick. Since then, Lego has gone on to make nine Star Wars-themed short films, TV specials and TV shows. The two companies even have a history of building upon each others fan bases; Lego pioneered new, interactive possibilities for Star Wars fans with the introduction of the 7541 piece, ten minifig, Millennium Falcon set. The variety and intricacy of this Lego set offered fans endless opportunities to build and improve upon Han Solo's craft of choice, while the design made popular with Lego collectors without any personal interest in Star Wars.
Star Wars Topps trading cards
One of the many criticisms hurled at Star Wars over the years is that the franchise ruined "thoughtful" cinema. With its jaw-dropping special effects and sweeping battle montages, Star Wars revitalised 20th Century Fox and paved the way for a new kind of movie – where CGI was soon to rule the screen and characterisation was often seen as secondary to action shots. Of course, this theory only holds up if you limit your understanding of cinema to 1980s Hollywood. One toy that undermines this theory is the humble trading card.
The first Star Wars trading cards were released by the U.S. company Topps in 1977, and their instant popularity meant that they quickly became collectors items. The range of images on the cards represented the very reason so many different people have come to love Star Wars. As expected, there are plenty of shots of the Death Star and special effects-enhanced battles; such as the Rebel Assault and the Force Fight on Crait. However, each of these cards is matched by a close-up of the actors or a significant psychological moment, such as when Princess Leah strategised for Luke Skywalker's safe return. These scenes were an early demonstration that fans are just as engaged in the Star Wars characters as they are in flashy battles.
____________________
To celebrate the release of Star Wars: The Rise of Skywalker, our movie memorabilia experts have organised a Star Wars charity auction. Check it out, or register to sell your own Star Wars memorabilia on Catawiki.
Discover more Star Wars Lego | Star Wars Movie Memorabilia
You might also like:
The evolution of the Lego Millennium Falcon
Top 5 most expensive Star Wars costumes