Written by Tom | 4th June 2020
For some, classic cars and motorcycles have long been seen as the ultimate collector's item. But the world changes and so does the motoring world, which has broadened its appeal from keen drivers and car enthusiasts to collectors who are as happy off the road as they are on it. Enter automobilia – which involves all car-related merchandise like helmets and artwork – a burgeoning field among collectors. To help uncover what drives collectors and understand what automobilia really is, we asked expert Jan-Bart Broertjes to join us.
For everyone who doesn't know, what do we consider automobilia to be?
Jan-Bart:
Automobilia is a very broad category, in essence, it can be anything collectable to do with automobiles, except the actual vehicle itself.
And what about motobilia?


Jan-Bart:
Ah, that's an easy one:
motobilia
is anything collectable to do with motorised two-wheelers, so mopeds and motorbikes. Again, with the exception of the actual bikes. Four or more wheels is considered to be automobilia. Three-wheelers are considered automobilia in most cases, although they're a bit of a rarity.
Good to know! So who are the collectors?


Jan-Bart
: It's usually people whose interest in automobiles started at a very young age, with toys like model cars, garages, Scalextric tracks, etc.
Model cars
have been hugely collectable for many years – they even have their own dedicated auctions on Catawiki, which are actually separate from automobilia.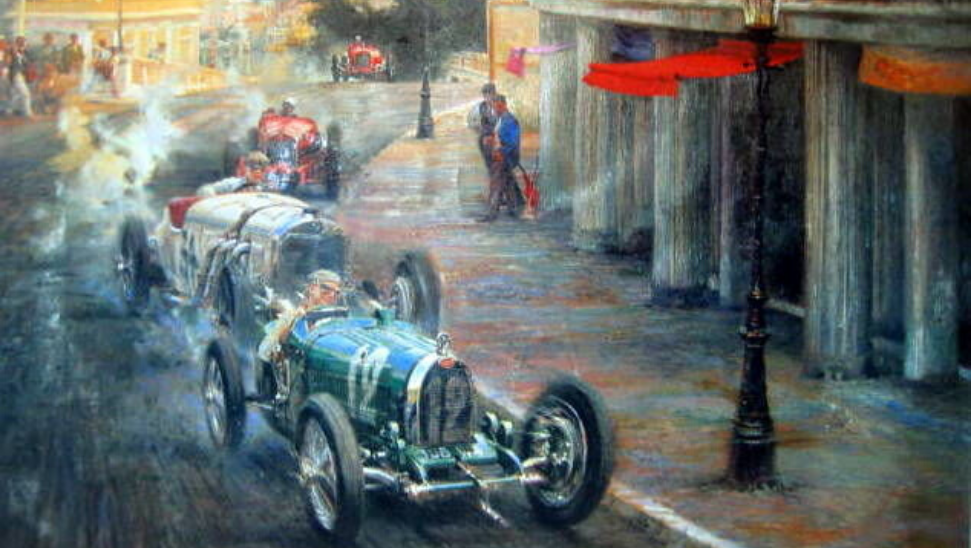 This art print is titled 'Bugatti Racing Green' of the First Monaco Grand Prix
The next step in the collecting career of a young petrolhead usually consists of car brochures, picked up at car dealers or motor shows. Then there are posters, magazines, books etc. From there on, you can go in many directions: mascots, badges, advertising materials such as enamel signs and lightboxes, promotional giveaways, petrol pumps, oil cans, automotive tools, toolboxes, car parts, stickers, clothing or fashion accessories with a car brand, artworks depicting cars, motorsports memorabilia – you name it.
What are the feelings that drive collectors?

Jan-Bart: Nostalgia is an important one. For many collectors, their dream car is one from their youth. It can be a sports car like a Ferrari or Porsche, but also the car your father or uncle owned like a VW Beetle, a Peugeot 404 or a Ford Escort. It's about reviving and preserving memories.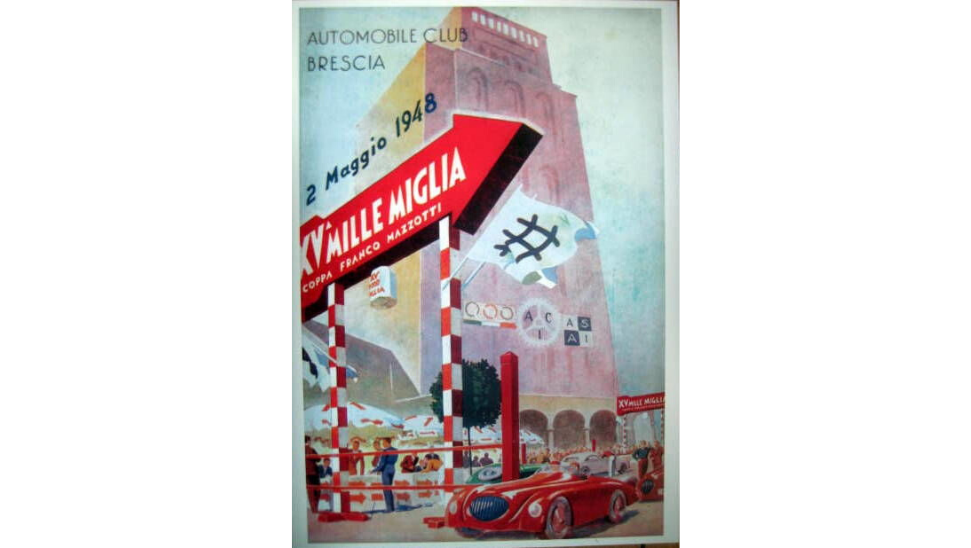 Posters are another favourite among collectors – this is of the Coppa Franco Mazotti in Brescia
What are some popular pieces of automobilia?


Jan-Bart
: Car audio systems are very popular because many people are looking for an era-appropriate radio for their classic car. Other popular items include mascots and pre-war automobilia where you can find the really old stuff. Brands like Porsche and Ferrari are always sought after, so much so that we now have two dedicated Porsche automobilia auctions every week at Catawiki.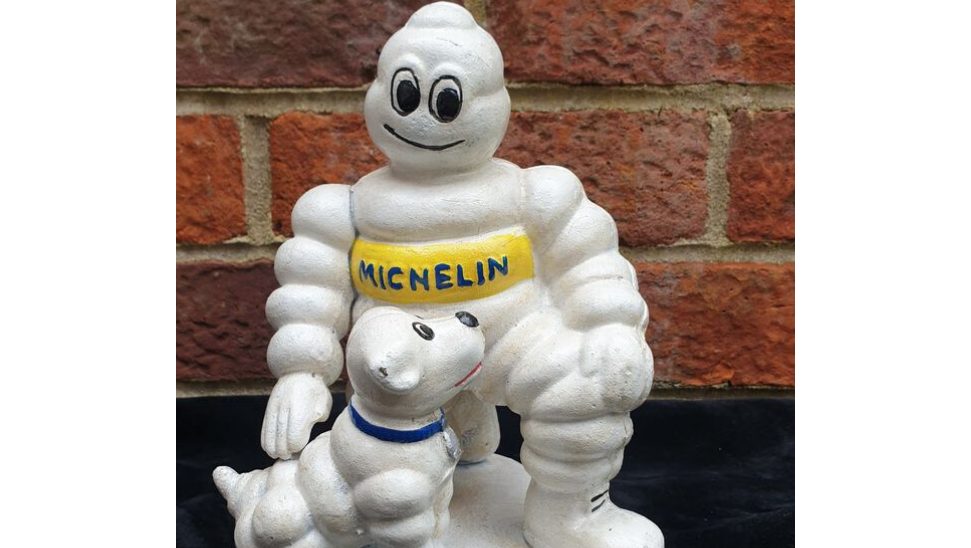 Don't knock the Michelin man – he's a popular collector's item
But it's not just car brands that are collectable. For instance, Michelin material is very popular and the same goes for a lot of petrol and oil brands, like Castrol and Esso.
Automobilia is increasingly growing as a field of collecting. Why do you think this is?


Jan-Bart:
The motoring world used to be just about owning old cars. These are the die-hards: the people that restore the cars themselves and love driving them. They collect parts, handbooks, tools and the brochure of their beloved vehicle.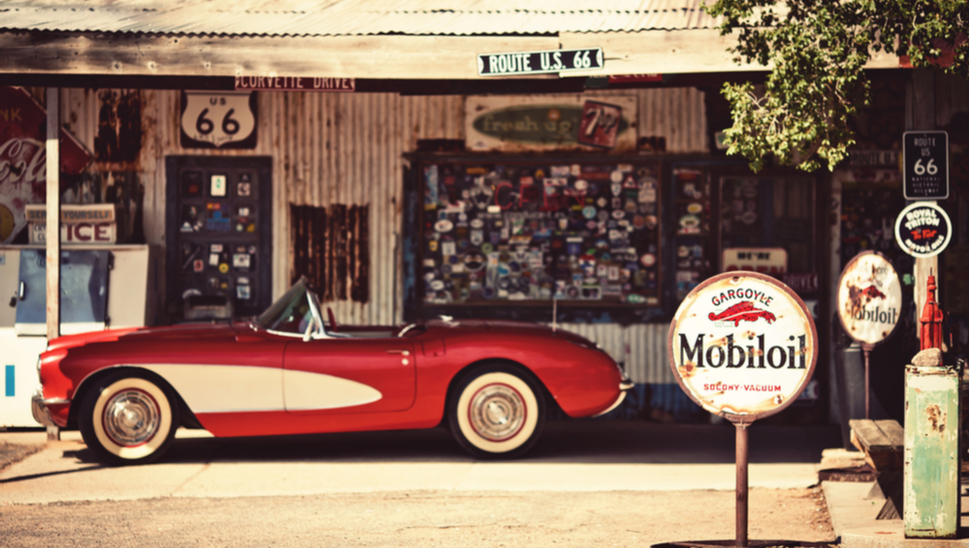 Much of automobilia is about capturing the atmosphere of the 50s and 60s
But over the last 10 years, a classic car has become much more of a lifestyle item. For many people, working on their car is not what it's all about, and maybe not even driving it (although they probably love polishing it). It's about expressing your individuality, capturing that feeling of freedom that's connected to old cars and that atmosphere; like 50s American style or 60s Italian. These pieces blend in perfectly with anybody that's a lover of retro style; think a home bar, jukebox or pinball machine.
Finally, what do you love about collecting these items?


Jan-Bart
: My passion is books about old cars, preferably old books about old cars. I have been addicted to motor racing from about the age of 10 and love to sniff out anything to do with that, the more obscure, the better!
____________________
Keep the love alive with our automobilia and motobilia auctions or register as a seller with Catawiki.

Discover more Automobilia & Motobilia | Classic Cars
You might also like:
The customisable Mini Coopers that everyone wanted
A history of Pininfarina in three cars