Written by Beulah | 14th May 2020

In 2019, the FIA announced that it was reversing one of its most controversial rules that banned Formula 1 drivers from changing their helmet design as often as they wished. But why was this ruling so controversial in the first place? Was it because a Formula 1 helmet is often seen as a way for a driver to express their creativity? Was it the money that custom Formula 1 helmets can bring in at auction? In search of answers, we delved into the history of helmet design with the help of sports memorabilia expert Marc Jans.
There were some surprises in store when the Fédération Internationale de l'Automobile (FIA) issued its annual update to the rules of Formula 1 racing in 2015. Traditionally, these rules have focused on car safety, engine design, qualifying and penalties, which was why many fans were surprised to see an extra rule added that prevented drivers from changing their helmet design more than once a year.
The official reason given for this rule was that it was important for spectators and officials to be able to recognise the driver. However, this logic was roundly rejected by Max Verstappen in 2019, when he pointed out that drivers have gigantic numbers on the side of their cars, surely the easiest way to tell the drivers apart. Lewis Hamilton also joined in Verstappen's protest, encouraging his fans to voice their disapproval on social media. The ensuing outcry led to the FIA reversing their previous ruling and acknowledging the importance of helmet design to drivers.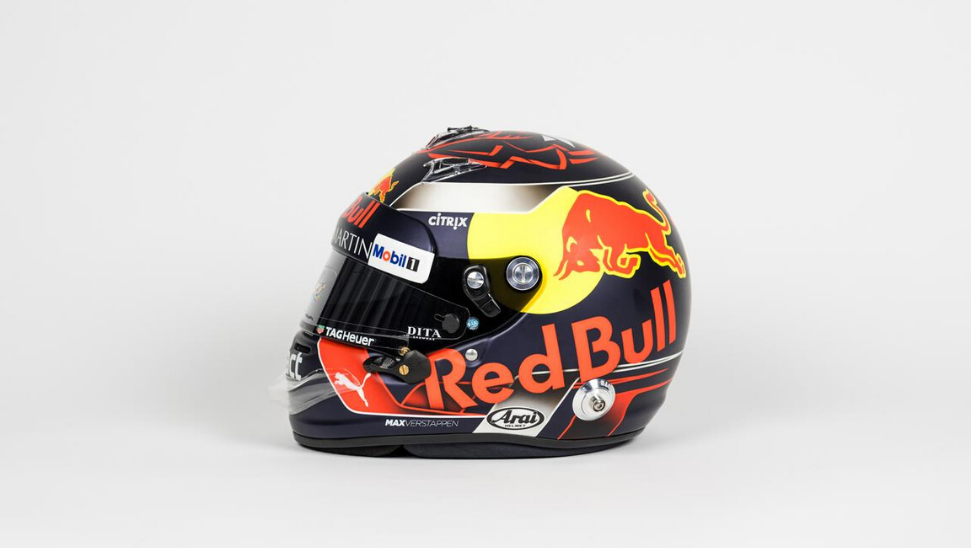 A signed Max Verstappen helmet
How TV changed the appearance of Formula 1
Sport and TV are generally considered to be a match made in heaven. Broadcasting a sport live brings in millions of viewers and millions in sponsorship from big brands. Formula 1 was no exception. "Helmet design didn't become important until Formula 1 was broadcast on TV", Marc Jans confirms. "This was also when tobacco sponsorship entered the race. These sponsors brought huge amounts of money into the sport and had very set opinions on where their logo should appear: on the car, the racing suit and the helmet of the drivers".
Up until that point, helmet design was often based on the flag of the driver's nationality. "When sponsors' logos were introduced to the design, it changed people's perception of how a Formula 1 helmet should look", says Marc. "Since the 90's, these helmets have become works of art in their own right and drivers invest a lot of time into their helmet designs. This led to the rise of design studios like German firm Jens Munser Design (JMD) which does all the liveries for Max Verstappen, Sebastian Vettel and Daniel Ricciardo".
Tension between team sponsors and personal sponsors
Of course with multi-million sponsorship deals at play, it was never just about drivers expressing their creativity. "There are millions of euros paid for a prominent place on the helmet", Marc explains. "Nowadays, most spots (from the car to the uniform) are reserved for the team sponsors while the drivers' personal sponsors only have a limited place available". When a driver is asked to choose between prioritising their team sponsor or their personal sponsor, it's easy to see why many of them seek a compromise by using their helmet.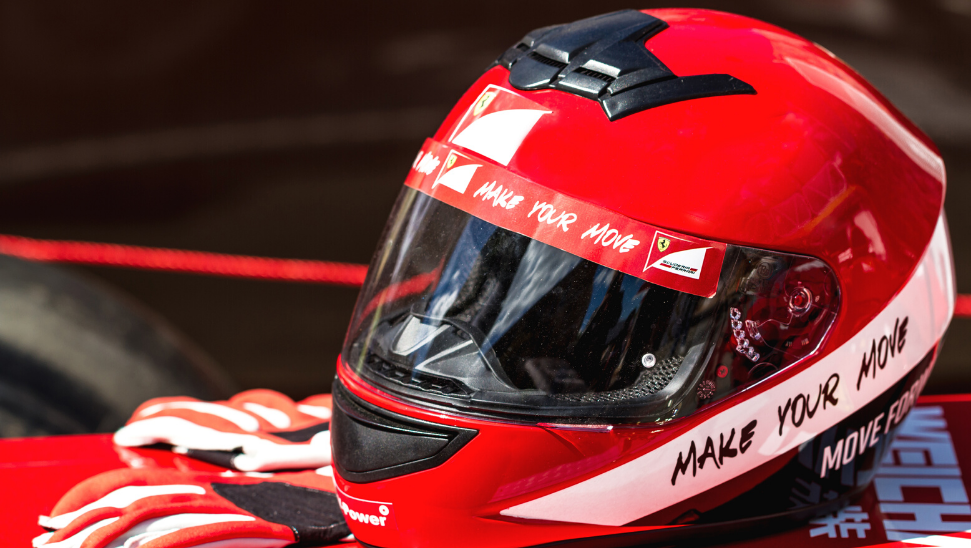 The instantly recognisable Ferrari red livery
Significant Formula 1 helmet designs
Formula 1 fans were just as keen on the changing helmet designs as the drivers. "By far the most popular design is the Ayrton Senna Formula 1 helmet dedicated to the Brazilian flag (coloured in yellow, green and blue)", says Marc. In February 2019, Ayrton Senna's 1990 helmet sold for more than €150,000, making it the most expensive Formula 1 helmet ever to sell at auction. "You still see several Formula 1 drivers have helmet liveries with the quintessential yellow colouring to show their admiration for Senna", Marc says. "It's even crossed over into other motorsports series such as MotoGP."
Since the FIA abandoned their ruling, Daniel Ricciardo has continued the tradition of honouring fallen stars with a Kobe Bryant tribute helmet. Ricciardo's 2020 Formula 1 helmet featured the words: "become unstuck", continuing Ricciardo's commitment to moving past the trivial things in life and focusing on the bigger picture.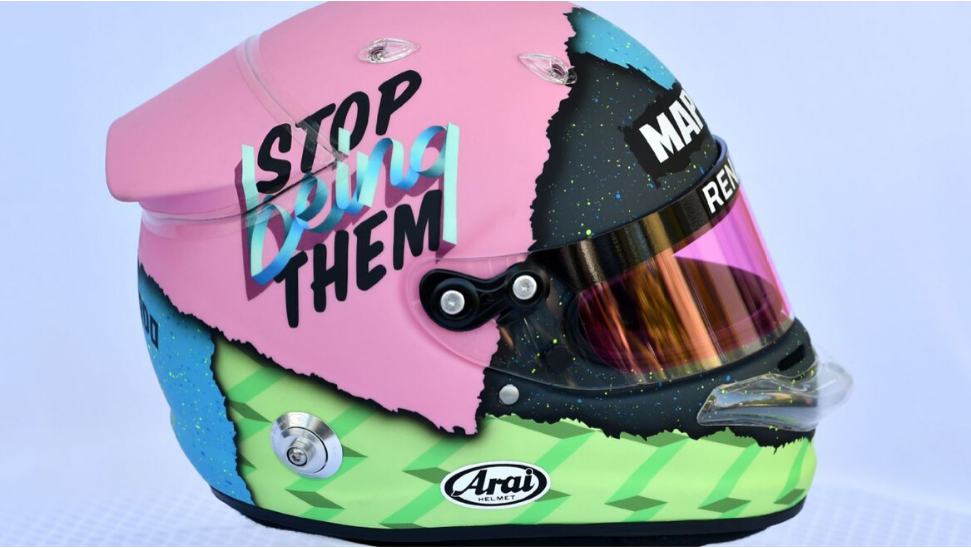 Daniel Ricciardo's customized 2019 helmet
Not all helmet designs have such a deep meaning, but they still remain personal to the drivers. Among his favourite designs, Marc highlights the helmets of Graham Hill and his son Damon Hill. These helmets were dedicated to the London Rowing Club, as Graham was also a fanatic rower and member of the LRC.
Another example can be seen in the uncharacteristically restrained helmet of larger-than-life driver James Hunt. This simple black design features three bands of colour—a tribute to Hunt's old school colours—and has been replicated many times, most recently by Kimi Raikkonen; further proof that these helmets live in our hearts as much as they do on the drivers heads.
____________________
Check out our latest Formula One memorabilia auction or, if you already own a helmet, consider registering as a seller with Catawiki.
Discover more Formula One | Sports & Events
You might also like:
Iconic Italian motor brands and the heroes who helped build them
How to determine if the autograph on your sports memorabilia is genuine