Written by Tom | 12th June 2020
In the past, we picked leather as one of the fashion trends to look out for. But leather isn't a newcomer to fashion, though it certainly knows how to reinvent itself. It has featured in the sartorial choices of the Ancient Greeks, the motorcycle gangs of the world over and has grown into being a mainstay of modern subcultures and a mouthpiece for sexual expression. Fashion expert Eva de Vries joins us to explain how leather's history is as versatile as the material itself.
Fashion is by nature fickle, having swept up a number of materials into its orbit throughout history– horsehair for petticoats, straw for bustles and lead for makeup–in its relentless pursuit of the future, or at least what the future should look like. But enduring in fashion isn't easy, which is what makes leather and its role in clothing all the more impressive. Leather is durable and versatile – two hallmarks of any good material – and has the added novelty of having been adopted as a means of expression by subcultures, from bikers to queer culture. "It's become a symbol for masculinity and difference, and one that's constantly evolving", says Eva. So how did leather become fashion's favourite fetish?
The leather jacket
Where better to begin tracking leather's rise in popularity than with one of fashion's most seminal pieces: the leather jacket. "Leather really made an entry into the high fashion scene with the big classic leather houses such as Hermes and Louis Vuitton", says Eva. "It was Hermes who introduced a leather golf jacket, complete with a zipper, to the Prince of Wales in 1918. But this was still in the form of active wear, where leather was chosen because it was the most durable material available".
It wasn't until after WWII that leather and the leather jacket really took off, courtesy of an unlikely harbinger of fashion trends – motorcycle gangs. The rise of biker groups was in part fuelled by war veterans, many of whom found it difficult to reintegrate into society. They were left without the comfort of same-sex friendships they'd grown accustomed to, along with the possibility to explore any homosexual desires that society had denied them. Motorcycle gangs were often almost exclusively male and wore leather jackets, the latter of which started as a practical need that turned into one fuelled by feeling.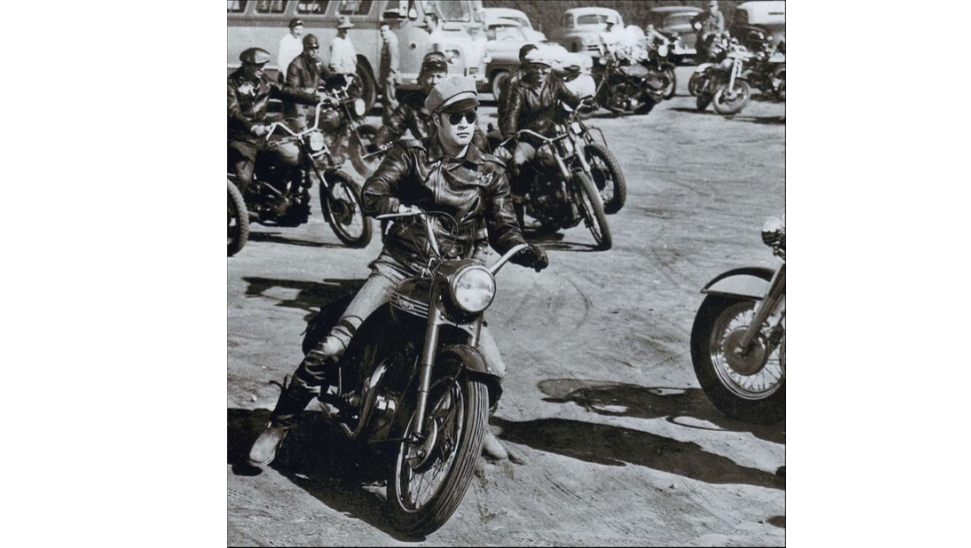 Marlon Brando in the 'The Wild One' helped cement leather's status as both a queer and biker symbol
"Motorcyclists initially started wearing leather because of its protective quality, much like how Levi's developed denim for workers" says Eva. "But the rugged and sturdy material was very compatible with how bikers wanted to be perceived as figures of hyper-masculinity, thus adding to its popularity. After the Second World War, motorcyclist clubs began to make it big and as a consequence leather was catapulted from a sturdy and durable material into something synonymous with biker subculture. This consequently was picked up by Hollywood, with men like James Dean and Marlon Brando showing off their hyper-masculine personas, wearing jeans, a wife beater (the unfortunate nickname for a white undershirt taken from a Hollywood film of that era) and a leather jacket".
Fetish culture and masculinity
Brando and Dean's bisexuality made their adoption of leather become yet another chapter in the material's dual association with masculinity and queer culture. And while they might have sealed the leather jacket as a biker staple, it was arguably the gay men who socialised in these circles that took it to new, forbidden heights. Leather quickly became a signal for extreme, raw masculinity and as such helped mould a new identity among gay men. Cue the rise of fetish fashion – the crossover between sexual desire and clothing – with leather dominating the scene. It was no longer just about the leather jacket; leather trousers, caps and boots were some of the more conventional pieces, while harnesses, underwear and masks became accessories many lusted after. "Wearing leather is a bit like a second skin" explains Eva. "It emphasises the shape and curves of the body, giving it sexual appeal".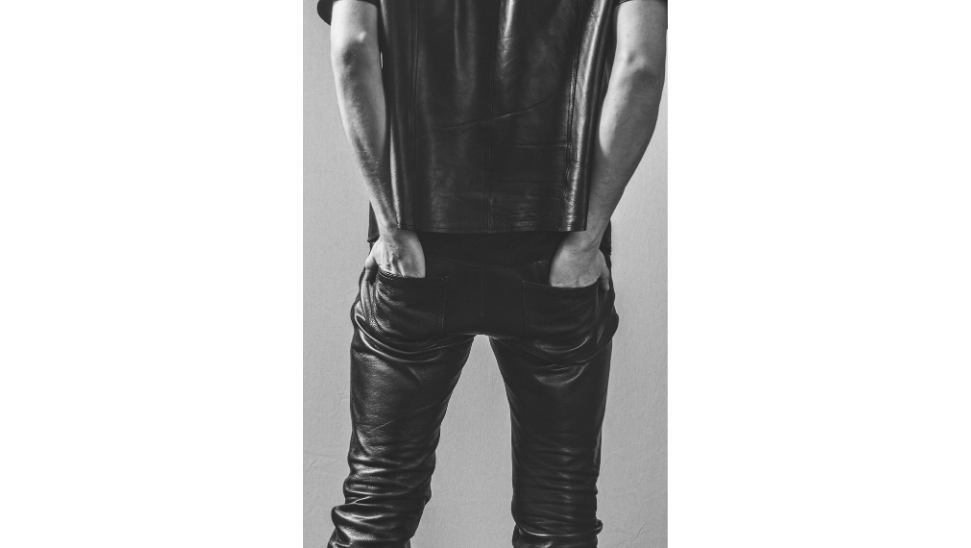 Soon, leather pants, caps and underwear became available
Leather's origins in military service and motorcycle groups gave it an innate hierarchical appeal, which is why so much of the culture around wearing leather is tied to sexual practices that centre on dominance and discipline. Queer culture and gay men in particular, were considered to be the main advocates for this, but that had as much to do with imagery around leather at the time as it does queer peoples often submissive role in society.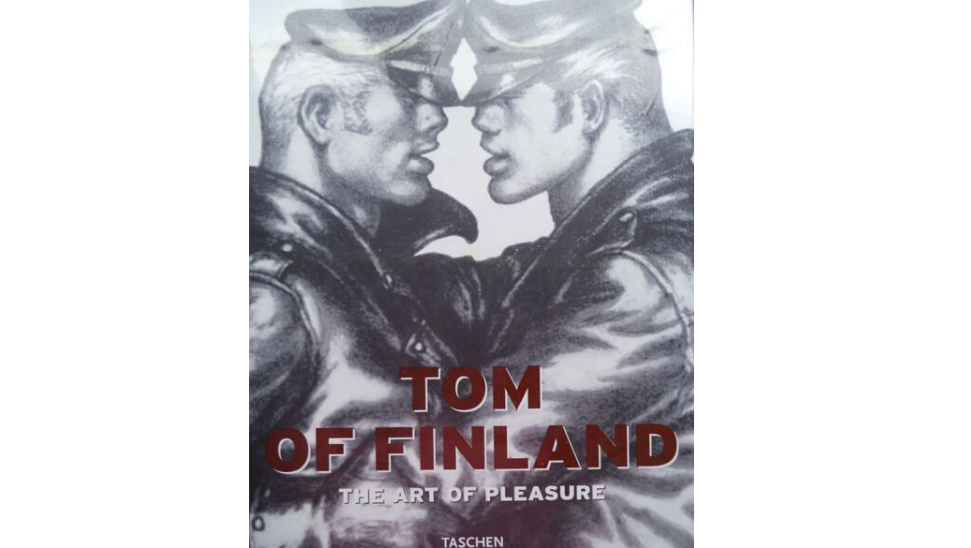 Tom of Finland is known for his hyper-masculine and sexualised cartoons which came define an entire era of gay art
Major artists like Tom of Finland, known for his provocative cartoon drawings of queer, muscular men in leather, helped cultivate an image and standard of what it meant to be a 'leatherman' while also shaping an entire generation of gay art and an assumed ideal. His work depicted men who displayed the classical male attributes and as such became an image for gay men who felt they needed to combat the 'effiimate' persona they were often lumped with – especially notable at a time in America in the 60s when male nudity and gay literature was being decriminalised in the media.
Leather's rebellious nature
Beyond leather's innately sexual look-and-feel, it took on rebellious symbolism. Biker gangs (along with the characters Brando and James Dean played) were outliers of society, in the same way that queer people were. "Wearing leather became in some sense, an act of rebellion or a statement of intent that you were celebrating instead of silencing your difference", says Eva. "Later this evolved further with punk culture. A rebellion against the mainstream suit wearing masses. Leather jackets, such as the ones worn by the Ramones, were items that were heavily customised and celebrated individuality".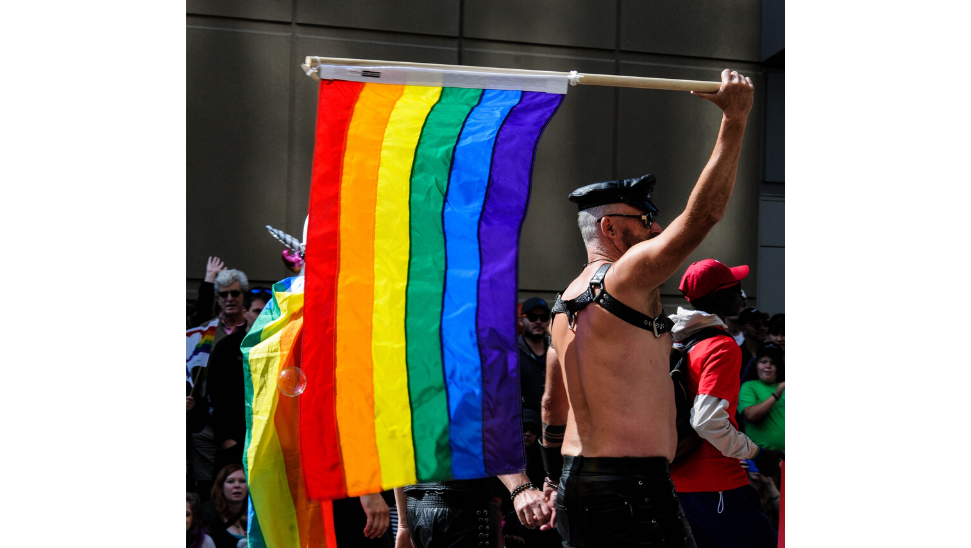 Leather culture is still present, even as more leather wear from subcultures makes its way into the mainstream
This culture of rebellion extended for decades, with the rise of the fetish club scene, including queer female communities who helped prove leather was not just limited to the realm of men. However, the rise of modern day fashion has had consequences on these communities and leather's symbolism. As we see the presence of leather on the runway (take Versace and Gucci's recent forays), this success threatens its own history as a place of refuge and provocative nature for marginalised groups. Couple that with misconceptions about leather in gay culture as something twisted or perverted by society, and the leather scene's inability to be more inclusionary and grow with the times, means it is arguably a fetish under fire.
Still, leather as we've seen, is durable, and if connoisseurs of it can continue to harness that quality and relinquish the chokehold of mainstream culture and exclusivity, there's undoubtedly plenty more to come.
____________________

Explore our range of leather pieces, from bags to jackets, in our weekly fashion auctions. And if you've got some exciting pieces, register as a seller.
You might also like:

Fashion trends to get excited about in 2020

How demand for vintage clothing is reviving menswear
High fashion's unusual fascination with everyday objects