Written by Beulah | 8th July 2020


The event of covid-19 meant that Euro 2020 has since been postponed to 2021, leaving many fans with memorabilia from the original tournament set to be either worth a lot of money or none at all. Here to tell us whether it's worth holding onto those incorrect Panini stickers and out-of-date football shirts, is sports memorabilia expert Gustavo Radesca.
Euro 2020 was supposed to run from 12th June to 12th July 2020, celebrating 60 years of the European Championship competition. Programs and tickets were being printed, kit designs had been approved, memorabilia from water bottles to hats was being planned – and then covid-19 turned the football world on its head. The cancellation of Euro 2020 was announced in mid-March 2020, followed a few months later by the announcement that the tournament would move to 2021.
While fans and footballers alike are relieved that Euro 2020 will go ahead in some form, this change in plan does present an interesting question to football memorabilia collectors. What impact will covid-19 have on the value of Euro 2020 memorabilia? We asked sports memorabilia expert Gustavo Radesca.
Hi Gustavo, have you seen any changes in the way people buy and sell football memorabilia since covid-19 happened?
"The covid-19 situation affected interest in all kinds of sports memorabilia. Both the amount of memorabilia being sold and the number of people buying or starting new collections increased by a lot. Many traditional sellers found themselves unable to open their businesses as normal and so they moved online. Private sellers, meanwhile, had more time to look in the attic and find forgotten items that they realised could be worth some money. I think that this is also the reason for the increase in people buying sports memorabilia, as lockdown and social distancing has inspired people to look for more hobbies they can do at home."
Does the cancellation of tournaments like Euro 2020 usually have an impact on the value of memorabilia?
"Yes, but normally only in extreme cases. The 1942 and 1946 World Cups were interrupted because of the Second World War and as a result very little memorabilia was produced. If memorabilia from the unofficial World Cup held in Germany in 1942 were to be found, these would be very valuable and museum pieces."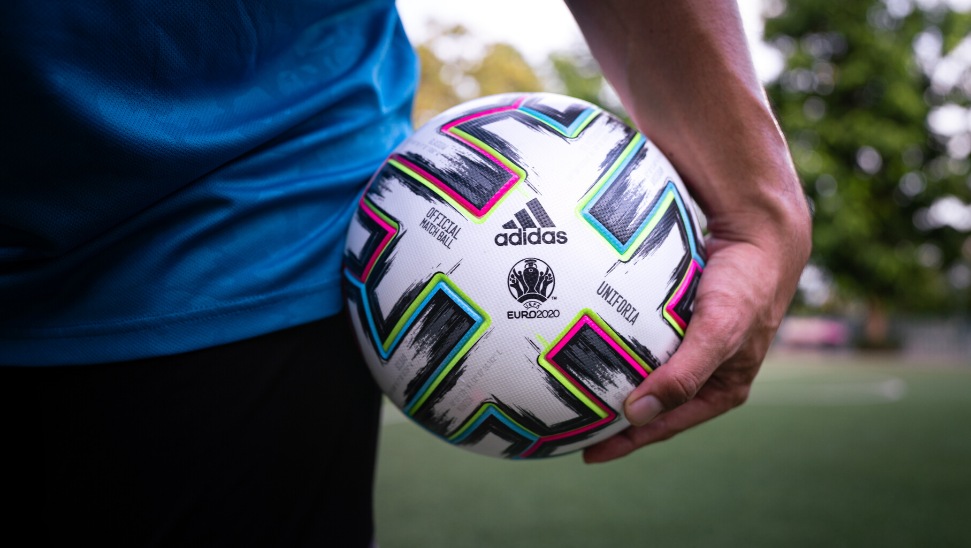 The official match ball of Euro 2020
Can you give us an example of the kind of memorabilia that might increase in value?
"Any programs, posters and materials with an incorrect date will be very collectable. In fact, items with a printing error actually tend to be more valuable than the correct versions. There's also the question of the tournament's official sticker collection. Panini released the Euro 2020 Preview and will also be releasing the final version next year. So we will have two collections for the Euro 2020 by Panini. The preview collection will also be a rare product in the future because it is mainly being sold online and the odds for completing the collection by buying full boxes are quite high. Without a huge promotion and less sales points, fewer people will be buying the album, which will increase its rarity and therefore value in the future."
"It's too soon to know how the postponement of Euro 2020 will impact the value of the related memorabilia. Undoubtedly it will be affected, since an event called Euro 2020 with, for example match jerseys with 2021 dates, will be something that is at the very least, unusual. Also, considering the global situation right now, restricting the access to the players (making it hard to collect autographs) will make all memorabilia items for this year and maybe the next more rare."
____________________
Keep an eye on our football memorabilia auctions or register as a seller with Catawiki.
Discover more Sports Memorabilia | Football Memorabilia
You might also like:
Vintage football shirts that are now collectors items
Sexism makes women's Panini stickers a surprisingly good investment