Written by Beulah | 18th March 2020
From ardent fans looking to own a bit of football history to knowledgeable collectors with a keen eye for a bargain, the last few decades have seen vintage football shirts soar in value. We asked football memorabilia expert, Gustavo Radesca, to walk us through which vintage football shirts are now collectors items.
80s-90s Adidas
Millennial football fans entering the market are a big reason football shirts are having a moment. As the internet connects fans around the world, many of us are looking to reconnect with our childhood heroes. Football shirts from the late-1980s and early-1990s are highly sought after, particularly club collaborations with Adidas.
"Adidas really changed the game in 1988 by adding designs to the plain shirts that were common in the 80s", explains Gustavo. "The German 88-91 shirt designed by Ina Franzmann is a classic and the German 2018 shirt is a tribute to this model." These colourful, geometric designs also tap into one of the 21st century's most enduring fashion trends for men: vintage ath-leisure. Popular shirts include the 1988 Holland Euro shirt, the German 1990 Italia shirt, and the PSV 1990-1992 home shirt.
Signed shirts
The fact that signed football shirts often fetch more at auction than unsigned shirts might seem like common sense. Signed football shirts that have sold for a high sum on Catawiki include an authenticated Lionel Messi FC Barcelona shirt (which sold for €1,500), a Ronaldo signed 2019 Juventus shirt (for € 1,825), a Diego Maradona replica shirt that was signed around the 1986 World Cup Mexico final (€1,630) and a Cristiano Ronaldo Real Madrid shirt from the 2011-12 league season (when Ronaldo scored a personal best of 46 goals) that sold for €1,660. And yet, despite these high numbers, the valuing of signed shirts is actually a lot more complicated.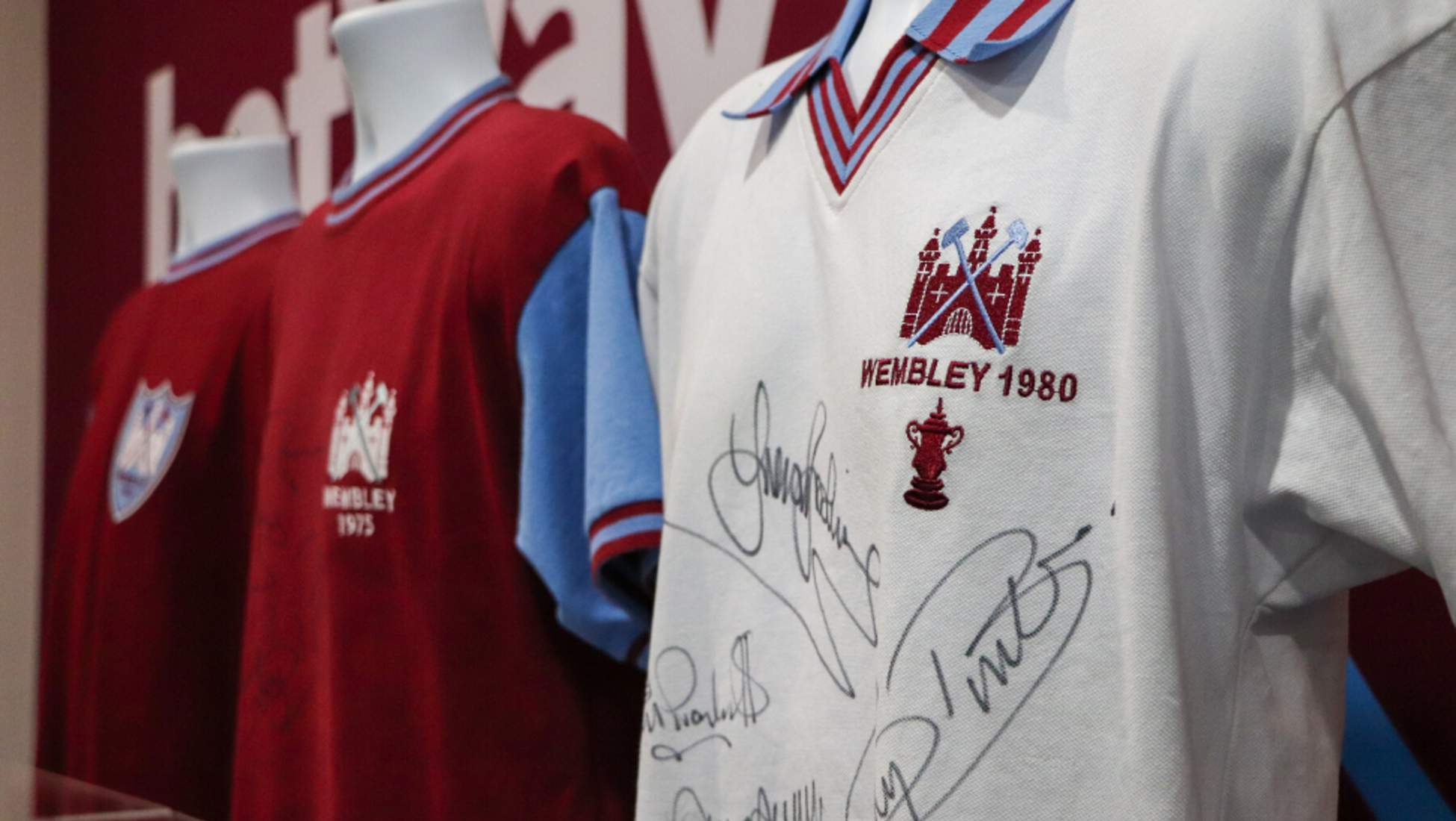 Signed West Ham United FA Cup final shirts from 1975 and 1980

Sports memorabilia expert Marc Jans has helped us produce a guide for valuing signed shirts, highlighting some things to consider including: the fame of the player signing, how rare their signature is, when the shirt was signed, the condition of the shirt and whether authentication papers are available. One final thing to bear in mind is the number of signatures on a shirt. Marc explains: "If you have a Rio Ferdinand or Cristiano Ronaldo signed shirt which also contains signatures of players who never made it out the third division, these could potentially devalue the shirt."
Manchester United
The 1998-1999 season was famously the most successful in Manchester United's history, as they became the only English team to ever score a trophy treble. The knock-on effect has been that even unsigned home shirts are highly sought after and Beckham's famous number 7 home shirt regularly sells for over €400. Generally having the name "Beckham" on anything guarantees it will sell – from video games to fashion lines – and the same clearly holds true for shirts. But owners of contemporary-signed shirts need not despair. In 2019, for example, a Zlatan Ibrahimovic Manchester United home shirt from the 2016/-7 season sold for over €1200.
____________________
Don't forget to check out our latest football memorabilia auctions. Or register as a seller on Catawiki.
Discover more Football Memorabilia | Football Shirts
You might also like:
Sexism makes women's Panini stickers a surprisingly good investment
The most expensive FIFA World Cup items ever sold