Written by Tom | 19th August 2020
We've already touched on how to build a photo studio from home, and in the next instalment of our photography masterclass, we're taking you through the importance of lighting and how to get the best out of it. Photographer, Francisco Paramos, explains more in our how-to video.
Whether you're a beginner or a professional photographer, most of us know that good lighting can often make or break a photograph. But understanding what good light entails and how to maximise it is another thing entirely.
Achieving positive or negative fill
The first step in securing good lighting is understanding the kind you'd like. That means deciding on how the light illuminates your object (known as positive fill) and how the shadows hit the object's backdrop (known as negative fill).
"From experience, you'll often find the shadows to be too dark for your liking, and as a result, they don't showcase your object at its best", explains Francisco. "We can fix this by adding what is called a "positive fill" to your setup. That essentially means adding a white reflector or a white poster board on the opposite side to your light source, to bounce the light back onto your object and fill in the shadows. The closer you bring your reflector to your object, the brighter your shadows get".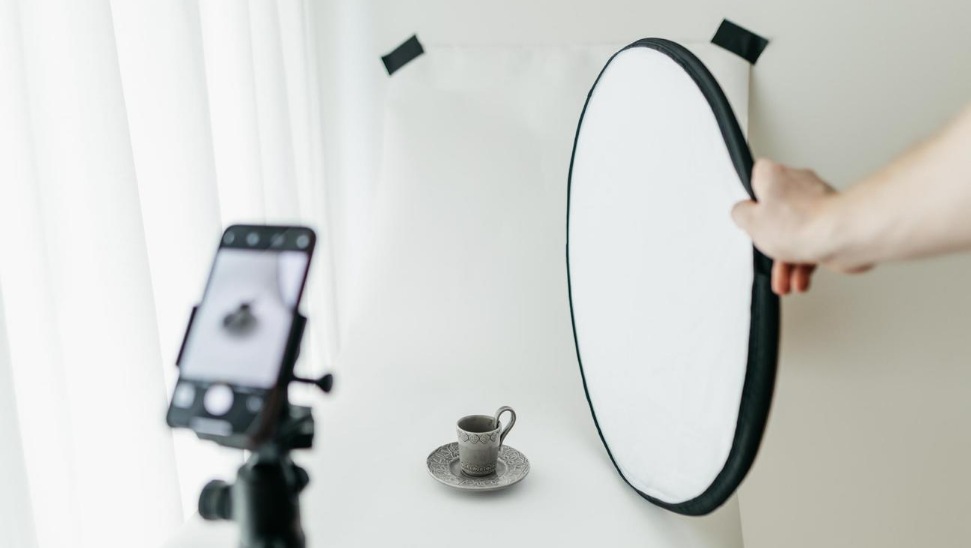 A white reflector will bounce light back onto your object[s] and fill in the shadows
Alternatively, for those who prefer a more textured, shadowy shot, boost the negative fill. "You can achieve this effect by placing a black reflector next to the shadow side of your object. This will prevent any ambient light in the room from bouncing back into your object's shadows".
Identifying hard and soft light
Not everyone can always pick and choose their ideal lighting, but there are ways to identify the type of light you're working with. "When photographing your objects, you may find yourself facing two scenarios: having hard light, also known as direct light, or soft light, known as indirect light. In most cases, it's preferable to photograph in soft light as it's the most flattering for your objects".
"The best way to identify whether a product has been photographed in hard light or soft light is by looking at the shadows of the object in the image. You'll notice when shooting in hard light that the shadows look very sharp, which means that there isn't much distance between your light source and your object". This is good to know when deciding the kind of lighting you prefer for your specific object shot.
Choose between hard light or soft light. Hard light is pictured above where the shadows are sharp and the light is close to your object.
As for achieving softer lighting, there's an easy home fix for that. "By adding a sheer curtain or any kind of translucent fabric between your light source and your object, you'll be able to diffuse that light and make the shadows softer".
Once you've decided on the type of light and texture you want to convey, you're ready to start photographing.
____________________
Got your lighting adjusted and camera at the ready? Then it's time to register as a seller on Catawiki.
Discover more Cameras & Optical Equipment | Photography
You might also like:
How to build a photo studio from home
A beginner's guide to photographing your collection
A beginner's guide to photographing your artwork