Written by Marta | 26th November 2020
We're all familiar with the traditional colours of winter and each year we decorate our homes in them to bring warmth and comfort to the darkest days of the year. But these colours are more than just pretty choices – they have a long history with winter celebrations. We asked design expert Alexander Fahl to talk us through the function of winter's classic colour palette and how to create an uplifting interiors scheme to end the year in style.
Green, red, white, gold and silver are the traditional colours of wintertime and ones we bring into our homes year after year. But beyond their nods to winter foliage—green for pine trees and red for holly berries—they also have historical value too.
A brief history of winter colours and decor
Contrary to what you might think, the tradition of decorating homes during winter festivities is one which dates back to ancient Egyptian times. During midwinter festivities, Egyptians used to bring palm tree branches inside their homes to celebrate the rebirth of the Sun. Midwinter traditions can also be found in Roman, Nordic and Germanic culture, long before Christianity spread across Europe and transformed winter solstice celebrations into Christmas.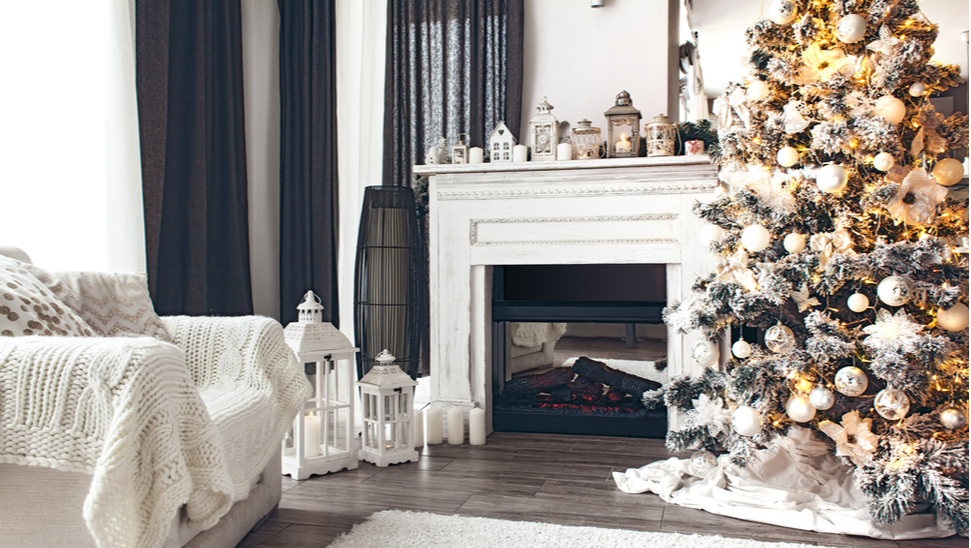 White, silver and gold are the festive triad of colours.
As for the colours used in the decor, their meaning and function varies according to their roots in different historical times, religions and cultures. The tradition of using white has its roots in Christianity, where it is a symbol of purity and of Christ Himself.
Gold and silver, on the other hand, have played a key role in centuries of sun and moon worshipping pagan religions. During winter solstice celebrations, gods representing natural forces were honoured through sumptuous feasts and rituals involving livestock sacrifices. The colour association to cultural backgrounds may help explain why in contemporary times, white is used on minimalist designs and unembellished decor, while gold and silver are often matched with sumptuous heirlooms and ornamental furnishing.
Styling your home: choose your colours
White, silver and gold are complementary colours not just in their historical and cultural backgrounds but also in their decorative purpose. White brings in the cold stillness of snowy days while the other two brighten and warm up any colour scheme. "The colour triad of gold, silver and white evokes a wintery Christmas scene with ice, snow and candle light", says Alexander.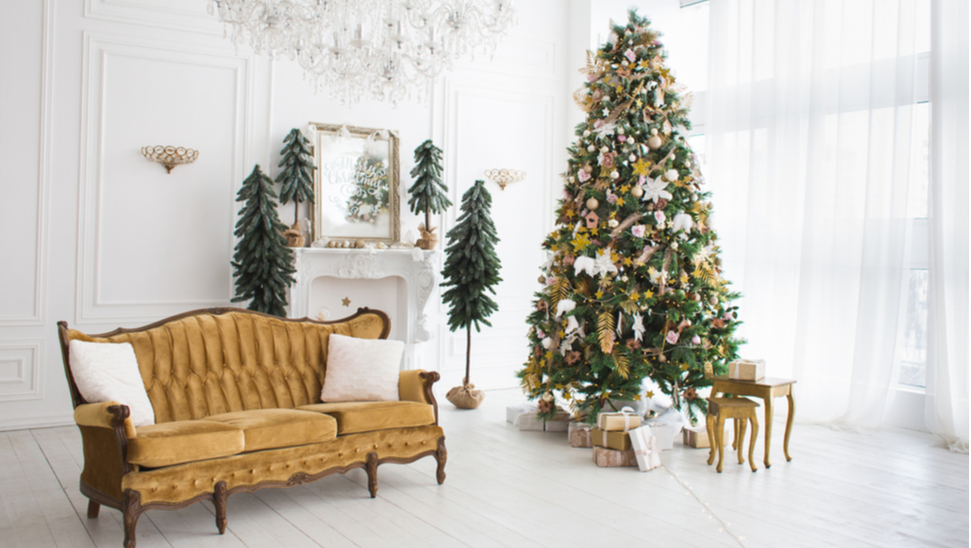 Balance opulence with softer touchers to bring the best out of this scheme.
Create the illusion of ice and snow through materials like marble, ceramics, and soft fabrics like wool, or mimic the warmth of candlelight through crystal, metal, glass, gold and silver – excellent materials to refract the light through too.
Balance colour contrasts
The objective when decorating with this colour triad is to always maintain balance. Aim for an equilibrium between warm and cold, simplicity and opulence. "To create a fresh, bright yet comfortable and even luscious atmosphere, use opulent antique silver, gold and bronze pieces", says Alexander. "These should be contrasted or grounded, if you will, by pure and simple modern design pieces".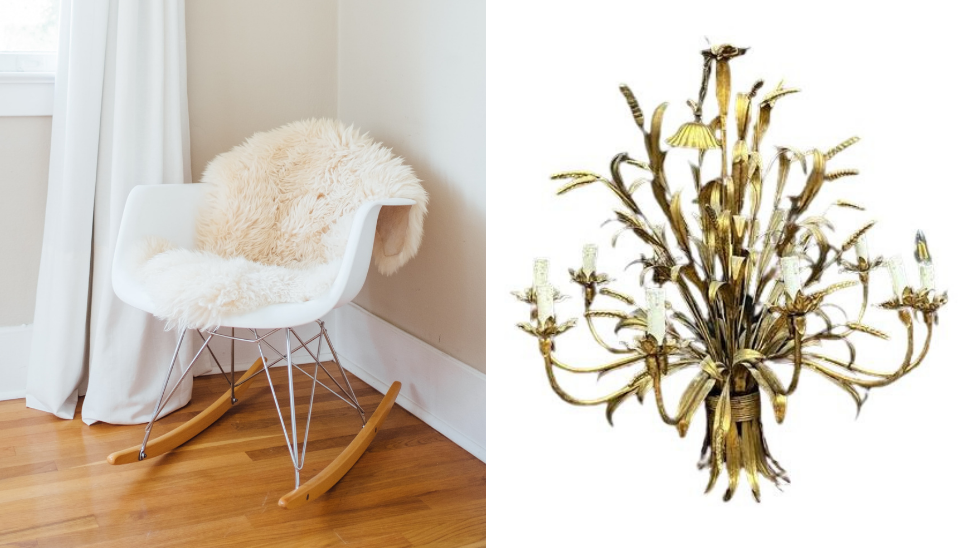 Clash maximalism and minimalism as with this bronze chandelier and Eames rocking chair.
Opulent gold and silver pieces include antiques, ornamental lamps, candlesticks, tea sets, crystal glasses and cutlery sets. Simple white decor, on the other hand, can include more modern pieces like design chairs, tables, contemporary sculptures, art, ceramic vases and plates. Balance can therefore be achieved by matching sumptuous stylings with minimalistic design furniture or vice-versa. And don't forget to mix old and new decorations for a contemporary aesthetic that pays homage to history.
Essential pieces
A particularly good example of opulence and warmth are ornamental lamps, like a gilt bronze chandelier, which is a staple antique decor piece. Grounding this eccentric look is the Eames rocking chair, a simple modern design piece that makes for space with an alpine feel. Likewise, when styling vintage golden or silver furniture, try a set of Louis XVI Style chairs and opt for a simple white Berber rug underneath them.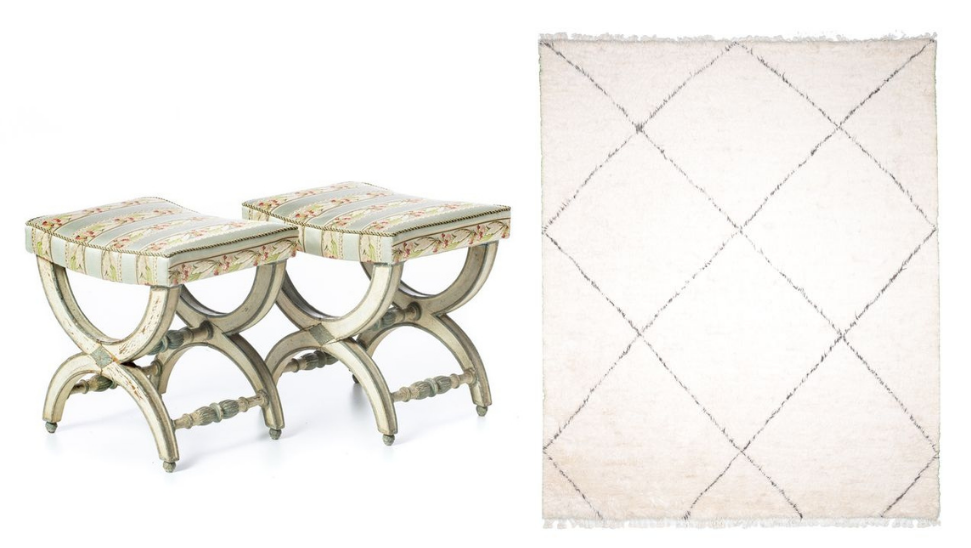 Ground glamour with comfort – like with a set of
Louis XVI Style stools and a simple white Berber rug placed underneath.
Ultimately though, any wintertime decor should be about making you happy, says Alexander. "Some might like glamour, some may prefer minimal design, and some love the wild mix. But it should always be about creating a bright, uplifting atmosphere that makes you smile".
____________________
Check out our latest Interiors & Decorations auctions for some inspiration, or register as a seller.
Discover more Interiors & Decorations | Antiques
You might also like:
How to style your home in Wunderkammer
How to style your home in Gothic Drama