Written by Tom | 4th March 2021


France's La Belle Epoque (to mean ''The Beautiful Epoch' from circa 1880-1914) saw a seismic shift in mentality towards joviality and optimism, and led to a renewed sense among the French that life was, in fact, good. While science, the arts and architecture reflect the most well-known changes in France, the role of women in society saw measures of advancement too, though not without its obstacles. Where women's magazines helped profile the independent women who captured traditional femininity, women in sport remained a near non-entity at the time, until three women—Hélène van Zuylen, Camille du Gast, and Anne de Rochechouart de Mortemart—debuted women's presence in motoring and changed the very face of sport. They were remarkable women with exceptional records – these are their stories.
Hélène van Zuylen
Hélène van Zuylen was an unconventional figure for her time. A baroness who was part of the French banking family Rothschild, she married into the Dutch noble family of Van Zuylen van Nievelt in 1887 and was disowned by her own family as a result – reportedly for marrying a Catholic. Interestingly, van Zuylen was actually queer, and later began a long-term relationship with British poet Renée Vivien in 1901, though they kept this under wraps for years.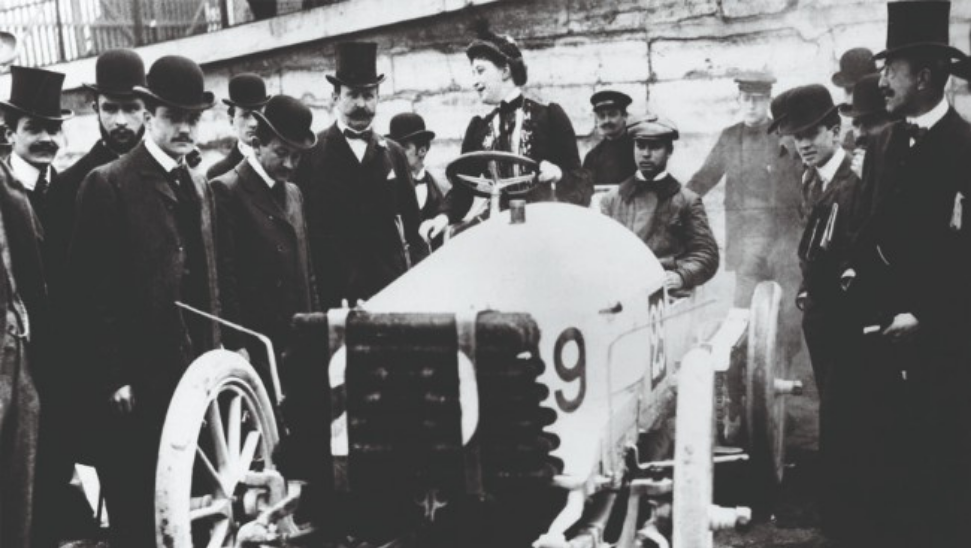 Female drivers were unheard of in turn-of-the-century France and Van Zuylen and du Gast (pictured) pioneered the way. Wikimedia Commons.
While a memorable figure in her own right, she's also remembered for being one of the three female motoring pioneers of the time. In 1898, she participated in the Paris-Amsterdam-Paris race using a pseudonym, 'Snail', mainly because of her husband's role as the president of the Automobile Club de France and his connections. Still, in taking part, she became the first woman in history to compete in an official international race. She would later compete in the Paris-Berlin race of 1901, alongside fellow race Camille du Gast, however, a technical error meant she never managed to complete the race.
Although the beneficiary of extraordinary wealth which put her at an advantage over women from less privileged backgrounds, Van Zuylen helped earmark a moment for women in sport and society. Like her other female motoring contemporaries, she dedicated herself to supporting women's rights throughout her life. Just over a decade before she died, she created the Renée Vivien Prize, honouring the poet she loved once upon a time that sought to help budding female poets begin their careers in poetry.
Camille du Gast
Adventurous, talented and rich, Camille du Gast was a notorious figure in French high society. While she found herself at the centre of scandal—one known as La Femme au Masque where she was accused of being a nude model in a painting by Henri Gervex—and a murder plot conspired by her daughter in order to inherit du Gast's fortune which she had inherited from her late husband, she was known mostly for being an exceptional sportswoman. She was a skier, tobogganist, parachutist, markswoman and equestrian, among other things. But her most lauded achievement lay in motoring.
Nicknamed by the press as la Walkyrie de la Mécanique (aka the valkyrie of the motor car), her daring nature behind the wheel helped pave the way for female drivers. Intrigued by the 1900 Gordon Bennett Cup that saw racers compete in a route from Paris to Lyon, she became one of the first women to obtain a driver's license a year later. Three years after that, she became the only female official of the Automobile Club de France.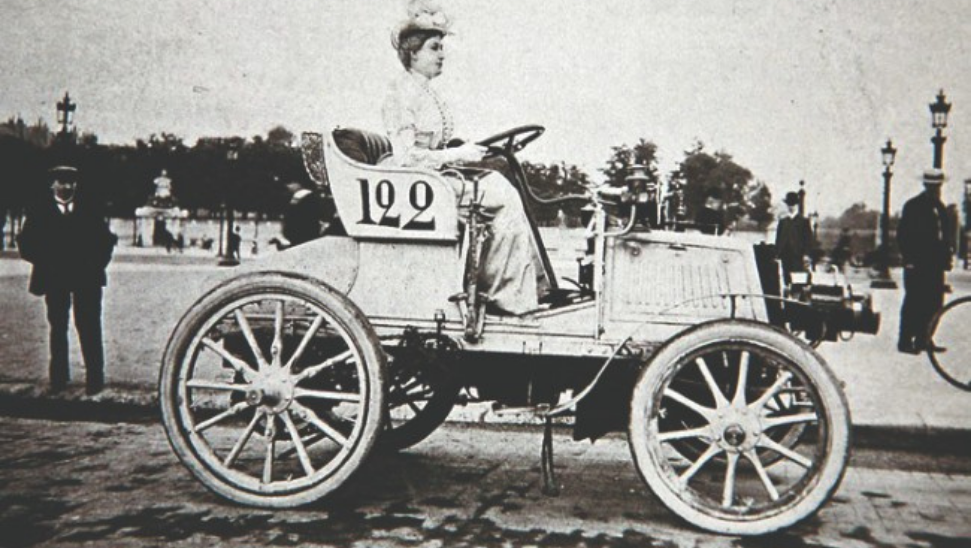 Camille du Gast. Wikimedia Commons.
She competed in a number of prominent races, namely the 1901 Paris-Berlin race where she finished 33rd after starting last (because she was a woman), becoming the second woman to participate in an international race after Van Zuylen. The 1903 Paris-Madrid race was also notable for du Gast, who saved a fellow driver's life after his car overturned in what came to be known as The Race of Death.
However, du Gast was not without her obstacles. Throughout her driving career, she regularly did battle with the chauvinism and machismo prevalent in motor sport. After her impressive and heroic run in the Paris-Madrid race, British auto magazine Autocar ran a review of the race and wrote "for ourselves we must confess to a feeling of doubt as to whether fierce long-distance racing is quite the thing for ladies". Incidentally, the French government concurred, banning women from auto racing in France. That didn't stop du Gast pursuing other sports and endeavours, who drifted to motor-boat racing and became an advocate for feminism and animal welfare for the remainder of her life.
Anne de Rochechouart de Mortemart
More than just a wealthy aristocrat, Anne de Rochechouart de Mortemart, otherwise known as the Duchess of Uzes, was a pioneering feminist, sculptor, author and driver. Born into the Veuve Clicquot fortune, the Duchess was known for her philanthropy and prolific recreational pursuits, which her wealth largely enabled. One of them was driving.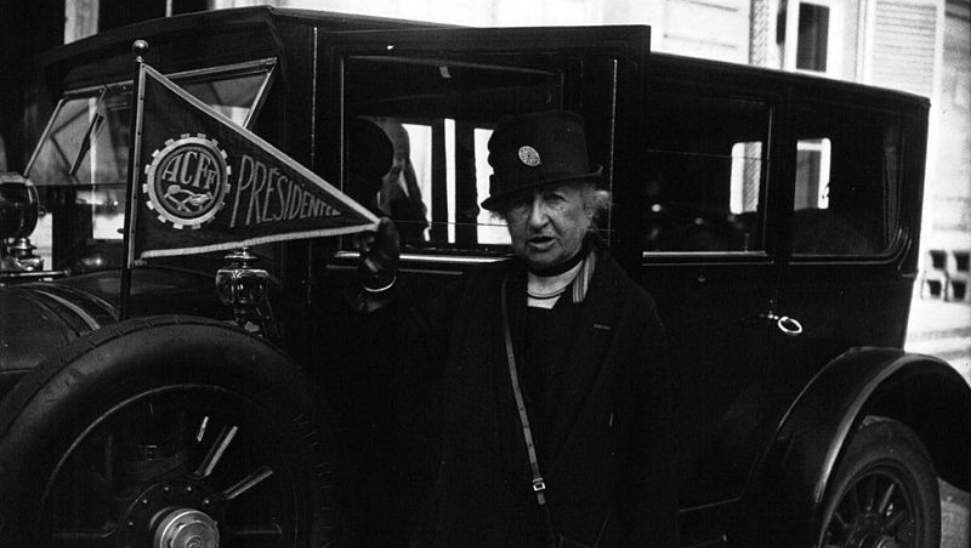 The Duchess as the President of l'Automobile Club féminin in 1927. Wikimedia Commons.
Before Van Zuylen competed in the 1898 Paris-Amsterdam-Paris race, it was de Rochechouart de Mortemart who made the first motoring-related move, securing her driving license. In doing so, she became the first French woman to receive one. A year later, she had the less than enviable record for being the first woman to receive a speeding ticket too – a result of a memorable outing in Paris' Bois de Boulogne.
While the Duchess didn't compete on an international level like the rest of her female cohort, she nonetheless provided a breakthrough on the road and beyond, described by one writer as "a sportswoman, an author, an artist, a sculptor, a chauffeuse, a ministering angel to the poor, a grande mondaine, and an industrious mother".
____________________
Check out our latest classic car auction or register as a seller with Catawiki.
Discover more Classic Cars | Motorcycles
You might also like:

The story of the woman who invented the road trip

The forgotten tales of the female samurai

How women are changing the gemstones industry