Written by Tom | 31st March 2021
An aviation company that branched out into motorcycle manufacturing, MV Agusta had already proven there were few limits when it came to innovation. Since its inception in 1945, MV Agusta has produced legions of attractive motorcycles winning over motorists worldwide, while also earning an unmatched Championship record. It's a brand with a glittering history and an appeal that still lasts today, as motorcycle experts John Searle and Davide Marelli explain.
Motorcycle manufacturers have long held the capacity to evoke a level of adoration from their buyers leaving other industries desperate to replicate the same effect. Harley-Davidson has managed to inspire a cult-like following, while Moto Guzzi has captured the hearts of motorcyclists with the brand's soulful approach to creating. For MV Agusta, it's no different; a brand that has straddled the line between aesthetic desirability and performance capability.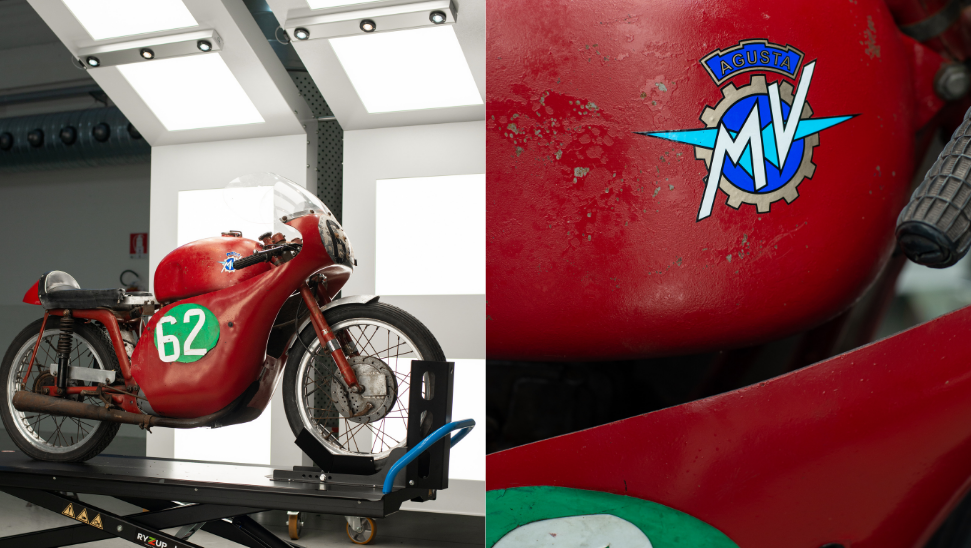 This MV was sold in 1958 by Stanley Hailwood, the father of Mike 'The Bike' Hailwood, to
British racing driver Chris Newport.
"MV Agusta (Meccanica Verghera) is known for its sporting success in motorcycle world championships", says Davide. "But it was also an innovative manufacturer. They developed the 4 cylinder-in-line concept to great success, becoming one of the first manufacturers to apply this type of engine to a racing bike". It was a moment of ingenuity, but not the last; proof of a creative bent that can be traced back to MV Agusta's founding fathers.
The early years
MV Agusta was the brainchild of Count Domenico Agusta, an Italian businessman who took the helm of the Agusta aeronautical company in 1927, after his father's passing the same year. During the wartime years, Agusta continued to produce aircrafts for the Italian war efforts, however, Italy's losses and the ensuing ban on aircraft production left the company in a quandary and asking themselves what next?
In a bid to stay relevant and functioning, Count Domenico pivoted the company's product offering to affordable transport. And that meant motorcycles.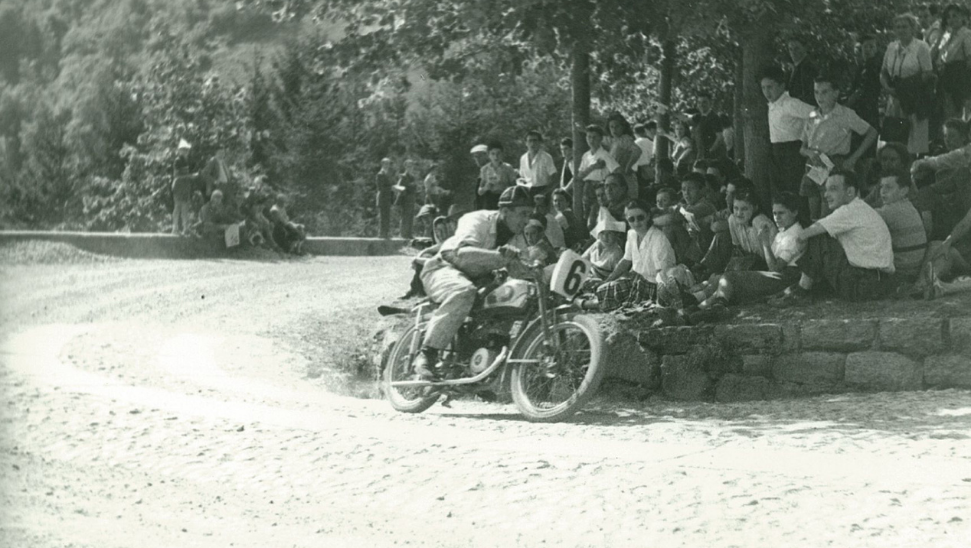 The MV Agusta 98 Corsa – 1946. Wikimedia Commons.
The company created their motorcycle arm, known as MV Agusta, and began working on a simple 98cc, 2-stroke engine for a light motorcycle. Count Domenico was taken with the name 'Vespa' ('wasp' in English), however, fellow motorcycle manufacturer
Piaggio was working on their own, rather well-known Vespa
at the time. MV Agusta's bike was dubbed the 'MV 98' instead and launched in 1945 to a rapturous reception; the first bike to be stamped with what would later be the easily recognisable winged logo of MV Agusta – a subtle nod to the company's roots and history.
Racing success
Catalysed by Domenico and his brother's passion for racing, it wasn't long before MV Agusta launched its racing contingent. One of the first racing bikes was an offshoot of the MV 98. However, it was the MV 98's other variations, the 125cc and 250cc bikes, that would enable the company to lay the groundwork for real racing success.
In 1952, British racer Cecil Sandford won the Isle of Man TT on an MV 125 making it MV Agusta's first world championship win. Later that year, Leslie Graham took MV Agusta to new heights when he won MV first 500cc Grand Prix in Monza, Italy. In beating fellow racer Umberto Masetti, he allegedly enraged Masetti's motorcycle team, Gilera, who had protested against MV Agusta's engine eligibility.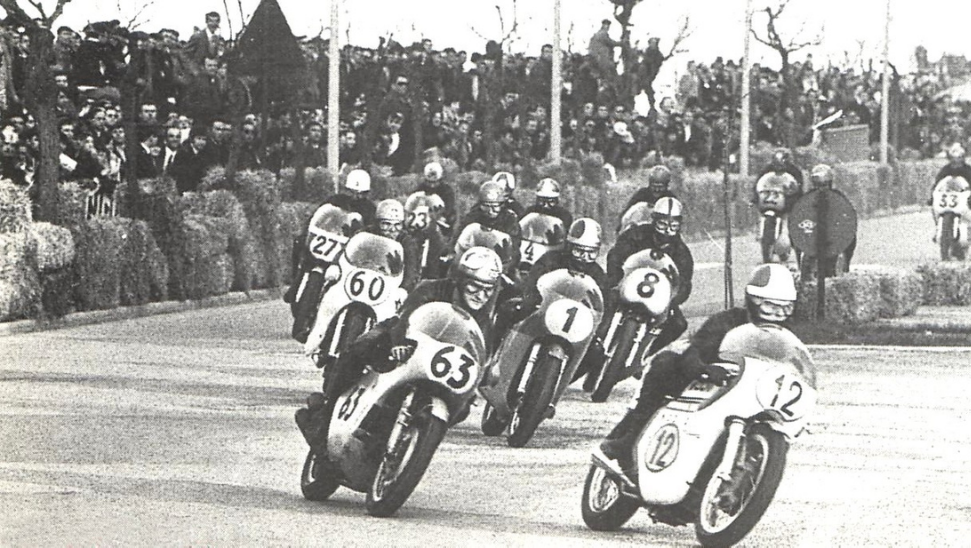 Agostini (1) and Hailwood (63) in the 1969 500 cc race at Riccione. Wikimedia Commons.
"MV won 75 world titles – 38 rider & 37 manufacturer wins", says Davide. "That makes MV Agusta the most successful European racing brand ever. In fact, Giacomo Agostini, a 15 time World Champion, is the most successful rider of all time, winning 13 world championships on an MV Agusta."
Enviable engines
The late 1950s to the late 1960s were the glory days, but the next few decades saw MV Agusta having to innovate once more. In response to changing consumer demands and preferences that shifted away from motorcycles to cars and safer modes of transport, MV Agusta continued to launch models that would continue to entice motorists. Some were particularly noteworthy, says John.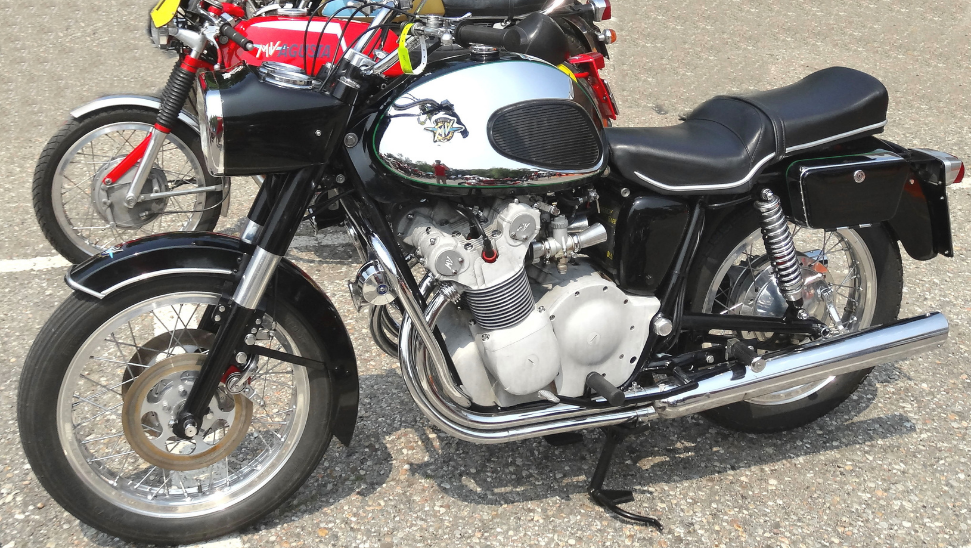 The MV Agusta 600. Wikimedia Commons.
"Some of MV Agusta's most notable creations happened in this period, including the GP 4-cylinder from 1962, which gave Mike Hailwood his first 500cc world title, and the GP 3-cylinder from 1966 which gave Giacomo Agostini his first 500cc world title".
MV Agusta also made major technical innovations. "The MV Agusta 600, debuted in 1965, was the first modern super bike to be fitted with a 4-cylinder engine, so that's special. For all of its much-maligned design, it's now one of the most sought-after bikes by collectors. Equally, MV Agusta's 6-cylinder 350 cc bike managed to challenge the Honda 6C RC174 and Yamaha twin 2-stroke by making use of its 6 cylinder approach".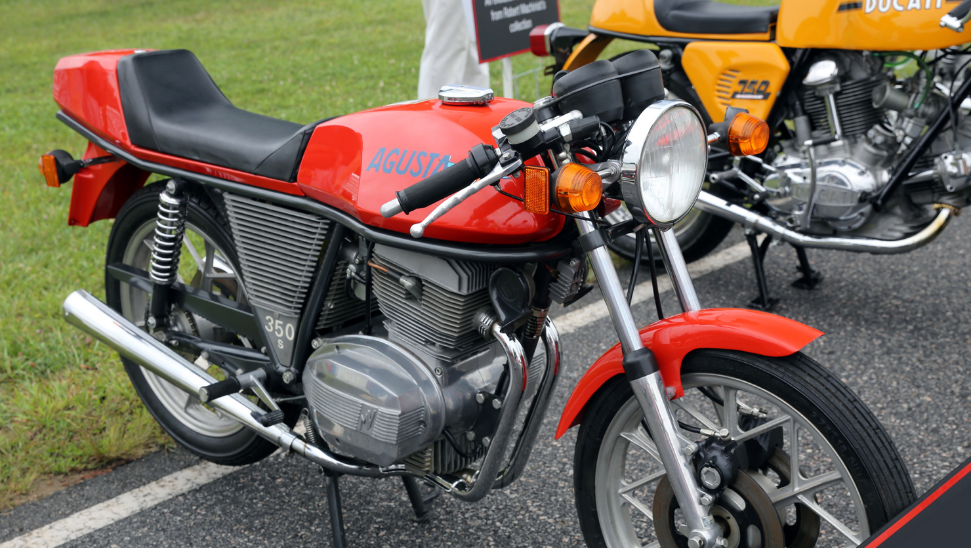 The MV Agusta 350 S. Wikimedia Commons.
Breakthroughs happened on the design side too, even after the death of Count Domenico in 1971. While the MV Agusta 350 Ipotesi never took off with consumers from a purchasing standpoint, its design did resonate with fellow manufacturers. Where most bikes lent on rounded and elliptic shapes, the 350 S was straight-lined and sharp-edged. Designed by the influential Giorgetto Giugiaro, the bike would influence future designs across the industry for years to come.
However, economic hardship followed—even with the racetrack success and innovation—which saw MV Agusta ending its motorcycling manufacturing and closing its doors.
A collector's favourite
MV Agusta was eventually revived in the early 90s by the Castiglioni group, but its ownership has continued to change hands over the years, with Harley-Davidson even having a stint as temporary owners. Irrespective of the administrative changes however, the bikes, especially those from MV Agusta's heyday, remain much-loved and sought-after by many, including those within the company itself.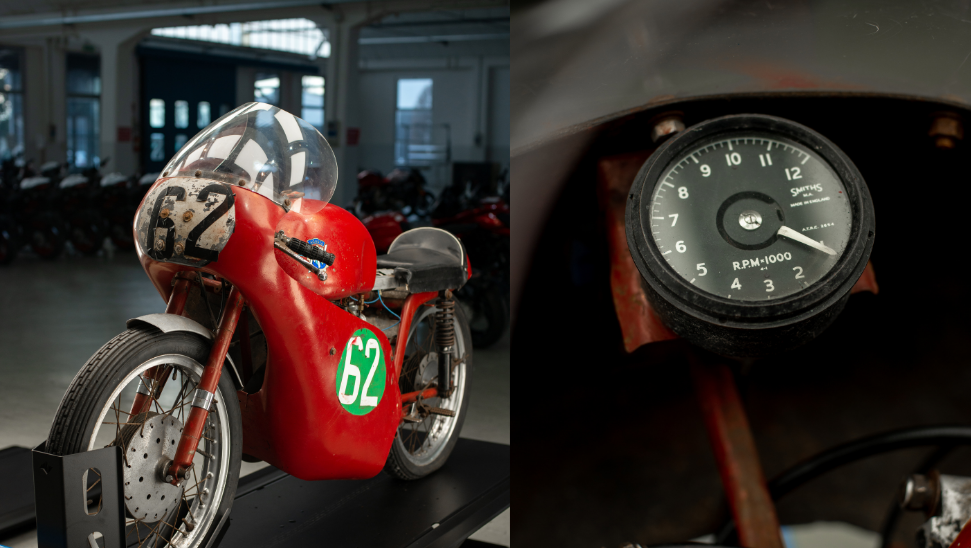 The MV Agusta CSS Racing 204 cc - 1954
"We had a bike recently which is an excellent example of this", says John. "This MV Agusta racing motorcycle was originally sold in 1954 by Stan Hailwood, the father of famous multiple-world champion racer Mike "The Bike" Hailwood. The MV ended up in a Dutch collection, where it was offered by a motorcycle collector on Catawiki.
"The winner of the bike turned out to be the MV Agusta company itself, who loved its history and wanted to add the MV to their museum! The MV Agusta factory invited the Dutch seller for a visit and he personally delivered the racer to the Italian museum, where it now sits as a reminder of the early bikes that set a legendary brand in motion".
____________________
Join the MV-Agusta club and check out our motorcycle auctions or register as a seller with Catawiki.
Discover more Classic Motorcycles & Scooters | Automobilia & Motobilia
You might also like:
How Harley-Davidson inspired a cult following
What makes the Harley-Davidson motorcycle so special?
Fashion's favorite fetish: the evolution of leather