Written by Tom | 7th May 2021
For over 100 years, stamps have been part and parcel of the world's communications. While the primary function of stamps has been as a marker of postage payment, the study and the collection of stamps – known as philately – has uncovered some of stamps' lesser-known stories. One of those unsung tales is the humanitarian history of stamps and their role in supporting charitable causes. In fact, these stamps – known primarily as semi-postal stamps – have been there for us throughout disasters and conflict, raising money and rallying support when we've needed it most. Atanasio Soriano, from our philately team, reveals the many occasions where stamps have helped to save the world.
Compared to the many valorised people throughout history, the role of the mail doesn't seem obviously heroic. However, letters, and the stamps that have given motion to them, have played a quiet but essential role in some of history's remarkable moments.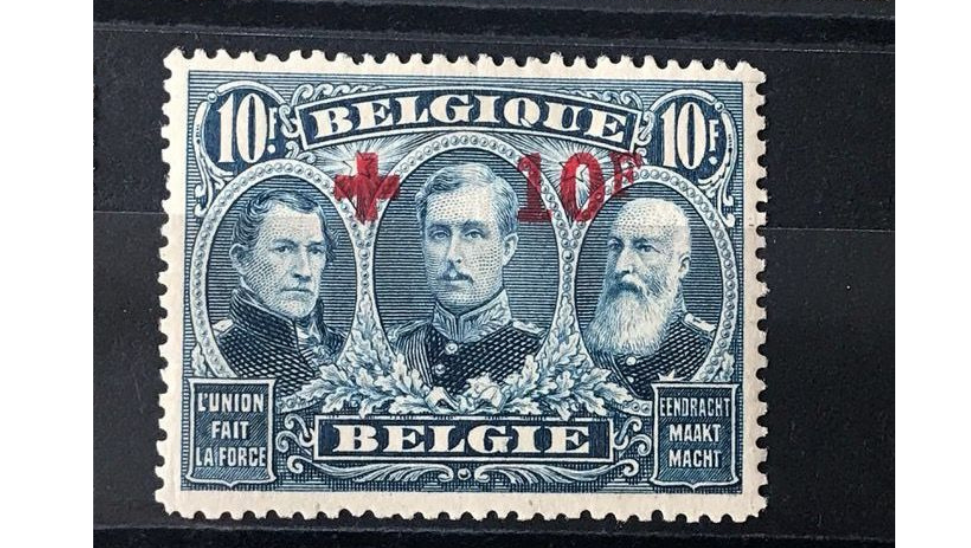 A 1915 set of stamps from Belgium depicting King Albert I which were overprinted for the benefit of the Red Cross later in 1918.
"From the discovery of America to recent worldwide political elections, the postal service – and since 1840, stamps – has been the mouthpiece for modern human evolution", says Atanasio. "Mail has been transported on foot, by car, carriage, plane, rocket, balloon, helicopter, zeppelin, space shuttle and even via donkeys. No matter the means it took, no government or individual has been able to stop the spread of news, hope and support that the mail represents".
Semi-postal and charity stamps
The potency of letters is evident, yet stamps in particular have proved to play a significant role in world events too. More than just a means to send a letter and a pretty accessory, they've been crucial in rallying support and raising awareness around devastating humanitarian conflicts, pandemics and natural disasters.
Philately has dedicated time to unpacking this phenomenon of semi-postal stamps and charity stamps. Semi-postal stamps are special issued stamps that are marked up slightly, so that a portion of their price point can be used to raise money for charitable causes. Charity stamps meanwhile, put the entirety of the money collected towards charity.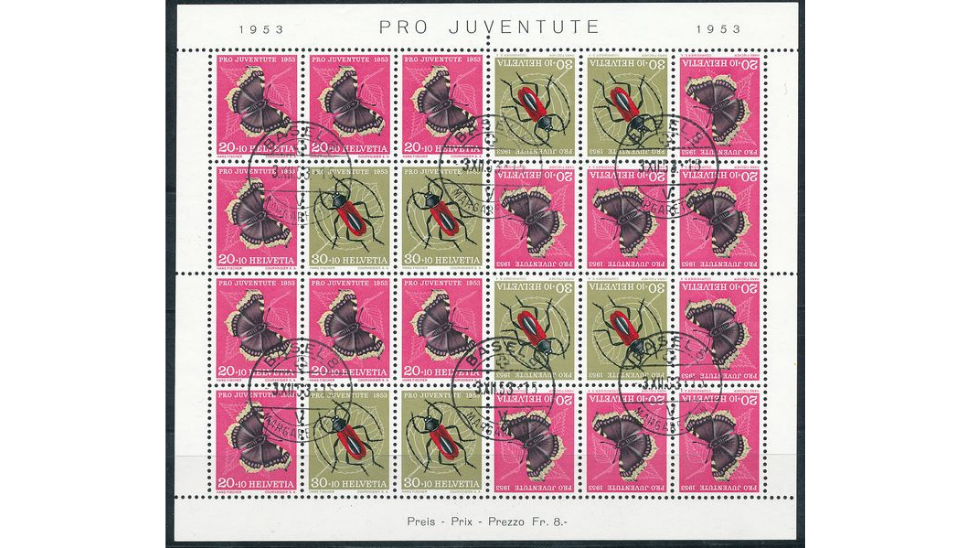 Surtaxed semi-postal Swiss stamps for the Pro Juventute Foundation (supporting Swiss youth) have been issued in December of almost every year since 1912.
"Stamps are small pieces of art as well as miniature time capsules. There isn't a historical event or relevant individual you can imagine that has not been the inspiration for a stamp sometime somewhere in the last 180 years. And that includes crises and disasters too".
Wartime conflict
While the first semi-postal stamps were released in 1890 to commemorate the reform of the UK's postal service – and in turn fund the postal service and its workers – one of the earliest examples of stamps' humanitarian bent happened during WWI.
During The Great War, around 200,000 children lost their fathers or parents in France, with a much larger total across the rest of the world. In light of this unprecedented loss, the French postal service led a response to raise money for the many children orphaned in the war.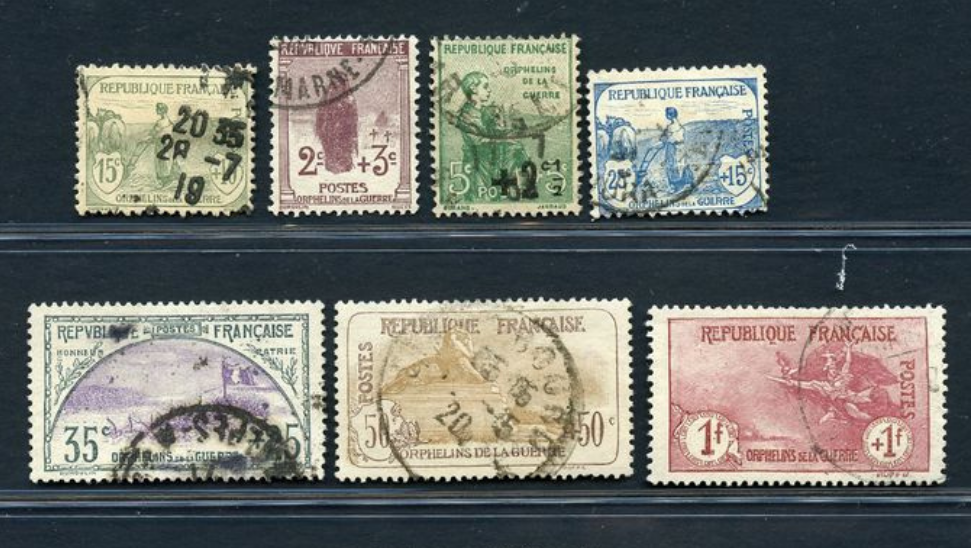 The Orphans of War set of stamps from 1917/1918
"Some of the most affected social groups are children, who became the focus of many stamps sets after the first World War; a war which orphaned around six million children", says Atanasio. "During 1917 and 1918, the French Postal Service issued a set of eight stamps to raise funds for children orphaned because of World War. The funds collected led to many orphanages being built up and allowed for teachers, keepers, cooks, nurses and doctors to be hired in order to give these children a second chance".
The French postal service's stamps weren't necessarily the first example of wartime stamps being issued, but they helped set a precedent of the kind of impact and success such endeavours could achieve. "Helping war victims has probably been the main focus of semi-postal stamps worldwide. The Orphans of War set of stamps are an iconic example and sought-after by collectors as a result; both for their design and rarity".
Natural disasters
Beyond wartime, stamps have supported local communities in times of natural disasters too. "Especially after a natural disaster has happened, cities and regions have been the focus of stamp issues", says Atanasio. "It's been a way to raise awareness quickly and ensure that situations are being funnelled the support they need".
One example was the 1957 Valencia flood. "A terrible flooding took place in Valencia, Spain, on 14th October 1957. It resulted in the death of at least 81 people and caused severe damage all throughout the region. So between 1963 and 1985, up to 11 stamps were issued by the Spanish postal service to fund the creation of a newer and safer way for the Turia River to be routed and avoid similar flooding in the future".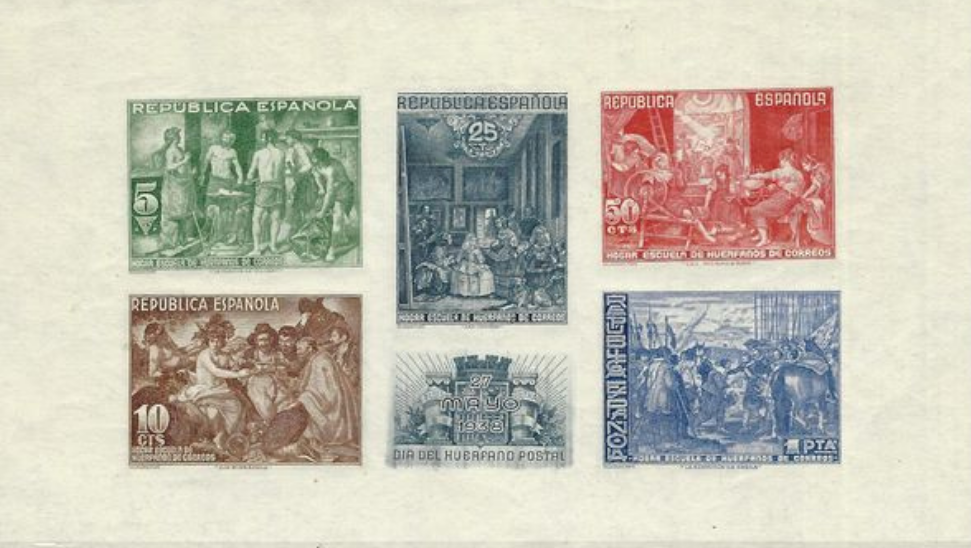 This rare block of 1939 Spanish charity stamps is one of the most sought-after sets in Spanish philately
Nowadays, postal services have adopted this as a regular tactic to help fight natural disasters. More recently, the Australia Post released its Disaster Relief series in 2020; a range of five stamps adorned with images of kangaroos, volunteers and trees, to help support communities and habitats ravaged by bushfires that have plagued the country.
Pandemics and illnesses
Perhaps most pertinent is stamps' support in the wake of health crises. Arguably the most successful charity stamp campaign is the Breast Cancer research stamp in the United States released in 1997, which is attributed to heralding in a more conscientious consumer culture. In Europe, however, countries have employed stamps in the face of some of the 20th and 21st century's deadliest illnesses, including tuberculosis and more recently, covid-19.
"In the context of the pandemic situation the whole planet is living in at this moment, it is impossible not to refer to the many stamp issues that seek to benefit people suffering from worldwide spread illnesses", says Atanasio.
"Among the diseases that have been the central motive of stamps, the pro-tuberculosis stamps are possibly the most influential. Tuberculosis was a prominent topic in the early 20th century, with most national post services releasing some form of charity stamp to aid the fight against it. With the Lorraine Cross as their distinctive symbol, these stamps are internationally represented and have been able to collect funds to build hospitals and sanatoriums across the world; both for those recovering from tuberculosis as well as for the research on this disease".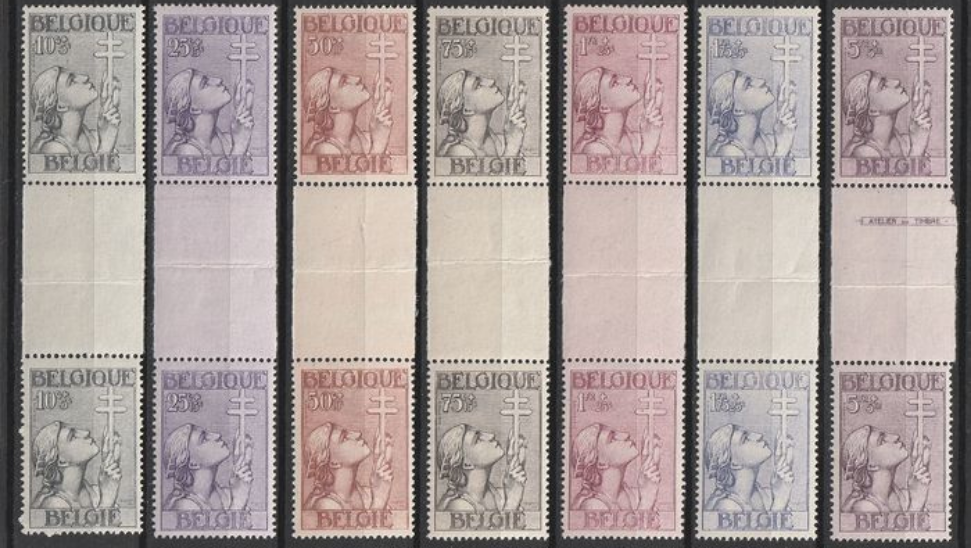 These stamps were released in 1933 to raise funds in the fight against tuberculosis in Belgium

Stamps are remarkable in their resilience and ability to endure. Today, they're still as widely used, helping raise money for the COVID Solidarity Response Fund in the global fight against covid-19. "Stamps have survived wars, diseases and natural disasters", says Atanasio. "Letters have been disinfected, inspected, censored and even detained for a long time, but decades afterwards, the mail endures".
Philately has revealed what stamps and letters can teach us about the past, and the resilience they embody is a quiet reminder that whatever happens next, we'll make it through.
____________________
Explore a range of historical stamps in our weekly stamp auctions. Or register as a seller.
Discover more Stamps | International Stamps
You might also like:

A history of philately in three stamp forgers


How to spot a fake stamp listing


How to determine the value of your stamps