Written by Tom | 2nd July 2021
Design has undergone a massive evolution in the past century. It's given the world staple movements such as Bauhaus and mid-century modern, while continuing to redefine its role in the world as something purely functional and decorative. For now, contemporary design is the term used to describe the style of the present. It's a broad-sweep label for a movement that isn't easily defined, but it's that same fluidity which makes it interesting. We asked two Dutch designers – Thier & van Daalen and Simone Post – to talk to us about the focus of contemporary design nowadays, their work and what's next for the design scene.
Why were you first drawn to design?
Simone Post: I studied at the Design Academy Eindhoven as a product designer. But design is so intertwined with who I am as a person that it feels like this has always been who I am, before I started working as a designer. It's just the thing I love to do and have always been doing instinctively. It's the sort of curiosity, questioning the things around you and the urge to create something. A bit like what children naturally have, which I feel has never disappeared with me.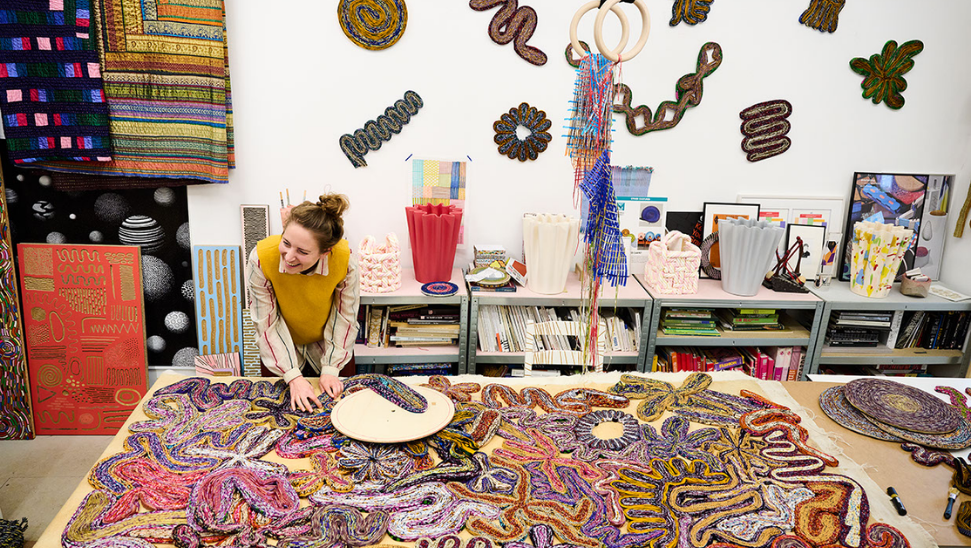 For Simone, design has always been a reflection of who she is
Thier & van Daalen: A lot of our fascination and urge to discover can be traced back to our motto: "Don't take the world for granted". By consciously dealing with the source of our design and its surroundings, we want to prove design can start a conversation around consumerism, while being sourced responsibly and made to last.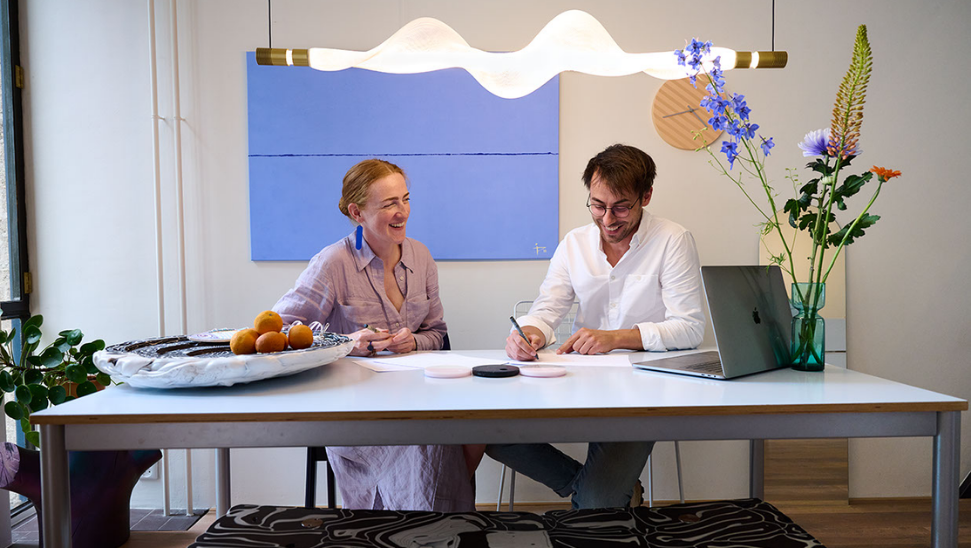 "We want to prove design can start a conversation around consumerism", says Thier & van Daalen
So much of contemporary design deals with the question of 'sustainability' – to mean the mindful and conscious use of materials. Is this important in your work?
Simone Post: I'll be honest I don't like the word 'sustainability' much anymore. It's a word often used for good when the actions are really for no good. I'd rather talk about my work as trying to be responsible and bespoke. And for me the starting point is always this responsibility, there's really no other way to start. I often start with a material that otherwise would have been thrown away and therefore I feel a certain type of responsibility. It's a material where I still see lots of potential in, and this is just an intuitive feeling. And I do prefer to work with materials that are thrown away on a large scale. In that sense I want to show where there are gaps and potentials in the systems.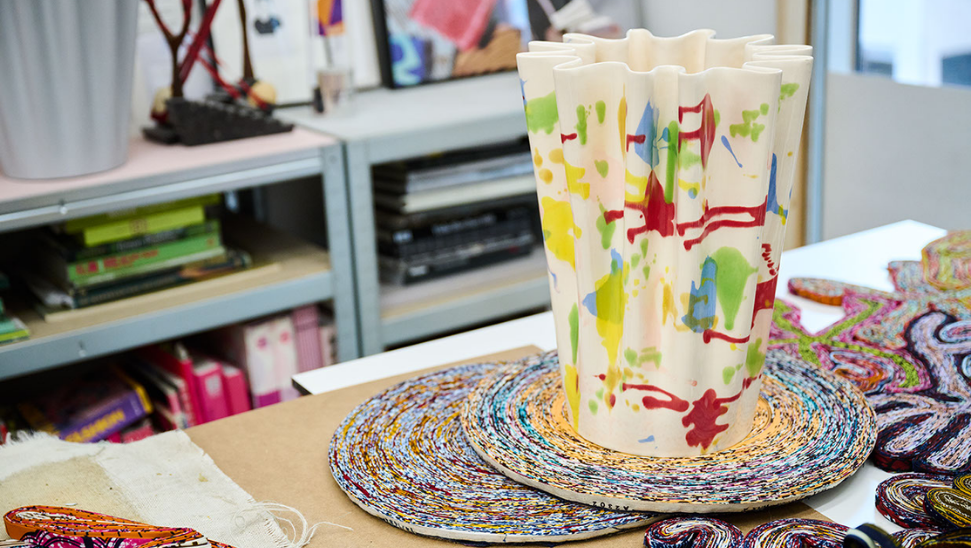 In Simone's designs, the starting point is always a discarded material – the first step in designing responsibly
Thier & van Daalen: We believe that as designers, it's our responsibility to take care of a better world and future. In addition to the fact that design must first and foremost be aesthetic and functional, it is also important that it has added value and does not cause too much harm to the environment. This can be done by producing locally, consciously choosing a (waste) material and a production technique etc.
What do you try to communicate in your design?

Simone Post: The more I learn about products, production and industries, the more questions and concerns arise. In my designs, whether they are one-off pieces or a series, I try to question the relationship we have with products and nature around us. Within my objects I try to raise questions, make the observer think about this relationship. But I also try to give suggestions and ideas on other ways we can deal with making, production, labour, waste and re-use.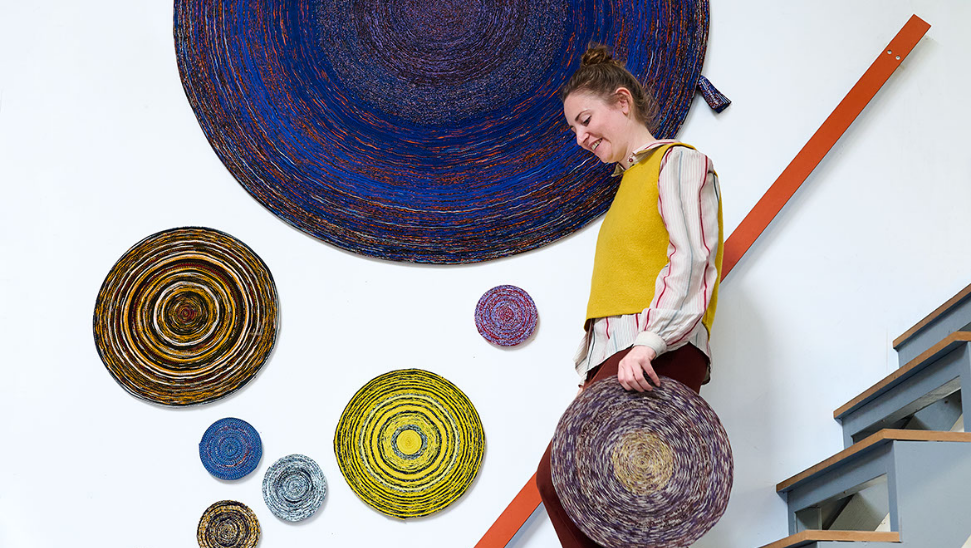 "I try to question the relationship we have with products and nature around us", says Simone
Thier & van Daalen: One of the most important objectives of projects we've worked on, like 'The Plastic Mine', is about making visible that there continues to be a lot of waste and overproduction involved in the production of new products. Since we live in a time of mass consumption, with a short lifespan of products, consumers are accustomed to buying new products over and over again. Consumers have more and more knowledge of the impact on the environment with the current way of producing and consuming. Therefore they adopt a critical attitude, in order to be able to make a difference together.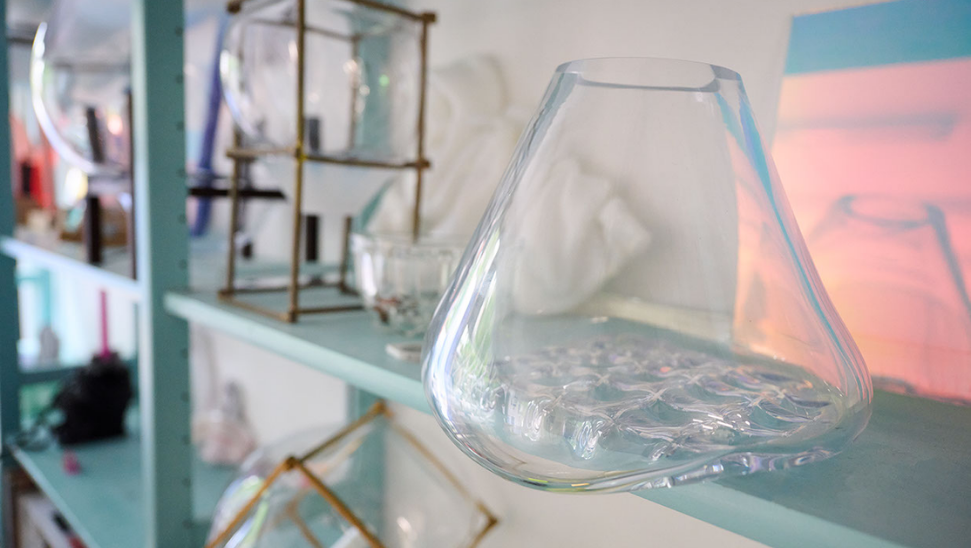 Thier & van Daalen's mission is about showing the value and lifespan of even the most unlikely and forgotten products
What do you love about the process of designing in the here-and-now?
Simone Post: I love the making process and I don't see the need for putting out thousands of new chairs or any type of products unless they are doing something truly good. I'd rather experiment, try things out and question myself in what I am doing. A day in my studio involves lots of making. Cutting waste textiles and making new things out of that, uplifting old furniture. Doing new material tests, drawing etc.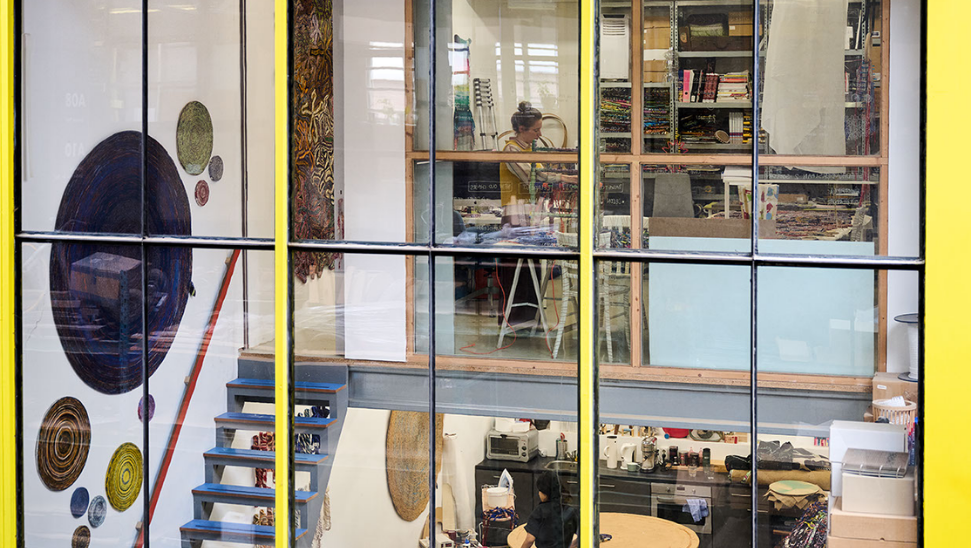 Simone at work in her studio

Thier & van Daalen:
Working together with 'forces of nature' is a challenge the studio likes to work with. Plying, twisting and expanding different forces, it's about guiding shapes into new forms and products. Our 'Plastic Mine' piece is a good example of our process. We were fascinated by the unique shapes and beautiful bright colours of neglected lumps, found at a plastic processing factory. We selected the most striking shapes and colours, while at the same time observing as a sculptor what we can make out of it. It's about looking at the unexpected, asking what you can make out of supposed nothing.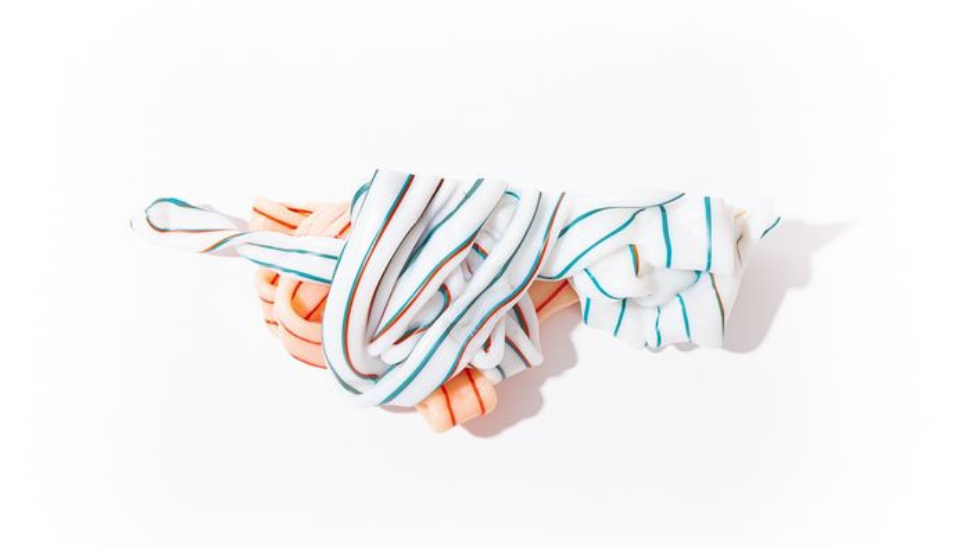 The Plastic Mine - colourful shelves by Thier & van Daalen
We also want to minimise any possible negative effect for the environment when we create. In this case, we put as little as possible energy into the lumps, when transforming them into new products. It's always an experiment. These lumps, we discovered, can be turned into unique shelves, candle holders, mirrors, bookends and side tables.

What kind of design and approaches do you see as the future of design?
Simone Post: I see small productions become more and more valuable again. As a counterpart of the cheap mass industry. I think within small ateliers it is very important to give answers to think about these bigger questions. This can show the way and be set as an example for a new future. I hope this will teach more and more people about the true cost of making something in terms of labour, pollution, transport, materials and waste. And people will treasure their products more.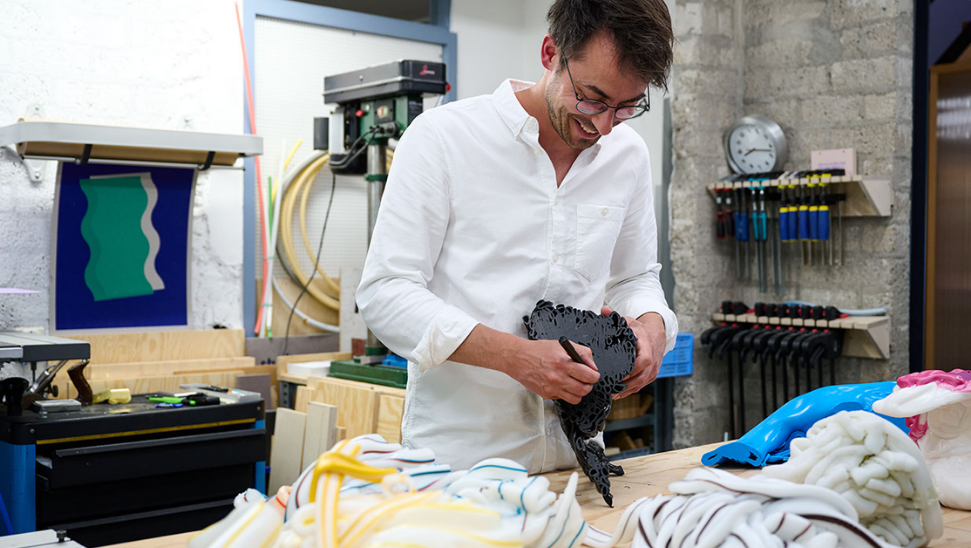 The future of design is reuse, according to Thier & van Daalen
Thier & van Daalen: Projects that centre on reuse. This idea that you can create items that last, even from the waste that mass consumption creates. Pieces that bring consciousness to the consumer and producing industry. And that waste can be beautiful when treated right.
____________________
Explore our Design auctions, home to a range of pieces from the 21st century. Or register as a seller.
Discover more Design & Vintage
You might also like:

Breakout trends from the contemporary design world


A history of 20th century design in iconic decor
The girl with 1000 faces: the story of Fornasetti