Written by Faith Lee | Published on 9th September 2021
Artists, filmmakers, sculptors, and more — many great artists have taken images and ideas directly from Dante's masterpiece, the Divine Comedy. This September marks 700 years since Dante Alighieri's death. In memory of Dante and his contribution to Italian culture, Catawiki will organise several auctions with material related to Dante. Read on to discover some of the many and varied works of art that have drawn inspiration from the great Italian poet.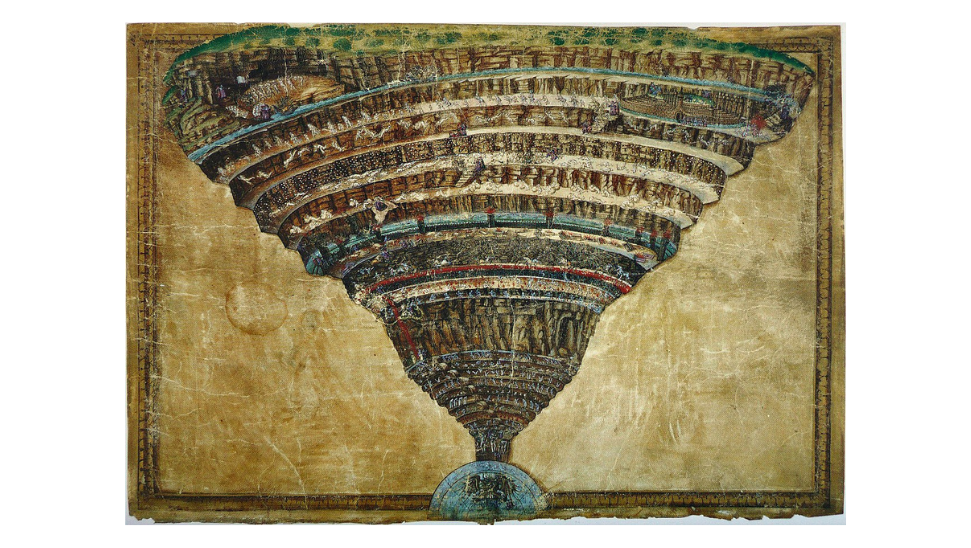 Map of Hell, by Sandro Botticelli, c. 1480 - 1495, via University of Aix-Marseille

Dante Alighieri was an Italian poet, writer and philosopher. His poem La Divina Commedia, representing the medieval world-view as it had developed in the Western Church, is considered to be one of the greatest works of world literature, which helped establish the Tuscan language as the standardised Italian language.
Dante's Inspirations
From the opening cantos of the Inferno, it's clear that Dante himself had a wealth of literary role models and Dante acknowledged the influence that these poets had on his life and career. Dante filled his Divine Comedy to the brim with allusions to other texts and scholars have even begun to reconstruct his library.
In the Divine Comedy, Dante's childhood love, Beatrice, sends the Roman poet Virgil to guide Dante through hell. In Limbo, Dante meets the renowned Classical poets: Homer, Ovid, Lucan, and Horace. These four poets embrace Dante and Virgil into their circle, and invite Dante to "join their ranks" (Inf. 4.100-2). For Dante, there would have been no greater honour.
Botticelli's Drawings of Dante's Divine Comedy
Sandro Botticelli, a Renaissance painter, and fellow Florentine native, like Dante, garnered renown for the joy conveyed in his paintings. His best-known works, Primavera and The Birth of Venus are whimsical and inviting. While his most celebrated works depict Christian and Roman imagery, the Medici family would offer Botticelli a more unusual muse. Lorenzo di Pierfrancesco de' Medici commissioned Botticelli to depict scenes for all 100 cantos in the La Divina Commedia. Botticelli himself clearly revered Dante, as he chose to depict him wearing laurel leaves. This custom dates back to antiquity and is meant to celebrate victory.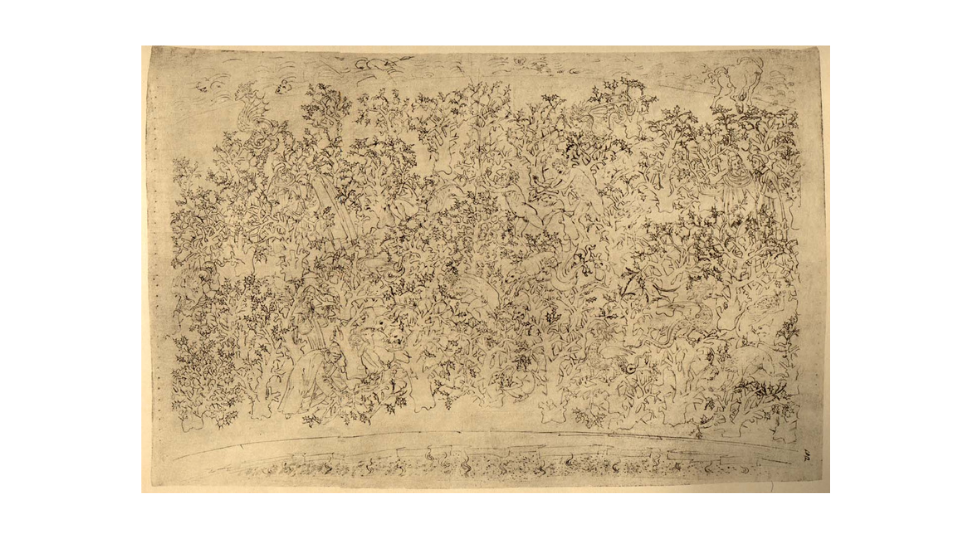 The Forest of the Suicides, by Botticelli, c. 1480-1495, via University of Aix-Marseille

The image above is Botticelli's rendering of Dante's Forest of the Suicides. Dante's description of this part of hell conveys confusion and fear. Dante writes:
"From every side I heard the sound of cries,
but I could not see any source for them,
so that, in my bewilderment, I stopped." (Inferno, 13.22-4)
To me, this piece has successfully recreated the same emotion evoked by Dante. When viewing this drawing we must also pause and scrutinise the dense woods, to search for where the souls end and the trees begin. Botticelli's drawings were never officially finished, but they still provide us with a clear sense of how Dante's works had already begun to fascinate the world.
Delacroix's Debut Painting
This painting marks Delacroix's debut. The painting shows Dante and Virgil's voyage down the River Styx, and it would be the first work presented by Delacroix at a salon. Dante and Virgil press onwards while sinning souls clamber onto their vessel. All at the salon would have been able to recognise Delacroix's potential as a great painter. In this work, we can also see a resemblance to one of Delacroix's most celebrated works: Liberty Leading the People. In both paintings, the focal point depicts triumphant bodies standing steadfast amidst the chaos. Both works convey a sense of defiance against overwhelming odds, which is perhaps the most enduring human trait. As a fun thought experiment, we may even imagine ourselves in Delacroix's shoes. As the July Rebellion gripped Paris, Delacroix drew inspiration from Dante to express support and admiration for the protestors.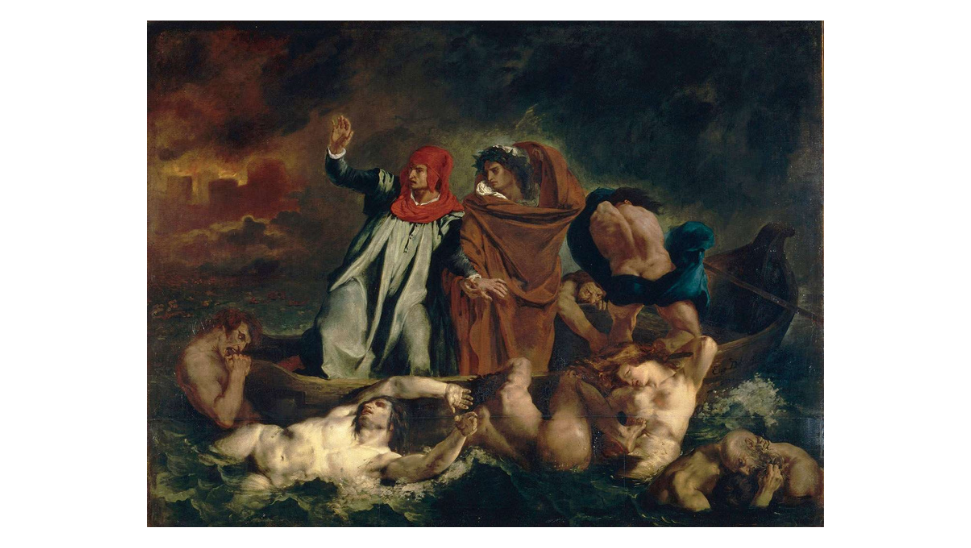 Dante and Virgile, also called La barque de Dante (The Barque of Dante), by Eugène Delacroix, 1822, via the Louvre

William-Adolphe Bouguereau's Savage Scene
This painting was completed by Bouguereau early in his career, when he was about 25 years old. As a young artist, Bouguereau set his sights on winning the prestigious Prix de Rome, a scholarship that funded French artists' studies in Rome.
Dante et Virgile would be Bouguereau's third attempt to secure the prize. He drew inspiration from Dante's Eighth Circle of Hell, where fraud is punished. In the foreground, Gianni Schicchi, guilty of stealing a dead man's identity, bites down on the neck of the heretic Capocchio. Dante and Virgil gasp in horror, while demons express their delight.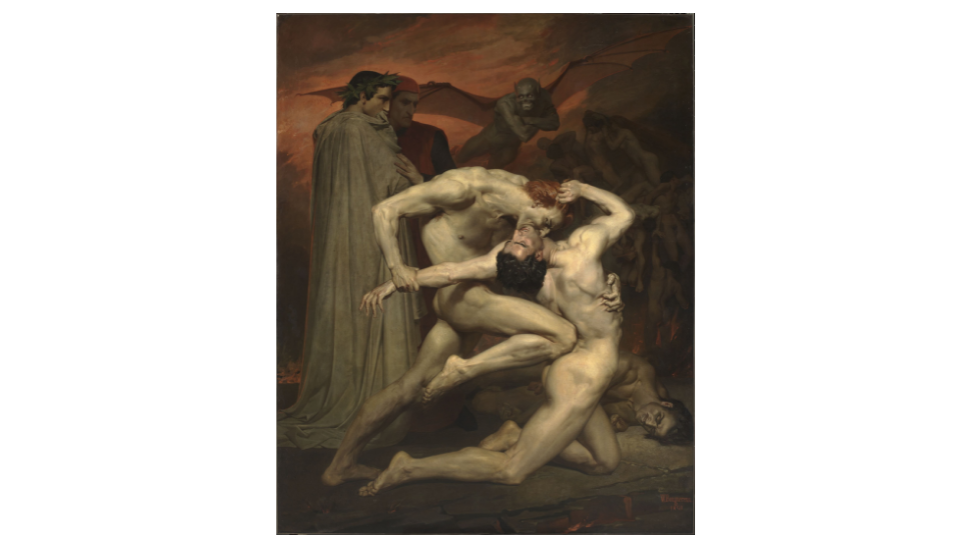 Dante et Virgile (Dante and Virgil), by William-Adolphe Bouguereau, 1850, via Musée d'Orsay

The painting was celebrated for the sheer strength evoked by the artistry, as these damned souls continue their centuries-long battle in hell. We immediately understand that hell is a ruthless place of ceaseless torment. However engrossing, this painting would prove unsuccessful in Bouguereau's bid for the Prix de Rome.
Rodin's Sculptures
The doors, cast in bronze, were one of Auguste Rodin's lifelong projects. Rodin's most recognised sculpture, The Thinker, was first conceived as part of these doors. The Gates of Hell was originally going to depict scenes from the 33 cantos of Dante's Inferno. We can see the smaller version of The Thinker perched above this doorway, pondering the chaos and mayhem below. The Thinker was intended to be Dante himself, reflecting on his experiences in the afterlife.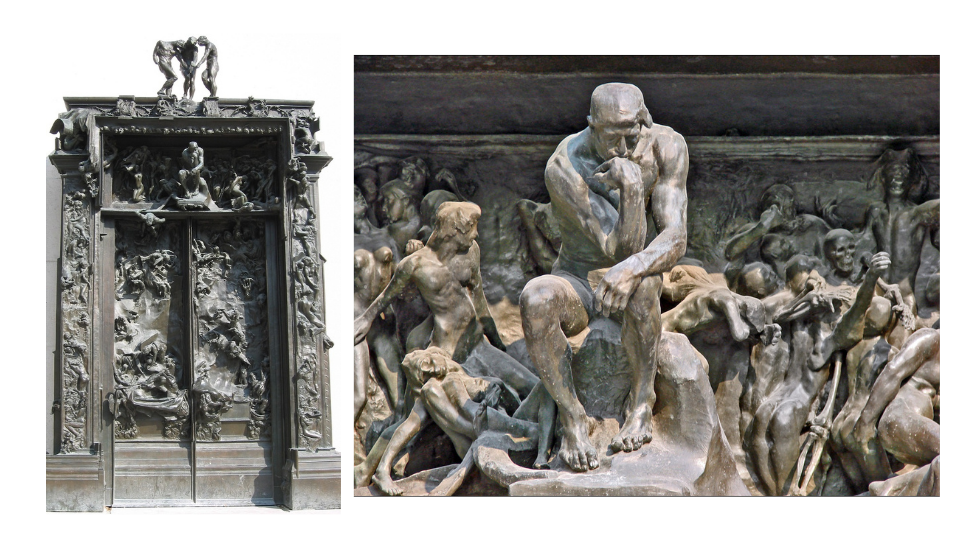 Left: La Porte de l'Enfer (The Gates of Hell), by Auguste Rodin, set in bronze in 1917, via Columbia College | Right: The Thinker in the Gates of Hell, photo by Jean-Pierre Dalbéra, via Wikimedia Commons
Rodin would work on plasters for these bronze doors on and off for roughly 37 years. While Rodin would never be able to set the work in bronze, this project would be the source of inspiration for some of his most celebrated works. Another famous sculpture by Rodin, Le baiseur (The Kiss) draws inspiration from the story of Paolo and Francesca, Dante's contemporaries. Dante and Virgil meet these two lovers in the second circle of hell, condemned for their lust. Francesca fell in love with her husband's brother, and both were subsequently slain by the scorned husband. Paolo and Francesca are punished together with an eternity in hell, however, they are unable to touch one another. While unable to embrace each other, their love endures even in the afterlife.
A Surrealist Interpretation by Dalí
To commemorate Dante's 700th birthday in 1965, the Italian government reached out to Salvador Dalí to render all of Dante's Divine Comedy into surrealist paintings. This would incite immense controversy, as Italians questioned why a Catalonian painter was named to honour one of Italy's key cultural icons. The Italian government would eventually revoke their contract with Dalí, but the artist was already deeply immersed in the work. Contrary to the artists mentioned above, who sought to visualise Dante's verses, Dalí would take a psychoanalytical approach to Dante. The degree of detail and thought that Dalí poured into these interpretations warrants its own standalone article.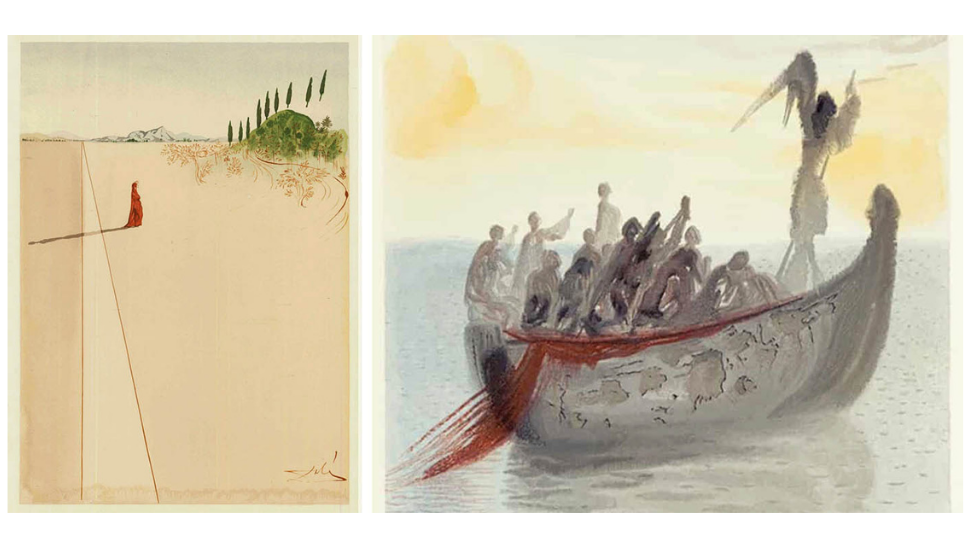 Left: Divine Comedy - Inferno 1, by Salvador Dalí, 1959-1963, via Dartmouth College | Right: with Divine Comedy - Purgatory 2, Detail: "The Grim Boatman's Boat", by Salvador Dalí, 1959 - 1963, via Park West Gallery

Contemporary Media Adaptations
As we mark 700 years since Dante has roamed our earth, our fascination hasn't waned. Many new interpretations of Dante's works remain true to the original narrative, while other creators have sought to intertwine Dante's journey with our modern struggles and vices. Dante's ideas are loosely woven into modern stories such as Dan Brown's Inferno, which centers on Florence. A more controversial borrowing of Dante's works appears in the film The House That Jack Built (2018) by Lars Von Trier. The film follows the life of a serial killer who commits murders akin to each of the vices in hell. Throughout the film, the killer speaks to Virgil and many scenes draw an intentional similarity to Dante's works. As in this image, we see the main character garbed in the red cloak of Dante's likeness.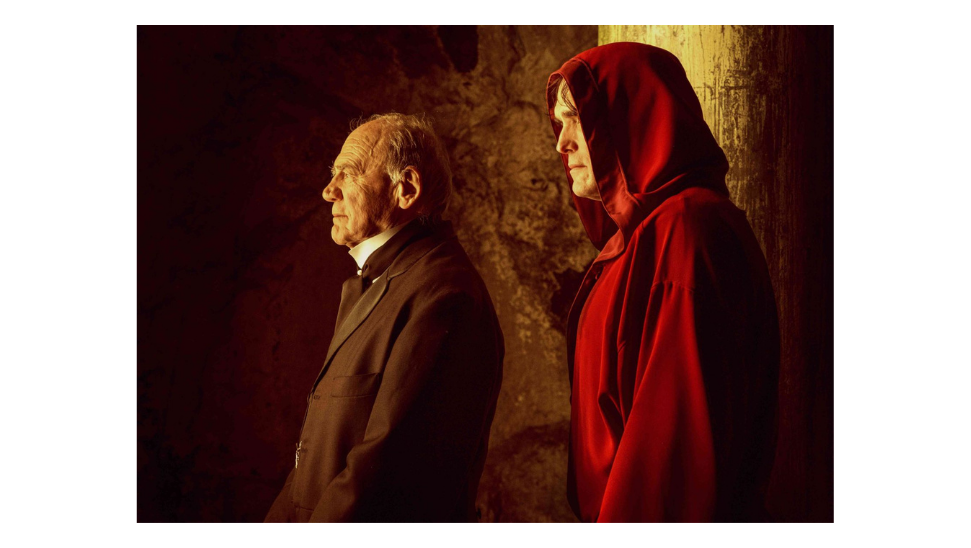 Scene from The House That Jack Built, by Lars Von Trier, 2018, via Real Tokyo

Other modern interpretations reimagine Dante himself. The Disney-Pixar film Coco is the story of a young boy traveling through the afterlife to learn about his ancestors. Throughout his adventures, Miguel is accompanied by a Xolo dog named Dante. Just as Virgil once led Dante, now, Dante leads Miguel.
Dante is also the protagonist of the 2010 video game Dante's Inferno. In the story, Dante is imagined as a Templar knight who must rescue Beatrice from the clutches of Lucifer. Success in the game is measured by the souls the player collects from various demons. The same video game was also adapted into a movie.
While we remember Dante 700 years later, his influence remains clear. His works help us grapple with our fundamental human curiosity about whether our actions in life will somehow tip the scales in our favour in death. Even as we have grown as a civilisation, Dante's works still evoke these eternal questions. How can we map our modern reality onto the fictional worlds Dante has created for us?
____________________

Read some of literature's great works or find a religious text in our weekly books auctions. Or register as a seller on Catawiki and start selling books today.
Discover more Books | Literature & Illustrated books | Old & Rare books
You might also like:
How Agatha Christie developed a penchant for poison
A history of censorship in three books
The devil you know: exploring literature's fascination with Satan