Written by Mia Forbes | Published on 15 November 2021

2021 marks the 75th anniversary of Vespa, the iconic Italian scooter that gained cult status because of its sleek design, practical utility, and celebrity patrons. Luxury and Antiques Consultant Mia Forbes explores the history of one of Italy's most iconic export, explaining why and how Vespa went from a quick-fix for Rome's commuters to a worldwide cultural phenomenon.
The Origins of Vespa
As a young man living through the Second World War, Enrico Piaggio witnessed motorcycles being dropped into Italian cities via parachute to be used by troops on the ground. This was undoubtedly one of the inspirations behind Enrico's innovative new scooter, which he began to manufacture in his family's transport factories after Allied bombing meant that there were no longer able to build the rail coaches, aircrafts and seaplanes which had sustained the business through the conflict.
Patented on April 23, 1946, the Vespa offered a practical and more affordable alternative to cars, as well as presenting stylish and ultimately timeless design. Meaning 'wasp' in Italian, the name reflects the characteristic buzzing sound of a running scooter, and is also a reference to the sleek, narrow 'waist' of the machine. Throughout the 1950s and 1960s, Vespas provided a solution to increasing traffic in major cities, favoured particularly by the ever-expanding middle classes, and by the 1970s the scooter began to be appreciated as a more eco-friendly option than the car.
Becoming an Icon
The Vespa soon won legions of fans due to its iconic monocoque design. This means that the bodywork of pressed steel bodywork doesn't have a separate frame; in fact, it is the frame itself, and furthermore the internal mechanics - the engine and transmission - are comprised of a single cast unit. The Vespa's efficiency, with the only additional bodywork being the front fender, rear engine cowl, and storage compartment, gives it a sleek and harmonious appearance. In addition, it also makes the scooter relatively easy to fix, as there are no superfluous parts, and better suited for design modifications on future models.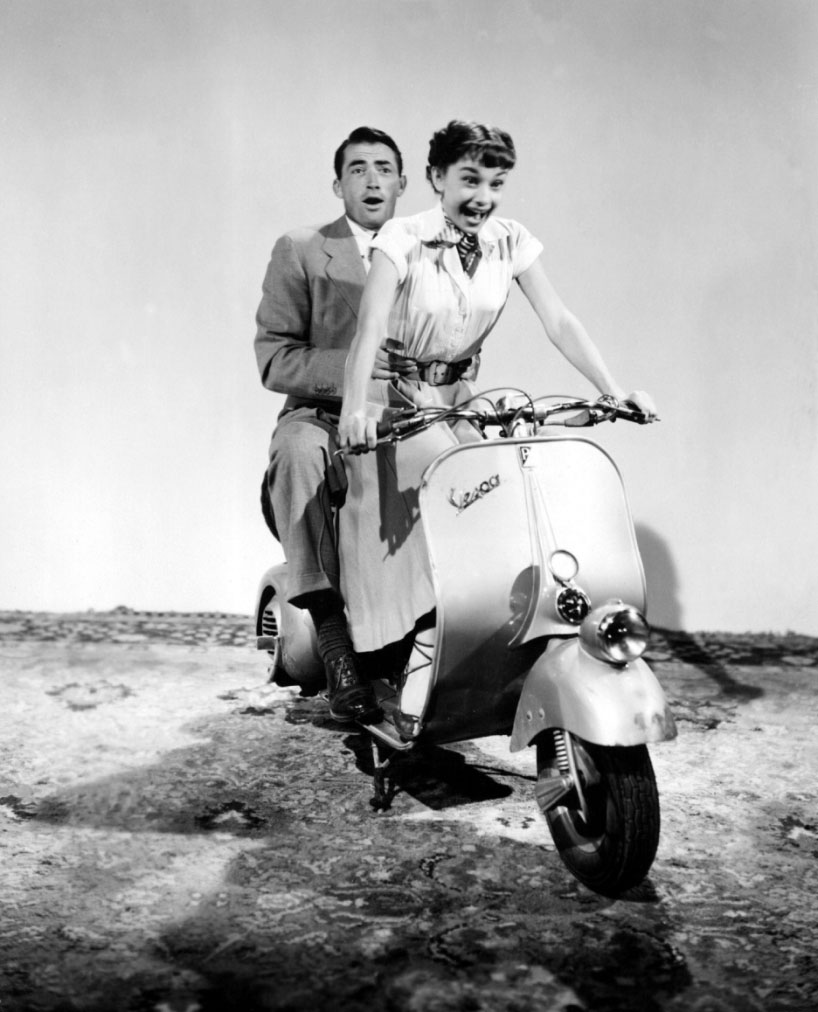 Audrey Hepburn helped cement the place of the Vespa in popular culture
The charm of the Vespa has been brought to life time and time again on the big screen, most famously in Roman Holiday (1953) which featured Audrey Hepburn and Gregory Peck buzzing around the Italian capital on an olive green '0 Series' scooter. From then on, the Vespa became a part of pop culture, where it remains to this day, appearing as a key motif in the recent Disney Pixar movie Luca.
World Take-Over
Since its launch 75 years ago, over 19 million Vespas have been sold worldwide. Not only is it a timeless vehicle, but also has global appeal, with presence in 83 countries across every continent. During the early years of the Vespa, sales were largely limited to Italy, but after its appearance in Roman Holiday, the whole world was swiftly sold on the stylish scooter. Vespa clubs began to form across Europe, and membership eventually broached the six-figure mark. These committed customers had bought themselves a piece of the Italian dream.
With such enthusiasm springing up everywhere, other engineering brands in Britain, Germany and Japan attempted to break Vespa's well-earned monopoly on the scooter market. None of these, however, was able to match the style and utility of the real thing.
Vespa as a Lifestyle
Although home-grown companies attempted to challenge Piaggio with scooters of their own design, there is perhaps no country in which the Vespa is more beloved than Great Britain, apart from Italy itself of course. During the wild years of the 1960s, there arose a quirky subculture of immaculately dressed young people who enjoyed jazz music and riding around on scooters. The Vespa quickly became part of the uniform for these Mods, as they were known. Affordable for young people and just as slick as their tailored suits, the Vespa became a frequent feature of London streets and English seaside towns alike.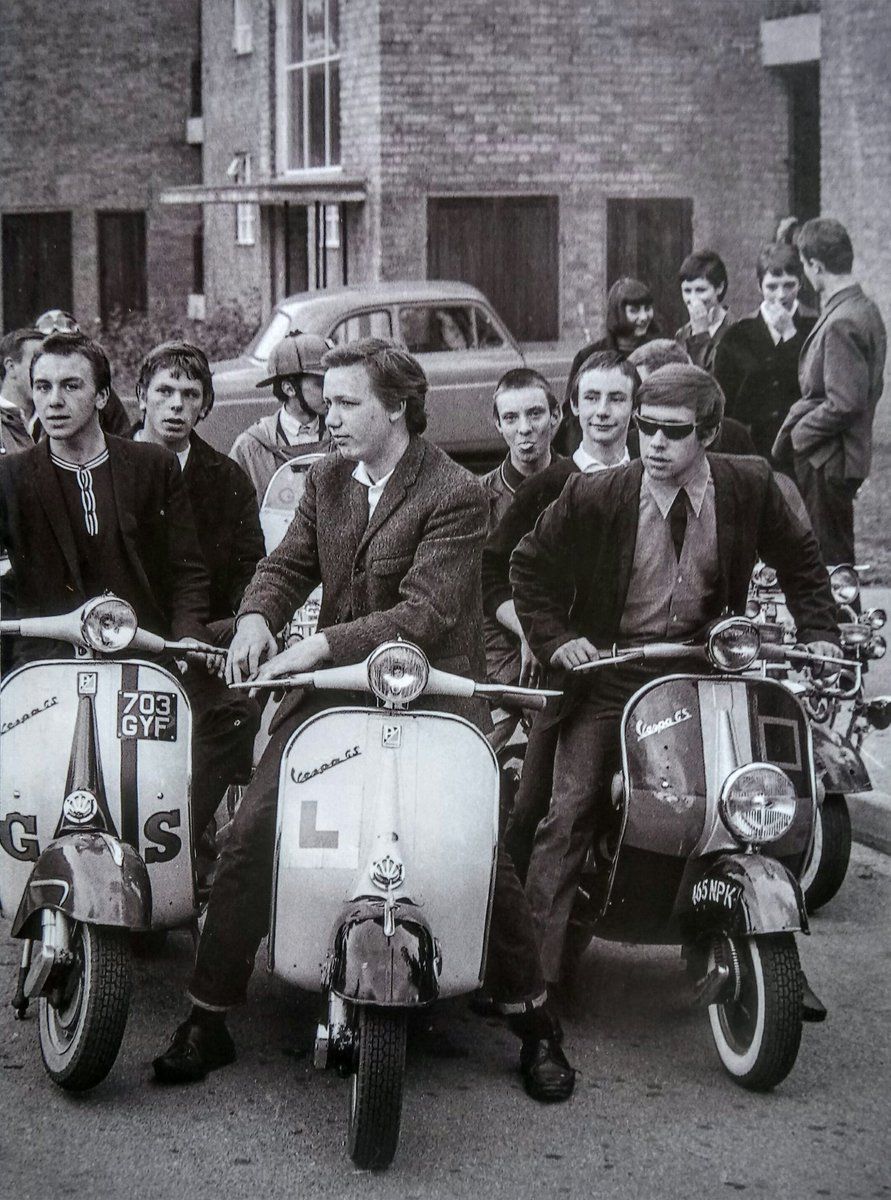 In Britain, the Mods made the Vespa a part of their alternative lifestyle.
As well as being a means of transport and a fashion accessory in one, the Vespa also became a racing vehicle for a while. In 1951, Piaggio built a prototype scooter designed for speed racing, which remarkably broke the world speed record, travelling at just over 171km/hr! The following year renowned French motorcyclist Georges Monneret famously modified his Vespa in a most unusual way. By installing it onto a catamaran so that the back wheel drove its propeller, Monneret crossed the Channel, riding from Paris to London without getting off of his scooter.
Different Models
One of the great things about the simple design of the Vespa is that it lends itself to a whole range of aesthetic and mechanical adaptations without losing its iconic look or becoming overwhelming. The classic Vespa in its beloved pastel shades might make for an idyllic Italian postcard shot, but over the decades, demand has increased for more unique and exciting designs. To celebrate its 75th anniversary, for example, Piaggio have launched a limited edition Vespa collaboration with Christian Dior, which was also founded in the same year.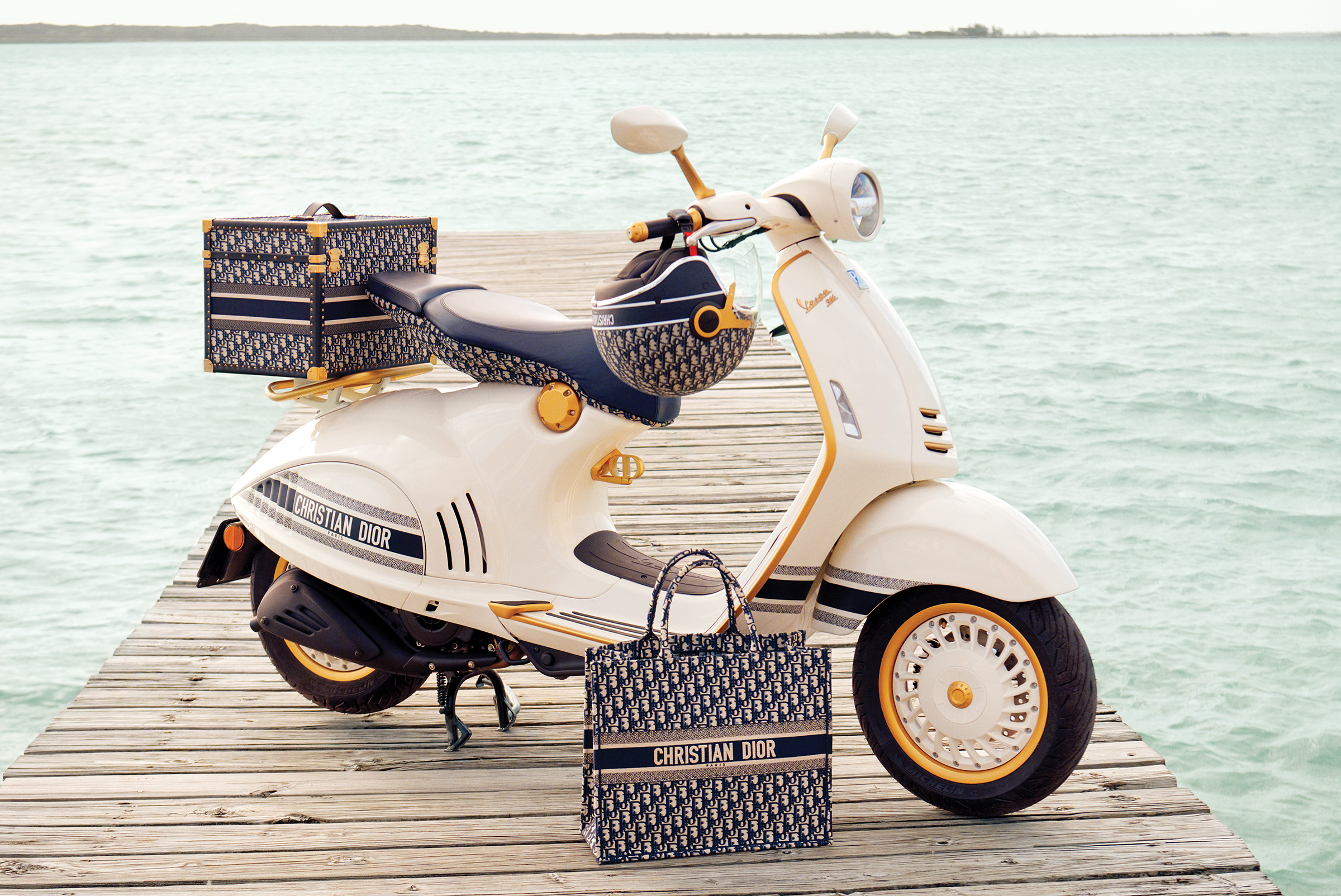 Vespa x Christian Dior collaboration

As well as aesthetic variations, Vespa have also dedicated themselves to equipping their scooters with up-to-date technology, from smartphone connection to navigation systems, and to offering their broad client base a range of models to choose from. Recently, the company has incorporated an electric model, for those who commit to clean energy consumption.
The Value of Vespas
Unlike other means of transport such as cars, which lose their value at a rapid rate, Vespas retain much of their value. In general, the iconic scooters have a retention value of 60-90%, and in some cases, their value actually appreciates over time. This is because the rarer and older models are much sought after by collectors and enthusiasts, particularly the classics such as the 1955 GS 150, the 1966 90SS and the 1967 125 Primavera.
Getting a vintage Vespa and keeping it in great condition with regular maintenance is therefore a great investment for any motoring enthusiast. The most expensive Vespa ever sold allegedly fetched €250,000, proving just how valuable these scooters can be.
About the author
Mia is a Luxury and Antiques Consultant and contributing writer from London, England. She holds a BA in Classics from the University of Cambridge. Both at work and at home, Mia is surrounded by books, and enjoys writing about great works.
____________________
Discover more: Classic motorcycles & Scooters | Posters | Vespa & Lambretta
You might also like these stories: