Written by Tom Flanagan | 31st May 2022
A staple of Belgium's prolific comics culture, Jeroom Snelders is arguably one of the Benelux's most well-known comic artists. Lauded for his trademark humour and ability to poke fun at both historical and contemporary topics, Snelders has created his own distinct lane in the comics world. With the rise of NFTs, he has partnered with Catawiki for a one-time auction to sell his own original works. We sat down with him to talk all things personal and professional and find out: who exactly is Jeroom Snelders?

What role did comics play for you when you were growing up?

Comics played a huge role in my youth. I grew up with Robert Crumb after I was given a book of his from my dad for my 10th birthday. Up until then, I had always read the traditional comics, the popular ones, but I soon started to discover American underground comics. My dad was an art teacher, so it combined two worlds; that of the underground comics and the real old art books that were lying around our house. It all coloured my brain as a kid. And now I'm here, still combining that stuff after all these years.

What do you love about being a comics artist?
The freedom of working alone. Not on a personal level but the fact that if you have an idea you're the sole person responsible for the final product. There's no voices saying other things, giving advice or meddling in the outcome and that's something I like very much. It's something I need in my life; to have a project where it's just me calling the shots and when the comic is done, it's done completely how I wanted it to be done. It's a rare thing to say about your business life in these times, so it's a freedom that I really enjoy.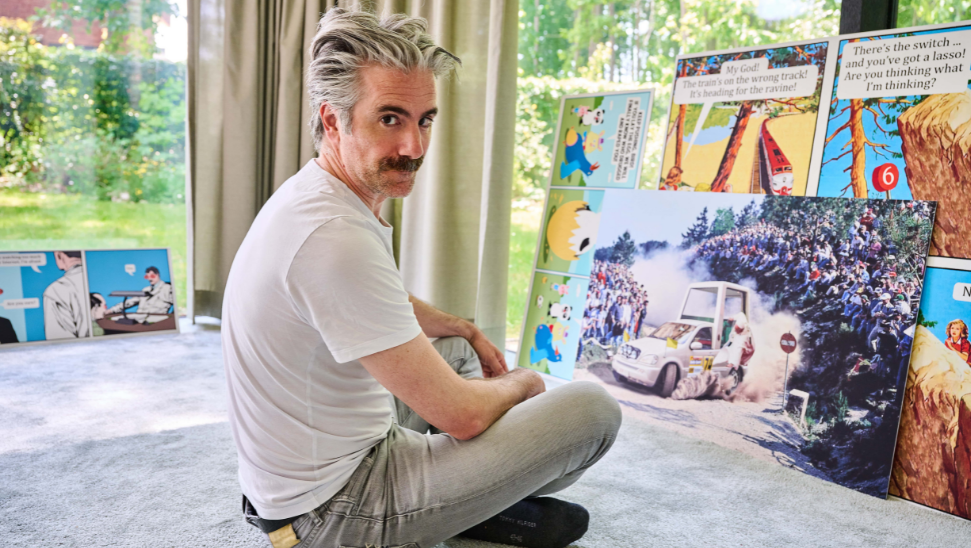 Jeroom pictured at home with his work


What's your relationship with critics?
Well, with the critics, you manage. Whenever you put something out there, there's always someone who has an opinion or is offended. The first people who commented got under my skin. I thought "oh my god, what am I doing?" but then you start thinking, well, there's always someone who's going to be offended if they want to, it's a basic right. It's a human right to be offended.
My only rule is that if the joke could be offensive, the joke has to be so good that people can forgive the offensiveness. The sole reason has to be putting a smile on somebody's face. Whenever you fail to put a smile on someone's face, you get to the real part of being offensive. So it's a trick and I can't say I've mastered it. I filter my bad ideas and I hope I end up with only the good ones.
Your work has been described as fitting into a long line of absurdism in Belgian comics - has anyone influenced your work?
I'm Belgian so I grew up with this absurdist style, so I guess it's had an impact on me. But I can't really say because it's always people from outside of Belgium who describe my work as that. I was lucky to work with Kamagurka. We shared an atelier for 10-12 years and he was a childhood hero of mine and I was lucky enough to end up with him and spend all those years together. I learned the tricks of the trade from him so you could say that I've been influenced a lot.
My evolution has mostly been technical. I started drawing on paper and going to the editor's house and putting it in the mailbox as a 20-year old! And [my work] evolved with technology. Photoshop got better and better and I started thinking: why even bother with the paper? Because I'm left-handed I always had that problem of smearing my own ink. It was a mess, all my originals were frankly unsellable. Later, I bought one of the first Wacoms there was and I thought I was the king of my craft with my tablet, because I could draw with my left hand while looking at the screen. I felt I had a unique advantage but then they created tablets with the screen on it, so my advantage was soon gone.
How has your style evolved over the years?
But my style hasn't changed that much because I don't really have a style. My comics 'shoot' in every different direction; sometimes they're sweet and funny and other times they're pretty dark. My style is everything together probably, just with technological differences.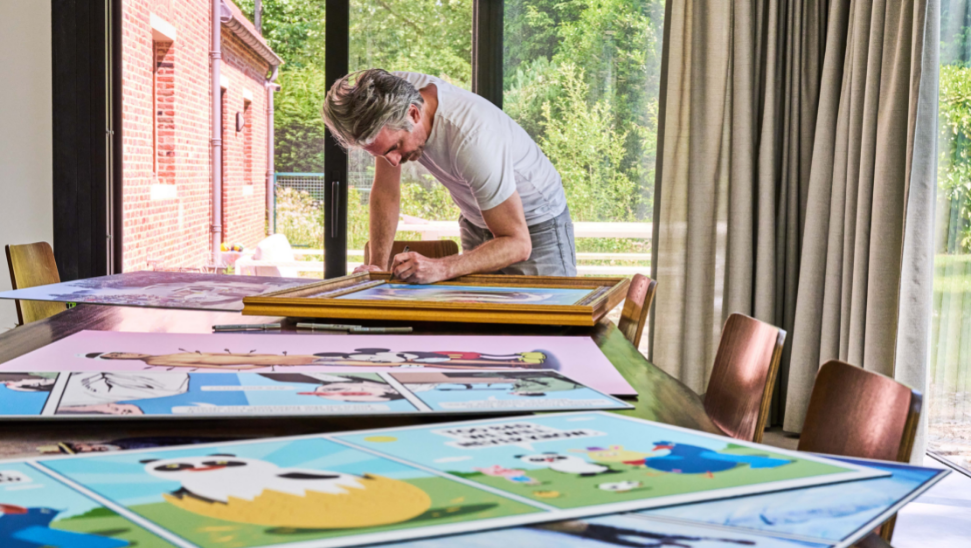 "I don't really have a style. Comics 'shoot' every different direction; sometimes they're sweet and funny and other times they're pretty dark.


How has loss informed your work?
I lost my brother when I was 20. It was just at the moment when I'd got into university. It's the moment when you start opening up to the world, so it was a tragedy. It just seeped into my brain and created something in me; like a twist in my mind.
People say they can see it when I joke, that there's always some twist and some element of dark humour, which is my basic trait. At first I didn't see it but now when I look at my work, I get it sadly. But that experience definitely changed my character and style of humour.
You move between the role of comic artist and actual comic (at least in the eyes of the public)—has your public persona influenced your work at all?
I guess you could even say it's the other way around. People were much more accepting of me because they knew my work. It would've been very tough had I not been a comic artist. I like to 'put people under the ground' as we say in Dutch. Roast people! Offending them but in a friendly way. If I'm not offending someone, they're like "are you sick?".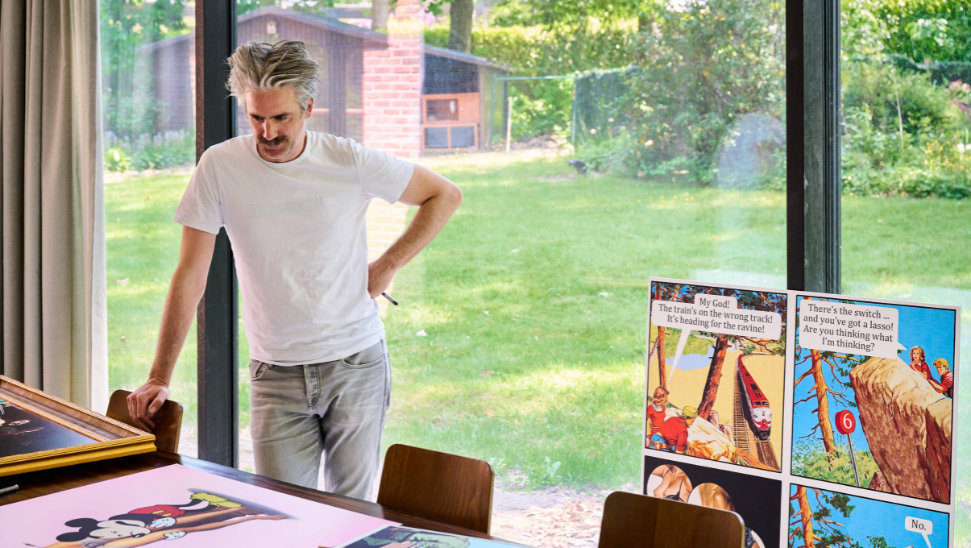 "If I'm not offending someone, they're like "are you sick?"
Can you talk us through your creative process when creating a comic - from conception to drawing?
I don't have a stash of ideas lying around. It always starts with an idea; like "I should do something with Batman". And then I start looking things up and finding an angle. It could take days for an idea to come and sometimes it's a matter of minutes.
A typical comic in my style would take two nights, around a 10-hour job. When I have a vision I need to execute it exactly, so the smallest details can take ages to get right and people don't even know the difference. But in my mind it has to be exact.
What led you to work with Catawiki?
More recently Catawiki started working with NFTs. And it was a Eureka! moment for me. Because my problem is I don't have any originals. NFTs are a way for me to have my own originals and for people to say they've bought one of my original works. NFTs are some of the only ways for digital artists to have an income from their originals, like painters in the old days.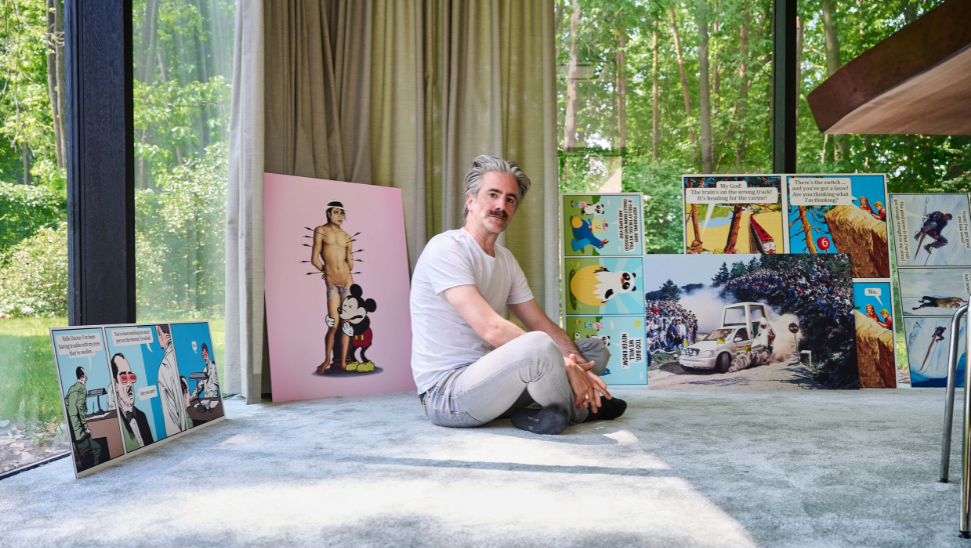 "NFTs are a way for me to have my own originals and for people to say they've bought one of my original works"

Why do you think comics are an important part of literature and can they explain things other forms of art cannot?
Good art makes people feel an emotion. A smile is a basic emotion and it's pretty hard to make people smile based on something you put down on a piece of paper. It's a kind of magic. In comics, you have three squares on a page to tell a joke; you have to present the situation clearly in the beginning, you have one square to make the flex and the last to put the joke into play. It's not for everyone; I've been training myself to do this for 20 years.
It's a noble art form that's been looked down upon. It's like a serious versus a funny movie; people find humour normal and they don't actually think how hard it can be. Everyone can tell a joke in the pub but if you have to do it again and again, it's much more difficult to keep it fresh and still make people smile.
What is something you'd like to leave your readers with?
A simple smile. I think my job is to put a smile on the face of whoever is having a bad day.
____________________
Explore Jeroom Snelders original works in a one-time auction. Or join our trusted community of creatives and collectors, and become a seller on Catawiki.
Discover more Comics
You might also like:
How Pilote reclaimed European comics for the French
A history of women in comics via three superheroes
Attic stories: Life on a page with Didier Tronchet