Written by Tom | 21 August 2023
Few designers are as synonymous with midcentury design as husband and wife duo Charles and Ray Eames. The creators of the Eames furniture brand, their sleek leather loungers and plywood chairs are hallmarks of 20th century design and loved the world over. With more people looking to invest in Eames furniture in their homes, we've put together a quick guide on everything you need to know about buying pieces from the legendary brand, with the help of Senior Expert in Design Alexander Fahl.

Cool dark leather padding, a polished walnut back and a wide ottoman that's calling to have somebody put their feet up on, the Eames Lounge Chair and Ottoman have both become a staple in midcentury homes and anyone trying to create something of a retro feel. They're a familiar furniture duo and one of the many iconic Eames designs created over the years. And as Eames furniture's popularity increases, its quality only continues to shine through; at least that's the perspective of Senior Expert in Design Alexander Fahl.
"No matter what interior you have, these pieces will fit and elevate the room," says Alexander. "They are true modern classics in their timeless design and outstanding craftsmanship. Eames stands for absolute quality, for example in materials, shapes and composition. Living with their vision of design is an ode to elegance, beauty and style."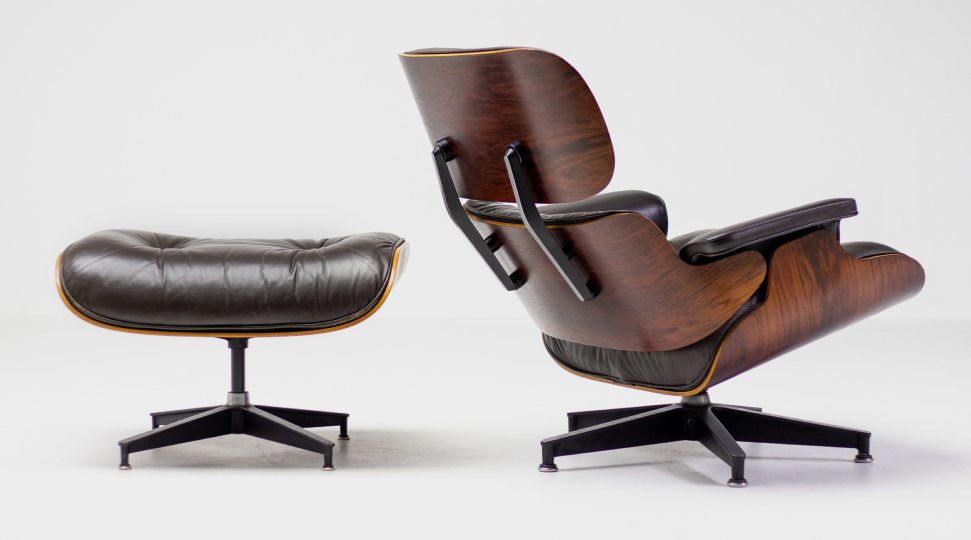 Herman Miller - Lounge chair, Ottoman (1970-1979)

A guide to buying Eames furniture
While Eames has a legacy of craftsmanship – and rightly so for its high standard of materials, many of which remain the same in manufacturing today – the brand was initially positioned as a means to create more affordable furniture for a wider audience. With their plywood and plastic chairs, Eames defined a generation of American homes. But in the 21st century, Eames is more synonymous with luxury and style than an ordinary piece of furniture. And because demand for Eames furniture isn't abating, it's important to know what to look for when buying a piece, especially second hand.
"The appetite for these objects seems unstoppable and this is reflected in the prices in the vintage market as they remain strong and stable," explains Alexander. "This is especially true for the pieces from the 60's and 70's, but also for the pieces produced more recently."
As for what to consider, Alexander says there are a few key points that will come in handy when investing.
A piece of history or homeware?
Some people love Eames for its style, some for its history and many for both. The important thing to know is what you want from an Eames piece when buying and ask yourself: is it simply comfort or is this an investment? "If you value significant history, look for one of the first three generations of Eames chairs produced until 1974," says Alexander. "Enthusiasts may already have some insights, but you can also seek advice from experts, such as those at Catawiki. But if you seek a timeless, stylish, and comfortable piece of furniture without historical significance, more recent and less expensive chairs can be enough."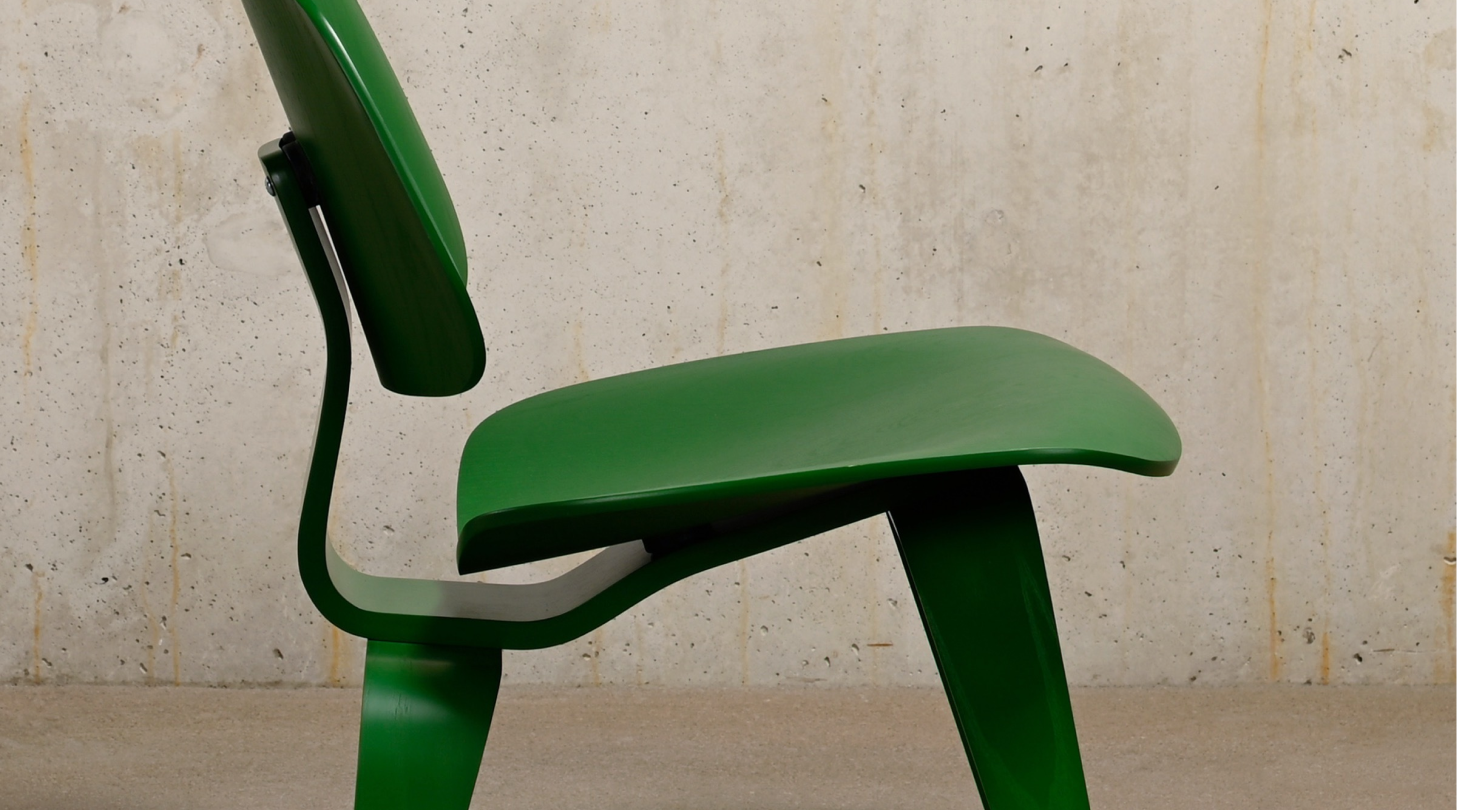 Herman Miller - LCW chair (1950-2000)
Opt for vintage sets
Instead of opting for a brand new Eames, why not invest in a secondhand piece that not only holds its value but is also more sustainable? "While a new Vitra lounge chair plus ottoman may cost around €10,000, a vintage set can be found starting at €4,000," says Alexander. "The upper-end of the market for vintage pieces in exceptional condition can reach up to €14.000 on Catawiki. Vintage Eames chairs tend to hold their value well. So if a set is offered somewhere for less than €4,000, this can either be a treasure or too good to be true."
Research legitimate manufacturers
With Eames furniture being popular, copycats are everywhere, meaning if you want an authentic piece for yourself and especially if you want to resell later, there are certain manufacturers to look for. "Eames Lounge chairs and ottomans were produced under licence by two legitimate manufacturers: Vitra for Europe and the Middle East, and Herman Miller for the Americas and the rest of the world," explains Alexander. "Older versions were made with Brazilian Rosewood, which is difficult to replicate. After 1991, production shifted due to environmental issues relating to different types of wood veneer, leather colours, and finishes, making variations more common."
Check the condition
Condition is hugely important to consider when buying furniture and especially designer brands where the value can be drastically altered if in poor condition. "While a vintage patina on leather can be a personal preference, be cautious of damages, restorations, repairs, and replacements, as they affect the chair's value," he says. "Damaged leather can be expensive and difficult to repair properly. Check the chair's frame for breaks and cracks, especially around the mounts, which are common weak spots."
Ensure authenticity
"Authentic Eames chairs have specific details to look out for," says Alexander. "Start by looking for labels or stamps, but exercise caution as some fakes may have labels from genuine chairs. Check the dimensions of the chair; including armrest-to-armrest distance (84 cm), depth (around 90 cm), and height (89 cm), except for classical versions which are 84 cm high. Examine the inclination of the backrest and the number of plywood layers (usually seven) for authenticity. Lastly, scrutinise the leather quality and cushion fill, as they should reflect the chair's alleged quality and age. Chairs that have been used for decades should show signs of wear on the armrests and other appropriate areas."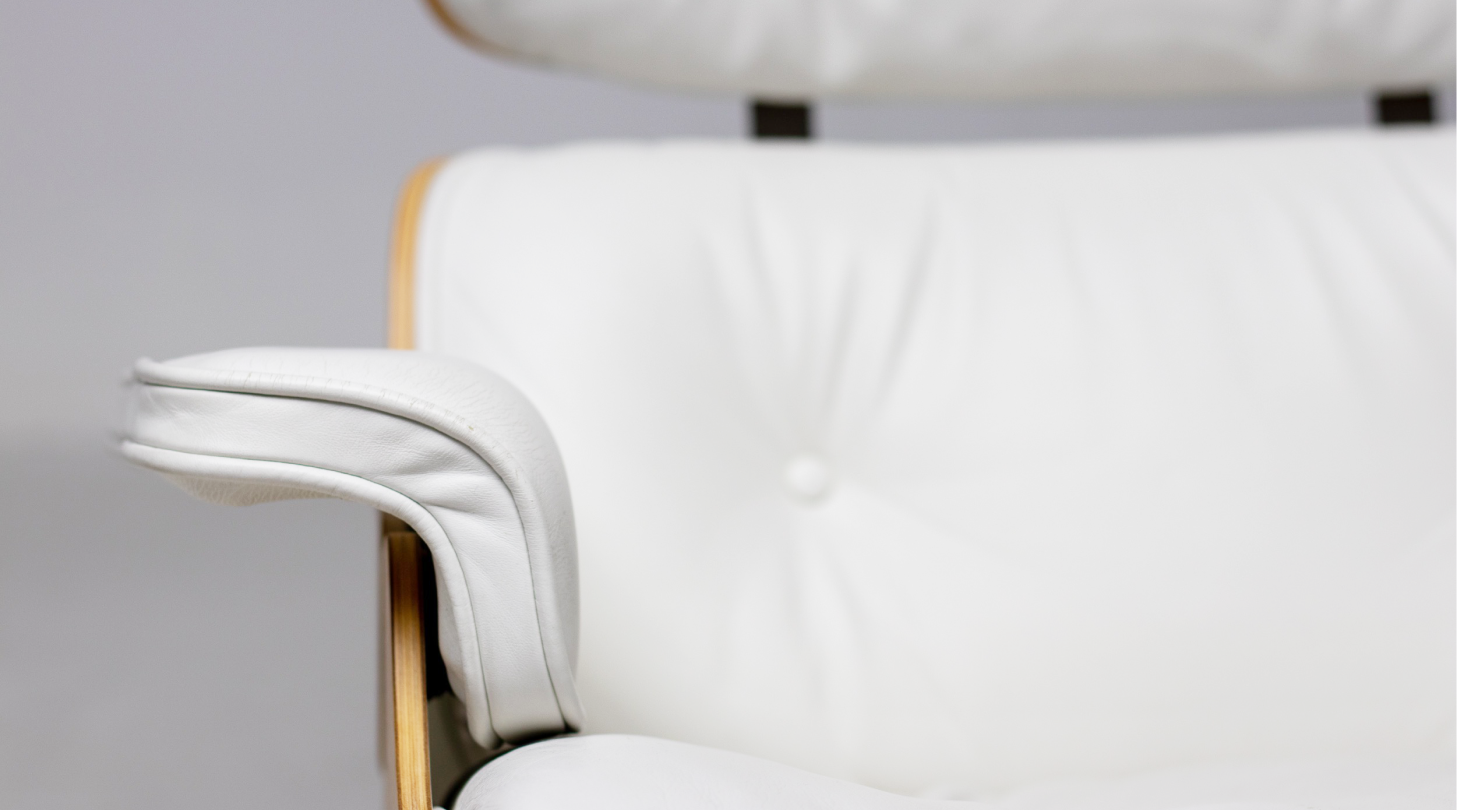 Vitra - Lounge chair, Ottoman (After 2000)
____________________
Keep an eye on our weekly design auctions and don't forget to register as a seller with Catawiki.
Discover more Interiors | Design | Vintage Furniture
You might also like:
A history of 20th century design in iconic decor
The stories behind iconic 20th century furniture design
5 reasons to invest in mid-century modern furniture