Written by Jenna | 18 October 2023

This year, Scottish whisky distillery Auchentoshan celebrated its 200 year anniversary.
We sat down with Catawiki Whisky Expert and Auchentoshan enthusiast, Mark Dermul, to discuss his love of whisky, his incredible collection, and the importance of this 200 year milestone.
Hi, Mark. Let's talk about your journey as a whisky lover. When did you start collecting? And what sparked your interest?
My wife was invited to a whisky tasting by friends and I was just being a good sport tagging along. A whole new world opened for me. I could not believe the complexity of the malts I tried. I was hooked. The very next day I ordered a few bottles and ran off to the library to fetch every book I could find on the subject.
How did you first discover your love of Auchentoshan whisky?
My colleague gave me a 12-year-old bottle of Auchentoshan as a birthday present. You know what it's like when you fall in love for the first time as a teenager? That's my relationship with Auchentoshan. It was love at first sight. And first sip.
The triple distilled Lowlander is a lighter style of Scotch, making it ideal as an aperitif. And that's my favorite whisky moment of the day.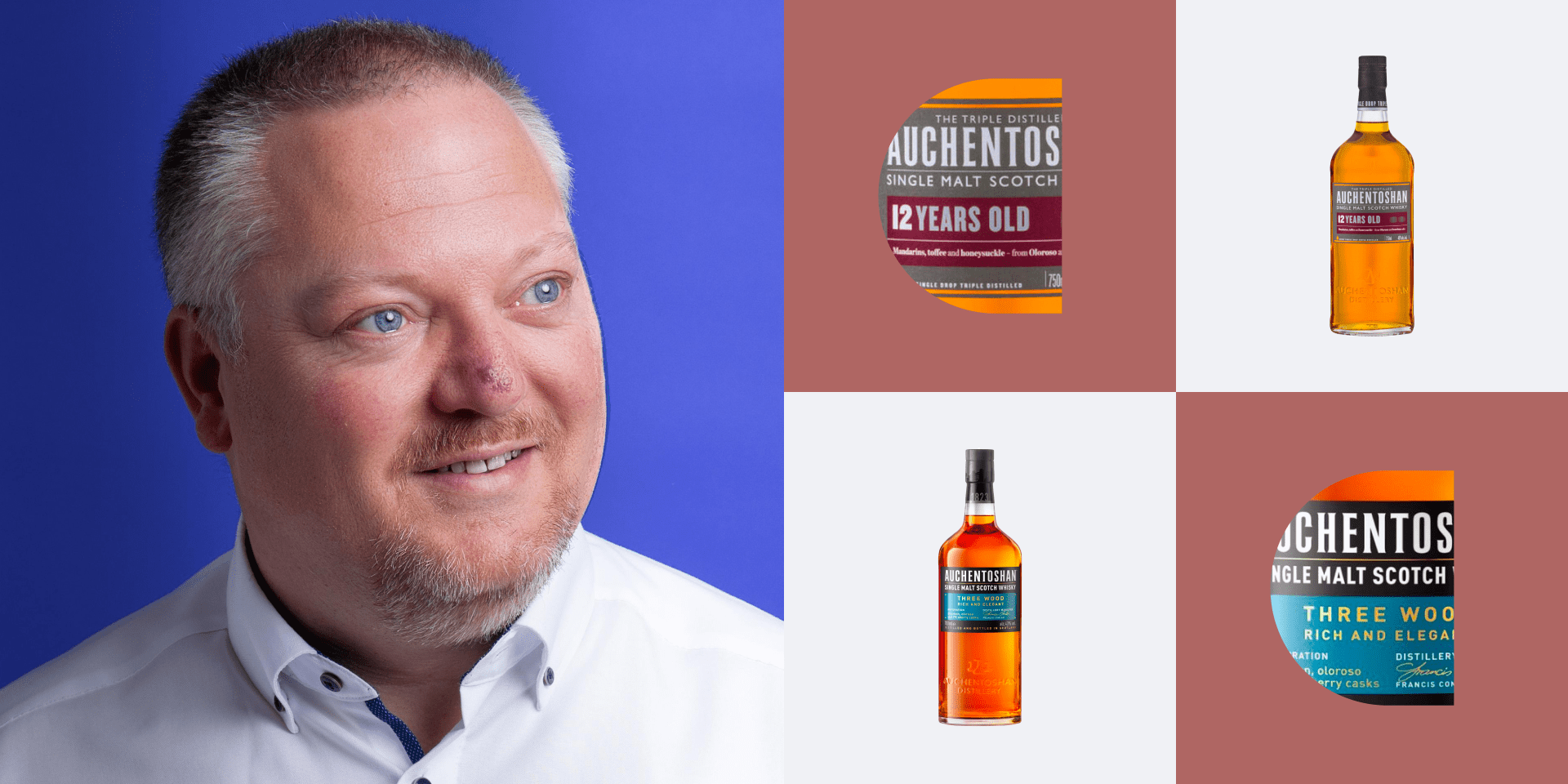 Rumor has it, you have an epic Auchentoshan collection. Can you tell me more about it?
Epic, you say? Well, I do have around 500 bottles from every decade since they were first released, in the late 1960s. I have quite a few rare gems in there as well, including the elusive Auchentoshan 50-year-old 1957 – both releases from 2007 – which are my pride and joy. My display cabinet is 3 meters wide and 5 meters high.
A 3x5 display cabinet? Surely, you're making this up.
Nope. It covers 2 floors in height — a sight to behold, really. In the evening, I can turn on the light in the display cabinet and bask in that beautiful amber glow that fills up the living room. I sometimes catch myself just sitting back and enjoying the view of the collection.
And how did you earn the nickname "Toshan Man"?
Ah, that's a good story and I love telling it. When I first started collecting Auchentoshan, some people made fun of me as they felt I was collecting the wrong brand.
Their derision made me feel like Auchentoshan was an underdog, so I became very vocal in my defense of the brand. With over 6,000 tasting notes, 500 videos on YouTube and a published book, my advocacy did not go unnoticed. During a visit to the Auchentoshan distillery, I told the (then) distillery manager that they needed a brand ambassador. He smiled and responded 'We've got you. You're the Toshan Man!' And it stuck.
Tell me about your stash of 'investment whisky'. Which editions do you have in there?
Ah, yes. Indeed, I do have some investment whisky. But I do not invest to resell with a big profit. I consider them more like a safeguard for the future. If I'm financially secure until I retire, I plan to open many of these rarities to enjoy. Some of the bottles I have tucked away, apart from many Auchentoshan bottles, are Port Ellen, Brora, Rosebank and a few more. You'll forgive me for not going into greater detail. They're supposed to be a well-kept secret.
(Putting away notebook of well-kept secrets) Fine. So what about this 200 year anniversary? What makes it such a remarkable milestone?
Remember the huge round of closures in the 1980s? Big names such as Port Ellen, Brora and Rosebank were closed, although they are reopening at last. Others like Imperial, Saint Magdalene and Caperdonich were not so fortunate. So being able to celebrate your 200th anniversary in this industry is a remarkable milestone.
Are you doing anything special to celebrate?
On September 2nd this year, Auchentoshan organized a festival to celebrate the occasion with tours, cocktails, food trucks and a wonderful concert for charity with local musicians. And it goes without saying that the Toshan Man flew out to Glasgow to be part of it.
Plus, it was the only way you could get your hands on the special release that was bottled for the occasion. They selected a single sherry butt that was laid down in 1997 and bottled at cask strength after 25 years of maturation. The cask yielded 573 bottles and they can only be obtained at the distillery. I'm happy to say I was able to add it to the collection. I may or may not have a third one too…
Sounds like you have it all. Is there anything missing from your collection?
No collection is ever complete. And that's just the way I like it. As a collector, I'd be in a sad position if the hunt for bottles ended. That's part of the excitement of collecting, right?
Last question. Any bottles that you would consider the most sought-after by you and the rest of the whisky community?

The 1964 Black Bowmore, the Macallan 'M', the Dalmore 50 years old 1926, the Karuizawa 52 years old 1962, and the Springbank 1965 Lombard could be considered holy grail bottles. All of these have broken auction records at one point or another.
Personally, I'm very content with my two bottles of Auchentoshan 50 years old 1957. When I turned 50, I hosted a birthday tasting with family and friends in which one of these beauties was very thoroughly enjoyed. Slàinte!
Slàinte! Thanks, Mark.
____________________
Curious about what we've got in auction? Start exploring or register as a seller.
Discover more Whisky | Movies, TV & Animation

You might also like these articles:
100 years after Prohibition, whisky still soars
Wannabe to world-beater: the rise of Japanese whisky
How Taiwanese whisky won the world over